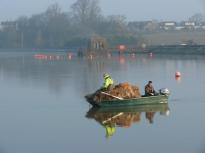 Heyland Marine has been supplying Craft of Distinction for nearly 40 years, a family business nestled on the River Thames in the beautiful countryside of Buckinghamshire, their range of small boats is extensive, from the Tiny Tadpole Pond boat to larger flat-bottomed Work punts that work the waters clearing , planting and maintaining riverbanks and up-keeping Lakes on family Estates.
The Traditional , handmade range of Rowing boats includes The Duchess, an elegant rowing craft , trimmed with first quality mahogany decks and seats, this boat stems from the 1940s and will take an Electric motor, so not to disturb the peace and quiet of Wildlife and pushed by a pollution free motor means no petrol is required, just a 12v battery. There is also a baby Duchess called Dovetail, very pretty and many ordered as a special gift to that discerning person.
Very intriguingly there is also a range of small dinghies that come complete with roller Wheels, so one person can use as a large wheel-barrow and roll in and out of the water, saving the need for trailers. Ideal for country homes with Ponds and Lakes. Prices from just £474.00!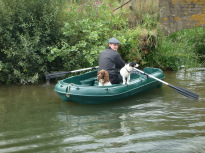 Heyland Boats have also played part in Weddings, birthdays, Anniversaries and even one went to a Funeral! Also seen in Adverts and films these small boats have been exported Worldwide.
The Sturdy range of maintenance free boats helped install 1000m of biological barriers at the Triathlon site for the Commonwealth games, they act as small safety craft for model boat clubs, as well as  fun boats for families and Children , being so stable for their size.
The range never seems to stop with Heyland's making Aluminium Punts, these flat-bottomed craft have central sliding seats, to obtain maximum space for workloads, tools , strimmers and small machinery,- larger floating platforms are also built with drop-down sides, enabling Animals and mowers to get to islands that cannot be accessed by vehicles.
Many children learn to row and have fun on the water in a Heyland Boat, the company also supply Lifejackets, Liferings  Outboard Electric Motors .Wooden Oars and Paddles,  Ropes  and many marine accessories.
For the person who has everything, then Christmas is a busy time for Heylands, personalising the boats with a name of a Grandchild, husband or Gardener wife,
too big to put under the Christmas tree, most are secretly hidden in sheds and barns until the big day, and what a surprise that is!
Heyland Marine,
Bourne End Marina,
Buckinghamshire SL8 5RP
01628 528830   07974815848