How could anyone not fall in love with Venice?  She is flamboyant, magical and unique: like nowhere else on earth, in fact.  She was founded on a swampy river delta and is today, amazingly, still propped up by the same millions of tree trunks that have supported her from the Middle Ages.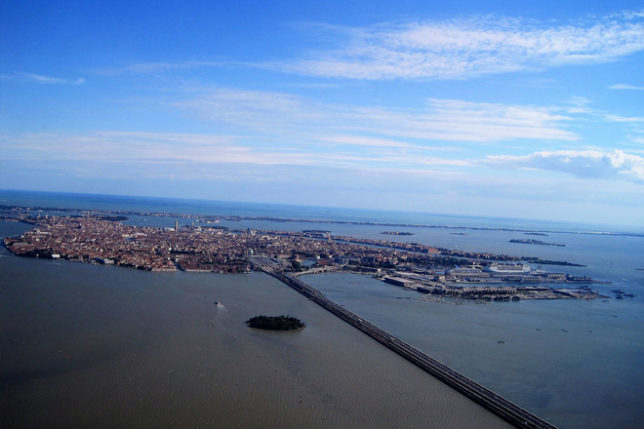 She attracts visitors like a magnet to steel, but most head for the iconic, familiar attractions such as the Basilica, Piazza San Marco, and the bustling quarter around the Ponte di Rialto.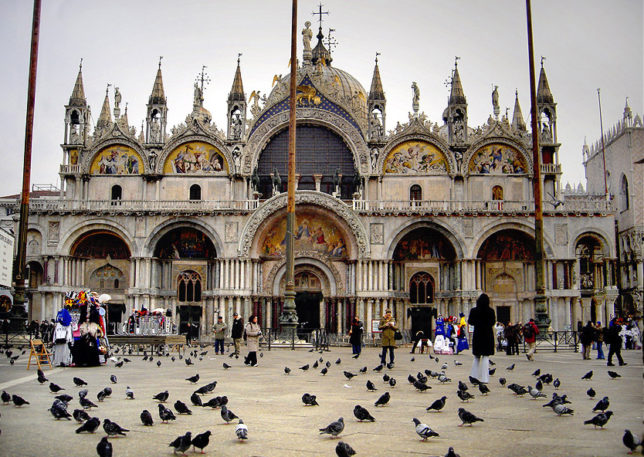 There is, though, another Venice: off the beaten track, often devoid of visitors and Venetians alike, but full of charm, character and interest.  Whatever your passion – art, architecture, churches, history – if you take the time and trouble to delve a little deeper, and have the courage to explore, even if it means getting lost as it will invariably do, you will not be disappointed.  You just have to know where to go.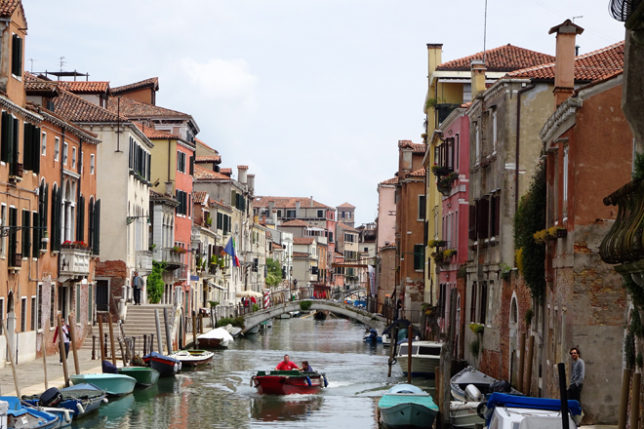 For me, the Ghetto in Cannaregio holds a special fascination.  It was to here, on what was then a small, mosquito-ridden island, that in 1516 the Jewish community were forced to move, forbidden to leave the area at night, confined by huge gates guarded by Christian soldiers.  This part of Venice is full of poignancy and history, and if you have the chance it is worth doing the tour which takes in the Schole (or synagogues). Nearby is the church of Madonna dell'Orto, with its two enormous, slightly disturbing masterpieces by Tintoretto, and a simple and touching statue of the Madonna and child, from which the church gets its name.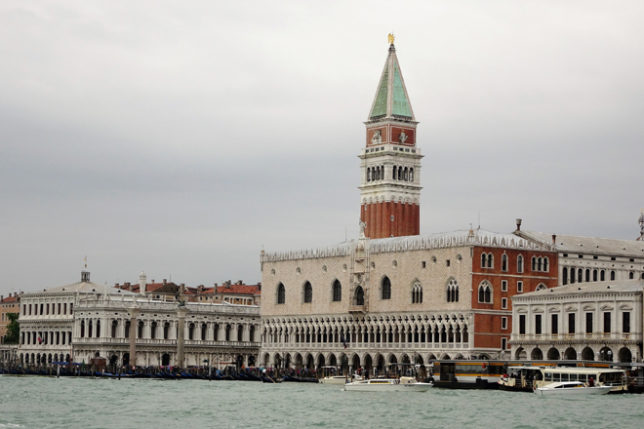 Further on, don't forget, too, to wander along the Fondamenta Nuove bordering the eastern shore.  You have a lovely view of La Laguna, and from here you can take a vaporetto or motonavo to the outer islands such as Torcello or, nearer home, to San Michele, Murano and Burano.  But for me, one of the most beautiful churches in Venice is in this area: the Gesuiti, with its stunning green and white marble interior (the walls and columns look just like painted wallpaper), and its intricate gold work.  It is truly 'awesome'.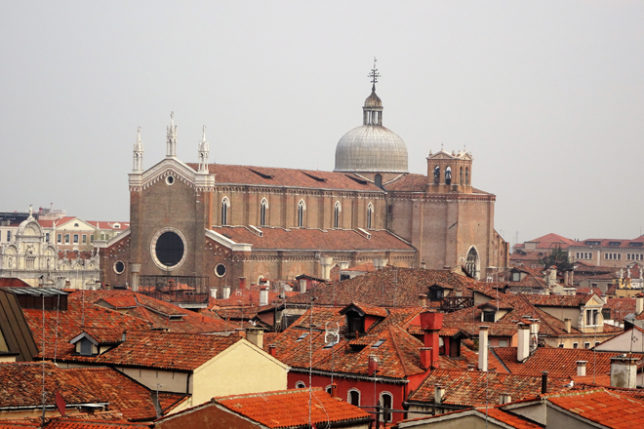 The sestieri (districts) of Dorsoduro and San Polo also have a charm of their own.  In Dorsoduro, I love to wander along the Zattere bordering the Canale della Giudecca, and it is in this quarter that you will find the imposing church known familiarly as the Carmini; together with the smaller but equally beautiful ones of Angelo Raffaele and San Sebastiano (the artist Veronese's parish church).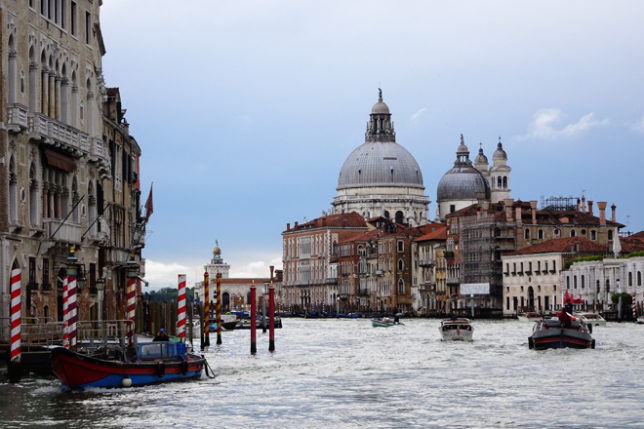 Here you will discover a maze of narrow, winding alleyways, quiet rio's, gondola boatyards, the Campo Santa Margherita with its bars and outdoor cafes: even the bowling club which I found on my last visit, hidden behind a high wall! Step over the boundary into San Polo, and you can't help but miss the mighty, cavernous church, the Frari, with its stunning altar piece "La Assunta" by Titian.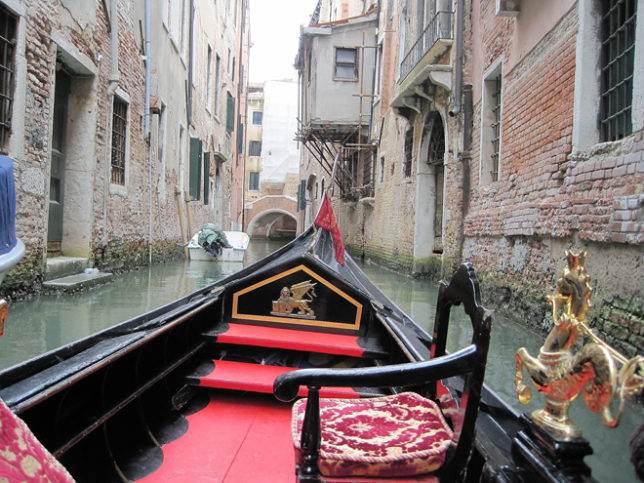 In contrast, on my last visit in March I was particularly keen to see the Fondaco dei Tedeschi (next to the Ponte di Rialto), which had just been refurbished by Benetton.  The result is exceptional.  There is a restaurant on the ground floor, and designer boutiques occupy the galleries on the three upper floors.  But for me, the roof terrace was the attraction.  From here you get superb views over Venice.  Access to the terrace is free.  You are divided into timed groups (about 30 in each group) with different coloured discs for each group.  You can only spend 12 minutes outside, but this is enough time for taking photographs.  An experience not to be missed, especially on a clear day. Nearby, too, is the Strada Nova, Venice's main shopping street, but more for Venetians than tourists.  If you are self-catering, this is where you will shop.  It is full of local colour and is worth visiting, even if you don't intend to buy.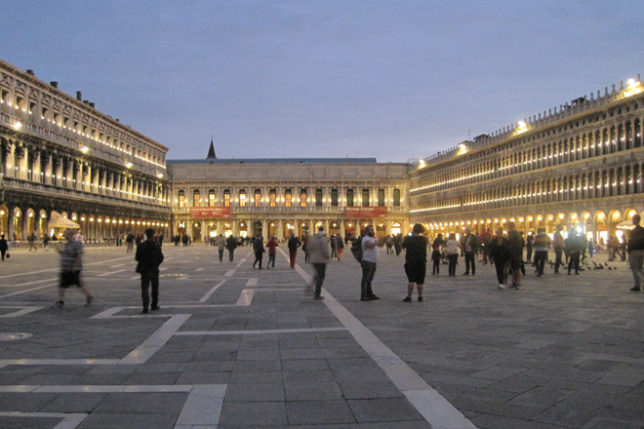 The old saying "seek, and thou shalt find" should be your motto when visiting Venice. The extra snippets of information you gather along the way, and the amazing sights you will see, will stay with you forever. Enjoy!
You can find out more by reading Gillian's two travelogues entitled "Venice: the Diary of an Awestruck Traveller" (Volumes 1 and 2) available from www.gillianangrave.co.uk.
About the author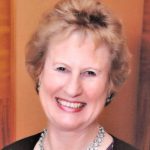 Born in Leicester in 1945, Gillian Angrave became an Assistant Purser with P & O in 1967, sailing in CANBERRA and ORIANA until 1974.  After a brief spell ashore, she joined the Foreign & Commonwealth Office in 1976 as Ambassador's PA, serving in the Philippines, Peru, Guatemala, Chile, Mexico and Hungary until her retirement in 2005.  She then became, and still is, a Registrar of Marriages. Gillian's interests include travel; photography; bell-ringing; modern languages; gardening; golf  –  and, of course, writing!