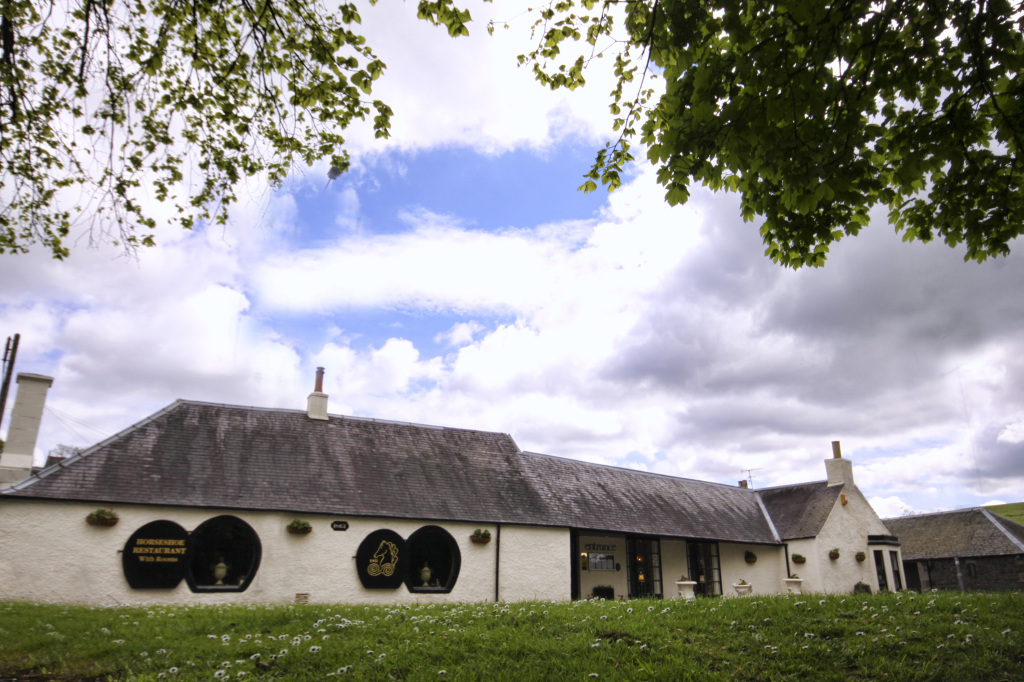 The Horseshoe Restaurant with Rooms, nestled in the Scottish Borders just thirty miles south of Edinburgh and only a few miles north of Peebles on the A703 is an undiscovered jewel of the Borders. Comprising a purpose built inn from c. 1862 as well as an 1830's school house now serving as the guest lodge, the Horseshoe Inn must certainly be a requirement for anyone from the local area as well as further afield who is looking for outstanding food and lodgings.
My own, prior knowledge of the Horseshoe Inn usually placed it somewhere between "a nice place to eat" and "the local pub" – neither sounding satisfying or prompting a visit.  The prior combination of a pub-like Bistro on one end of the building and a French-styled, starched napkins and tablecloths, superior-class restaurant on the other provided a well-intentioned but schizophrenic experience for the guests, ultimately leading to its demise. The current Horseshoe Inn, a marked change from its predecessor, is the passionate project of owner David Downie, General Manager Mark Slaney and Head Chef Alistair Craig and these three gentlemen and their staff  have not been idle. Most, if not all, of the staff come from a Michelin Star background so all know what makes food and service exemplary but, more importantly, what makes it disappointing. It is this focus on quality, attention to detail and the desire to provide the utmost in customer service that now exemplifies the Horseshoe Inn with Rooms.
Our experience at the Horseshoe Inn started with a warm and sincere welcome from Mark who led us to the Lounge area. The former Bistro area, now a well appointed seating and lounge area, is the first stop for all guests … not their table in the nearby restaurant. As Mark and our server Sam explained, guests are shown into this lounge and then invited to their table only when all in the staff are ready for their service. This rather novel method works wonderfully to allow not just the most dedicated attention by the servers but also for the kitchen to be fully ready to freshly prepare and cook their meals. While we waited, we sat in a beautiful room with marvellous, soft couches, gorgeous decor, light music and a wonderful fireplace and unwound from our drive with excellent (and generous) offerings from the bar.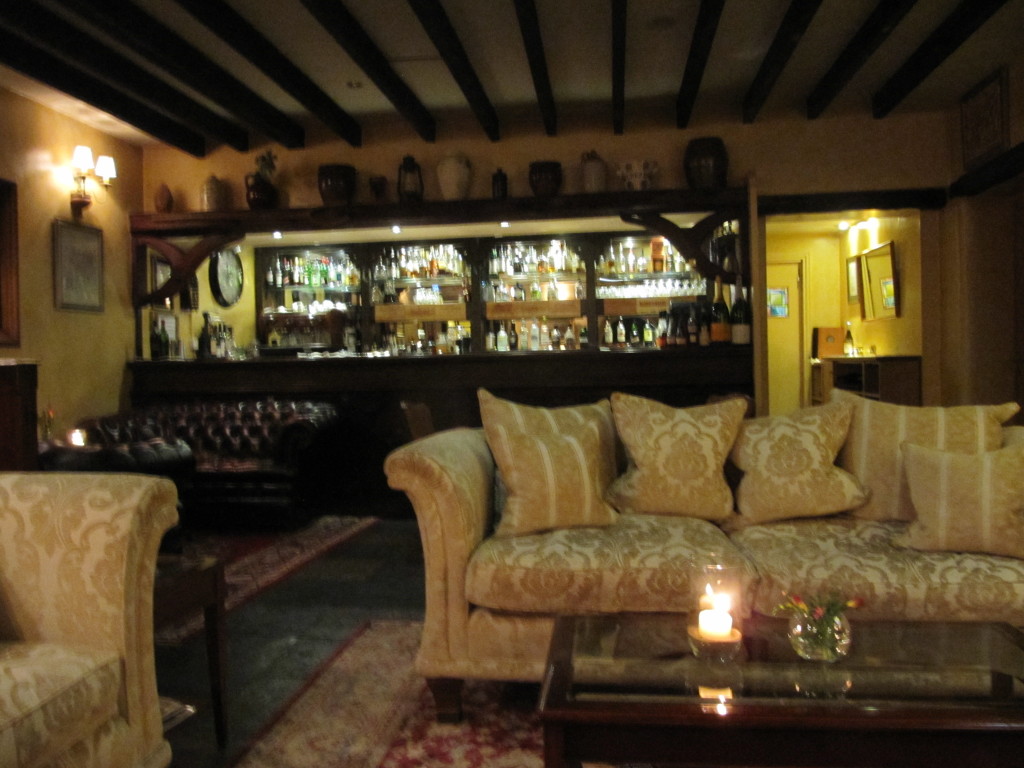 The lounge has been decorated so as to create three adjoining but separate areas for the inn's customers, each with a slightly different feel to it. Whether soft couches, a leather seating area or a table and chairs are on order for the evening, each customer could certainly find their own particular area of comfort. The bar is uniquely stocked with a large offering of champagnes (a lot of the current clientele often celebrate weddings, birthdays and other special occasions requiring some bubbly and the Horseshoe Inn has worked admirably to assist in their celebrations), an amazing wine list which is handpicked by Mark who has a wealth of experience as well as a love for great wine (as well as a desire to share these wines), a generous selection of spirits and a small, but quality selection of beers.  We were also offered a dish of canapés including tasty Spanish olives, perfectly-balanced cheese and poppy seed biscuits, and an utterly amazing chicken breast, chicken crackling and spiced mayonnaise offering that simply melted in one's mouth.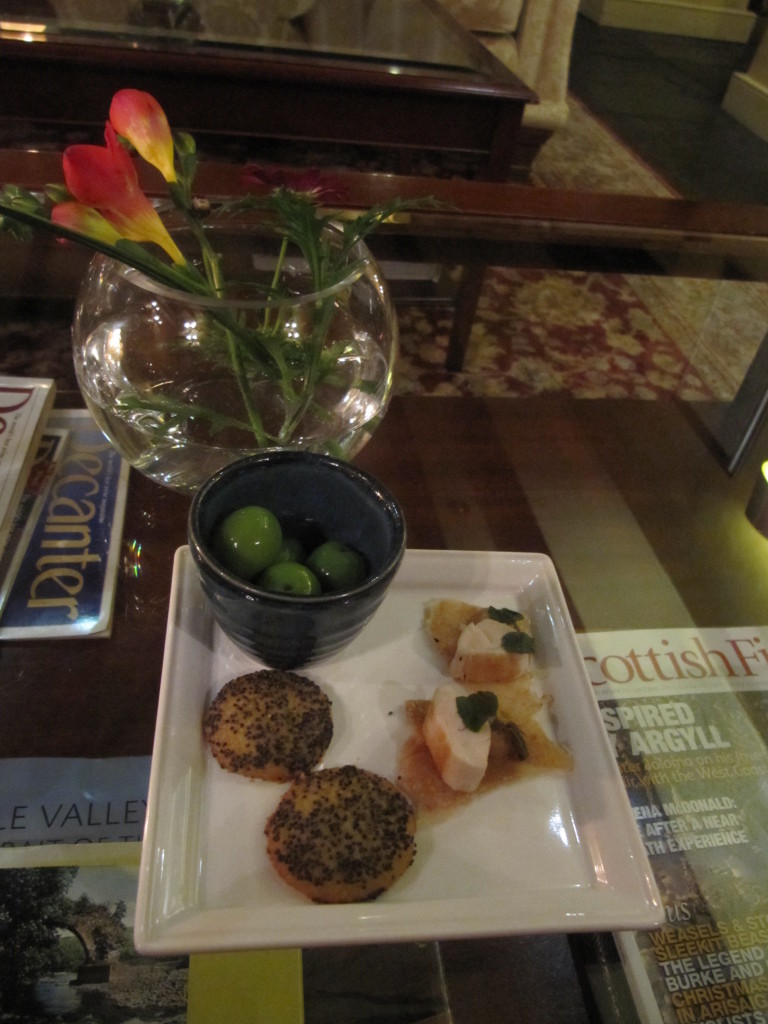 For myself, a Botanist gin and tonic (the Horseshoe Inn, along with its food, attempts to offer local spirits from the Edinburgh/Borders/Scotland areas) and, for my partner, a gorgeous 2013 Sherwood Estates Sauvignon Blanc (New Zealand) completed the start of our dining experience. Paul, our steward in the bar, provided us with lovely menus while we waited with artwork interspersed into some of the pages – once again a sign of the aforementioned attention to detail that the Horseshoe Inn's staff strives for.
The Horseshoe Inn uses only freshly grown produce and game from the Borders area and, as Mark dutifully noted, their menu changes every day depending on "what is delivered to the back door." This is certainly a challenge for the chefs as well as Mark to create meals and accompanying wines but is one that appears to be duly met. A newly planted orchard and garden at the rear of the inn's property will only add to this culinary delight. The layout of the menu is such that it is split into three different categories and price ranges making it easier to select amongst the offerings. Our choices for the evening meal included the day's A la Carte offerings (£45 per person) which included a selection of four starters, four mains and four deserts of a considerable variety; a set, three-course, Menu of the Day meal along with suggested wines for each course (£35 per person, with wines £47) and a six-part Tasting Menu which also offered accompanying, matched wines (£55 per person, with wines £85). After dinner coffee, teas and petit fours are served for £4.50. Being suitably impressed by the food and drink presented in the Lounge, my partner and I chose the Tasting Menu so as to experience all that the Horseshoe Inn has to offer.
Our feast began with a small cup of pig trotters with a lovely pureed sauce and sprinkled with fresh barley as well as two breads with butter, including fabulous "multi-seed" bread which awed us both with its varied and complex array of flavours. Both signalled the beginning of an extraordinary dining experience. Our first tasting dish was a roast cauliflower, scallops, cumin, raisins and verjuce sampling that was simply divine. The scallops were fresh, perfectly cooked and very tasty and the roast cauliflower and raisins along with the spices proved an outstanding combination.  Coupling with the light, slightly fruity, 2012 Garnacha La Multa (Spain) was perfect.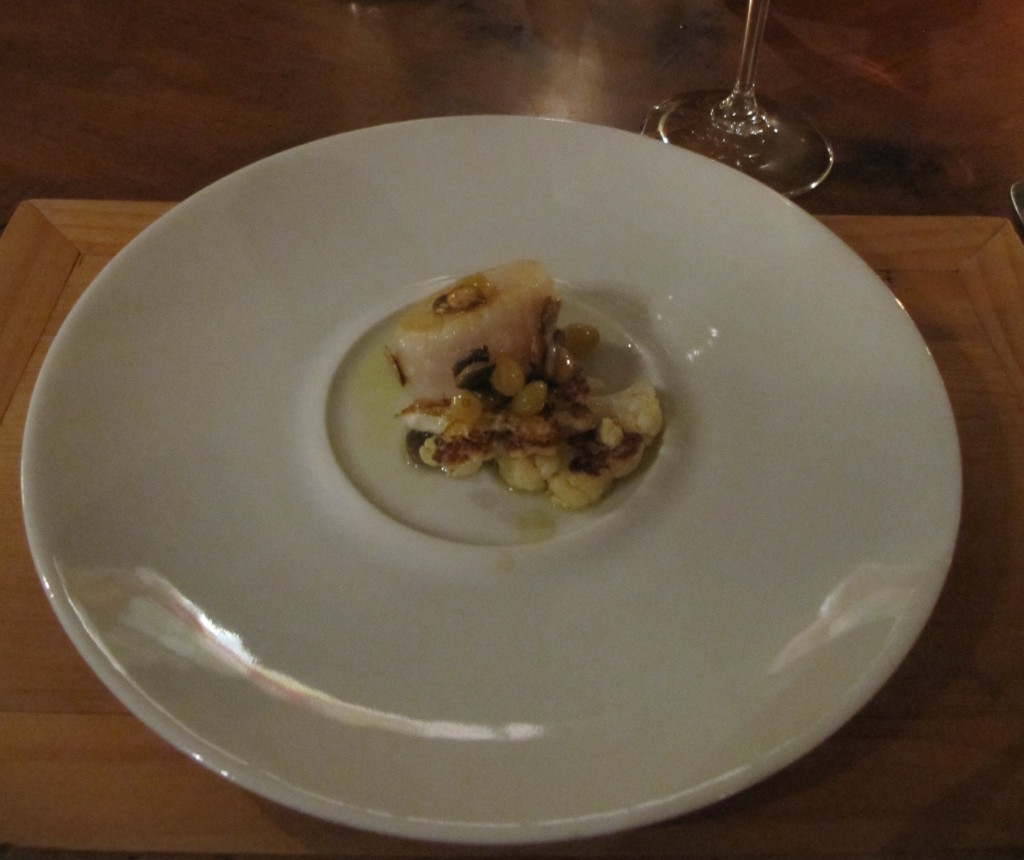 The next dish, a smoked salmon and beetroot risotto with just a touch of horseradish and the bolder, more complex, 2013 Sherwood Estates Sauvignon Blanc (New Zealand) from before was equally as successful. Our fish sampler of the evening, a roast monkfish with Berlotti beans, lying on a bed of cavolo nero with a seafood sauce, was, unfortunately, somewhat tasteless, but not necessarily due to the chef's efforts. The 2012 Stellenbosch Chenin Blanc (South Africa) also seemed a bit light on my palette but was the favourite of the evening for my partner.
However, the following appearance of a beef sirloin again on a bed of cavolo nero with a silky, parsley root "mash" proved to be possibly the best part of the meal. The beef, in particular, was exquisitely tender and tasty and did not demand even the thought of an additional lot of salt, pepper or other added spicing. A braised ox tail that accompanied was certainly wonderful in its own right but seemed unneeded, if not unwanted, given the amazing beef offering. Our one red wine of the night, a 2012 Amador Estate, Carmenére (Chile) was, again, matched perfectly. For our penultimate dish, we were treated to a generous portion of Arran blue cheese with fennel seed crackers and a pickled pear accompaniment. The cheese was some of the tastiest we had ever had, proving smooth and rich in its complexity while the fennel and pickle perfectly offset the cheese and allowed a fresh experience with each morsel of cheese sampled. A wonderful surprise of the locally-brewed Traquair House Ale (Peeblesshire, Scotland) gave a welcome break from wine and a unique tasting partner to the cheese dish. Light and yet with some background notes of complexity, the ale was a perfect choice for the dish. We ended our cornucopia tasting with an impossibly smooth, delicately flavoured kummel and hazelnut praline parfait with welcome pieces of pear and a bottom of freshly prepared butterscotch. Again all simply melted in our mouths and the sweetness of the 2011 Sauternes Chateau Dudon (France) "dessert" wine both added to and complimented the dish. Throughout, our server Sam's service was pristine, offering information about the menu and the local sourcing of the ingredients while being both unobtrusive and yet mysteriously at hand whenever we finished each course.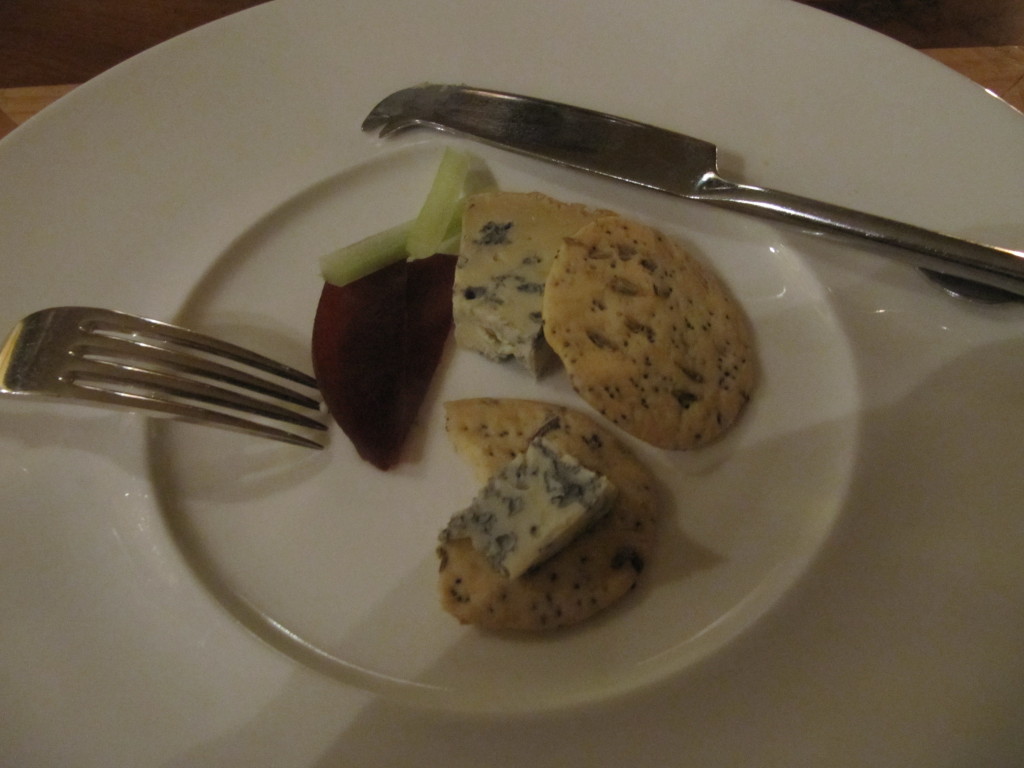 However, the Horseshoe Inn with Rooms was not simply a wonderful restaurant but also an amazing lodging. Full and satisfied with both food and drink, we retired to our spacious and wonderfully appointed room. As mentioned before, the eight rooms are in an old school house near the rear of the property which offer solace and quiet from the road at the front of the inn. The lodging area is, again, beautifully appointed with high quality and tasteful decorations that marry both the idea of a small Scottish inn but also a high quality establishment. There are really no views from the rooms as such but, then again, Mark and his staff are happy to point out lovely  walks which you can enjoy right on the door step. For those who cannot leave civilization completely behind, a check of the free WiFi in this area showed a strong signal in all parts of the building. Although entrance of a slightly complex password was required, the WiFi was fast and reliable.
In case we were at all peckish after our meal, a fresh apple and pear as well as two slices of cake were awaited us as well as a tray of high end teas and coffees and fresh milk (Mark does not believe in serving UHT milk!) in a wonderful, stainless steel vessel (again a sign of attention to detail).
The bed was so perfectly presented that we hesitated to undo the decorative pillows but happily found impossibly soft sheets, pillows and duvets covering a cloud-like mattress. The decor of the large room, which is apparently much the same as when the new iteration of Horseshoe Inn owners took over, is high quality, well chosen and comforting while still offering a level of class and sophistication.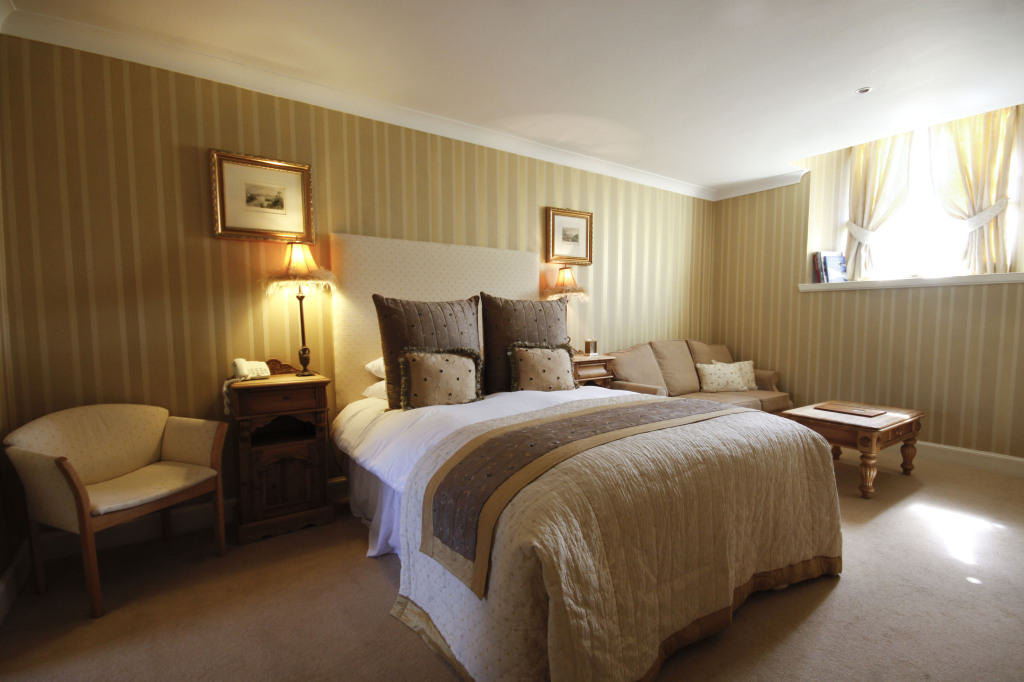 An adjoining well-sized, en suite bathroom was sanitary white but still comfortable with complimentary pomegranate noir shampoo bar, Scottish honey and oats soap and locally produced, all natural body and hand lotions (mESMeRICK, Coldstream, Scotland) provided. Two, thick and soft bathrobes in the cupboard completed the welcome. These hand chosen toiletries were also available in the public lavatories along with thick, hand drying towels. Parking is plentiful in a private parking area between the restaurant and the rooms. Walks amongst the Borders country side are also easily available from the inn and parking area in all directions with several rivers, including the Tweed River being very close.
Having survived our wonderful, evening meal, we awoke from a wonderful sleep in time for the full breakfast. Again, all is locally sourced for freshness and quality. Freshly squeezed orange juice was served with our meal which began with either homemade granola, natural yoghurt with fruit and optional granola or organic porridge oats with bananas and mulled raisins. My granola was heavy on the nuts (I prefer a fruitier version) but was still wonderful. My partner's porridge was judged as some of the best she had ever had and the bananas and raisins complemented perfectly.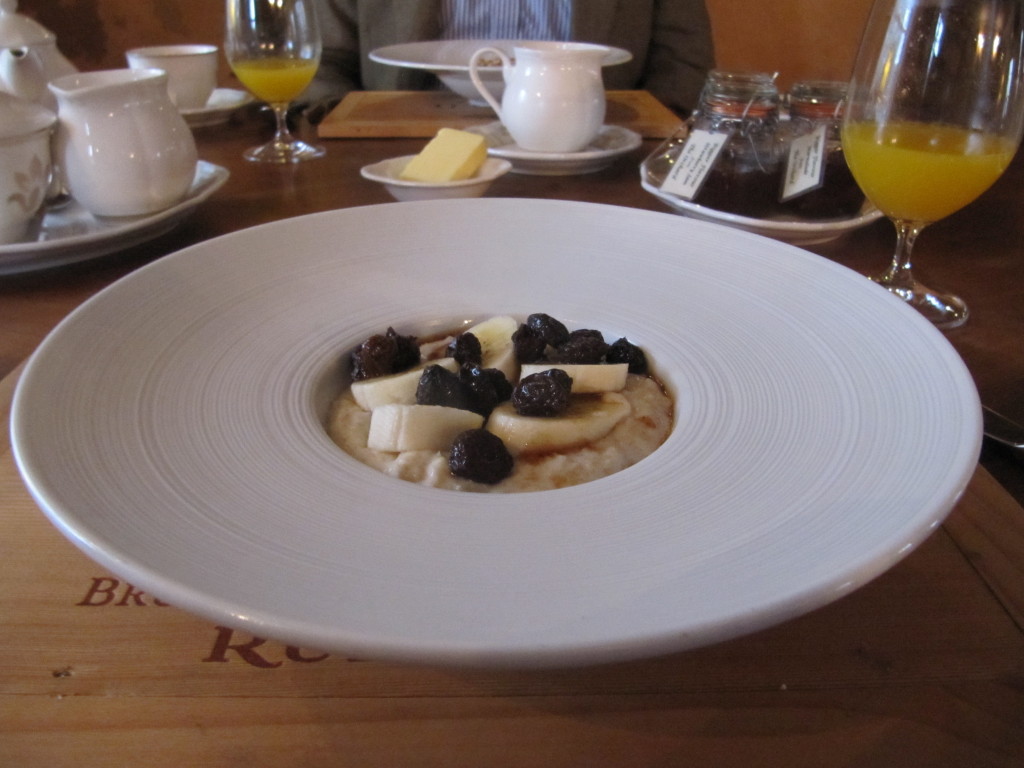 A wonderful assortment of locally made strawberry and blackcurrant jams and a marmalade (The Orchard, Biggar, Scotland) and home-made, lovely toasted breads (including a return of the multi-seed bread from the previous evening) rounded out the beginning of our morning meal. High quality-grade tea and coffee were served as well.
Our breakfast "starter" was followed by either a full breakfast of grilled pork sausage, bacon, mushrooms, black pudding and tomato with choice of prepared egg; chestnut mushrooms on toast with a poached egg; locally caught smokehouse salmon with scrambled eggs; grilled peat smoked haddock with poached egg or an omelette with farmhouse cheddar cheese and chestnut mushrooms. Our choices of the full breakfast and the omelette were both perfect with the wonderfully flavourful mushrooms being the star of both our plates.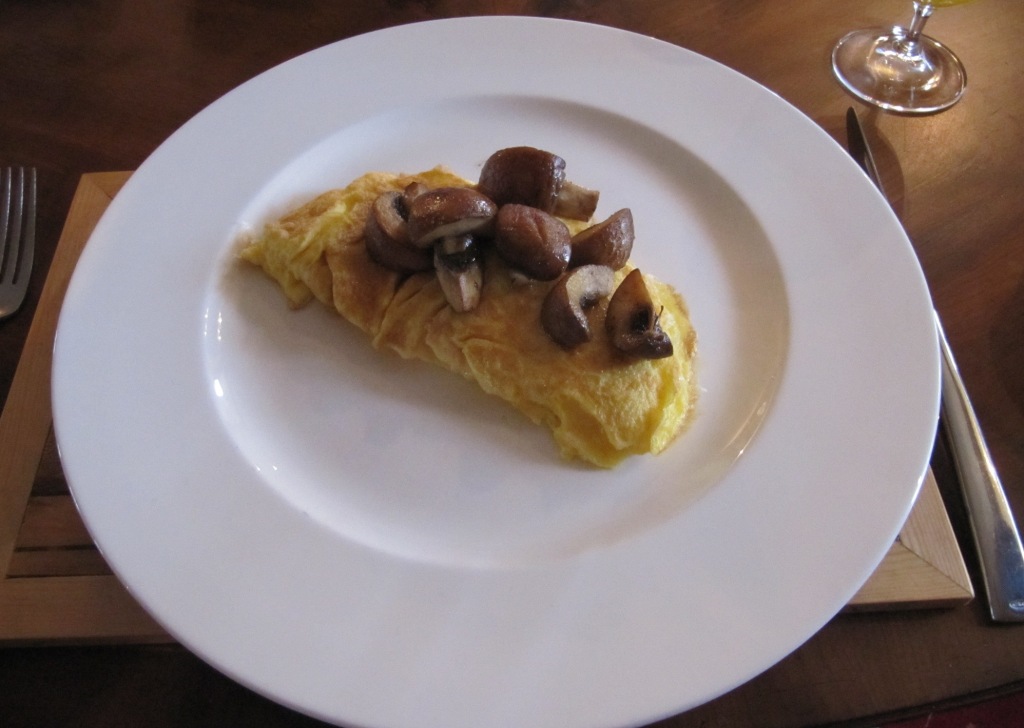 From years of travels both nationally and internationally, I am rarely impressed by a restaurant but even less by a hotel, B&B or inn. The Horseshoe Inn, however, impressed on both levels. The whole philosophy of the team at the Horseshoe Inn is perfect for creation of an amazing dining and lodging experience. But the management team also believes in teaching, nurturing and sharing this philosophy with all of its staff members – an effort that translates into outstanding service and care at every level. With plans to continue slow and careful growth at the Horseshoe Inn, always with a watchful eye for quality and customer service (including already available, outdoor barbeques on top of a beautiful hill in the Borders), this small, relatively obscure, little inn is certainly going to be the gem and the star of the Borders and the surrounding area. The Horseshoe Inn and Rooms comes with our highest recommendation and the suggestion to reserve now before too many people have discovered this outstanding locale.
The Horseshoe Inn with Rooms
Address: Eddleston, By Peebles, EH45 8QP
Telephone: 01721 730 225
Email: reservations@horseshoeinn.co.uk
The SLOAN! Review
The SLOAN! Factor
10.0/10
hospitality of the highest quality & standards led by a passionate team especially Mark
stylish decor without pretentions
great transport links allow those in city to leave car at home
quiet bedrooms
uncovered walk from restaurant to the lodgings
remotely located but worth the effort