Culinary Director of EatFirst, Benn Hodges has 8 years experience working in Michelin star restaurants including Roka and The Ivy before joining and revitalising the EatFirst family. Here he shares his top ten tips to help you cook like a professional chef at home each and every day.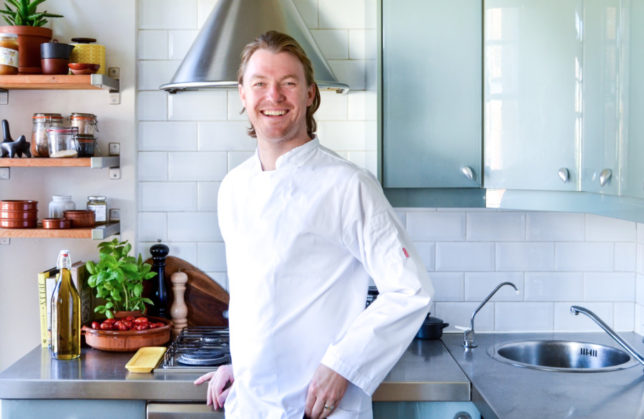 1. Sharp knives are essential
Knives are an essential tool for any kitchen. Blunt knives are not only dangerous to use but they also damage the quality of the food and can increase your prep time. Make sure to invest in a good quality knife set and always use a whetstone weekly or steel daily to sharpen them. Sharpening knives is a skill that comes with experience and you can learn by practicing or by taking a course.
2. Being prepared
Cooking should be enjoyable, fun and easy. If you need to look for ingredients while cooking and can't find them quickly, chances are you won't use them. Your palate shouldn't suffer because of poor organisation! Make sure you always plan meals in advance and use up old pantry items before buying new ones to not clutter your cupboard.
3. Pans
Your tools are just as important as your ingredients. Just like with your knives, make sure to invest in some good quality, heavy based pans for pasta, sauces, vegetables and meats and a large stainless-steel pan for beef and fish. Never use a super high flame or plunge the pan while hot into water, instead leave it to cool at an ambient temperature, then use warm soapy water to clean.
4. Think seasonal – Summer is coming!
Chefs are always thinking 2 steps in advance. In February I sow seeds for basil, coriander, parsley and dill in pots – I keep them inside, on the window sill and move them outside in April. When planting outside, keep them close to the kitchen, you will use them a lot more, if accessible.
5. Dry goods
I have an obsession with spices. They are the best way to add quick flavour to food if your time is poor. One of my favourite healthy and quick meals is a chicken and vegetable tray bake with celery salt, smoked paprika, fennel and nigella seeds. Having a well-stocked pantry is essential for quick, easy and tasty food.
6. Fresh Ingredients
Where possible, always buy your food at either a farmer's market, local grocer or a trusted local supplier. Supermarkets are famous for having over-priced, poor quality produce. Italians are famed for their passion for only using fresh ingredients and preparing them very simply. I always follow this philosophy.
7. Try new things
Don't be afraid to try new things! The best way to approach trying to cook unfamiliar cuisines is by starting with a recipe that is simple and considered a classic. For example: Oyakodon. It's a classic rice dish with dashi stock, poached chicken and egg. Starting with a classic, such as this, is often the best way to learn and refine knowledge before experimenting further.
8. Cooking Fish
My absolute favourite fish to cook is either Cornish Mackerel, South Australian Kingfish or Scottish Salmon. There is nothing better than the smell of fresh fish and watching it sear beautifully in a pan. I cook fish in foaming butter and vegetable oil, make sure to control the temperature well to stop the butter from burning.
9. Cooking & sourcing the best Steak
Always cook a steak once the meat is at room temperature. The best way to do this is by taking from the fridge 30-45 mins before you want to cook it. Try rubbing the steak with sea salt, black pepper and little wasabi before cooking for a delicious flavour alternative and always buy your meat from a butcher you trust.
10. Tray Baking
Tray baking is a super quick, easy and healthy way of cooking a weeknight dinner.Try dicing some courgette, red onion, broccoli and sweet potato before tossing them all in soy sauce and shichimi pepper. Rub a chicken breast with sesame, sweet soy and sansho pepper, then place everything on a tray and roast for 25 mins at 200°C. Simple yet effective.
About Benn Hodges & EatFirst
Acclaimed gourmet food delivery restaurant, EatFirst is driven by award-winning ex-Roka chef Benn Hodges (2017 Great British Takeaway Chef of the Year). EatFirst are industry leaders in the gourmet food delivery sector and are now turning their hands to the retail market. Benn's culinary background includes running some of the world's top restaurants such as The Ivy and Roka in London. EatFirst has proudly won the coveted 2017 Great British TakeawayChef of the Year, 2017 Great Taste Awards and 2016 British Takeaway Awards for their dedication in creating healthy, clean and ethically sourced meals that contain no artificial colours, flavours, additives or preservatives.
EatFirst are launching their new Taste of Asia range at Ocado, which aims to revolutionise the ready-meal industry and have already been dubbed the 'World's Finest Ready Meals'. Designed for busy foodies looking for high-quality wholesome meals that include vegan, vegetarian, and gluten-free options, EatFirst is filling a gap in the market by meeting the needs of the modern consumer.