Recently launched, UK-based online mattress brand Hyde & Sleep, has introduced a revolutionary pillow to go alongside its recently launched mattress. Like the mattress, the pillow has been specially designed to offer a perfect night's sleep by utilising groundbreaking NASA technology to ensure sleepers can always access the cool side of the pillow.

Get A Better Night's Sleep
With over 20 million people suffering from sleep issues at some point in their lives and nearly 90% of people complaining about 'toxic' sleep, having the correct pillow and mattress that provides the correct cushioning for the upper body and head is integral to having a successful night's rest. Many people who struggle getting to sleep assume that it's due to factors such as too much alcohol or caffeine, stress or even sleep apnea with very few factoring in the quality of their mattress and pillow as the reason.
Here are some of the key features of the new Hyde & Sleep pillow…
The Perfect Temperature
Most studies agree that the perfect temperature for falling asleep is between 16 and 19 degrees Celsius. The pillow's cover uses technology developed by NASA that reacts to the skin's temperature, cooling the fabric when the temperature is hot, and warming the pillow when cold. This ensures optimal levels of thermal comfort at all times, perfect for warm summer evenings.
Neck Support
The pillow has been specifically designed to provide neck support and improved spinal alignment with materials carefully chosen to ensure breathability as well as being suited to allergy sufferers.
Half Memory Foam
One side of the pillow is memory foam, ideal when finding the perfect sleep position. This is covered in a 'cool to the touch' pillow cover for maximum comfort.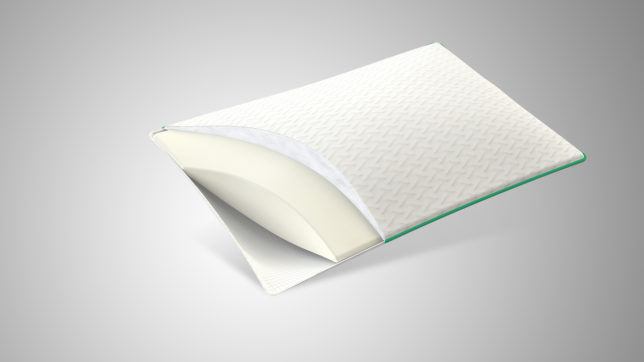 Half Soft Fibres
When you flip the pillow over, there's another story… A layer of ultra fine synthetic fibres provide a super soft 'duck down' feel. So if you prefer a softer feel, you can use the softer side of the Hyde & Sleep pillow!
Contemporary Design
The pillow comes in two colours – raspberry and mint to match the Hyde & Sleep mattresses. Perfect for the style conscious!
Andrew Tyler, Founder of Hyde & Sleep commented; "We spend a third of our lives sleeping and a lot of people underestimate just how important it is to have the right pillow and mattress. It's not just the benefits it gives you while sleeping but the benefits it gives you for the rest of the day too. Like our mattress, we've designed a pillow that gives a much better quality sleep and will help people feel refreshed and revitalised for the rest of their day."
Backed by leading bed specialist Dreams
Hyde & Sleep is backed by Britain's leading bed specialist Dreams, and manufactures and delivers pillows as well as vacuum-packed and boxed mattresses, direct to customers. Compact and easy to manoeuvre upstairs or in lifts, boxed mattresses and pillows suit consumers with a fast-paced, urban lifestyle. As they are also deliverable to a customer's workplace, getting a better night's sleep has never been so convenient.
Hyde & Sleep sells exclusively online at www.hydeandsleep.com and ships to mainland UK. Each mattress and pillow comes with a 100 day test policy: Hyde & Sleep are sure their customers will fall in love with their products, but if the mattress or pillow isn't right for them, Hyde & Sleep will collect it and refund the cost. You can't ask for more than that. All you have to lose is a bad night's sleep!
The Hyde & Sleep pillow costs £79 and is available from www.hydeandsleep.com
Hyde & Sleep can be found on Twitter @HydeAndSleep #HitSnooze