I Robert has brought something completely different to the Mayfair dining scene – a cosy, stylish and exceptionally affordable neighbourhood café bar and restaurant that offers a real respite from the hustle and bustle of the city.
Here you will find home-cooked Mediterranean food served in light and bright surroundings decorated with stunning original artwork by contemporary talents such as Tsuzuki Mayumi and Séamus Connolly.
The West End's very own local trattoria – named after a painting by renowned animal artist Kate Boxer – I Robert is the place where locals are greeted by name and first-time visitors feel immediately at home. A place where everybody is in a holiday mood, without even having to leave the capital.
I Robert's kitchen is presided over by the brilliant Michele Granziera, who spent seven years at Zafferano. He was then appointed executive chef at Avista restaurant in the Millennium Mayfair hotel where he was awarded two Rosettes.
Specialising in rustic, family-style dishes that are at the heart of the best Mediterranean cooking, Michele's menu features signature starters such as Gallega octopus with chorizo & green sauce and mains of the calibre of braised pork cheek, mashed potatoes & red wine jus and red mullet with spinach & tapenade. Italian and Spanish charcuterie and cheese plates are served throughout the day, with a charcuterie selection and carafe of wine pairing available for an incredible £15.50.
One of the specialities of the house is the pasta, all made freshly every day and rolled entirely by hand. A dying art even in Italy, hand-rolled pasta is infinitely superior to anything produced by a machine, as its rougher texture traps and holds the sauce, giving dishes such as the I Robert tagliolini with rabbit ragout a much richer flavour.
The wine list is comprehensive and thanks to a partnership with a nearby cellar, if your favourite wine is not featured, it can be with you in 10 minutes. Along with a fine array of grappas, spirits and liqueurs, I Robert also offers a range of homemade lemonades sweetened with honey and spiced with ginger.
Set across two floors, with the restaurant upstairs and a café on the ground level, I Robert also features a smattering of al fresco tables.
The ideal spot for family gatherings, business lunches and more intimate private events, I Robert is the latest addition to the portfolio of London restaurants owned by legendary restaurateur Arkady Novikov.
The SLOAN! Review
I Robert is an easy walk from Green Park station, and is a very trendy and relaxed place to dine. As soon as you walk in you immediately feel relaxed and at ease. Something else that stands out is the great effort that has gone into the interior design. The theme is very tasteful and makes an interesting dining experience.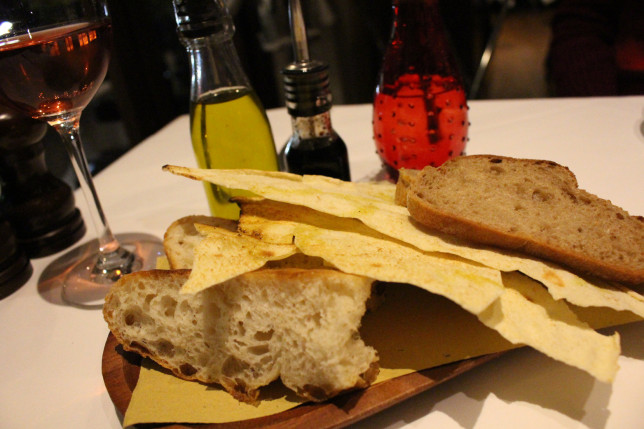 After a lovely warm welcome we sat down and were presented with a tasty bread board. The bread was accompanied with thick balsamic vinegar and olive oil, the quality of which made the bread exceptionally moreish.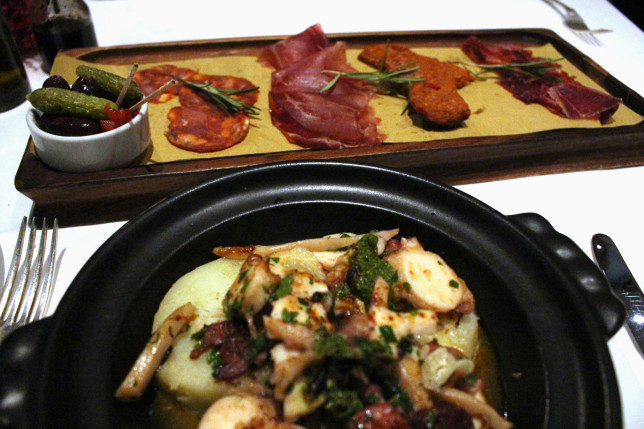 To start we ordered the Spanish charcuterie selection and the Gallega octopus.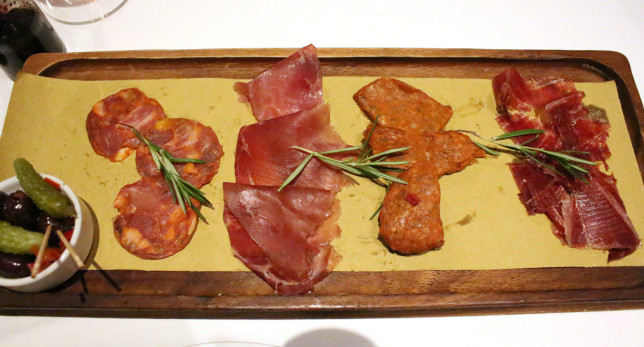 The  Spanish charcuterie selection came with Chorizo, Iberico ham, Sopresada and Cecina. The dish was accompanied with a selection of bread, olives and pickles. The meats came perfectly sliced and was the perfect dish to share and whet the palate before the much anticipated mains.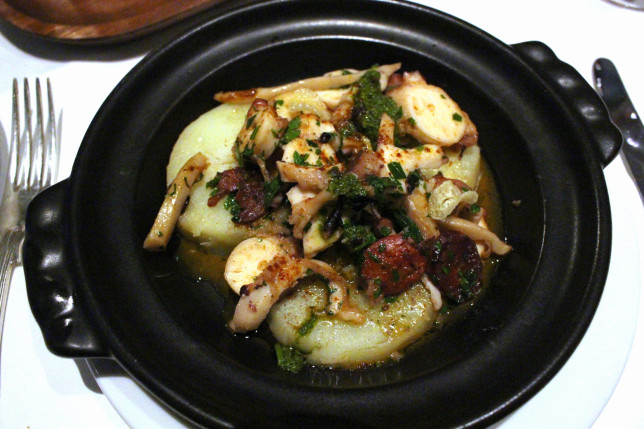 The Gallega octopus came warm and was perfectly matched with Chorizo and green sauce. Certainly a dish we will be back to try!!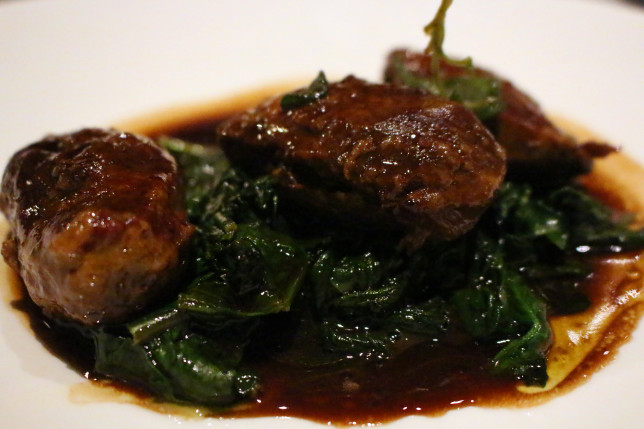 For the main event we chose Braised pork cheek, spinach and red wine jus. The meat just fell apart and worked very well with the rich red wine jus accompaniment.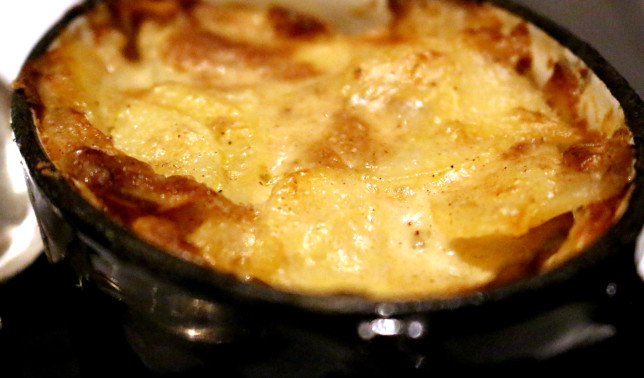 As a side the creamy gratinated potatoes are a must and were probably one of the best potato dishes we have tried. We were informed it was the chefs magic ingredient that makes this dish a moreish delight. We will certainly be trying to recreate this dish at home!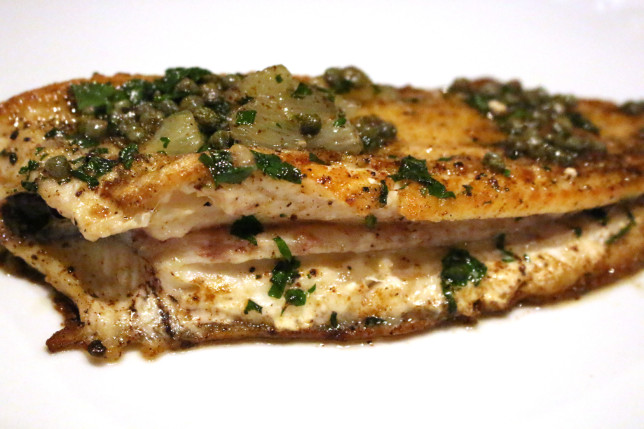 The Lemon sole came dressed with capers and lemon. The fish was a really generous portion and was expertly marinated. This dish comes as a high recommendation. The chef cooked the fish to just fall off the bone. The best part of the dish is finishing one side of the fish knowing your mouth is going to be treated to a second culinary explosion on the other side.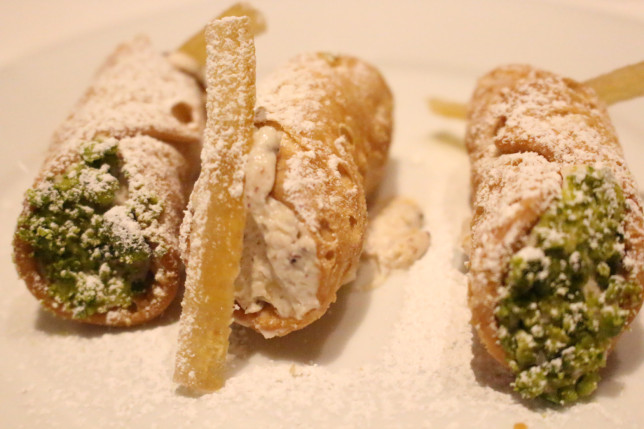 After such a lovely dinner it is always hard to find space for dessert, but with delights such as these who can resist. We choose the cannoli with pistachio nuts and the lemon tart with meringue.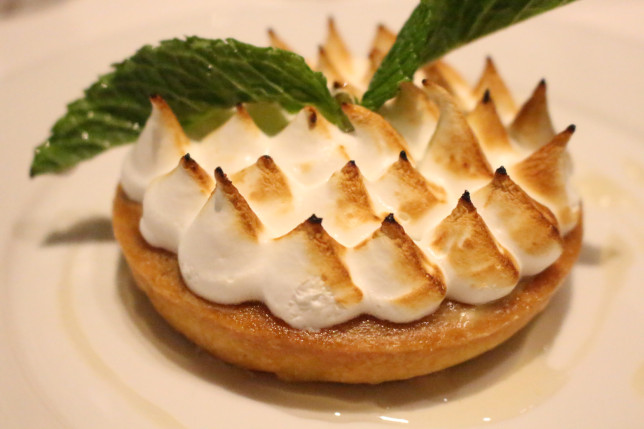 The lemon tart came beautifully topped with little peaks of toasted meringue. As far as desserts go on the I Robert menu this is a must to try. If you have a sweet tooth the combination of sweet flavours will leave your mouth watering for more.
All in all we had a lovely dinning experience at I Robert.
I Robert
54 Curzon Street, London W1J 8PG
020 7495 3960
www.irobert.london