iFit is the world's most connected fitness platform, bringing together every part of your healthy and active lifestyle. iFit delivers unmatched results by providing interactive training, comprehensive data, and personalized instruction within a supportive community. With more than 30 million miles logged in 2014 by iFit members, iFit is continually growing and evolving to create the most intelligent fitness technology.
The new iFit Vue is designed to give you a whole new perspective on your fitness. As it celebrates your achievements, you'll feel inspired to keep going. It'll transform your seemingly small actions into huge milestones, giving you a brighter outlook on your own, unique journey.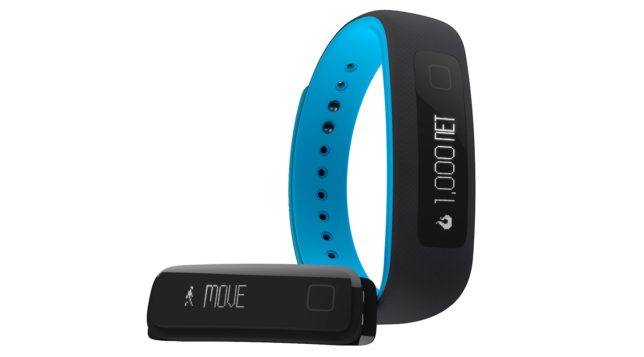 With a bright OLED display and touchscreen technology, you can quickly view your stats for steps, distance, net calories, calories burned and sleep at the touch of a finger.
The Vue sends you quick and friendly messages, reminding you when to move. You'll feel a gentle vibration and with a quick glance at your wrist, you'll be motivated to stay on track. You can even sync your phone to the Vue to get caller ID and text notifications on the screen.
Using SmartMove™ technology, the iFit Vue not only detects your specific movement patterns, but it also knows when you switch activities, whether you're walking, running, swimming or sleeping. Your data will then automatically and wirelessly sync to the free iFit app, so you'll be able to continuously track your progress no matter where you are.
Using the iFit app, you can set goals for daily steps and hours of sleep, and track your progress to see if you're meeting your targets each day. You can also input your daily calories, directly on your wrist or on the app, so you'll know if you're burning and consuming calories in a healthy, harmful, or weight loss range. iFit then uses your net calorie information to suggest individually tailored workouts to help you reach your daily goals.
The iFit Vue is available in black/blue and sangria pink and costs £99. Available at NordicTrack.co.uk and ProFormFitness.co.uk.