Green spaces in our cities help encourage biodiversity and control rainwater run-off but more importantly contribute to health and wellbeing. Mary Bowman of landscape architects Gustafson Porter tells SLOAN! Magazine why green spaces are important to London.
London is seeing a boom in green terraces and roof gardens in both office and residential developments. We won't see the results of this for another few years but there will soon be a lot more planted roof space in London. Providing external space adds value both in terms of the offer and the rents and buying prices developers can achieve. We have just finished an office development with a planted roof terrace near St Paul's Cathedral – New Ludgate – and are working on another scheme due for completion in 2017, Rathbone Square. It's in Fitzrovia and features residential and commercial terraces.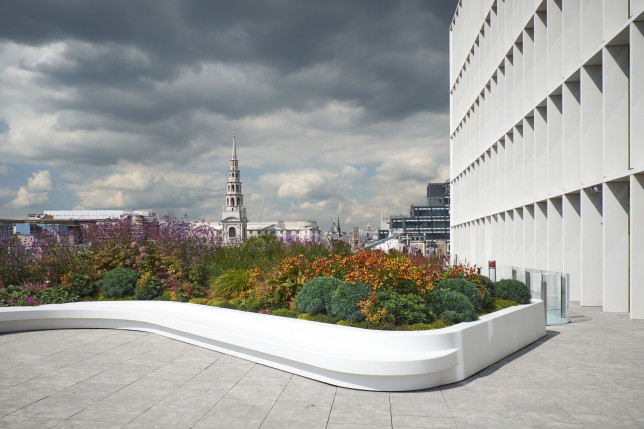 Rathbone Square is an interesting development because it has a central courtyard that is open to the public from morning to night and opens up routes across a site that had been closed for decades when it was a Royal Mail sorting office. On the western side we've created a more intimate set of spaces with raised planters and benches that we call 'garden rooms' and on the eastern side we've designed a lawn with a long curvilinear bench where people can lie in the sun next to mature trees.
The central courtyard, which also has some cafes and shops, is somewhat concealed from Newman Street and Rathbone Place so we have placed raised water features at both entrances. People walking past will wonder what's going on inside and be drawn in as a result of the movement and sound of water. We see Rathbone Square as a place where people will be able to get respite from the madness of Oxford Street, a place where the pace is fast and people are moving quickly in and out of shops. It's only one street away but it's a very different feel, a much calmer place where you can sit and eat and dwell.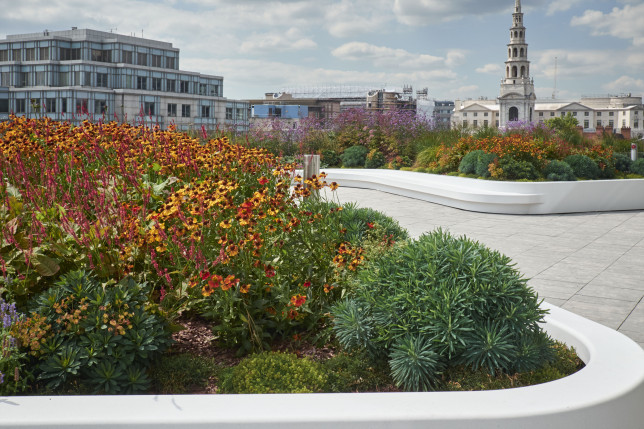 We do a lot of work in Singapore too and our task there is to create comfortable conditions in an environment where people will only walk 200-250m before they have to stop and get some kind of cover from the sun and heat. In Singapore our designs have to be aesthetically pleasing and provide shade and cooling breezes, because if you can lower the ambient temperature by just a few degrees, from 30 to 28 or even 27 degrees centigrade, then you start to get the sort of environment where people are able to stay outside longer. In these projects we also need to strike a balance between providing adequate shade cover and overhangs and enough open sunlight, daylight and rain for the planting. So it's always this back-and-forth between the needs of people and the needs of plants!
In recent years a few projects and schemes in London have raised the profile of landscape design and the importance of the public realm. The developments along the Southbank for instance, which are not so much planted landscape but have really opened up access to the river. Within London the Olympic Park is the biggest new park in London in recent years. As more people get to know it and use it, and as more of the development around the park happens, there will be increased appreciation of landscape and the provision of that sort of big-scale green infrastructure. Often it's about opening up parts of the city that were previously inaccessible, like the new King's Cross development, which is not a hugely planted landscape but is creating high-quality public realm where none existed before.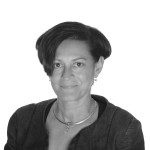 Mary Bowman is a partner at Gustafson Porter, international landscape architecture practice. She leads projects with complex client and consultant groups, including the Rathbone Square, Carey Street and Luton Street developments in central London, Marina One and the Toa Payoh Integrated Development in Singapore, and Lusail Plaza and Seef Lusail in Doha. Mary's particular interest is in the integration of landscape and architecture, and the specialist role that landscape architects can play in the design of the public realm.
Mary is responsible for the design direction and day-to-day management of the office, together with Neil Porter and Sibylla Hartel. She has collaborated on high-profile projects including the Diana, Princess of Wales Memorial, the Treasury Courtyards, Novartis North Park and the Swiss Cottage Open Space. Mary lectures internationally and has been an external examiner at Chelsea College of Art and the Architectural Association where she was also a tutor. From 2005 to 2009 Mary was a member of the AA Council, and she regularly contributes to 10×10 Drawing the City event for Article 25.