We've gathered a few of our favourite things to whet the appetite and satisfy even the most discerning palates from tasty coconut jam to delicious nut butters and more… it's time for you to indulge in some of the latest and best food products that .we know you'll love just as much as we do!
Buko organic coconut jam
These jams are the first organic spreads of this type to be launched in the UK and are available in three mouth-watering flavours, including Sea Salt, Chocolate and Original.

The jams make a delicious alternative to traditional spreads and, as well as tasting great on toast and bagels, make a unique ingredient in baking or for smoothies. What's more, thanks to Buko's unique partnership with Cuipo, for every jar sold a square metre of rainforest is saved. Launching soon in Holland & Barrett stores – £4.99
MAZA Chocolate
Maza is the only chocolate in the UK to use palmyra nectar, a traditional Ayurvedic ingredient that is nutrient dense and particularly high in Vitamin B12 – the mood boosting vitamin. Palmyra nectar has a glycaemic index of only 40 so compared to that of sugar, at 100, it is significantly less disruptive to blood sugar levels.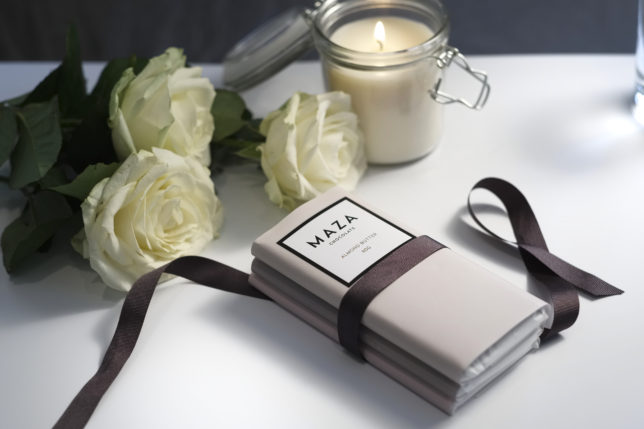 The company has launched with three flavours, Dark, Almond and Coconut. Each hand-made bar is dairy, gluten and soy free. The Maza philosophy involves using whole foods rather than flavours or extracts and the list of ingredients is minimal. Cacao beans are sourced from Madagascar, Columbia and The Dominican Republic and only the finest raw materials create the smooth and nutritious chocolate that leaves the Maza kitchen. Available from www.mazachocolate.co.uk priced at £7.99
APE Coconut Curls
A range of lightly salted and slightly peppered coconut curls which are free from gluten, wheat and dairy – and a great healthier alternative to crisps, given that they are packed full of coconutty goodness. They are also lower in carbs and higher in fibre and protein than popcorn or crisps, plus really moreish!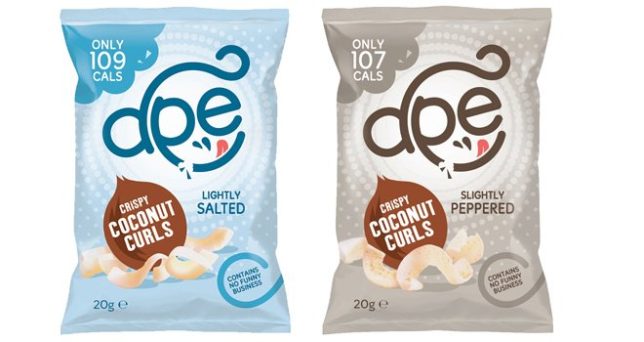 Not only are ape snacks completely natural, they contain just two products; 100% coconut and seasoning.   Plus they are gluten free, count towards your 5 a day and have no more than 109 calories per packet, so you can munch happy!
A great choice for health-conscious snackers, coconut lovers and picnic goers, the curls are thinly sliced directly from the coconut before being slowly dried to retain their natural flavour and nutritional goodness. They are not fried, have no added sugars or chemicals – and they are even crunchier than crisps!
What's more, ape's crispy coconut curls are lower in carbs and higher in fibre and protein than popcorn or potato crisps, so they'll keep you feeling fuller for longer.  They are also packed full of medium-chain triglyceride fats which give the fruit its antioxidants, antiviral and antimicrobial properties. They're also the perfect snack for vegans, coeliacs, those with paleo lifestyles. Bags retail at 99p, available at Co-Op.
Pip & Nut
Pip & Nut have launched two new and totally delicious flavours: Limited Edition Crunchy Maple Peanut Butter (available for 9 months) and a Cashew Butter. The first crunchy nut butter in the Pip & Nut collection, the Limited Edition Crunchy Maple Peanut Butter (250g), is naturally sweetened with a drizzle of Canadian maple syrup and has an extra peanut­ty bite making it a perfect blend of sweet and savoury. It's the first in a series of exciting Limited Edition flavours but fans need not panic as they have nine months to squirrel away the flavour!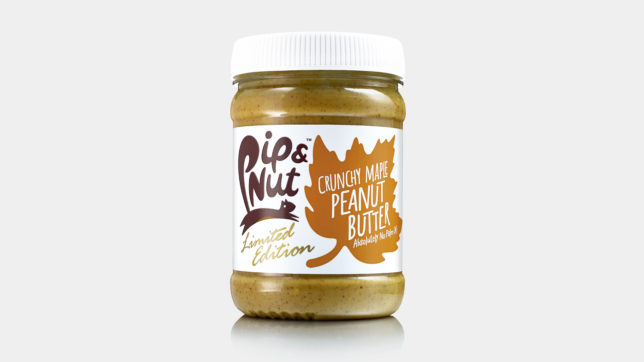 A new permanent addition to the range , Cashew Butter (250g) is made using just roasted cashews and a pinch of sea salt. The result is a naturally sweet, nutty flavour, which is perfect for popping into your porridge. As with all the nut butters in the range they are made with all natural, quality ingredients and have no refined sugars, additives or palm oil. Cashew Butter retails at £3.95, Limited Edition retails at £2.30 – both available at Sainsbury's. Follow the nutty fun at #naturalnuttiness