Since the opening of its first store in Japan in 1985, IPPUDO has always remained true to its goal of sharing the best of authentic Japanese gastronomy through an all around dining experience. After the opening of a first store in Central Saint Giles in 2014 and a second one in Canary Wharf the following year, IPPUDO has now brought their most beloved Japanese soul food to Villiers Street.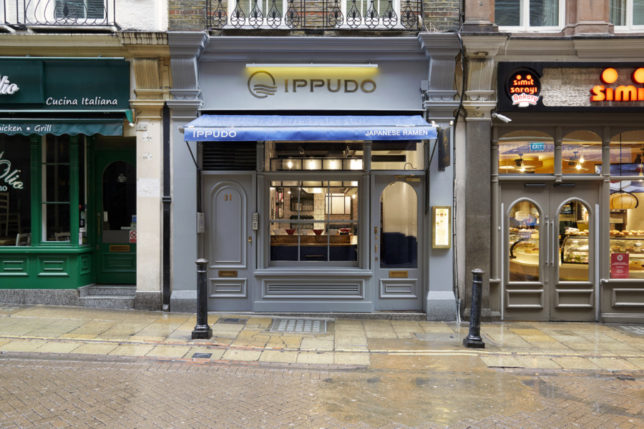 IPPUDO Villiers Street is a cozy and welcoming ramen restaurant, with its vibrant open kitchen right in the entrance of the restaurant. Customers can enjoy a variety of pork-based tonkotsu ramen, like the classic Shiromaru, modern Akamaru or Spicy Karaka, but also the traditional Hakata Niku Ton, only available at the new Villiers Street restaurant.
IPPUDO is renowned for its silky and smooth tonkotsu broth and its extra thin homemade noodles. To accommodate customers dietary requirements, they also offer two kind of vegetarian ramen, spicy or non spicy.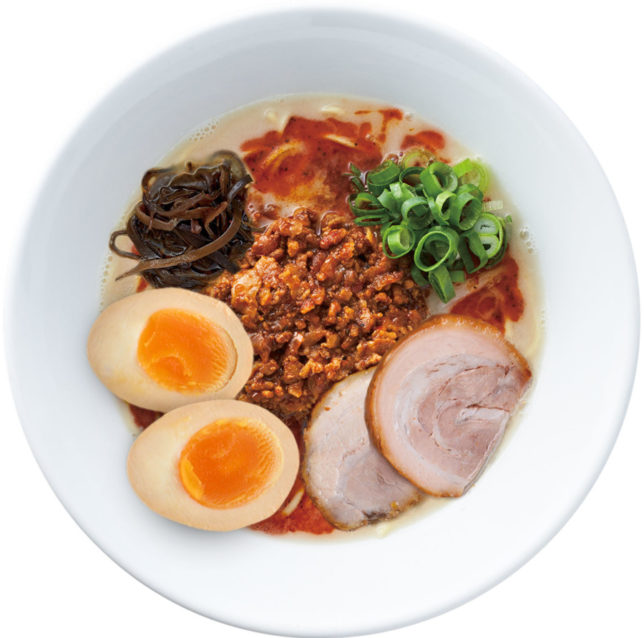 Busy lunchers can now order takeaways, and diners can choose from a cosy dining area in the back or counter seats where, right in front of customers, chefs dynamically and energetically prepare the bowls of ramen. With typical London tile and wood flooring, the interior is a good mix of modern IPPUDO style fused into more classic London atmosphere, for a cosy and trendy ambiance.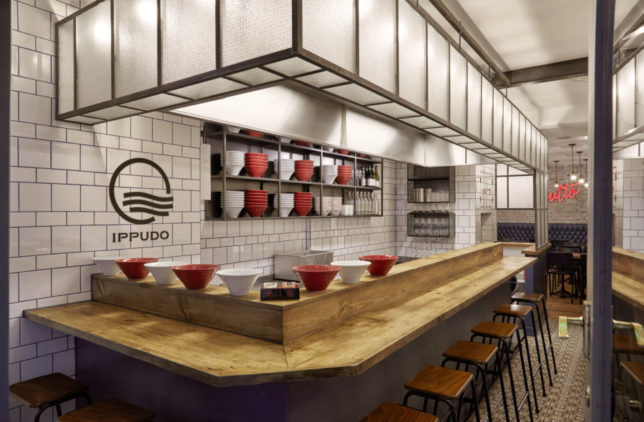 A wide variety of traditional Japanese appetizers with a twist is also on the menu, with classical dishes such as Edamame or Gyoza or IPPUDO's most beloved Hirata Buns, soft and fluffy buns prepared with either melt-in-your-mouth chashu, vegetable croquette or crispy chicken: slightly spicy and simply addictive. These appetizers and Donburi are also available for takeaway offering the best of Japanese traditional taste fused with high quality British products in the comfort of your office or home.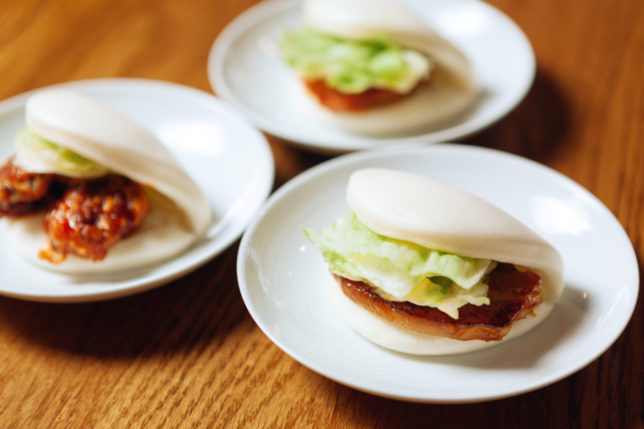 Taking our seats at IPPUDO Villiers Street, we looked forward to enjoying some Japanese soul food at the same time as soaking up a glimpse of the way Ramen is traditionally made and eaten. To start our journey we ordered a selection of appetisers including Age-Tako Yaki.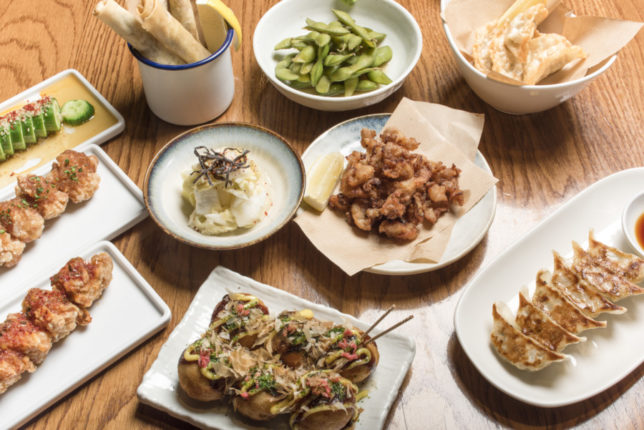 Age-Tako Yaki are bite sized octopus pieces fried in a spiced flour batter then brushed with sweet Takoyaki sauce, mayonnaise with a garnish of green seaweed and bonito flakes. The fried balls are really exciting on the palate and brimming with flavour. Once you have tasted the concoction of the infused ingredients you are left with a pleasant surprise of octopus lying inside the batter.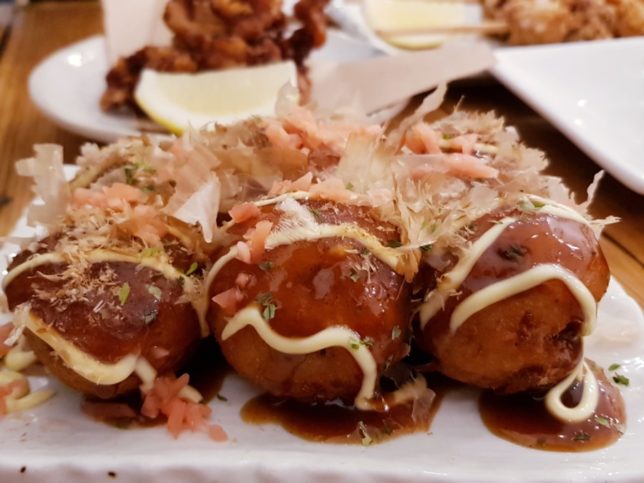 We also tried the Kari-Kari Ton Kara – crispy fried pork belly slices which have been marinated in Ippudo's special garlic soy sauce. This was a nice take on the classic British pork scratching with good texture and the taste of garlic soy sauce brought the dish to life.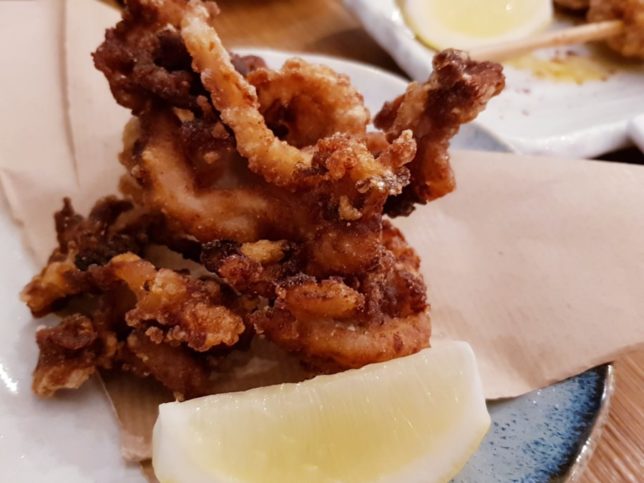 We were recommended to try the Kara-Age sticks which come spicy or non spicy. We chose the spicy version and were not disappointed. The chicken pieces come lightly fried keeping the tenderness of the chicken. Each moreish piece keeps you yearning for more. The added spice is a nice touch and adds a subtle contrast to the dish.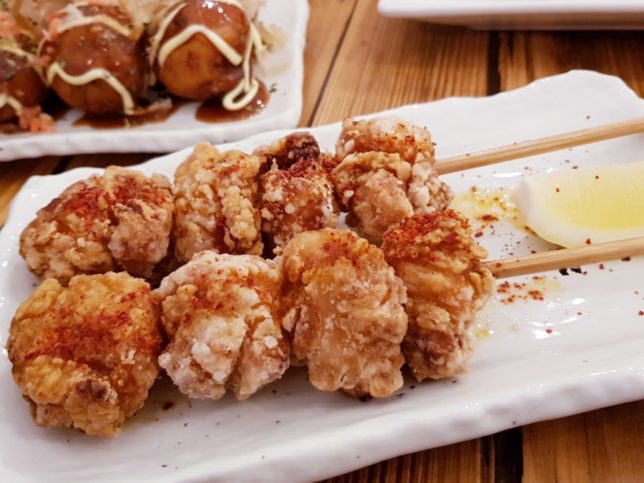 The IPPUDO Hirata bun comes in three varieties of pork, chicken and vegetarian. Each of these soft and fluffy buns come with mayonnaise and iceberg lettuce. These are like Japanese mini burgers and are a must-try especially after 2pm on a Monday or Tuesday where you can get 3 buns and a beer for just £10.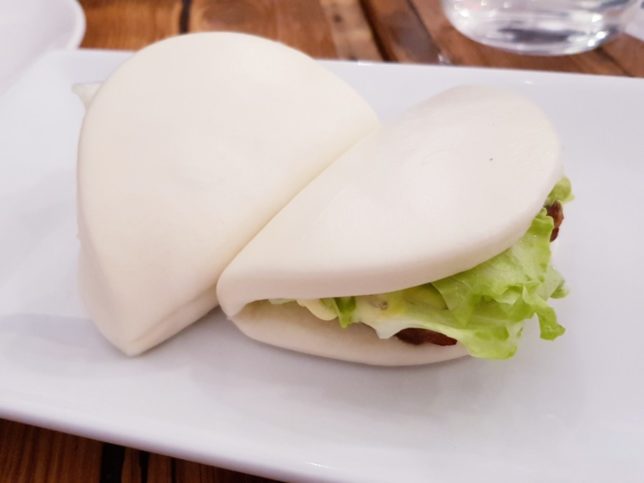 For the main event we choose the Niku Ton Ontama Ramen. This comprises of IPPUDO's original creamy tonkotsu pork broth, with generous portions of simmered sweet and spicy pork, spring onions, seaweed and a poached egg. You are also given fresh garlic to add a new dimension to the flavour and comes highly recommended.
It was awe-inspiring to watch the chef in the open kitchen spring into action to make the ramen. The noodles can be ordered in a variety of hardness. The idea is that the noodles keep cooking in the broth after serving. We chose hard Kata noodles and found that very hard whereas the Bari Kata was perfect to our taste.
When a Japanese person orders this dish they expect it to be as hot as possible and to facilitate this even the bowls are served at 80ºC. The idea with ramen is you keep filling your bowl with additional noodles until you are full. IPPUDO has a good selection of ramen toppings to keep you more than willing to keep filling your bowl as long as you have enough broth in your bowl to do this.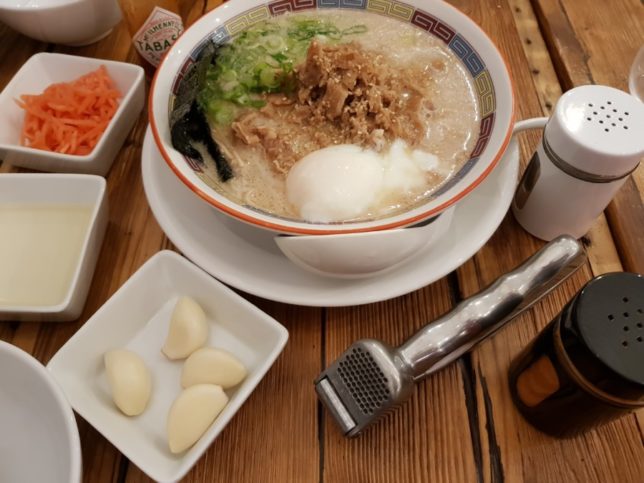 As we ate the Ramen we were treated to Japanese Sake and plum wine. The plum wine comes in a bottle with a real plum in it which infuses its flavour beautifully. The Sake was smooth and had a good aroma of bananas and rice. It was interesting how the sake was poured into the glass and box. The idea is to overfill the glass so the sake flows into the box. This shows the customer how generous the restaurant owner is and encourages them to visit again.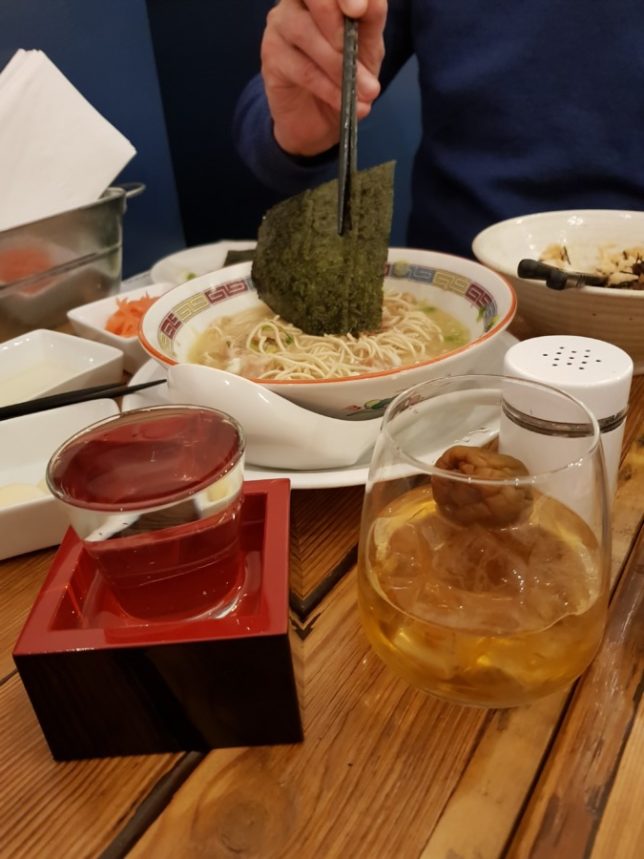 We also tried the Wagyu Yakiniku Don, grade A4 Japanese wagyu beef which comes with a Yakiniku (BBQ) sauce served over steamed rice. The Wagyu came perfectly cooked and had a very special rich taste. The texture of the meat itself was tender as expected. If you like beef this the only beef dish on the menu but you're guaranteed to love it.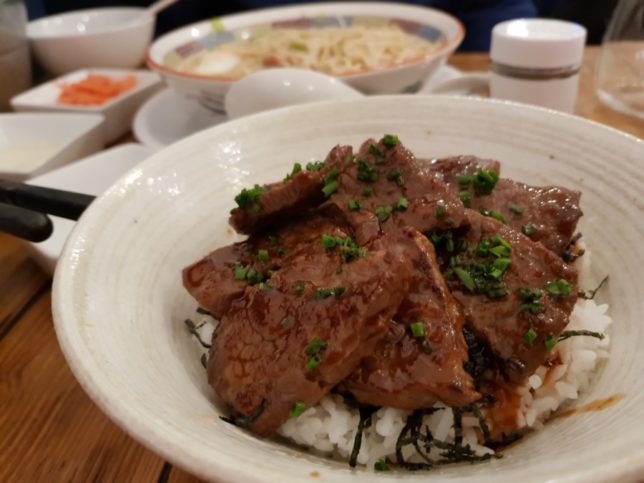 Desserts at IPPUDO are a delicious sweet treat worth saving room for and we finished our meal with the Matcha Parfait. This dish came recommended by the manager and for good reason. The dish consisted of a base of Dorayaki pancakes, green tea ice cream, white chocolate jelly and cream cheese sauce with a good helping of matcha.
The combination of flavours made this dish an immediate favourite and was a wonderful end to a truly authentic Japanese dining experience.
IPPUDO Villiers Street
31A Villiers Street, London WC2N 6ND
020 3667 1877
www.ippudo.co.uk
@ippudolondon