SLOAN! loves the unique playful handmade jewellery created by master goldsmith Jana Reinhardt in the Sussex studio by the sea.
The perfect pick me up for those rainy day moments, the handmade rainbow ring from Jana Reinhardt is studded with coloured gemstones including ruby, sapphire, tourmaline, iolite and amethyst. The rainbow ring by Jana Reinhardt  is available in 925 Sterling Silver, 22ct yellow gold vermeil or 18ct rose gold vermeil. The ring is 2mm wide and has a hand-polished finish.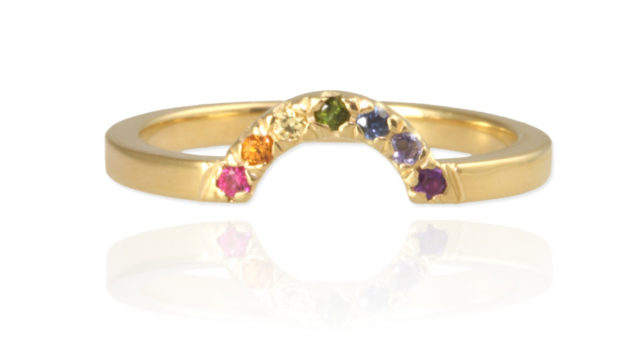 Every rainbow ring is made in the UK by award-winning goldsmiths Jana Reinhardt and Ross Cutting.  The rainbow ring is a beautiful reminder of the sunshine after the rain. How could you possibly feel sad when wearing this beautiful and quirky ring!
Rainbow jewellery symbolises truth and wisdom which makes it a great gift for those big birthdays. This playful ring could also be given as a rainbow engagement ring to celebrate love is love regardless of gender or sexual orientation – there couldn't be a more positive and beautiful way to mark the start of your engagement to your significant other.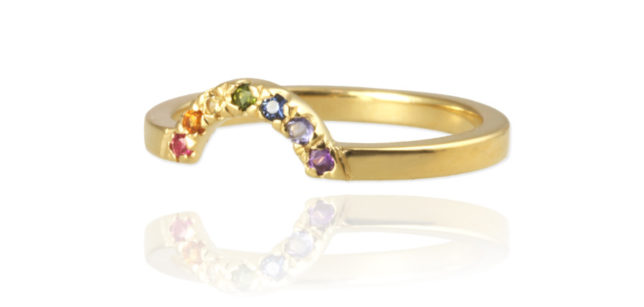 This ring is said to be a favourite of The Apprentice and Celebrity Big Brother star Jessica Cunningham and makes a perfect gift or self-gift for any rainbow lovers.
The Rainbow Ring by Jana Reinhardt starts from £135 up to £585 and is available from www.janareinhardt.com
For more rainbow inspiration, check out our Rainbow Christmas gift guide in the Christmas Edition of SLOAN!