Ahead of its 110th anniversary in January 2018, The Waldorf Hilton is hosting twice weekly jazz nights in collaboration with Blue Rose – one of London's rising jazz acts – celebrating the last 110 years of jazz. Blue Rose have been performing professionally at some of London's finest establishments since 2012 but playing shows for more than a decade. Often allowing for jazz improvisation in their sets, Blue Rose love nothing more than sharing their passion for jazz.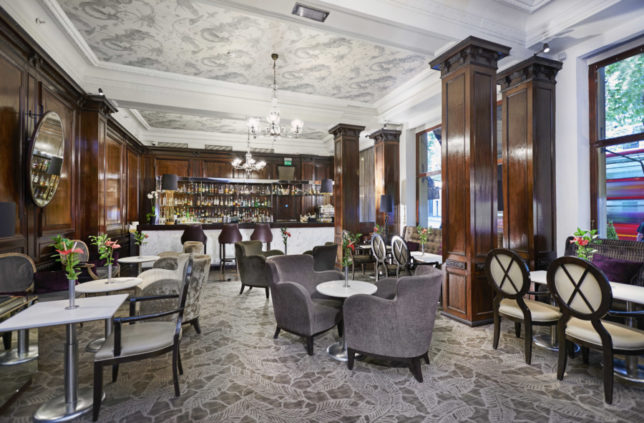 The jazz nights take place in Good Godfrey's Lounge, usually one of the most vibrant parts of the hotel but as the day turns to evening, the atmosphere takes on a more sultry tone and Good Godfrey's transforms into a candlelit setting reminiscent of the 1920s jazz scene. In this intimate space, Blue Rose perform three sets – 7pm to 7.45pm, 8pm to 8.45pm and 9pm to 9.45pm on Thursdays and Fridays between now and the end of December.
Thursday sets feature many of the classics from 1908 to 1950, with hits from Nat King Cole, Ella Fitzgerald and Billie Holiday taking centre stage. Fridays take on a more modern twist as Blue Rose adds the likes of Bruno Mars, Pharrell Williams, Dua Lipa and Beyoncé to her sets.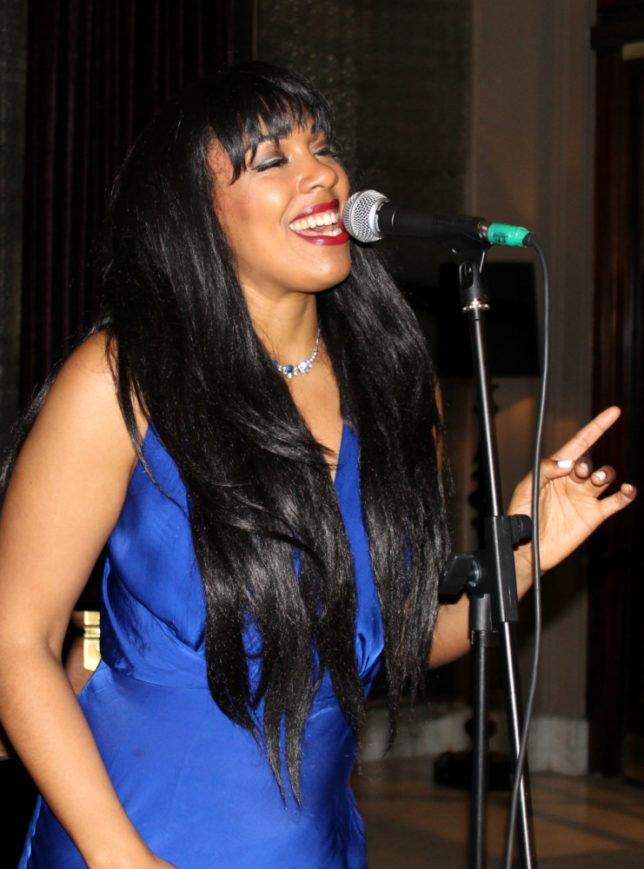 Blending Edwardian grandeur with modern comfort, we've been welcoming guests since 1908. As the hotel looks to revamp its entertainment calendar in preparation of its landmark anniversary, guests can enjoy live jazz alongside a relaxing evening of dinner and drinks showcasing The Waldorf Hilton's impressive list of canapés and cocktails.
Xavier Hubert, Director of Operations, The Waldorf Hilton said: "We've been looking at how we develop our music programme to create memorable experiences for our guests. Music has always been a big part of the hotel's history and as we approach our 110th anniversary we want to celebrate that fact.
"By introducing Blue Rose and her elegant sets, we want establish the hotel as a destination for jazz. Blue Rose has played at some of the top venues in London and will provide the perfect accompaniment to an evening at The Waldorf Hilton."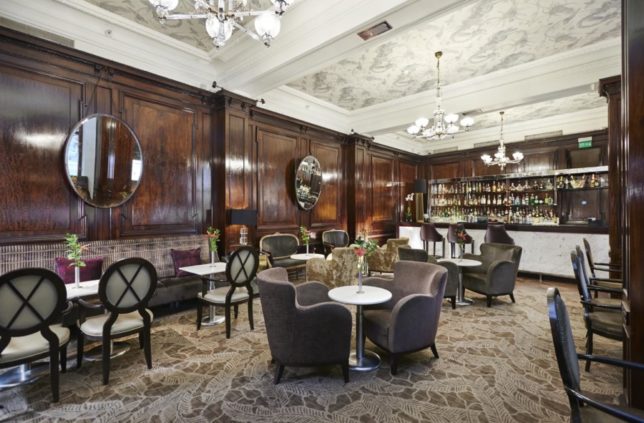 Blue Rose, Front Woman for Blue Rose added: "It's a privilege to be bringing live music to The Waldorf Hilton. We will be taking guests on a musical journey, through some of the most enchanting jazz repertoires of the past 110 years. Our approach is to play all the favourite jazz songs in a fresh and innovative way. We love jazz, but essentially we love music. Our sets are classic, glamorous and engaging – it's what jazz is all about."
https://www.instagram.com/p/Bad97Djg3AM/?taken-by=bluerose_jazz
The Waldorf Hilton has a long-held connection to the world of music, from its famous tea dances and tango suppers to its love of live bands and being the home of Howard Godfrey and The Waldorfians. As a bastion of Britishness, The Waldorf Hilton stands as one of London's most iconic hotels. Perfectly positioned in the heart of the capital's glitzy district of theatres, the hotel is a short walk from the Royal Opera House, Covent Garden Piazza and some of the best shops, restaurants, bars, galleries, museums and landmarks.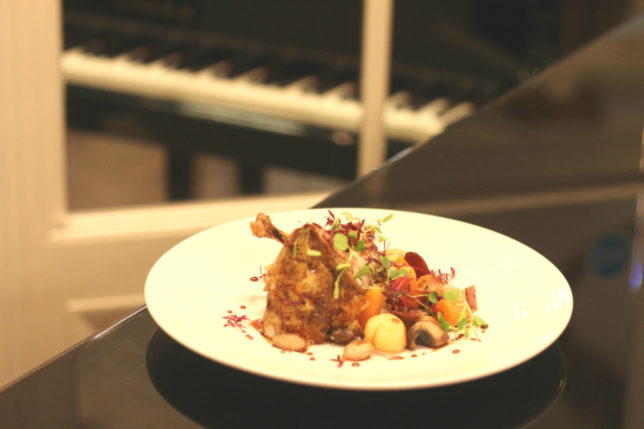 The hotel has created a new menu to run alongside the introduction of its twice weekly jazz sessions with Blue Rose. From curried Kentish squash soup with focaccia crisps to start to pan fried South Coast cod for mains and ricotta cheese cake with citrus cream and berry compote for dessert, guests and diners will enjoy top-notch food alongside an equally tantilising soundtrack of jazz from one of London's rising jazz acts.
To kick off our evening of smooth jazz, we began with a beautiful Old Fashioned made with Makers Mark Bourbon and a Chassis – Bacardi, Malibu, coconut cream, lychee and lime juice.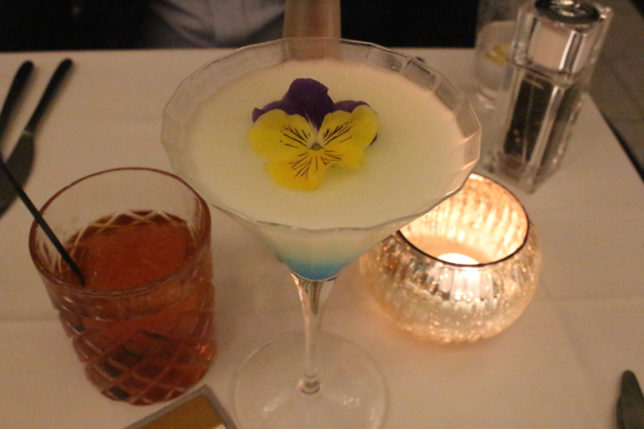 To start our culinary journey as Blue Rose carried us away on a musical one, whilst I enjoyed the butternut squash soup of the day, my dining companion sampled the small bites from the bar menu as starters which included tempura prawns, mushroom with parmesan arancini and lamb croquettes.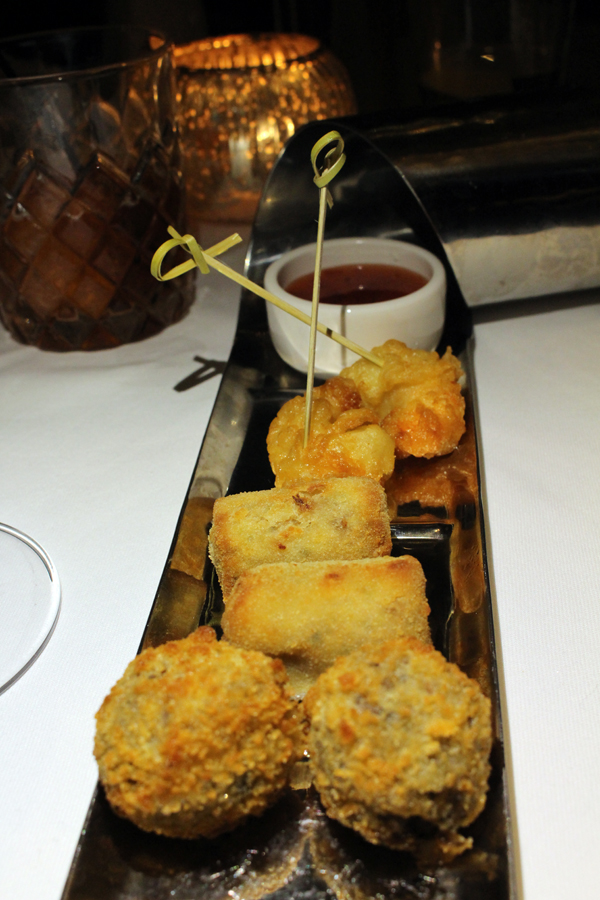 The hotel's Director of Operations, Xavier Hubert, told us: "We wanted to create a laidback environment for our guests to enjoy great music and great food. Having introduced Blue Rose to the hotel we wanted to look at how we evolved that original concept. It's perfect for those that want to settle in for something more intimate. As well as a fantastic new dining menu, we also have a wonderful selection of cocktails. What more can you want?"
Indeed, for the main event my dining companion wasn't left wanting with the delicious rib eye steak served with onion rings from the bar menu.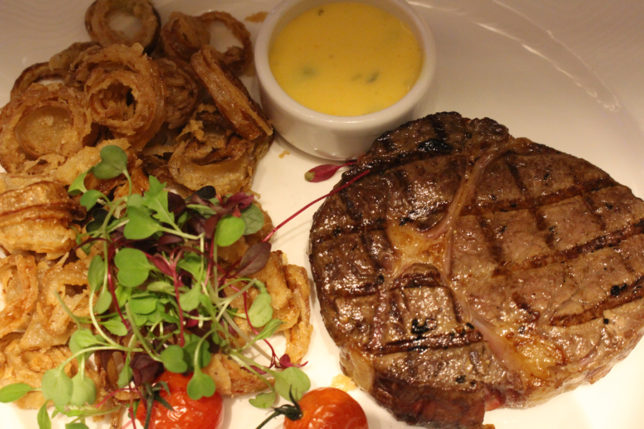 My choice of main course was the Welsh Lamb Rump with New Jersey Royals and Carrots. The perfectly cooked lamb was full of flavour with a succulent texture.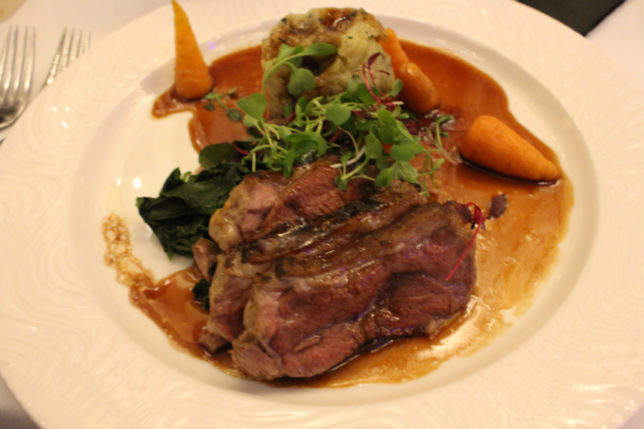 To finish, we enjoyed sharing a delicious dessert of Flourless Chocolate Cake served with Blood Orange Sorbet. The festive flavours were well-chosen for this time of year and provided a moment of intimate decadence as we were serenaded by the smooth tones of Blue Rose.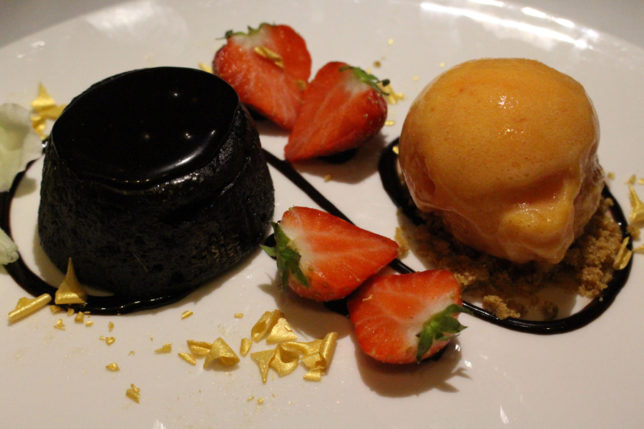 Jazz at The Waldorf Hilton launched on Thursday 5th October and will run until the end of December every Thursdays and Fridays. The shows are free to both in-house guests and the general public.
Good Godfrey's
The Waldorf Hilton
Aldwych, London WC2B 4DD
020 7836 2400
www.waldorfhilton.co.uk
@WaldorfHilton_