Jim Beam, the world's No.1 bourbon, celebrates the launch of its latest premium addition to the family – Jim Beam Double Oak – a bourbon intense in flavour yet smooth in taste.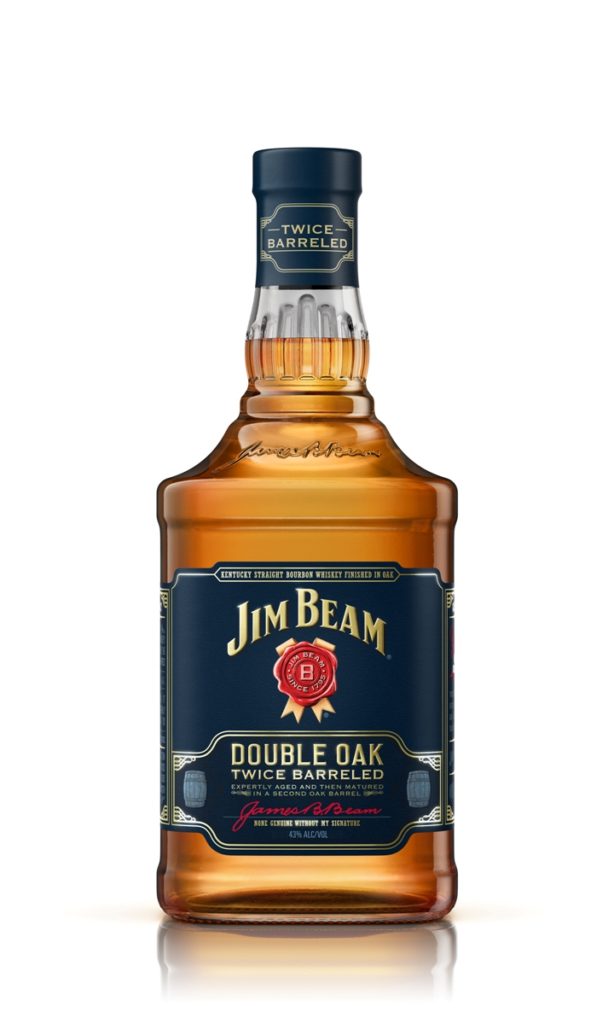 With all the pride and heritage of the Beam family's history dating back to 1795, the twice barreled Bourbon takes Jim Beam's innovative portfolio to the next stage. A permanent addition to the lineup, Jim Beam Double Oak is a new take on Jim Beam Kentucky Straight Bourbon crafted by maturing the signature whiskey in not one, but two different American oak barrels.
This expertly crafted expression is first matured in new charred American white oak barrels – as with all Jim Beam Kentucky Straight Bourbon – before being transferred into a second freshly charred oak barrel for a further period of ageing. The twice-barreled process allows the liquid to have greater contact with the wood, drawing out exceptional and perfectly balanced depths.
With bourbon soaring in popularity in the UK, Jim Beam Double Oak appeals to those who take their whiskey seriously. Drinkers will discover rich aromas of vanilla and hints of toasted wood that lead into deep char and oak flavours with rich caramel and toffee notes. The finish is notably balanced with a distinct spiced oakiness lingering on the palate.
Jim Beam's 7th Generation Master Distiller Fred Noe says: "My family has been making history and producing bourbon for more than 200 years. Throughout the decades, we have always enjoyed pushing boundaries and innovating while also staying true to our family's traditions. Jim Beam Double Oak is the latest example of this."
Jim Beam Double Oak, versatile and full of flavour, is best enjoyed on the rocks or in a Double Oak Fashioned; a classic cocktail enhanced by this unique liquid.
Jim Beam Double Oak Fashioned
Ingredients:
50ml Jim Beam Double Oak
4 dashes bitters
2 sugar cubes
1 orange
1 lemon
Method:
In an Old Fashioned glass, add the sugar cubes and bitters along with a little bourbon and ice. With a bar spoon, muddle and stir the liquid so the sugar starts to dissolve – repeat until complete. Then, cut a thin slice of peel from the orange. Pinch the orange peel and rub around the rim of the glass to coat with citrus oils. Repeat with the lemon. Garnish with the orange and lemon twists
Jim Beam Double Oak has an ABV of 43% ABV and an RRP of £27.99 available at www.amazon.co.uk