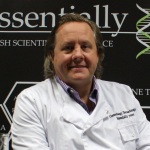 BY JOHN HAMILTON – Cosmetology Dermatologist & Anti-Ageing Biogerontologist, Founder of Essentially Yours Research & Development Institute for Natural Skincare; Creator of Natural Elements skincare & Therapeutics skincare for problem skin.
Often we don't realise just what our poor skins have to cope with, especially when all of a sudden the sun disappears from an Indian summer and the cold hits.
The dry cold (ie what you get with snow) is not actually as damaging as we think – it's the wet and the wind chill factor mixed with salt in the air that will tear away at the surface film, which protects skin and keeps it supple.  There's a very good reason why waxed coats work best. It's because having a wax film is the most resistance you can achieve against the elements and you can do that very easily with the skin too.
What is most important is to do this with plant wax, not petro chemicals because the synthetics, while still providing a layer of protection, can actually act as an irritant to skin. Therefore, it's always best to stick with natural waxes.
Building up a protection works miracles in keeping your skin youthful and protected. First of all, apply some natural vital oil and massage in.  This stops all pollutant and free radical damage to your skin, especially Mitochondrial Decay – a process where the skin cell degenerates and which is now considered by many scientists as the main underlying cause of skin ageing.
The oil will be unable to truly penetrate the skin until you apply a natural cream on top. However, what you will find is the oil is then easily absorbed and you be left with a perfect matt finish – ready for your make up application. This regime will effectively water proof your skin from rain and protect it from windburn, which causes the dry roughness to the complexion.
One of the other major problems for skin is central heating as it dries the air like nothing else. For instance if you were to leave a bowl of water by a radiator overnight, the chances are the water will be gone by morning. So, you need to keep skin super hydrated with the right naturals. Simply dampen the skin with a purified water like a toner (natural toners use water which is 99% pure and free from harsh chemicals or alcohol), then apply your 100% natural oil and massage in, apply the natural moisturiser/ cream on top and you will have 100% hydrated skin where the water molecule is sealed into the dermis.
Apply the same process on your lips so you don't need to have a lip balm, most of which are made from petrol chemicals and will see your lips become totally dependent on applying them all the time. Using natural oils means you build up your own healthy resistant to lip chapping.
It's also a good idea to have 1-2 oil treatments on your hair every month so you stop damage to your hair in the winter. Again, use a 100% natural oil apply to the hair and leave in for about 20/30 mins and wash out. The winter does cause a lot of hair problems like split ends dullness, dryness, frizz and limpness so it needs looking after too.
The one thing to remember is while older skin needs repair, younger skin needs protection to keep it youthful and fresh.  The above will do both for both age groups and if you are heading off for some winter sun, be sure to apply a natural vital oil every four hours for maximum UVA protection, so you will get a tan but none of the damage that can come with  it.
The 10 Years Younger Kit by Natural Elements comprises one of six organic facial oils depending on your skin type, each loaded with vitamins and omegas (think super food in skincare form) and an accompanying cream to lock in moisture. Www.essentially-yours.co.uk.
John Hamilton is one of the original natural skincare experts in the UK with a 15-year history in the field of dermatology and anti-ageing, . With an expansive knowledge base and a fierce ethical code, John has played an instrumental role in the natural beauty revolution, heralding the rise in awareness of parabens and other nasties.

He has helped formulate early 'free from' products for many big natural brands. He was also instrumental in finding formulations, which enhance salon treatments, from non-surgical face lifts to microdermbrasions as well as his own ranges comprising organic skin care, aromatherapy toiletries and problem skin solutions.

Since then, John continues to call into question the purity and safety of ingredients used in skin, hair and body care brands today, including those which market themselves as 'natural' and 'organic'.