Arriving at The American Bar in The Savoy, I was looking forward to a very special private whisky tasting with Johnnie Walker ambassador and Diageo's Reserve World Class GB competition winner Ali Reynolds. It was an absolute pleasure to meet this world class bartender to discuss the latest release of Johnnie Walker Blue Label Ghost and Rare and learn more about the history to Johnnie Walker with its roots in Kilmarnock.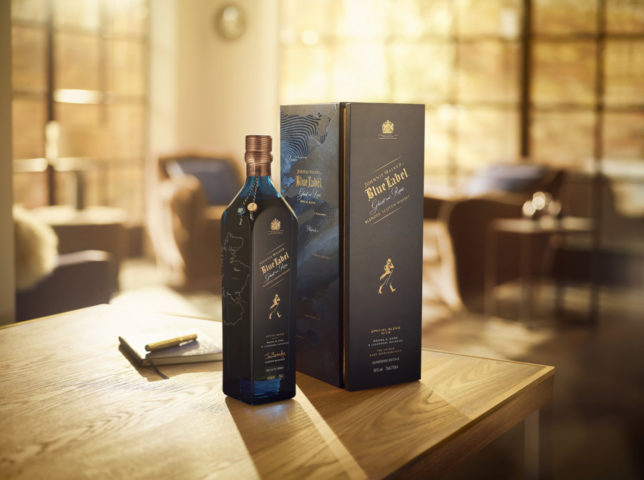 Ali began with a brief history of Johnnie Walker. The company was founded by John Walker who was a grocer but it wasn't until after his death that the brand was expanded and his son Alexander Walker took the eponymous whisky to a new level producing the first signature square bottle. After nearly 50 years passing since John Walker created the distillery, his grandson re-branded the bottle design and created the striding gentleman that we are familiar with today. It was also interesting to discover that Johnnie Walker joined The Distillers Company in 1925 which was then acquired by Guinness in 1986, but it wasn't until 1997 that Guinness merged with Grand Metropolitan to form Diageo taking Johnnie Walker into the new millennium under the wings of the world's largest producer of spirits.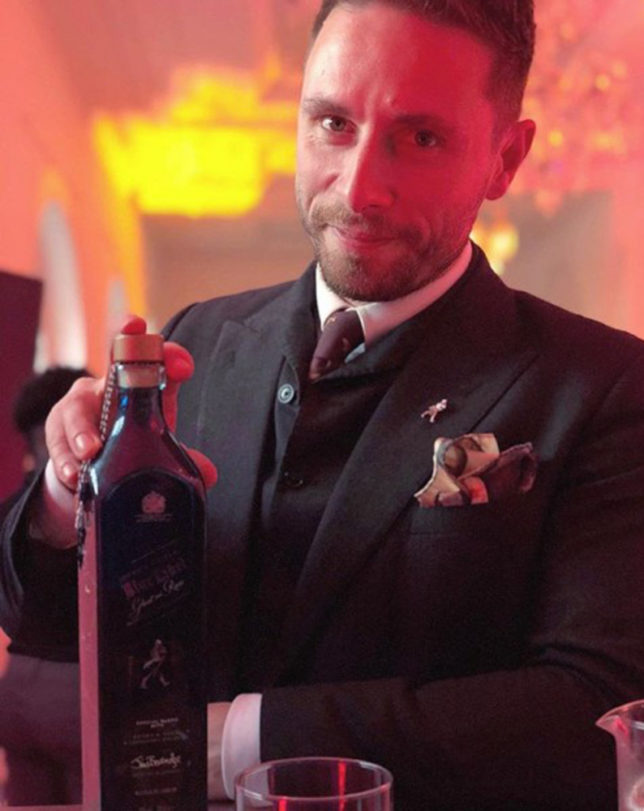 Ali then went on to talk about Johnnie Walker's newest creation Blue Label Ghost and Rare. It was interesting to examine the bottle's box design as it is much more than just the original Blue Label box which sets Ghost and Rare apart from the outset. A lot of attention to detail has gone into making the bottle from the drawstring tags on the side of the bottle (adorned with the striding gentleman logo on one tag and a lion on the other) to a map of the "ghost" distilleries used within the blend. The colour of the bottle is slightly darker in style which helps protect the whisky from sunlight. It was is clear that a lot of care and thought had gone into creating a bottle that can proudly stand shoulder to shoulder with the craftsmanship of the irreplaceable whiskies inside.
Ali then then explained how Blue Label Ghost and Rare is a rich, velvety smooth blend of eight treasured Scotch Whiskies including three "ghost" whiskies from the silent distilleries of Cambus, Pittyvaich and the Highland Single Malt, Brora, which lies at the heart of this special release bringing a deliciously light peatiness and sophisticated subtle sweetness. These three ghost whiskies are blended with five rare expressions of malt and grains from the existing distilleries of Royal Lochnagar, Clynelish, Glenkinchie, Glenlossie and Cameronbridge.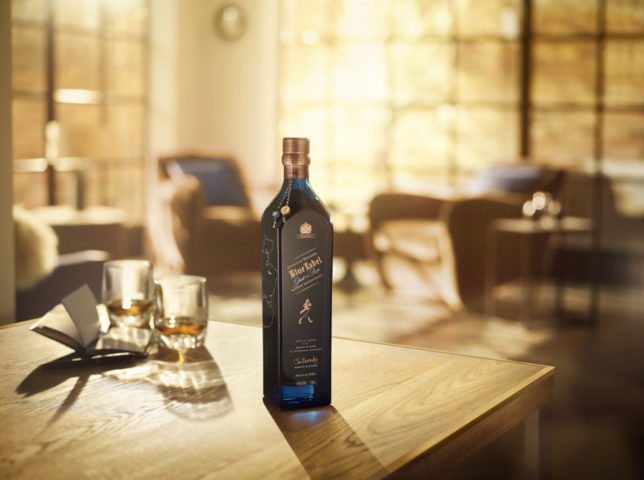 Jim Beveridge – Master Blender for Johnnie Walker –  has long been fascinated by how whiskies from a small number of iconic distilleries that closed many years ago can bring the extraordinary richness for which Johnnie Walker Blue Label luxury Scotch is known. In our interview with Jim featured in the May edition of SLOAN! he told us what was behind the decision to release such a rare blend.
"The idea was to create a series of blends that would enable people to explore the rich flavours and distinctive distillery characteristics that make Johnnie Walker Blue Label such a remarkable Scotch," Jim says. "At the same time, we wanted people to be able to experience some really rare whiskies. Given the scarcity of these whiskies, these are limited-edition blends. Each will have one incredible whisky at its heart – in the case of this first release it is Brora."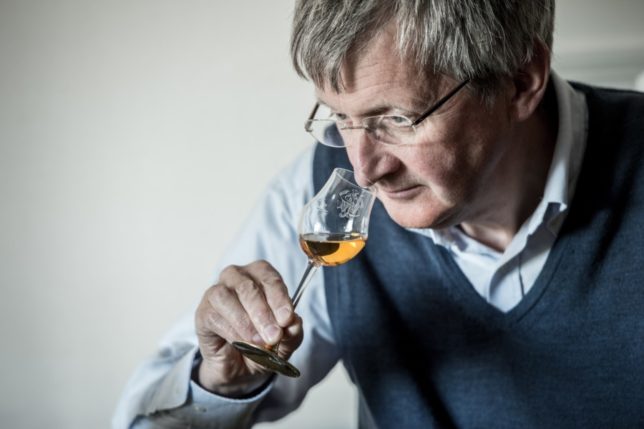 As Ali poured the whisky into my glass,  I could fully appreciate the tell-tale halo circling the surface of the dark amber coloured liquid that reveals the richness of age in this exceptional whisky. On the nose there is the fruity sweetness of pineapple that is unique to Blue Label Ghost and Rare. We then sipped some water to clean the palate before tasting this unique blend that is marvellously smooth with rich notes of toasted hazelnuts and bittersweet chocolate with a subtly smoky finish. The after notes also pleasantly lingered leaving a beautiful taste sensation that leaves you yearning for your next sip. Unlike other Johnnie Walker expressions, Blue Label Ghost and Rare is bottled at an ABV of 46% which adds an extra punch to the blended whisky.
My private tasting experience with Ali Reynolds was a fantastic opportunity to taste one of Scotland's rarest blended whisky in the company of not just a knowledgeable world class drinks expert but a thoroughly decent chap to boot. Johnnie Walker Blue Label Ghost and Rare is the perfect whisky to mark life's special occasions and share with your loved ones and close friends.
Each bottle in this special release of Johnnie Walker Blue Label Ghost and Rare is individually numbered and is available at £220 from The Whisky Exchange.
To read the full interview with Johnnie Walker Master Blender Jim Beveridge, click the pages below to go to the digital edition of SLOAN!