This winter season, luxury British brand Jöttnar are championing the mountains with a new season collection that provides the ultimate clothing for those seeking to push the limits, conquer giants and reach new heights. From a new waterproof down jacket for extreme cold conditions, to breathable shell fabrics and Merino wool base layers, Jöttnar provides the most superior clothing for making the most of the outdoors this winter.
Created by two former Royal Marines and tested by professionals, Jöttnar clothing goes above and beyond in ensuring that every product supports those who wear it to push the boundaries.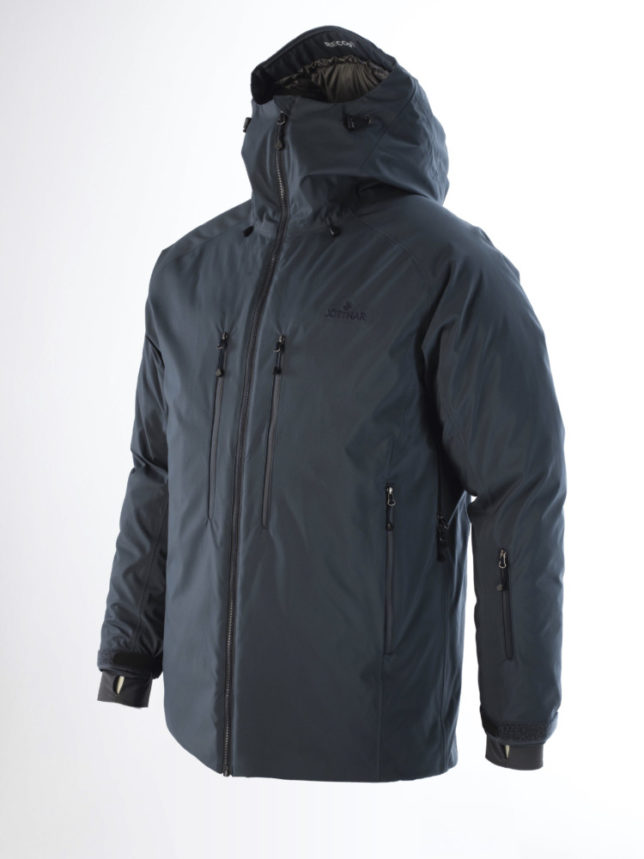 Insulation
The waterproof, goose down insulated jacket for resort orientated big mountain riding and skiing when the temperature plummets uses 900 Fill Power hydrophobic goose down insulation. This is a superior quality water repellent goose down which keeps you warm in deep cold, big mountain situations. The 900 Fill Power hydrophobic goose down is wrapped inside a new proprietary waterproof breathable, fully taped shell fabric, SKJOLDR™ and further zoned with THERMOLITE® synthetic insulation in potential wet-out areas.
Jöttnar only use goose down as it is seen generally as the best, with higher fill power and larger down clusters, trapping more air, while being more resilient and longer lasting. This allows for the higher fill power rating of 900, which is a measure of loft of the down clusters. The more loft clusters achieved the more air is trapped, achieving more insulation. So the higher the fill power number, the warmer the wearer. Higher the loft, the less down is required for a given level of insulation, and the lighter the jacket can be, for the same amount of warmth.
The hydrophobic down works to maintain loft, prevent clumping and loss of loft and warmth, resisting the degradation by a special treatment to the down clusters, increasing the surface tension, helping prevent water build up. This treatment lasts some time, and a little knowledge bomb……. Jöttnar was one of the first UK brands to use hydrophobic down!
The treated down used has a 93 / 7 down / feather ratio, which is seen as the highest that can be guaranteed. It is not seen as possible to fully remove all feathers, but the less feathers and more down, means more loft and warmth.
The down used has undergone DownTek™  ZeroPFC water repellent treatment. Seen as environmentally safe using perfluorocarbon-free process (PFOA & PFOS free) which uses lipids as the down coating in a proprietary method of nano level liquids, to retain the same fill power as untreated down. This produces down that absorbs 30% less water, dries 60% faster, and retains significantly more loft than untreated down after exposure to moisture. This water repellent treatment adds no measurable weight, and prevents the down gaining weight by preventing absorption of water. DownTek™ products can be washed without losing the ability to repel water, and can be topped up with down wash. DownTek™ is certified a Sustainable Down Source, a company fully committed to the values of the Responsible Down Standard. Containing only down which is Responsible down Standard Certified (RDS Certified).
The THERMOLITE® is a synthetic down like insulation in the hem, for continued warmth and quicker dry time in the wetter contact area.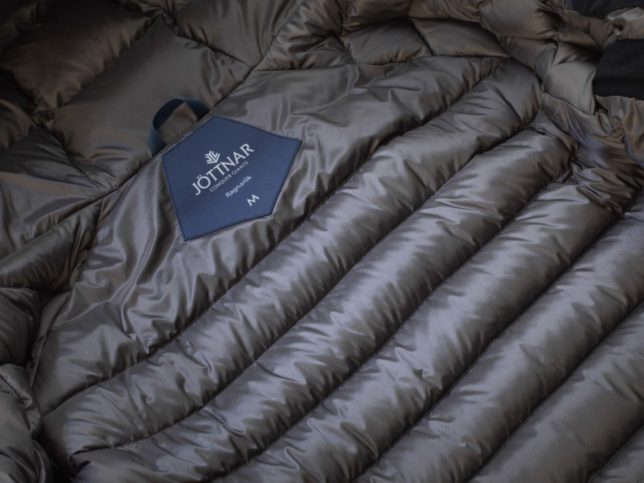 Waterproof Shell Fabric
The jacket uses a new type of shell, a SKJOLDR™ 2L waterproof and breathable fully taped shell, with additional Durable Water Repellent (DWR) treatment to the face fabric to keep you and your down insulation dry. Adjusted from their normal 3 layer, to help keep weight down. The 2 layer SKJOLDR™ in the Ragnarök ski jacket (dispenses with the backer, as the membrane is protected from damage by the down fill). This helps save weight. The values of weight saving by Jottnar has helped keep the jacket weight down at 997g / 35.1 oz (men's medium), a good weight for a fully featured down ski jacket.
Jöttnar's new SKJOLDR™ 3 Layer shell material works by layering a very thin sheet of polyurethane (PU) between a face fabric and a nylon backer. This is a windproof, waterproof, breathable fabric which has a rating of 20,000mm minimum hydrostatic head and a breathability rating of 20,000g/m2/24h, meaning that the membrane allows 20kg of water vapour to pass through a square metre of the fabric in a 24 hour period. This high figure allows highly aerobic activities without creating a clammy, damp feeling from sweat vapour becoming trapped.
The outer pockets & zips include pack-compatible YKK® AQUASEAL® zipped chest pockets, YKK® AQUASEAL® pit zips with snow guard mesh, and a YKK® AQUASEAL® zipped lift pass pocket on the arm. This all allows for a highly waterproof shell, and jacket. These are not normal zips, the selection of these zips indicates the aim of the Jottnar, they are not looking to make lifestyle pieces, their focus is clearly performance clothing.
Our Testing Experience
We heard how Jöttnar was born in Arctic Norway and is the creation of two former Royal Marine commandos Tommy Kelly and Steve Howarth. They express 'Clean lines, disciplined designs, craftsmanship, technology and attention to detail are Jöttnar's hallmarks'.
Jöttnar's offerings consists of a tightly focused range created in limited volumes. This allows Jöttnar to apply focus on the minute details. Since launching in 2013, clothing by Jöttnar has withstood the demands of the most exacting users in the most ferocious conditions.
So we wanted to put this to the test!….. Back to Norway we took them! Testing was performed in Norwegian cold weather snow and ice.
Style: The attention to detail is amazing, nothing is missed, the fit and form of the jacket is of impeccable quality, it has clean lines with a great wealth of protection. It looks real good with its sleek style and fit, very stylish looks making it one of the best looking jackets around, it can be worn in the city, and still look great. It is equally good as a warm jacket on a long walk into the snow covered forests, and continues to have you impressed by the feel of quality. This led to the reviewer actually wearing the jacket, not only on the slopes, but also as the evening jacket, the day time town normal duties jacket, and generally the warm go to insulated jacket of the whole Norway trip. The style was so good the reviewer commented on how many people complemented the look and enquired about purchasing the jacket for their general use. The reviewer enjoyed the jacket so much he wanted to get one for those with him on the trip, so they could experience the great luxury, style and comfort enjoyed by him.
Weather Protection: We did not note a single time where the jacket left us feeling cold, or wet, or windswept. It managed to fend off all that we had to test it with.
There were some minor signs of 'wet-out' of the outer fabric at the long drop back hem, when sat in the snow and laying down on the snowy covered frozen ice lake which had undergone some melt and refreezing that day, while sitting for a little over an hour without a seat or blanket. The jacket still managed to prevent a feeling of being wet or cold even then and the outer shell dried out in the cabin for the next use without issue, or even a sign it had ever been damp.
On the slopes the hard shell did its job amazingly and feels and sounds more like a smooth softshell. You can be at risk of forgetting it's a hard shell waterproof jacket designed for tough cold weather ski use when you are wearing it around town or out on long walks and as your evening jacket, as the whole jacket is oozing class and style and luxury feel.
When coming down hard at speed on the icy ski run the reviewer reports he couldn't help but check his impacting arm for damage, before he was reassured by the clean impeccable fabric still looking spotless and like nothing had happened. This emotional aspect was perhaps due to the new to market and yet unknown long term durability of the shell, as this will take years to test its wear time. Something we hope to do with this item and others of the collection.
Warmth: This jacket was clearly designed for Norway and tested for such an environment.
Where ever there is down fill, there was great warmth and the areas where there is less insulation such as the main zip, there were was an awareness of less insulation, however not once did it feel cool, especially when active and coming down the slopes in cold winds. This maybe due to the windproof outer shell. This lovely jacket will keep the reviewer warm and dry for years of blistering cold ski trips to come. We could perhaps recommend a lighter insulated jacket or no insulation on the very warm trips, and as a general use waterproof jacket for some backcountry work. Perhaps having an additional Jottnar hardshell mountain jacket on your trip. However, when it did get colder and anything into the minus temperatures the Ragnarök jacket was exactly what was desired. The none-insulated option may not actually be needed when you have this great down insulated jacket, if you opened up the vents, the warm insulated jacket, could still work well for most warmer ski temperatures.
In the end the Ragnarök jacket is built for the harshest coldest environment, and allowing people to perform at high levels, while retaining the comfort we wish we always had, but never knew we could have in an insulated ski jacket. Great for a resort skier or backcountry alike.
Ski Features: They say it is 'built without compromise'…we have to agree, the jacket is fully loaded, and clear top of the line insulated ski jacket, with a masterpiece of design and quality. Every time the jacket was warn, a new subtle feature was found.
This included, the inside of the pockets were super comfortable soft lining with clever little modifications, to aid use and comfort. Internal valuables pocket a necessary if you want to secure your card, cash, and door key, while out rocking down the slopes.
The insides fabric and style of the jacket looks great, and leaves you wanting to put it on. The feel of the powder skirt and similar features makes you realise how much time has been spent selecting the fabrics and methods of application into the jacket.
The hood Fit over my ski helmet easily, and was easily cinchable around helmet.
The zipped lift pass arm pocket made life easy, without being up on the arm, where you are more likely to land hard on a wipe out. Not that we ever do that!!
Large inner dump pocket allowed for additional stash storage of back up mitten covers, gloves, or spare liners in case of glove wet out.
Comfort and Fit: The jacket feels perfect, feels high end. The subtle styling of the jacket was a perfect fit on the shoulders and frame without the standard boxy look seen with so many down jackets. It was pretty much optimal in all ways. The only thing of note/consideration for some, is the sleeves thumb locks, which are likely good for those of standard arm length, those with a longer arm than average may use this feature less, as a little more length of the comfortable elasticated fabric would allow an easier ability to use the thumb locks while still reaching arms overhead. This elasticated fabric and length is likely perfect for 95 percent of the population and wouldn't stop the reviewer from selecting this jacket and size as a key piece for cold weather skiing.
Ventilation: When it did heat up, after completing a heavy run, Opening the pit zip's up and allowed some needed venting, without getting any powder / snow ingress.
Travel and Storage: The insulated 900 fill down jacket was very packable, assisted with packable zips, allowing for easy packing while in transit and during flights. The jacket can be stored without compressing all the down, while still being well contained in a garment mesh bag for easy space management when not in use.
The concept of Jöttnar was created during co-founders Tommy Kelly and Steve Howarth's time spent training with the Royal Marines in the Arctic Circle. Enduring the toughest conditions, the two realised the need for clothing that could truly handle the extremes. The company ethos of conquering giants refers to the geological giants of mountains that their Pro Team climbs, BASE jumps and skis, the industry giants that Jöttnar seeks to differ itself from, and the emotional giants that come with being an entrepreneur and the 'walls' faced and overcome by those who wear Jöttnar clothing in their own challenges.
Featuring 30 pieces, Jöttnar's new winter collection provides the ideal wardrobe for those with a passion for the mountains.
Co-founders Tommy Kelly and Steve Howarth comment:
Steve – "Our love of the high mountains, as well as a lot of hard-won practical knowledge of clothing performance felt like a solid foundation to build the company. As skiers and climbers, going faster, harder, steeper, higher have always been the things that drove us, and this has come to be reflected in the gear we make."
Tommy – "We have a lot of fun, but in a serious kind of way. Our focus is 100% on the mountain and the typically savage conditions encountered. Our own experience and that of the Pro Team helps make sure that the small details are right. It's a pleasure to see the new range now head off into the wild."
The Ragnarök jacket was made for die hard ski, and can work for all who want to get up on the slopes. It is the best down insulated ski jacket the reviewer has used.
Little things show the intent of a company to build quality hard use items. The jacket is beautifully crafted, with great attention to detail. It has great quality of build and quality control, in a time where many items come with lower quality controls and mass production being the focus over build quality, the Ragnarök jacket made the reviewer smile when first looked over. It had an immaculate build.
The use of AQUASEAL® zippers shows their aim is to provide packable durable items, built for severe weather conditions and extreme outdoor activities. The AQUASEAL® zippers are typically ideal for use in salt water environments. Light weight, normally used for surf, sea, wet suits, kayaking, while non-corrosive, uv resistant, and individually tested. Usually used in dry bag manufacture. These have a lot of give and make them more packable, mobile, and giving in use. Working to make the jacket truly waterproof and aiding performance.
Performance was spot on and didn't leave the reviewer wishing for anything else. They really forgot nothing!
Features, Components and Benefits
Incredibly sleek and stylish
Lush feel, soft shell comfort quality on a tough hardshell
900 Fill Power DownTek™ Hydrophobic Down Insulation, PFC (PFOA and PFOS) Free, with a great 93/7 down/feather ratio
THERMOLITE® synthetic down like insulation in the hem, for continued warmth and quicker dry time in the wetter contact area
Large inner Dump Pocket, for gloves and goggle storage
Powder Skirt, internally placed and elasticated to keep out snow, not zipped for easy use
Internal Valuables Pocket, zipped for security
Lift Pass Pocket zipped
Roll away extendable wrist warmers, with thumb loops
Recco® Rescue System Reflector, for improved safety
Mesh Backed Pit Zips (Snow Guard, without snow ingress), letting in cooler air, letting out warmer air, and keeping out the powder!
SKJOLDR™ Fabric, 2 layer, breathable fully taped waterproofing shell fabric. 20,000 mm Minimum Hydrostatic Head
Pack compatible chest pockets
YKK® AQUASEAL® Zips, throughout, perfect for active marine sportswear
Helmet Compatible Hood
Long Drop Back Hem
Embroidered Tonal Chest Logo
997g / 35.01 oz. (Men's Medium)
Watch this company, they will be staying around for some time, and we hope to review a more of their productions in the future. The Ragnarök truly is a rugged, warm and richly featured giant slayer!
Jöttnar Ragnarök Men's Waterproof Down Ski Jacket is £845 available from www.jottnar.com