New York skincare brand Kiehl's since 1851 has announced it is partnering with MTV Staying Alive Foundation for the 3rd year running as part of its commitment to philanthropy within HIV prevention.
MTV Staying Alive, a global charity dedicated to stopping the spread of HIV/AIDS headquartered in the UK, is represented by 2017 ambassador and global music phenomenon Leona Lewis. Leona follows previous notable ambassadors for the charity from the world of music such as Tine Tempah (2015) and Laura Mvula (2016). As ambassador, Leona will represent MTV Staying Alive globally, acting as the spokesperson and face of the organization to help increase awareness of HIV/AIDS and raise vital funds.
The multi-award-winning and Grammy-nominated vocalist has created a limited-edition design with Kiehl's on one of their best-selling products, Creamy Eye Treatment with Avocado, 28ml. For each limited edition pot sold, Kiehl's will give £10* to the MTV Staying Alive Foundation to empower and educate young women on HIV prevention.
Leona Lewis says, "It is a great honour to be working with MTV's Staying Alive Foundation as an ambassador. I'm eager to raise awareness of the ongoing global HIV crisis. By empowering young people with knowledge about the disease – particularly women and girls who are disproportionately affected – we can help treat it and ultimately prevent it altogether."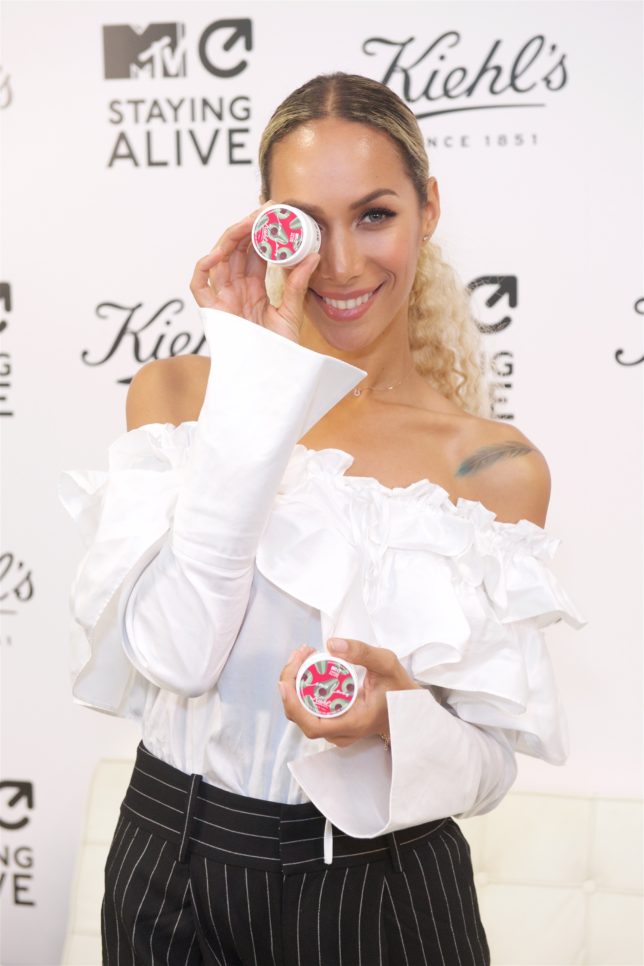 Chris Reid, Kiehl's General Manager, UK & Ireland, added, "We are delighted to be working with MTV Staying Alive for the 3rd year running. Kiehl's mission statement calls on us to improve our communities and make for better firms & better citizens; 166 years on, that call to action remains central to how we serve our patrons, motivate our teams and enrich our communities. We're particularly proud of supporting initiatives that empower and educate women around HIV prevention in Uganda, India and Rwanda. –
To date, MTV Staying Alive Foundation programming has reached every one of the top 50 countries affected by HIV, awarded 208 grants to youth lead organisations in 70 countries around the world and distributed over $6 million to grassroots HIV prevention projects. The MTV Staying Alive Foundation is registered as a UK charity and as a 501c3 charitable organization in the US.
Georgia Arnold, Executive Director, MTV Staying Alive Foundation, says, "We're absolutely thrilled to have the extremely passionate and talented Leona Lewis join our ranks this year. Aside from her awesome voice – which we'll be hearing later in the year – Leona is deeply committed to improving the lives of young people worldwide and especially those most vulnerable which of course includes adolescent girls. Currently 75% of new infections among adolescents in sub-Saharan Africa occur in girls. Leona's role as ambassador to the MTV Staying Alive Foundation could not come at a more crucial moment in the fight against HIV/AIDS. We're really looking forward to working with Leona throughout 2017 to raise awareness of HIV and the devastating impact it continues to have on millions of young people globally."
All of Kiehl's 102 boutiques and department store points of sale will support the MTV Staying Alive Foundation additionally by raising money and awareness through special activities and handouts for customers in store.
The limited edition Kiehl's iconic Creamy Eye Treatment with Avocado 28ml in partnership with the MTV Staying Alive Foundation will be launched June 2017 – online via www.kiehls.co.uk and in-store nationwide with also opportunities to text to donate to the charity by texting HIV3 to 70660 to donate £5 or £10.