With many experts predicting 2016 to be the hottest year in history, this summer looks set to be a scorcher! So make sure you're beating the heat with Kopparberg's latest ice-cold innovation, Kopparberg Frozen Mixed Fruit Cider. With the arrival of the newest addition to Kopparberg's ever-popular Frozen Fruit Cider range, fans will now be able to enjoy the thirst-quenching new Mixed Fruit flavour alongside existing favourites, Strawberry & Lime and Elderflower & Lime.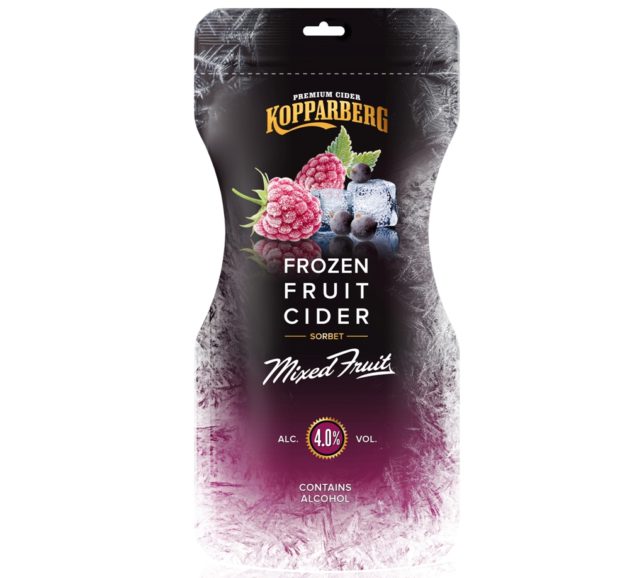 Kopparberg Frozen Mixed Fruit Cider packs the popular fruity taste of blackcurrants and raspberries, delivering the ultimate mix of invigorating flavours and absolute refreshment Kopparberg fans know and love. Packaged in a nifty metallic pouch, Kopparberg Frozen Mixed Fruit Cider should be frozen for eight hours and then simply squeezed into a glass. Then kick back in the sun and enjoy with a spoon or wide straw.
Inspired by a cheeky April Fool's prank shared with the Kopparberg online community, the Kopparberg Frozen Fruit Cider range was influenced by fans. As the prank revealed a Kopparberg ice-lolly, it quickly turned into a national phenomenon and Kopparberg, full of innovation, reimagined the icy creation in 2015 to launch a refreshing adult drink fans would enjoy.
Kopparberg Frozen Mixed Fruit Cider will be available in individual pouches (250ml) across major supermarkets nationwide including Tesco and Co-Op from March 2016 (launching in Asda, Morrissons and selected convenience stores from April/May) RSP £2.99.
Kopparberg can be found at @KopparbergUK on Twitter and Instagram.