La Belle Assiette is a company that is brings you restaurant quality food into your home and SLOAN! magazine was delighted when they asked us if we would like to try out their service. La Belle Assiette caters for homes across the UK working with over 200 professional chefs. You can see some of their delightful photos on Instagram or Twitter @labelleassiette. It's no wonder we were over the moon about reviewing their service.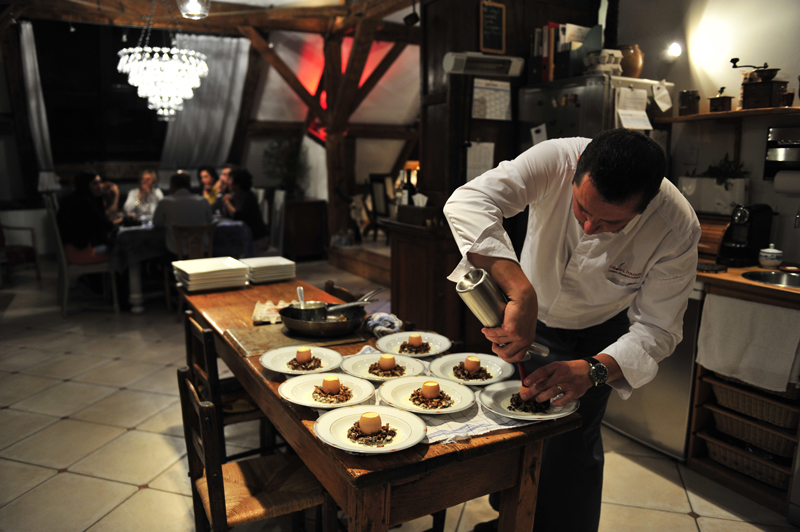 We were assigned Jacqueline Wise, a creative and experienced Cordon Bleu Chef trained at Tante Marie.  Jacqueline Wise can be found tweeting at @JacquelineWise1  where you can see some of her culinary artistry at it's best. Jacqueline is also the founder of Kelmsley Catering and had catered a beautiful vintage wedding for 170 guests the weekend before. This goes to show you the high calibre of chefs that La Belle Assiette is affiliated with.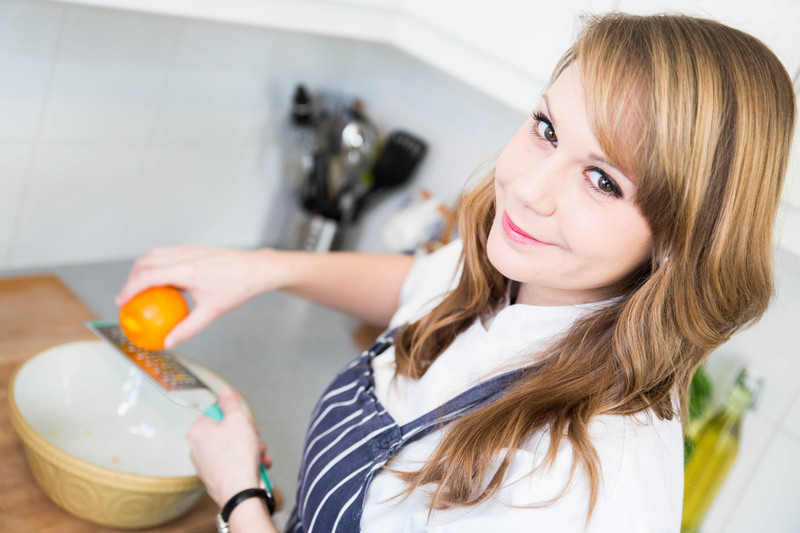 Jacqueline Wise has worked at Buckingham Palace, The Ritz and Michelin Star restaurants. She has also been on the Radio and Television sharing her knowledge and reached the semi finals of Young Chef of the Year competition and was the brains behind the menu for SLOAN! magazine and the culinary talent behind the food. The dinner was hosted by Sloan Sheridan-Williams, our editor and renowned foodie!
The concept designed by La Belle Assiette is simple but the expertise behind the scenes is well thought out and highly organised. From a user end point in just a few simple clicks on the La Belle Assiette website labelleassiette.co.uk you can choose a menu created by a local chef and book securely online.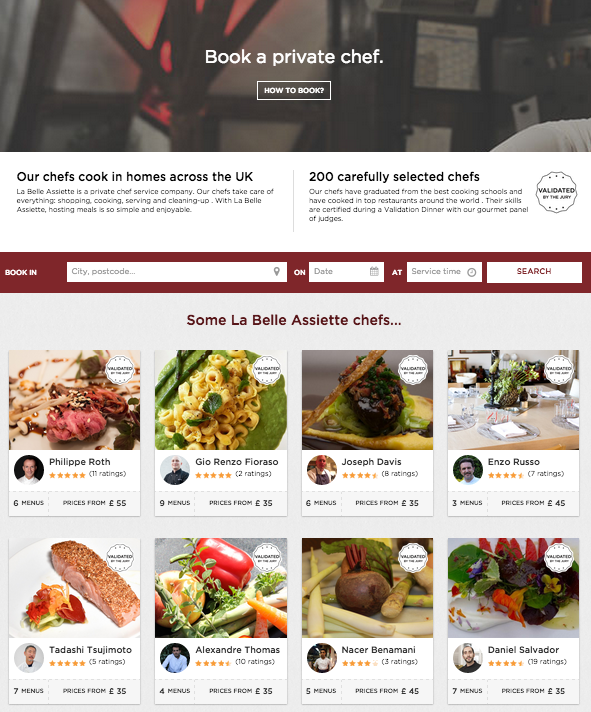 The chef buys the ingredients, cooks in your kitchen, serves and then cleans up before slipping away. This allows you to enjoy the food and the company of your guests stress free. See the review by Sloan Sheridan-Williams below.
La Belle Assiette – Dinner with Sloan Sheridan-Williams
I volunteered to host the dinner at my house and of course had help from SLOAN! magazine favourite, Puppy Gizmo!
Royal butler Paul Burrell has made it clear on many an occasion that Buckingam Palace sets out their cutlery to the minutest detail and as our chef Jacqueline Wise had worked at Buckingham Palace, Puppy Gizmo was being a stickler for the details.
The final place settings on dining table ready for guests…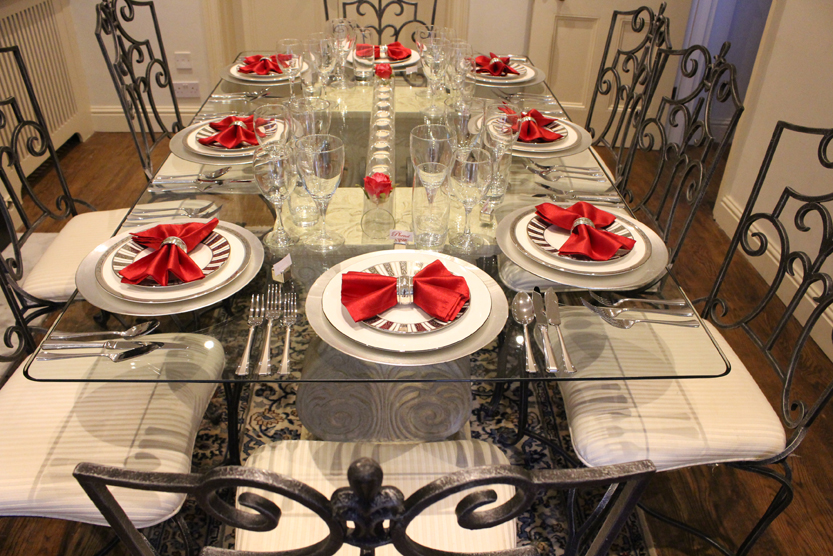 The first to arrive was chef Jacqueline Wise. Highly organised Jacqueline had brought everything with her and although we helped her unload, if you were running late and still had your hair in curlers Jacqueline would have had it covered.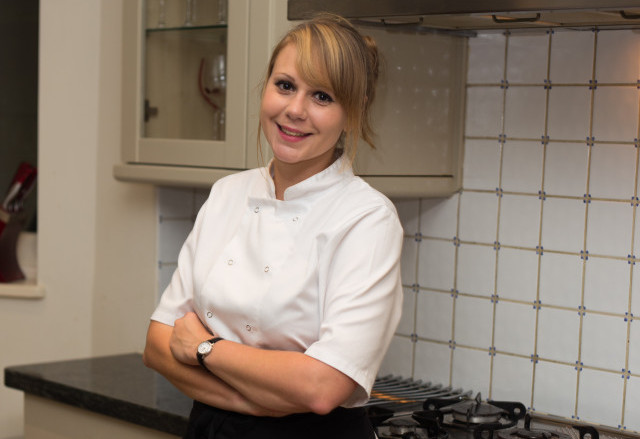 When you meet someone who is so in charge but in a non overt manner, you feel that your dinner party is truly in great hands which means you can pop open the bubbly early.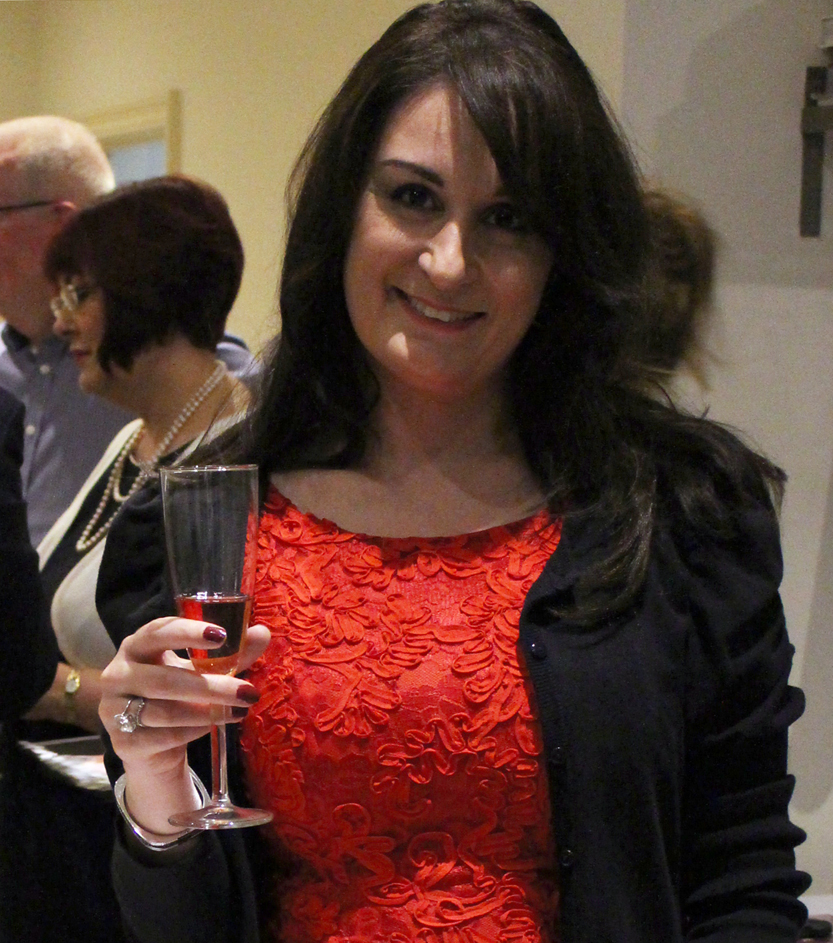 Jacqueline got to work preparing the food. Watching the canapes being created was almost hypnotic, uh oh Sloan & Associates hypnotherapists might be out of a job!
The final result: Parmesan shortbread topped with fig chutney & goats cheese curd and cucumber cups filled with beetroot hummus & fresh mint.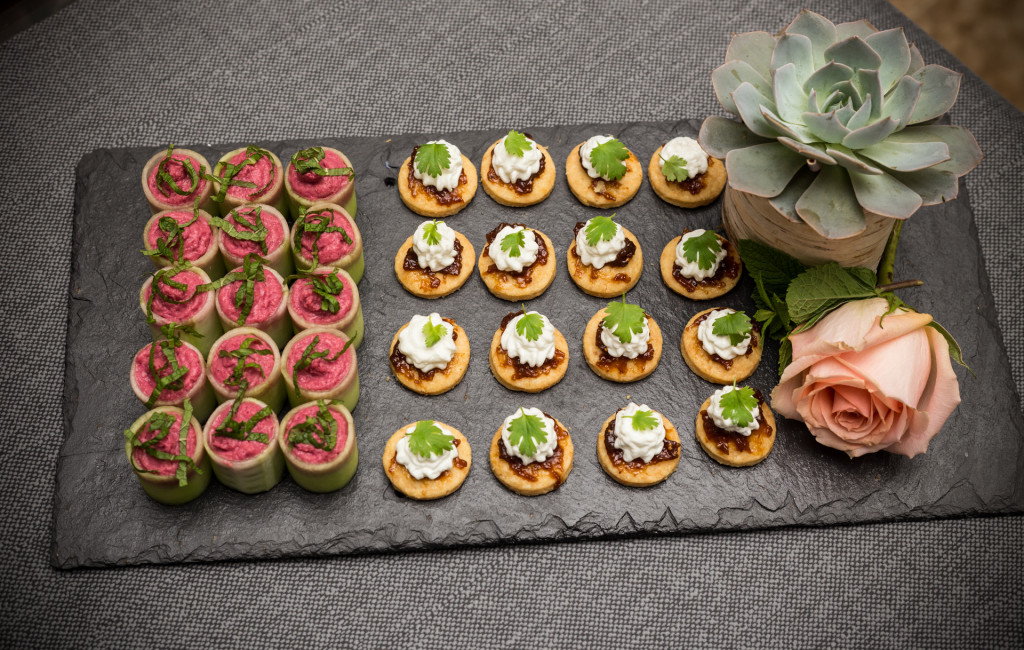 Jacqueline also prepared the most scrumptious homemade caraway seed bread served with butter and pink Himalayan rock salt.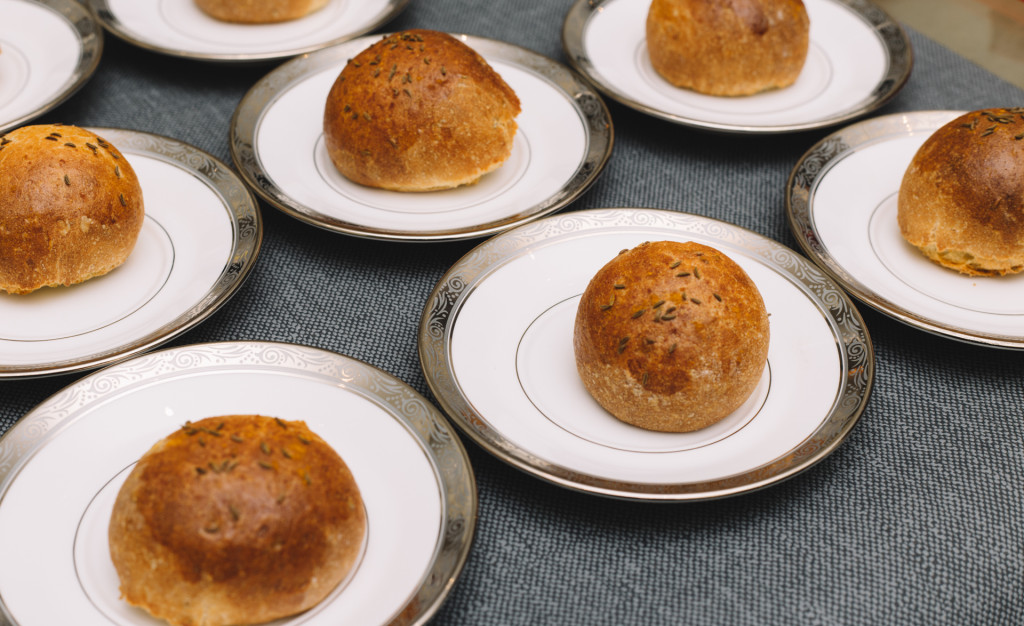 The starter was a flurry of activity and flames in the kitchen.
The final result was flambé scallops, dill hollandaise, smoked bacon shards and micro coriander.
You can see me tucking into my starter. I can truly say I enjoyed every bite.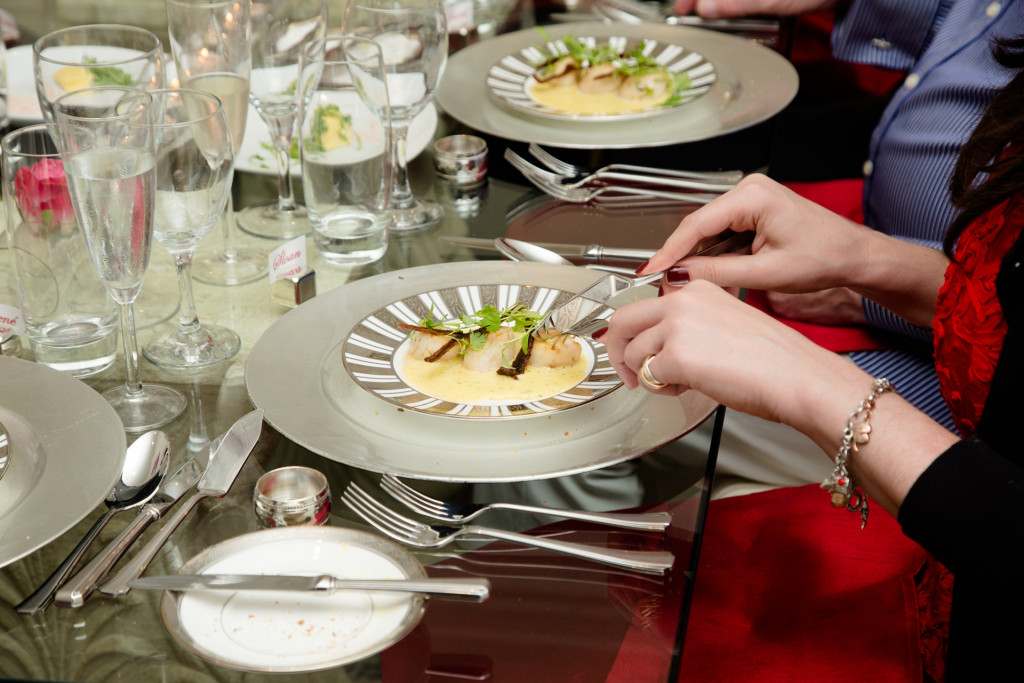 Vegetarians look away now…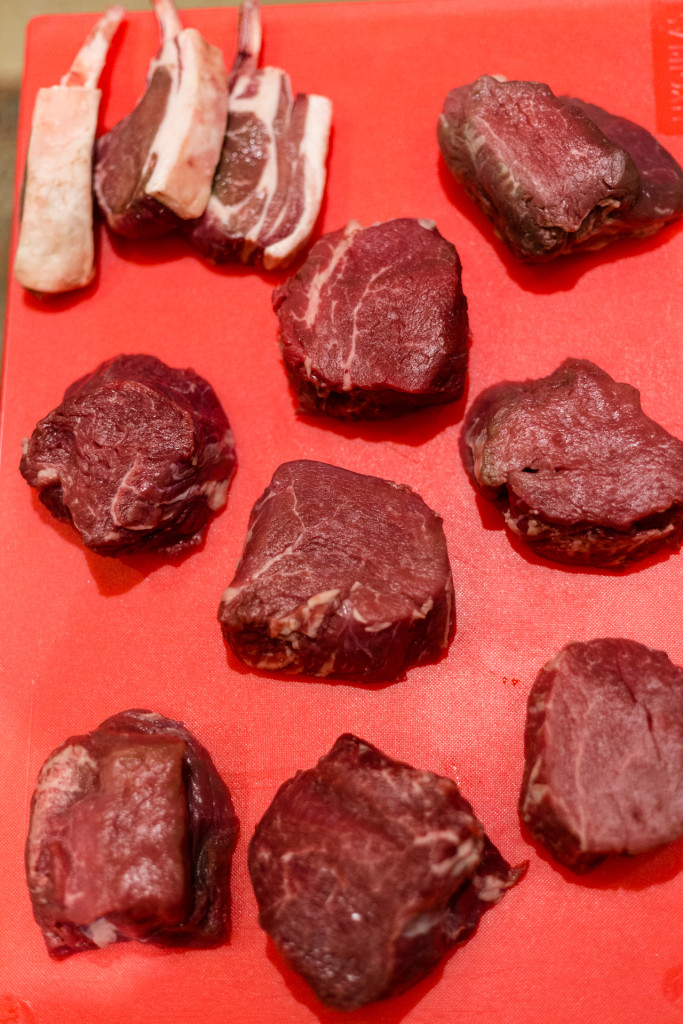 The meat was supplied by Jacqueline Wise from Handcross Butchers, her local and favourite butchers in West Sussex. It looked good enough to eat raw but Jacqueline got to preparing the dish medium rare.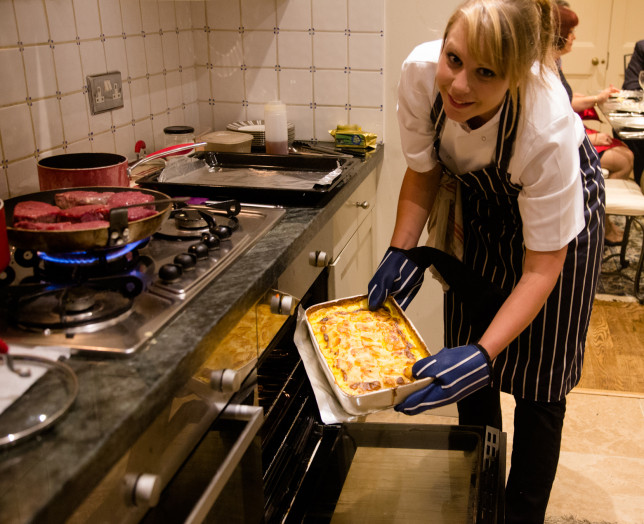 Almost done… just the finishing touches to get it from kitchen to table…
The finished main course was introduced to the table as seared grass-fed Sussex fillet steak, port jus, saffron dauphinoise potato and green vegetable medley.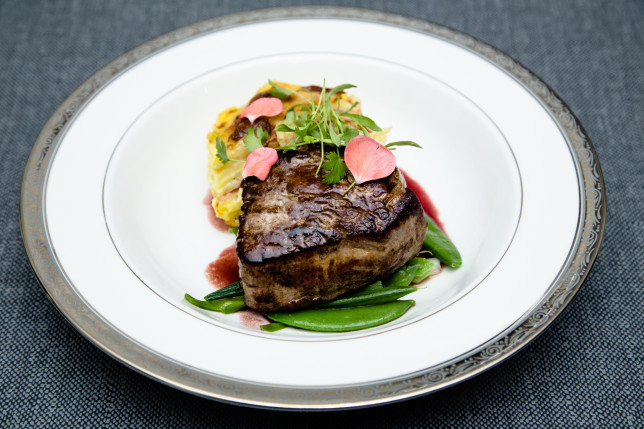 We had a guest attending who was allergic to beef and La Belle Assiette liaised with Jacqueline Wise to produce this fabulous lamb alternative.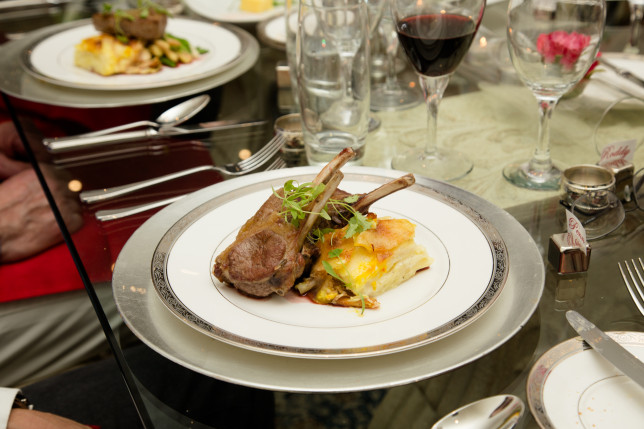 More flames in the kitchen this time courtesy of a blow torch… sorry Mary Berry we know you like Creme Brulee under a grill but we just love the fun of our fiery chef's tool!
Our dessert was presented to us as a cardamom & raspberry crème brûlée with chocolate shortbread.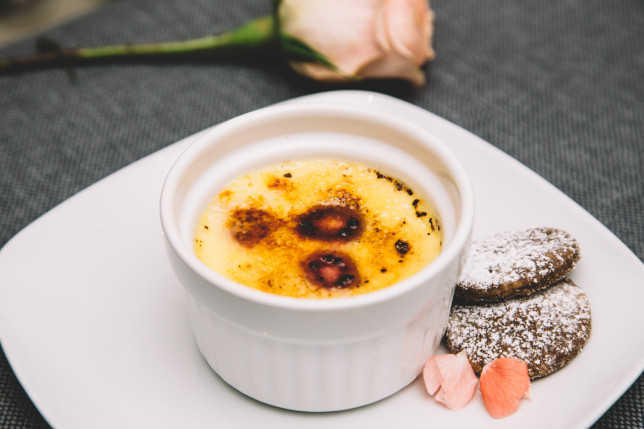 I can honestly say that La Belle Assiette and Jacqueline Wise took all the effort away from the host allowing one to enjoy a quality meal at home.
La Belle Assiette
From just £35 per guest for a three course meal you can indulge in your favourite cuisine or perhaps try something new all together. All the delights of going out to a restaurant but in the comfort of your own home where you are able to choose the music and the wine and not have to worry about doing the washing up!
La Belle Assiette have also recently introduced a 'split the bill' function that makes their service more accessible, allowing customers to just pay for their meal which is perfect for millenials and those who are entertaining often.
A big thank you to those who made this review possible. You can find out more about them at www.labelleassiette.co.uk and more about Jacqueline our chef for the evening at www.jacquelinewisechef.co.uk
Photo Credit: ©Anthony Fitzgerald Photography courtesy of La Belle Assiette and photos of Puppy Gizmo courtesy of Sloan Sheridan-Williams