The new spring 2017 collection of mustards from La Maison Maille allows gastronauts to enjoy the natural sweetness of honey blended with the finest mustards. Rich in flavour, these new mustards add an exciting twist to established recipes and innovative dishes alike.
Perfectly balancing the contrast of sweet honey with piquant Dijon Maille, the new collection features two new exclusive flavour combinations – Acacia Honey with Orange Blossom and Acacia Honey with Walnut, in a special set together with the popular Balsamic Vinegar with Honey.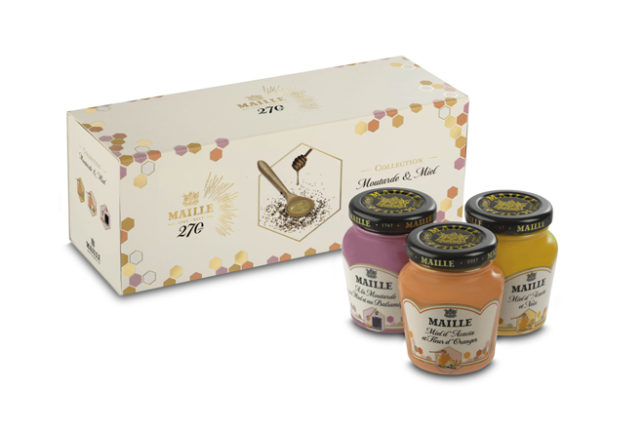 Honey has been widely used in cooking for thousands of years and for its 270th anniversary year, Maille takes inspiration from this special natural ingredient. The new products use the finest quality ingredients, with French Acacia honey as the star. Perfect in dressings, as marinades, sauces and more, the new Spring Collection inspires cooking connoisseurs to discover new flavours.
Acacia honey and orange blossom
The floral flavour of Acacia honey is enhanced with the fruitiness of orange peel, bringing a freshness to this mustard. It goes wonderfully with duck dishes, or as a dressing to a citrus salad. Try mixing this with mascarpone cheese and honey for a cheesecake with a twist.
Acacia honey and walnut
Honey and walnuts are a classic flavour combination and work perfectly with Maille mustard. A versatile ingredient, it can be used with all kinds of cooking, from enhancing dishes with goats cheese to adding layers of flavour to white meat. Add to mashed potato for a decadent nuttiness or mix a generous dollop with yoghurt as a healthy low fat sauce.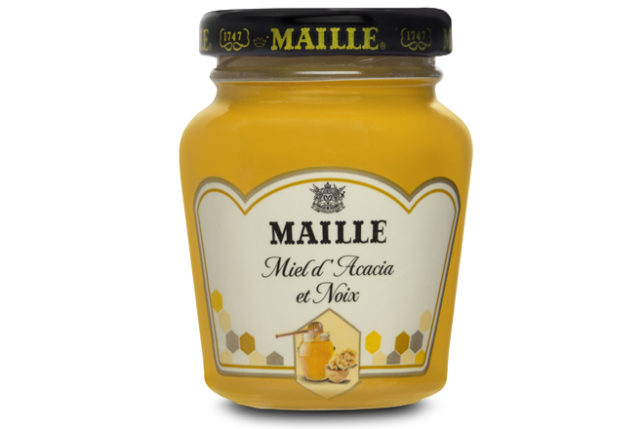 Honey and balsamic vinegar
The tangy character of balsamic vinegar goes perfectly with honey in this delicious mustard. A classic from La Maison Maille, it elevates any salad dressing and can add subtle flavour to strong meats. Try mixing with mozzarella and serve on bread, or add a teaspoon to based Camembert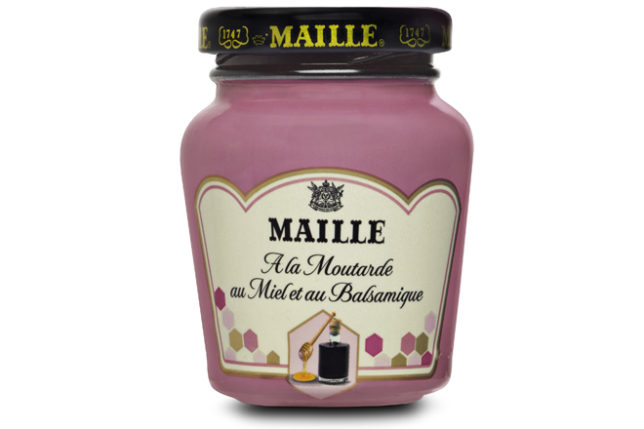 Maille's Spring Collection is available from March exclusively at the La Maison Maille Boutique in Piccadilly or online at maille.com. The individual jars are priced at £6.95 for Honey & Orange Blossom or Honey & Walnut and £8.50 for Honey & Balsamic. All three are available in a gift set priced at £23