Upon entering Lanes of London from the corner of Park Lane, the bar causes a striking first impression. Relaxed and intimate, the bar area provides a charming spot for after-work drinks, pre-dinner cocktails and late evening nightcaps. An expertly crafted cocktail list from the creative team behind summer 2015's hugely successful popup, Roofnic, includes signature cocktails such as the Sosho Cooler: an invigorating mix of Bombay Sapphire, white wine, mint leaves, sugar and grapefruit. These are available alongside beers from Greenwich's Meantime brewery, spirits from Hammersmith's Sipsmith distillery and a strong wine and champagne list.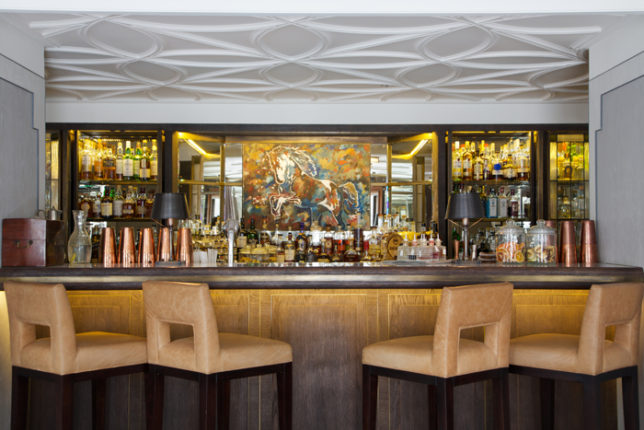 We love how the bar freshly squeezes their orange, apple and grapefruit juices – something that sets Lanes of London apart as raising the bar and raising the expectations of its diners… which the new management team led by the genial Carlo Pecoraro is perfectly poised to meet and exceed… as was to be proven on our visit from the attentive yet friendly and relaxed service from the impeccably dressed staff.
Housed within London Marriott Hotel Park Lane, formerly an Edwardian mansion block, the dining room and bar is an informal, modern space, complete with comfortable booths, snug inlets and private dining facilities. Led by Blacksheep, the award winning restaurant design agency, the interiors incorporate marble table tops, aged brass, traditional leaded glazing, racing green leather banquettes, oak and antique detailing throughout making for a stylish yet comfortable environment to while away an hour or two with great drinks, great food, great service and (one hopes) great company.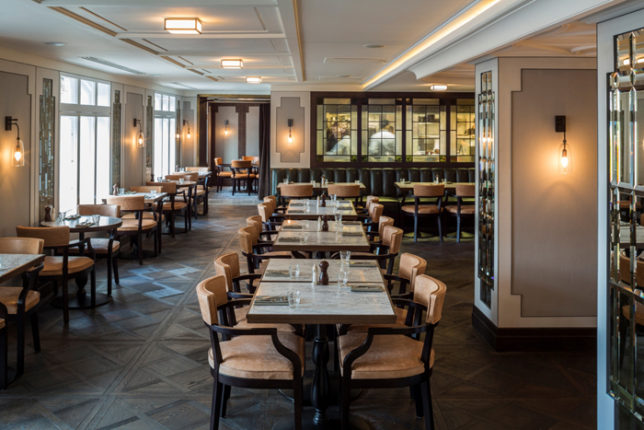 Carefully curated by executive chef Emmanuel Garde, Lanes of London's exquisite seasonally changing menus showcase the very best of British produce. Chef Garde produces dishes which are at once beautiful on the plate and delightful on the palate… as I was shortly to discover as I sat down with my dining companion after our busy morning shopping for dresses at Selfridges for the events we would be attending during The Season.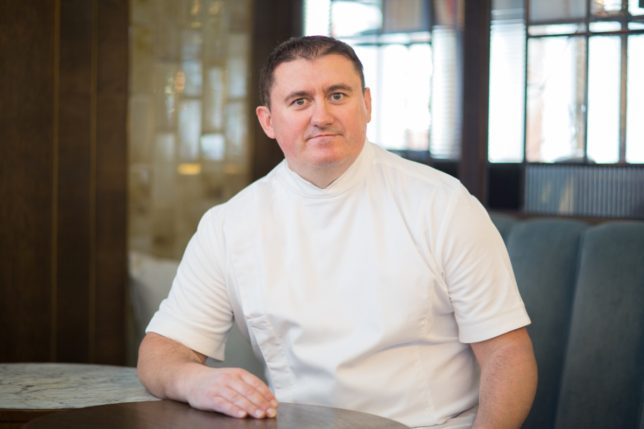 We began with a refreshing non alcoholic cocktail each. I chose the quirkily named Vietnamito made with pineapple juice, house made kaffir lime and lemongrass syrup, lime, thai basil and ginger ale. My friend wanted something quintessentially British so she chose the Lady Garden made with fresh strawberries, fresh cucumber, ginger and lemonade. I stole her glass for a moment to take the perfect shot…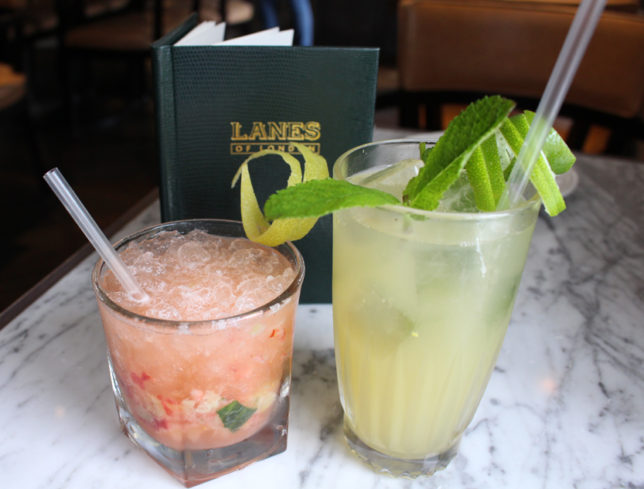 To accompany our drinks whilst we perused the menu, we shared the Scotch Quail Egg served with radish mayonnaise. To our surprise, this delightful little savoury treat is made with minced chicken rather than pork which creates a lighter flavour an- on her d texture perfectly showcasing the soft boiled quail egg. The peppery hit of the mayonnaise was a great contrast to the lightness of the dish. Chef Garde immediately had produced something inspiring and inventive.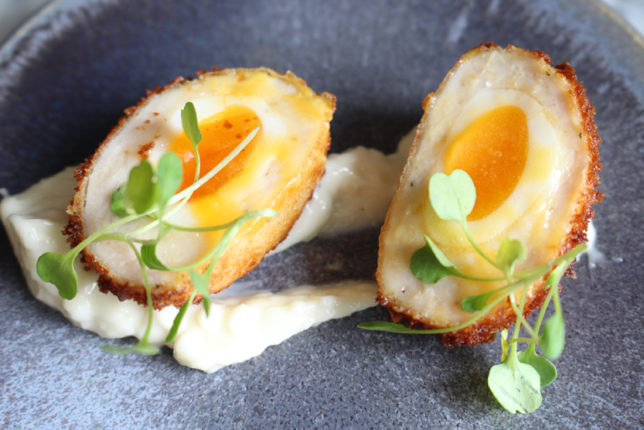 To start the meal proper, my friend – who seems to be on a perpetual diet to fit into one size smaller – chose the Cobb Salad. I was dubious that this classic American comfort food would be healthier as traditionally this chopped salad is served with bacon and a blue cheese dressing. When the dish arrived, Chef Garde surprises the palate again with his summery interpretation swapping out the heavy Roquefort dressing for a lighter lemon and honey dressing which is practically guilt-free… all the more reason to generously drizzle it over the succulent chicken, avocado, boiled egg and plum tomatoes all on a bed of crisp chopped salad greens.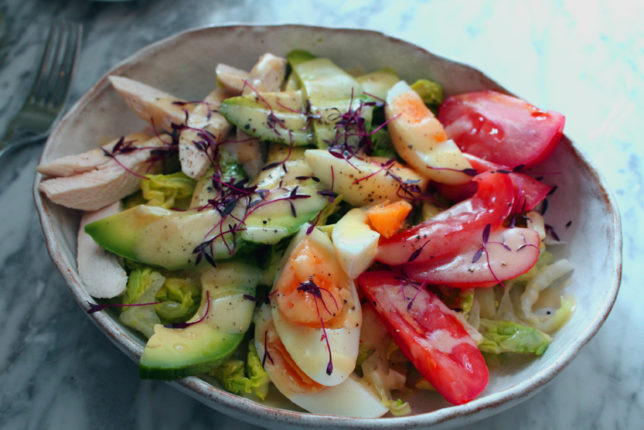 I chose the Seared Scallops which were modern artistry on a plate served with strokes and flourishes of green peas and mint purée with crispy pancetta perfectly balanced on the three scallops. And the taste was amazing. Beautifully seared scallops still soft and tender in their interior. Seafood perfection!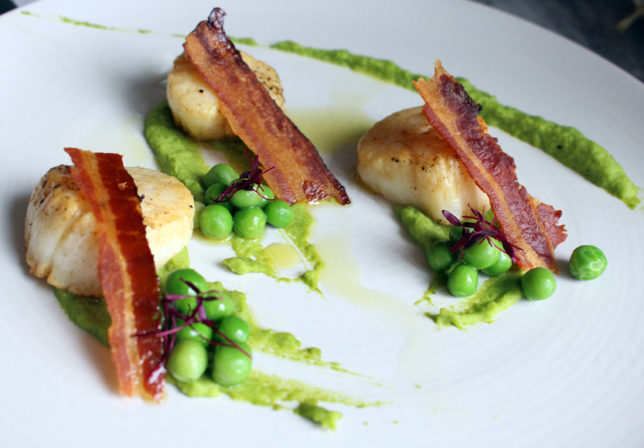 To follow such delicious starters, we knew we would be in for a treat when it came to the main course dishes. From the delightfully varied choices and after brief consultation with our cheerful affable waitress, I chose the Wagyu Burger ordered medium rare (of course!) minus the accompaniments… I've always been a plain burger kind of girl. The meat burger was beautifully tender served in a golden sesame bun, quite generous in size. A healthy salad on the side and a slightly less healthy but oh so moreish side of crisp french fries served in those cute baskets modern restaurants seem to love.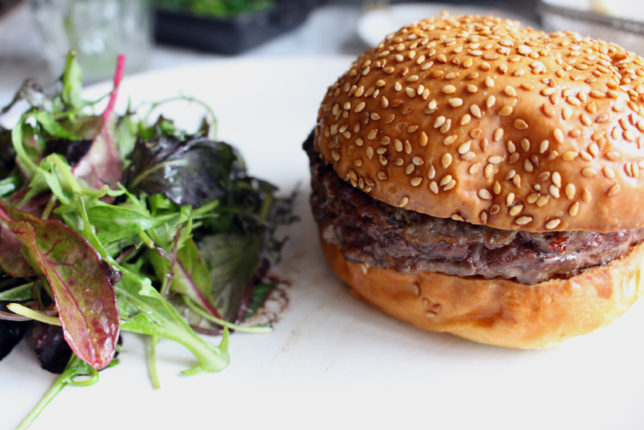 My friend chose the Sea Bass – pan-fried in butter – and served on a bed of vibrant young broccoli florets and zingy plump caperberries, diced tomato and a citrus vinaigrette with a definite hint of coriander lifting the flavours to greater heights. The fillets of sea bass had a delicately cooked skin – not too crispy but soft and buttery which complemented the buttery flavours of the fish itself. She chose some sauteed kale and spinach as an accompaniment.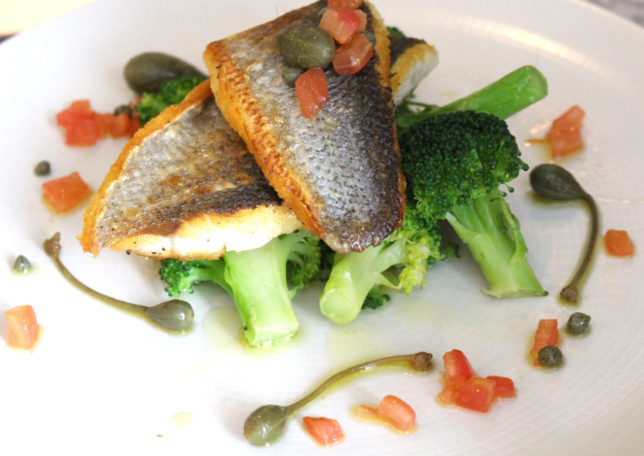 Another round of non-alcoholic drinks accompanied our mains. This time I went for the Honey Dew which is a zingy blend of the house made ginger syrup, orange, lime juice and apple juice. My friend had heard lovely things about the attention Lanes of London spends on its freshly made juices so she chose a glass of their Detox juice made from fresh carrot, celery, ginger, lemon and pineapple straight from the juicer installed at the bar. Healthy but delicious with a nice hint of heat from the ginger.
Dessert for me was Chocolate and Salted Caramel Torte – sumptuous layers of chocolate and the perennial favourite of salted caramel which was definitely decadent and perhaps one to share with your other half on a romantic dinner date. As my friend lives a gluten- and dairy-free lifestyle, I was left with this show-stopping dessert all to myself. It was presented so artistically on the plate that I didn't know whether to take a piece or take another photo!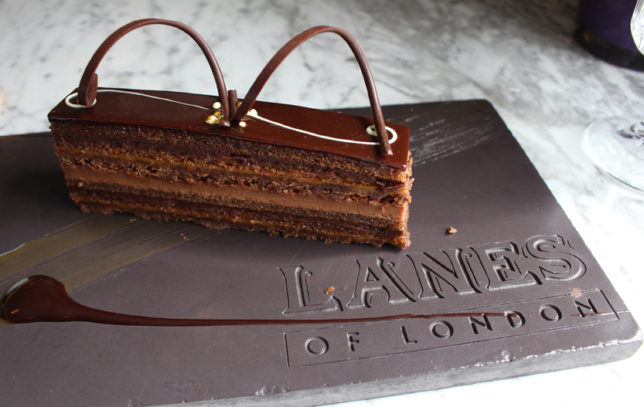 Due to her food intolerances my friend was delighted to see sorbet on the dessert menu… with not one, not two, but three flavours… a choice of three scoops from lemon, mango and blackcurrant, the last flavour not often seen in the sorbet selection of most other restaurants which is a shame because as my friend said blackcurrant is a wonderfully refreshing and tangy flavour. Obviously a fan, she ordered two scoops of blackcurrant and one of mango served with a delicate sophisticated chocolate leaf. The colours looked like summer on a plate!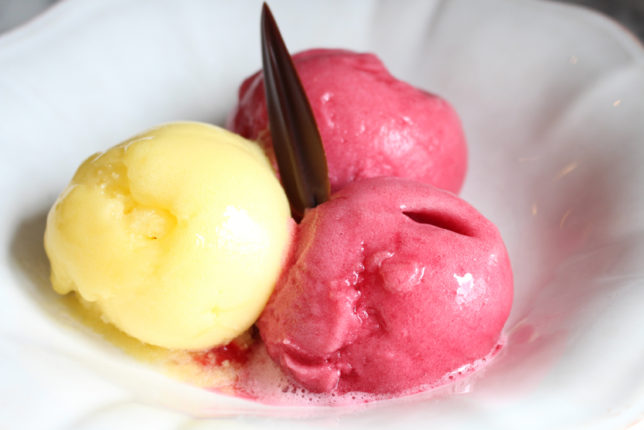 With such wonderful dishes on the eye and on the palate together with the attentive charming service from the restaurant team, it is no wonder that Lanes of London is a popular choice not just for lunch but also afternoon tea and dinner. Although we hear the new management team only began in June, we are sure Carlo Pecararo and his able managers will take this Mayfair institution to even greater heights of excellence.
Lanes of London
140 Park Lane, London W1K 7AA
020 7647 5664
www.lanesoflondon.co.uk
[mappress mapid="40″]