Le Garrick is typically French with a large French flag flying proudly over the door, chalkboards written in that familiar curly script and the quirky interior of wooden tables, artwork and candles. Passersby glancing through the window can see the happy faces of diners soaking up the Gallic atmosphere and the smiling staff move busily between the tables.
Le Garrick is one of those rare restaurants in London where the staff are even happier than the customers and their dedication to delivering excellent service and making their patrons feel part of the family with their infectious joie de vivre.
As we entered the restaurant, we were immediately greeted by the hostess, Martha, with a very warm welcome. The buzz from the diners on the ground floor told us that this was a place to enjoy good food and good conversation. Although there were a few tables seated with groups of friends, most of the tables were occupied by couples and it was obvious that Le Garrick is the ideal date restaurant.
We were taken down a spiral staircase to the subterranean part of the restaurant containing the main dining room. The dining room features rustic brickwork, booth seating with candlelit alcoves, romantic nooks and crannies, secluded corners and a welcoming atmosphere – a true, hidden gem which attracts both local businesses and a bohemian crowd of theatre goers, actors and artists alike. This part of Le Garrick has a more intimate feel than the bistro-style tables upstairs so makes for a perfect dinner setting.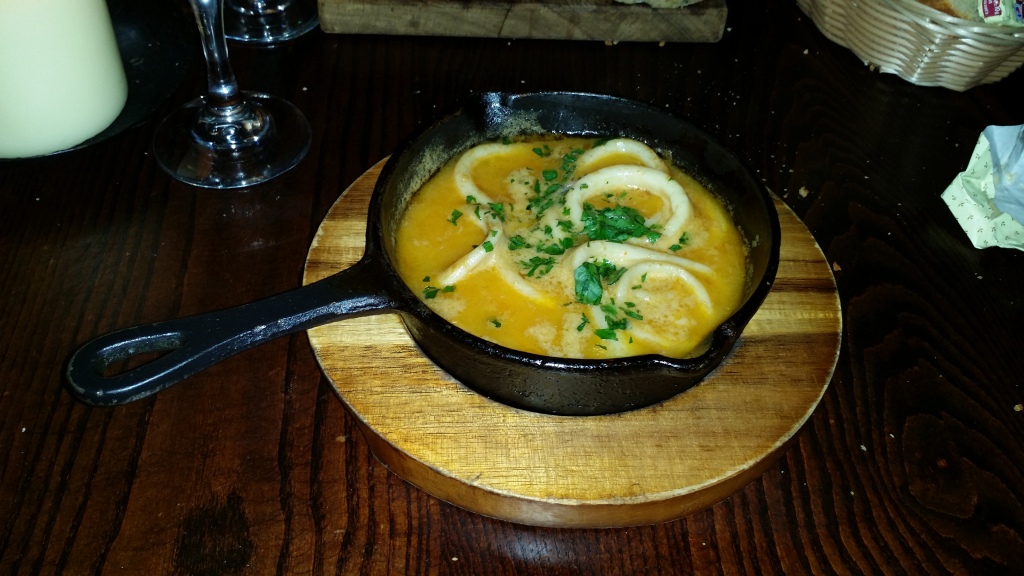 As we sat down at our table our waitress Gwen came over and introduced herself as she gave us the menus to peruse. Gwen has been working at Le Garrick for 2 years and like all the servers here, she loves her job. This passion come across as she told us her recommended dishes and also in her attentiveness throughout the meal as she was always one step ahead so we never had to ask for more water or more bread. Gwen's service was excellent.
Martha returned to our table with a flute of Kir Royal for my friend and I to enjoy while we looked over the menu. Obviously this was special treatment because we were there to review the restaurant but all the same it was a nice touch and added to the quality and service we were to experience which made Le Garrick stand out as one of the best restaurants we have reviewed this year.
The menu is traditional with some authentic dishes added to showcase the best of regional French cuisine. Prices range from £4.95 – £12.95 for starters and £11.95 – £24.95 for mains. Dishes such as Moules Mariniere, Foie Gras and French Onion Soup are all listed as one would expect but there are also more less famous dishes which come from the south of France and Madame Pelletier, Charles' mother whose recipes proved inspiration for a number of dishes on the menu, making Le Garrick even more authentic.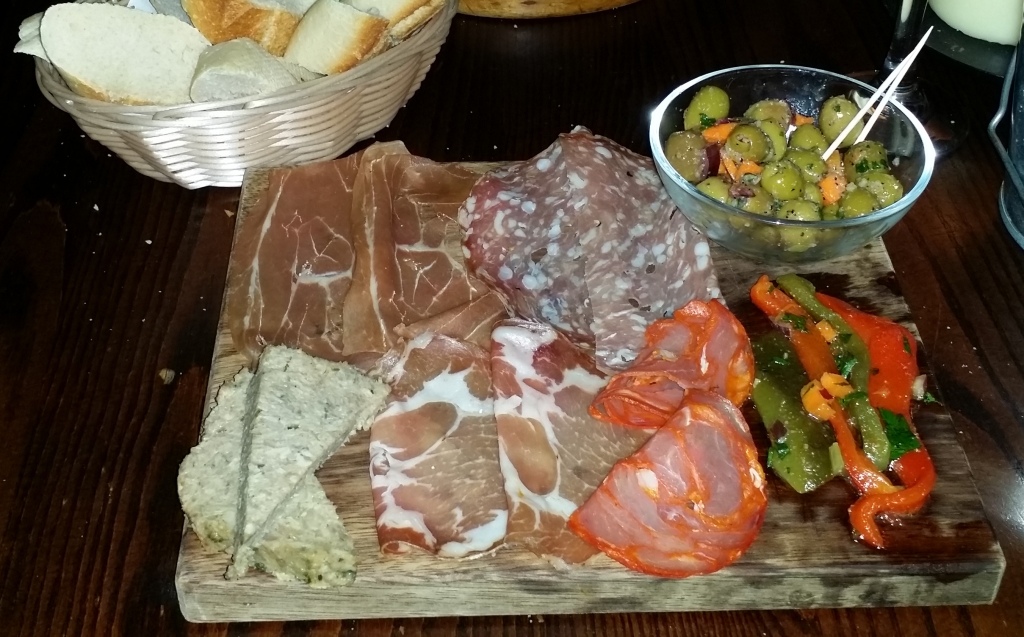 After perusing the menu, my dining companion chose the Assiette de Charcuterie and I went for the Cassolette de Calamar à La Plancha Au Piment D'Espelette. Charles sources all his ingredients for Le Garrick carefully and loves to showcase quality French produce that is not readily available elsewhere. The Assiette De Charcuterie is a prime example of this and contains delectable cold meats from the southwest of France like Bayonne ham.
Charles came over to our table to welcome us personally once the starters were served. He is a warm friendly host and made us feel very much at home with his relaxed Gallic charm and charisma. He explained the origin of the meats on the Assiette de Charcuterie and it was obvious this owner has a real passion for authentic French food. This was even more evident when he pointed out the spicy sausage was not Spanish chorizo but saucisson au piment from the Basque country.
The Casserole de Calamar was a dish of pan-seared beautifully tender calamari cooked in the basque style with tasty sauce containing coriander, chilli and ginger which has such a pleasant kick to it that one cannot help but savour it with lashing of bread. This is no problem for Le Garrick where it is Charles Pelletier's policy to provide tables with all the bread they require free of charge. And water glasses are regularly topped up throughout the meal at no extra cost either.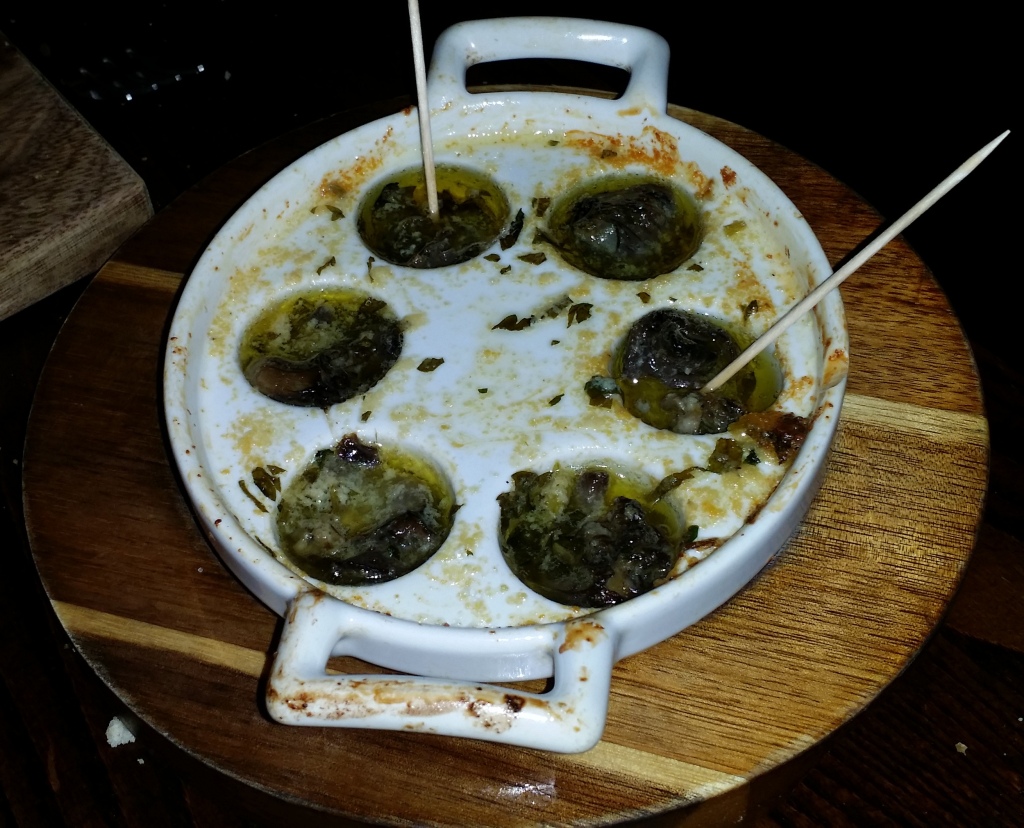 As a special treat, Charles sent over a dish of Escargots to our table. Snails can sometimes be hit-and-miss, especially if not cooked carefully. These little creatures were far from poorly cooked. Bathed in garlic and herb butter, they were perfectly cooked and I would go so far as to say that even an snail virgin could be converted to the earthy delights of Le Garrick's Escargot.
As a newly proud parent Charles Pelletier is full of the joys of parenthood. This can be seen in the way Charles proudly shows off pictures of his new baby to his regulars and special guests. Such chatting to those who want to engage old and new diners alike ensures everyone is having the very best time and instils a feeling of connection amongst not only one's table and Le Garrick but between tables.
For our mains I chose the Magret De Canard and my friend had the Boeuf Bourguignon which contained melt-in-the-mouth beef in a rich unctuous sauce. My duck breast was served with a cherry sauce instead of the usual orange sauce and this was a pleasant change to the menu perfectly timed for the winter months.  Charles recommend we try the La Chapelle de Marin Côtes du Rhône with the meal which was the ideal accompaniment with the rich food.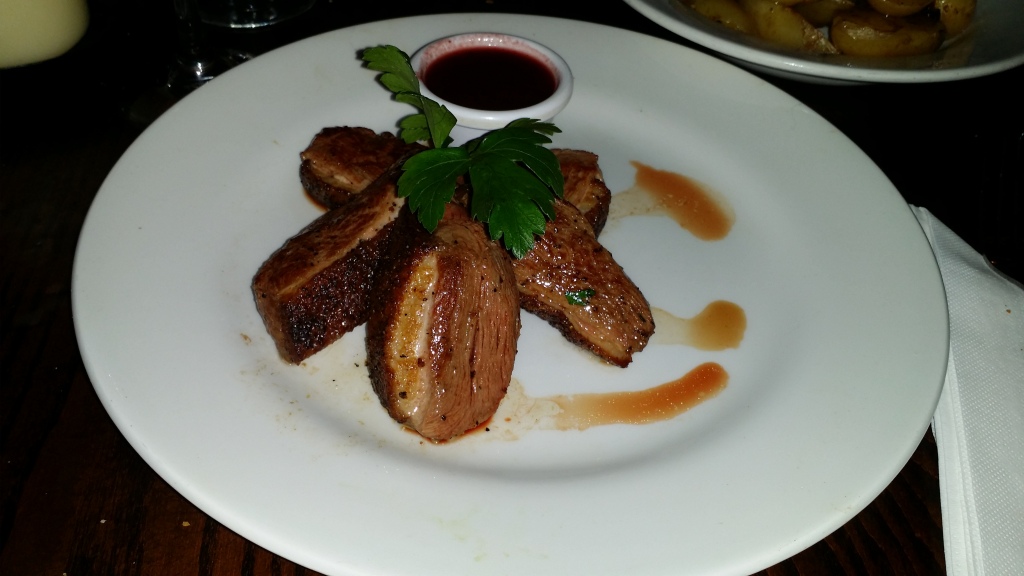 Charles ensures that all dishes stay as true to traditional recipes as possible and adapts them to the constraints of a professional kitchen serving dozens of diners at any one time without losing any of the style or authenticity. This was the case for the Magret De Canard, which Charles explained had to be sliced to make it quicker to cook to get to the table in a timely fashion however the chef reduces the fat first so it is perfectly cooked as it would be if done traditionally. Adaptation while raising standards is key to success and Charles Pelletier demonstrates this admirably at Le Garrick.
There was barely room for dessert but we succumbed to Charles gentle persuasiveness and allowed him to choose desserts for us. For me he chose Fondant au Chocolat which has a lovely crust inside which was hidden a delicious pool of chocolate sauce. After my friend's rich stew, Charles recommended he go for the Tarte au Citron which proved to be the perfect choice. The tart had a barely-there pastry crust which encased a thick layer of creamy lemony filling. My friend exclaimed that it was the best Tarte au Citron he had ever tasted, which is some commendation coming from an epicurean like him.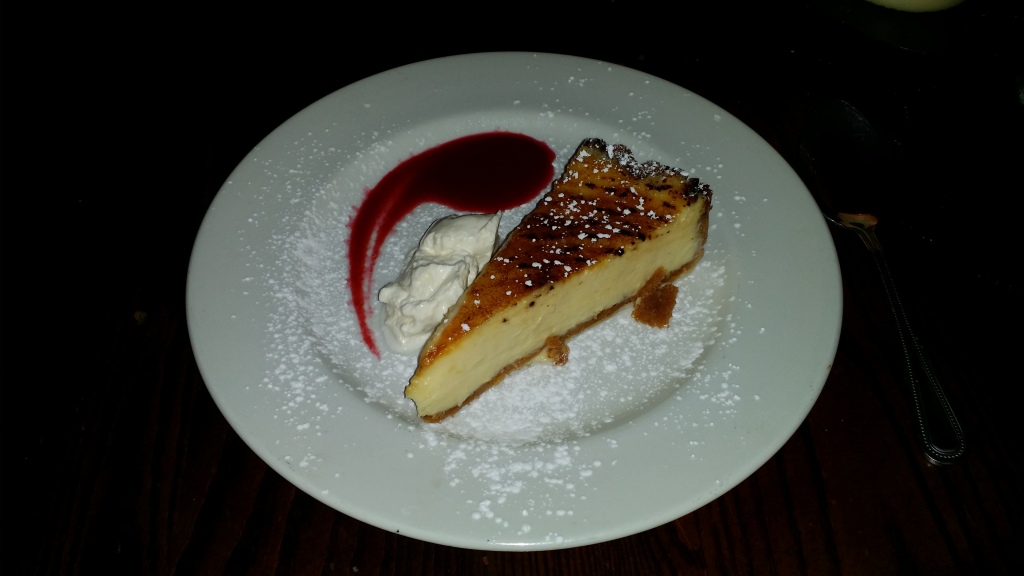 Another nice touch at Le Garrick is the serving of complimentary shots of Poire William eau de vie at the end of the meal to Charles' special customers and regulars who know the "password" which reinforces the special rapport at Le Garrick.
Charles told us that he does not hire just French staff but instead takes everyone on their own merit and is more concerned that they are a good fit with the restaurant. This policy shows to even the casual observer as Charles and all his staff are some of the most amiable people we've ever met in a London restaurant.
Le Garrick is a haven of heavenly food with an atmosphere just as heavenly and as we left its warmth to venture into a chilly London night I was certain that this would not be the last time I would be crossing its threshold.
Le Garrick, 10-12 Garrick Street, Covent Garden London WC2E 9BH
Tel: 020 7240 7649