Davidstow, producer of the super-premium Cornish cheddar, has been working with renowned chef – Lee Westcott – on a selection of delicious recipes. Here are three of our favourites…
Davidstow® 12 Month Mature cheddar Scotch "Egg"
A picnic isn't complete without a Scotch Egg, but if you're looking for something with an edge on the classic recipe then why not try this recipe created by Lee Westcott for Davidstow® which combines good quality sausage meat with a pearl barley and Davidstow® 12 Month Mature cheddar centre. Chef Westcott says, "These Scotch Eggs take on a classic picnic staple, giving them the perfect edge to make any road trip down the wildly beautiful Cornish coast a memorable one."
Serves: 6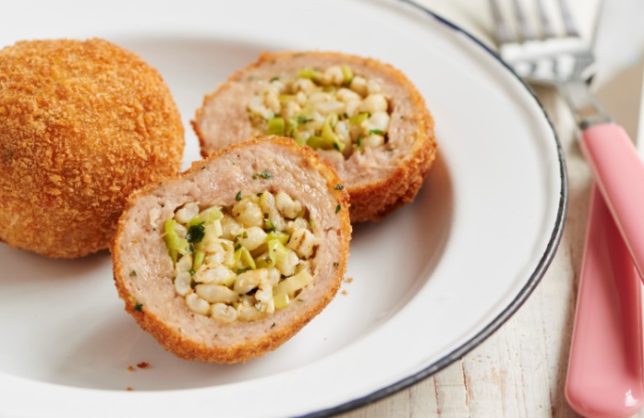 Ingredients:
Pearl Barley Centres
80g pearl barley
1 white of a leek, sliced thinly
1 garlic clove
1 pinch curry powder
200g cooked pearl barley from above recipe
30g Davidstow® 12 Month Mature cheddar, finely grated
30g chopped chives
20g chopped dill
500g sausage meat
20g chopped thyme
Salt and pepper
Bread Crumbs
2 whole eggs mixed well with a whisk
100g plain flour
150g panko breadcrumbs
Preheat a deep fat fryer to 160°c
Method:
Pearl barley centres
1. Wash and cook the pearl barley in 1 ½ litres of water until soft and sticky. Remove from the heat and allow to cool. Set aside 200g of this cooked pearl barley to use later.
2. Sweat the sliced leek with garlic and curry powder until tender. Remove from the heat and allow to cool.
3. Mix the, set aside, 200g pearl barley and the leeks into a bowl. Add the Davidstow® 12 Month Mature cheddar, chives and dill. Season to taste using salt and pepper.
4. Mix well and weigh out into 30g individual balls. Place these into the freezer to firm up well.
5. Mix the sausage meat with the thyme and seasoning.
Assembly of the Scotch "Egg"
Please note: Each ball requires approximately 60g sausage meat and 30g frozen barley balls
6. Wrap by spreading cling film out on your kitchen surface, then press the sausage meat out flat on top of the cling film, add the frozen barley ball into the centre of the meat and carefully wrap the sausage meat around the barley mix until coated evenly.
7. Now coat these balls in the flour, shaking off any excess. Dip these into the egg mixture, removing carefully with a fork shaking off any of the excess egg mixture. Now roll these in the panko breadcrumbs, ensuring they are coated well.
8. Fry these in the deep fat fryer for 4-5 minutes or until golden brown. Drain well onto kitchen paper and finish with a sprinkle of fine salt. Enjoy!
Smoked Trout, Duck Egg and Watercress Quiche with Davidstow® 18 Month Extra Mature cheddar
Quintessentially British, a quiche should be the mainstay of any summer picnic or light lunch. This recipe created by Lee Westcott for Davidstow® combines smoked trout, duck egg, watercress and a strong cheddar to create something really special for the whole family. Chef Westcott says, "This recipe was inspired by a visit to one of my Cornish fish suppliers. We smoked and cooked a whole trout and when I tasted the Davidstow 18 month cheddar, I wanted to pair them together as it took me back to that day visiting Cornwall's rugged fishing harbours."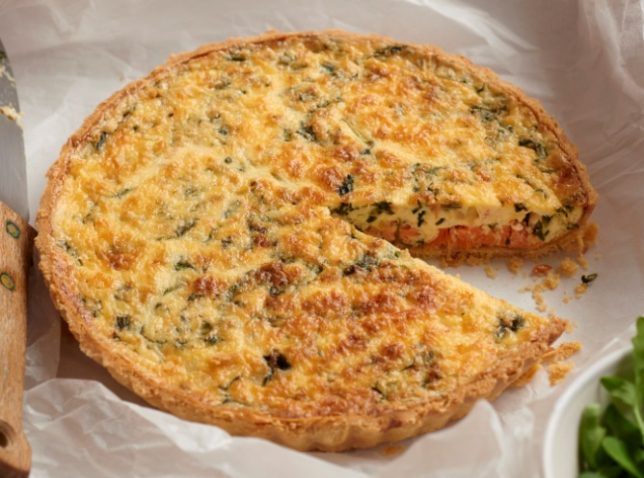 Serves: 4-6
Ingredients:
Pastry
175g plain flour
100g cold butter (grated using a cheese grater)
1 duck egg yolk
3 teaspoons water
Pinch of salt
Custard
1 duck egg
1 duck egg yolk
175g double cream
25ml whole milk
50g crème fraiche
Filling
1 onion, finely diced
20g unsalted butter
100g watercress, washed
½ lemon zest
70g Davidstow® 18 Month Extra Mature cheddar, grated
1 pinch fennel seeds
1 side of smoked trout, flaked (approximately 150-200g)
Preheat a fan assisted oven to 175°c
Method:
For the pastry
1.  Rub the flour, salt and the grated butter until a breadcrumb texture is achieved.
2.  Add the egg yolk and water and mix until a soft dough is formed.
3. Knead the dough for a further minute. Now wrap it in cling film and chill for at least 30 minutes.
4. Take the pastry and roll out to around a 3mm thickness. Use this to line your quiche mould
5. Leave a little over hang of pastry on the edges of the quiche mould. Place baking beans (or rice can be used instead), into parchment paper on top of the pastry.
6. Now bake this at 175°C for 15 minutes.
7. Remove the pastry case from the oven. Take away the beans and parchment paper. Now brush the pastry with yolk and bake for a further 5 minutes. This will help to seal the pastry. Allow the pastry to cool.
For the custard;
8. Mix all ingredients together and set aside.
For the filling;
9. Sweat the diced onion in butter with no colour, then add the fennel seeds.
10. Add the washed watercress, mix into the onion mix until the watercress is wilted, now add the ½ lemon zest. Remove from the heat and allow to cool.
11. Now add the flaked smoked trout.
To combine;
1. Add the filling, then the custard.
2. Now grate some of the Davidstow® 18 Month Extra Mature cheddar on top.
3. Bake this again at 155oC for 35 minutes. Allow to completely cool, before trimming the excess pastry on the edge, using a small knife.
4. Once completely cool, remove from the mould.
Cornish Seaweed and Davidstow® 3 Year Special Reserve Vintage Cheddar Frittata
If you're looking for a summer snack suitable for dining al fresco, then this frittata with salty sea vegetables is the one for you! Pair with a simple salad and cold glass of white wine for the ultimate posh picnic. Chef Westcott says, "The frittata recipe pays homage to Cornwall's beautiful beaches. I love to cook with freshly harvested Cornish seaweed as it is full of vitamins, minerals and protein. Nori and Kombu are the perfect alternatives for when Cornish seaweed can't be sourced."
Serves 6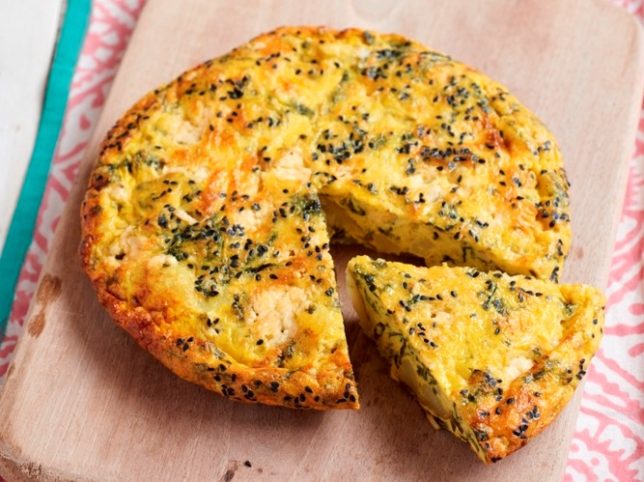 Ingredients:
5 Jersey Royals potatoes, medium sized
9 medium eggs
5 tablespoons yoghurt
2 garlic cloves finely chopped
2 sprigs fresh thyme
30g chopped fresh chives
1 small onion, peeled and diced
30g Cornish harvested seaweed, washed and then soaked in water for 30 minutes before using
3 sheets of dried nori, soaked in water for 2 minutes, before using
1 pinch turmeric
1 large pinch onion seeds
80-130g Davidstow® 3 Year Special Reserve Vintage cheddar sprinkled over the top (dependant on your personal taste)
Method:
Pre-heat a fan assisted oven to 160°c.
Cover the potatoes in olive oil, add the garlic and thyme. Cook slowly until soft (in the kitchen we call this confit, it's a French term for this method of cooking).
Once cooked, allow the potatoes to cool in the oil at room temperature.
Drain the potatoes from the oil and break up into rough large chunks using a fork. You can keep this oil to use for another day.
Mix the yoghurt, turmeric and eggs in a bowl.
Over a gentle heat in a large frying pan with a little olive oil, sweat the diced onion until softened without browning.
Break the nori and kombu sheets up roughly with your hands and, in a frying pan, add to the above yoghurt mixture along with the potatoes.
Allow the egg mixture to set on the bottom of the pan but keep the heat on a low temperature to ensure it doesn't overcook.
Sprinkle the onion seeds, chives and grated Davidstow® 3 Year Special Reserve Vintage cheddar over the top of the mixture. Now place into the pre-heated oven and bake for 8 minutes. Then turn the oven up to 180°c for a further 4 minutes or until golden brown. Remove from the oven and cool at room temperature. Once cool, carefully remove the frittata onto a chopping board. Cut into equal sized portions and serve.
Recipe credit: Created by Lee Westcott for Davidstow®