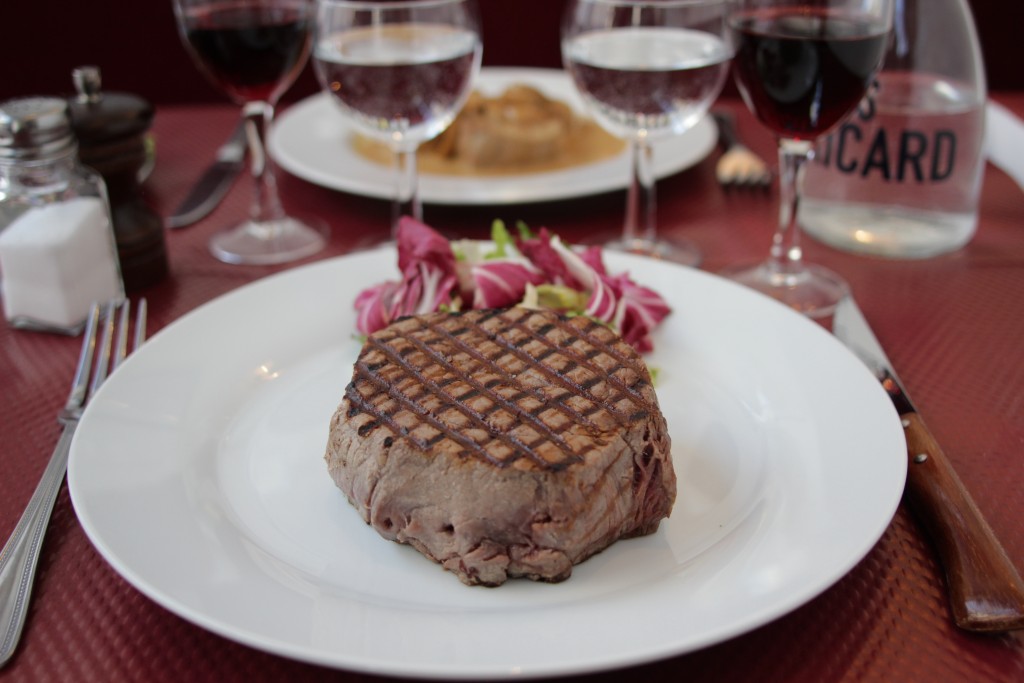 Situated in the exclusive residential and retail district of central London, Knightsbridge, Les Gourmet des Ternes will transport you back to 1962, a stylish French bistro with a tranquil Parisian vibe. On the ground floor you will find the restaurant which boasts the exact same menu and décor as the renowned Les Gourmets des Ternes in Paris. Specialising in all types of seasonal meat and fish, the produce is fresh and imported from France, with secret family recipes found in most dishes. Guests also have the option to head up to the first floor and visit the added addition; Rendez Vous Knightsbridge. An exclusive and intimate Champagne and foie gras bar, with a capacity of 25-30 people. Hosting a white and grey colour scheme, the bar's décor projects a fresh, urban, industrial vibe. The new central hotspot features bespoke cocktails as well as the classics, and a gourmet snack bar which will include the restaurant's famous, homemade foie gras.
Entrepreneur, Maximilien Marie, the 23-year-old son of Paris restaurateur Jean-Francois Marie who owns the original Les Gourmets des Ternes in Paris, has brought his family's unique gourmet touch to London. Maximillen noticed that there were few French restaurants in London which served good quality, fresh, French produce. Following on from the success of the first Les Gourmets des Ternes in Maida Vale, Maximilien launched the second London based Les Gourmets des Ternes restaurant in Knightsbridge which boasts authentic Parisian food, culture and even furniture as the French décor for Les Gourmets des Ternes was sourced from antique stores by Maximilien's business partner, Romain Philipp. It also features a chic cocktail bar on the top floor which is perfect for an aperitif.
The SLOAN! Review
Upon arrival we were shown upstairs and at the far end of the room was an open window. Peering out of it, we saw a delightful roof terrace adorned with tables, chairs, foliage and lanterns to illuminate proceedings under the night sky. We stepped out gingerly on to the terrace and were handed the drinks menu – presented in an eight page quirky magazine partly in French with the cocktail list in English.
All tastes are catered for but you won't find a Long Island Iced Tea or Mojito on this cocktail list; think more Pink Marie (vodka, rose, rhubarb, mint and lemon) or Le Treize (Ricard, Baileys, peanut butter and vanilla). Spirits used in the cocktails range from the classic choices of vodka, bourbon, gin and rum to the more unusual Ricard, Calvados and cognac.
If cocktails aren't your thing, there is plenty of other drinks to choose from at Rendez-Vous including liqueurs such as Frangelico, Amaretto and Saint Germain in addition to beers such as Leffe Blonde and Meantime to a decent selection of French wines. There is also a sharing bar menu including Vol Au Vents d'Escargot, a charcuterie platter and a cheese slate. To kick off our evening, we chose Knightsbridge Punch and Canadian Old Fashioned.
To start, we went for the Escargots and the famous homemade Foie Gras. In the short time we spent in the Rendez-Vous bar upstairs, the restaurant had filled to almost capacity and the vibe and atmosphere was alive and buzzing although thankfully one can still hear one's dining companion clearly over the hubbub. Our fellow diners included French-speaking customers which is always a good indicator of the authenticity of the French cuisine on offer which was clearly highly recommended by those who could tell a brioche from a bread roll. The scene was set for what promised to be an authentic dining experience.
The homemade Foie Gras was served with toasted brioche which looked on first glance slightly charred from the griddle however this did not compromised the light fluffy texture. The foie gras itself had a certain je ne sais quoi which I was informed later is a secret ingredient that only Head Chef Remy Collieu knows. It is evident from every dish we tried that Remy enjoys demonstrating his aptitude for traditional, fine French cuisine. I was able to ascertain that the secret ingredient in the homemade foie gras comes from Normandy and is alcoholic but even my super sleuth truth detection skills could not pinpoint the exact ingredient… please get in touch if you have any ideas.
Ordering escargots always reminds me of the scene in Pretty Woman with Julia Roberts where, as she puts it, the "slippery little b****r" gets the better of her. We managed to keep all six little gems in order. The taste was exquisite with the garlic butter melting beautifully in the shell and the hidden treasure was pure joy to eat.
For the main course we choose the Lamb Chops and the Steak with Pomme Frites. The meat was cooked to perfection with a flavour that is hard to surpass and paired with sauces that truly complemented the dish. My other half (a commercial pilot in his spare time) passed comment that he is glad to be able to add LGDT to his very short list of authentic French restaurants to take me in London. I say a short list because it is not unusual for him to fly me to Le Touquet for a romantic meal. Now it looks like rather than checking in for a flight across the Channel, I shall be jumping on a Number 14 bus instead and be whisked to LGDT's authentic Parisian dining in just 10 minutes!
For dessert we ordered a selection from the cheese board and a light refreshing sorbet. The dessert menu is comprised of some very generously portioned delights and as such I had to pass on the fine selection of desserts which included Paris Brest, Chocolate Mousse and Tarte Tatin. That said, I am very much looking forward to trying one of them next time as I say au revoir to Le Touquet and bonjour LGDT!
Les Gourmets des Ternes
9 Knightsbridge Green Knightsbridge, London SW1X 7QL
0203 092 1493
www.lesgourmetsrestaurants.com