Lilou et Loïc is the ultimate online destination for style seekers and lovers of luxury. The Lilou et Loïc Scented Candle, Home Fragrance and Bath and Body Collections offer inspirational gift ideas and personal treats or a little something for those looking to inject style and sophistication into their home. As the brand and its designs are inspired by elegance and luxury, Lilou et Loïc products are not only a luxury cosmetic consumable item – they also serve the purpose of lasting decorative statement pieces.
Lilou et Loïc extended their range of scents for 2014 and we also introduced a new men's range. Lilou et Loïc understand the importance of first impressions and as a result they have launched a new exclusive packaging, bringing their products and presentation to a new level. Lilou et Loïc are also introducing a bespoke service, perfect for corporate gifts.
Scented Candles
Decorate any room or home with Lilou et Loïc luxurious fragranced candles and create a welcoming and relaxing ambiance. Made from the finest mineral wax, infused with the highest quality oils and set in beautiful glass vessels, each hand-tied delicately with one of their signature gros-grain ribbons. RRP £34.00. The collection includes fresh, spring-like Grapefruit and Basil, calming and soothing White Amber, sensual and deep Moroccan Wood & Fine Leather, the essence of summer in Sweet Orange and Cedarwood and warm and exotic Oriental Sandalwood & Black Pepper.
If you like your candles to be big and bold, then a  Lilou et Loïc 3kg Emperor Candle with 4 wicks will make a real statement and it will burn for 300 hours. Presented in clear or black handmade glass, with a platinum trim and hand-tied with their signature gros grain ribbon, they exude first class elegance. RRP £210, available in 2 fragrances: Black Amber & Saffron as well as Sandalwood & Black Pepper
We are entertaining more and more at home, so why not light up your evening and compliment a dining or coffee table with a Lilou et Loïc decadent Emperor Candles, or fill a Lilou et Loïc Platinum Lined Floating Candle Bowl with pretty tea lights and rose petals – two simple yet effective ways in which to create a sophisticated atmosphere.
Room Diffusers
Whereas scented candles and room sprays can instantly fill a room with their scent to great effect, a diffuser is a much slower form of scented release. This makes them ideal for smaller rooms and the elegant reeds add height to any sideboard arrangement. Available in 6 scents (matching Lilou et Loïc Signature Candles).
Bathroom Collection
We all lead such busy lives, and the opportunity for 'me-time' is limited. However with Lilou et Loïc Bath and Body Range of luxurious products you will want to make the time to relax and unwind.
Create your own "at home spa" using Lilou et Loïc products. The Bath Salts will bring a whole new meaning to the word relaxing, or soak tired tense muscles in the sumptuous Bath Milk and finish off with super rich, moisturising shea Body Butter, all presented in reusable hand made glass decanters and jars that would look impressive in anyone's bathroom. Sitting pretty in the kitchen or by any sink would be the Lilou et Loïc Handwash and Hand Lotion available individually or as a smart duo (the perfect gift idea). The delicate range of scents will engage with your senses and leave you feeling relaxed, refreshed and truly pampered.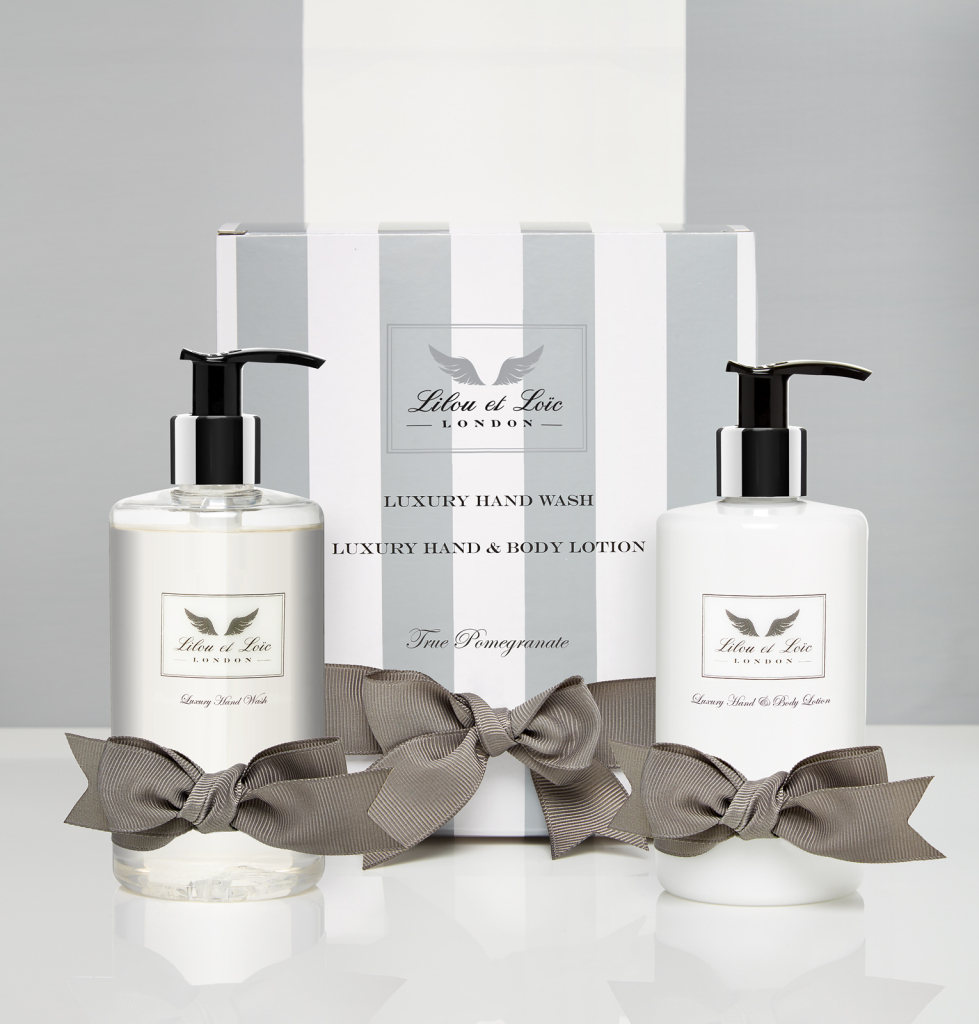 Bespoke
Lilou et Loïc are introducing a new bespoke service. Create your own candle fragrance; perfect for a wedding, a party or as corporate gifts. Impress with your own tailor-made product; personalised fragrances, logo and branding, vessel shape, ribbon colour. Prices available on demand.
Lilou et Loïc offers the ultimate statement in style and affordable luxury. The Lilou et Loïc product range has been carefully sourced and developed using the finest oils and ingredients, packaged and presented in the highest quality and unique hand blown glass containers. Why compromise?