To mark the festive season, leading luxury blended Scotch, Johnnie Walker Blue Label has released a limited edition exclusive gift set designed by critically acclaimed British designer Tom Dixon OBE. The exclusive gift set is a collaboration from the two pioneers of craft and luxury.
Tom Dixon, a self-taught designer, was inspired by the rarity, craft and heritage of the luxury scotch whisky to create the stunning gift set, which features a specially designed 70cl bottle of Johnnie Walker Blue Label in a bespoke copper case. The copper accents are characteristic of Dixon's distinguishable contemporary designs and are a deliberate nod to the art of whisky-making, the copper theme evoking the pot stills used during whisky distillation.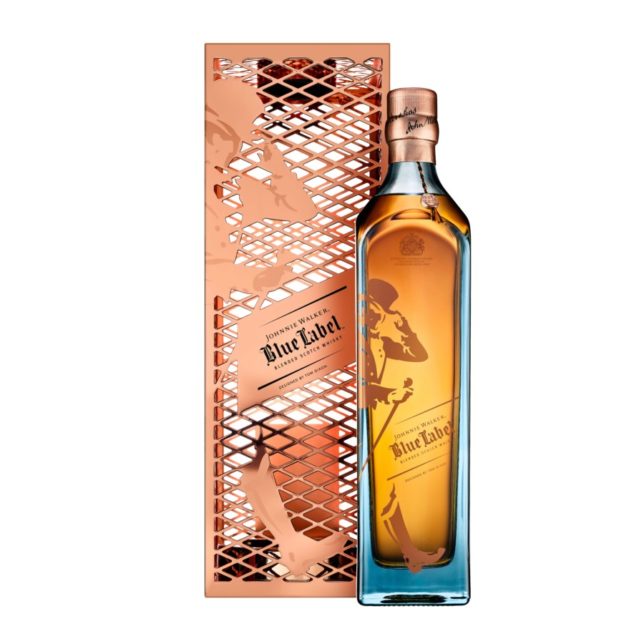 Speaking about his collaboration with Johnnie Walker and what inspired his design, Tom Dixon said: "The parallels between Johnnie Walker Master Blender Jim Beveridge and a designer might seem tenuous but when you think of it in terms of taking excellent raw materials and using patience and experimentation to extract a product with real resonance, then you can start to see the similarities. The copper stills, the oak barrels, the supreme expertise needed to produce a classic product – this was all instrumental to my thinking."
Johnnie Walker Master Blender Jim Beveridge said: "We couldn't be prouder of the finished design, Tom has taken our truly special product and enveloped it in an equally stunning copper case. Together they not only show the dedication we each have to our craft but will also be the perfect gift to give this Christmas, conveying to a loved one just how much they mean to you, by gifting such a rare and unique token of your appreciation."
The limited edition Tom Dixon designed Johnnie Walker Blue Label Gift Set retails at £200 and is available to buy from October 2017 in select retailers including The Whisky Shop, The Whisky Exchange, Selfridges and Harrods.
Other Johnnie Walker products available this Christmas include the Johnnie Walker Blue Label 20cl Gift Box (£58) with personalisation option to have the bottle engraved and for whisky connoisseurs there is the Johnnie Walker Blue Label 70cl (£175). This bottle is a must-have in every drinks cabinet, particularly over the winter months and can also be personalised with an engraved message.
The Johnnie Walker Christmas Ginger Fizz is a perfectly paired serve to enjoy with friends this Christmas season. Impress your guests and try this festive twist on the Johnnie & Ginger…
Ingredients
40ml Johnnie Walker
10ml lemon juice
10ml lime juce
5ml 2:1 ginger syrup – (2 parts sugar 2 1 part ginger juice)
1 egg white
30ml double cream
3 drops of orange flower water
Method
Shake all ingredients without ice. Then shake with ice very hard for around 4 minutes – (alternatively blend with 3 ice cubes in a decent blender). Pour all ingredients into a highball glass, making sure no large ice chips are in the liquid. Top with Fever Tree Ginger Ale and grate fresh nutmeg over the top.
For the exceptionally rare blend of Johnnie Walker Blue Label, only one in ten thousand casks containing whiskies of sufficient character are used to produce the signature smooth taste. The blend is widely considered to be a real 'game-changer' in the whisky industry. The rarity and craftsmanship that every bottle of Johnnie Walker Blue Label represents make gifting it the ultimate expression of gratitude.
Johnnie Walker is the world's number one Scotch Whisky brand, enjoyed by people in over 180 countries around the world.