Linda Meredith website states: "Linda Meredith has worked in the beauty industry for over 40 years. Throughout that time she has noticed a dramatic change in how our skin is evolving, researching what is caused these changes, it became very clear that in the last 60 years toxins are a major factor. Chemicals, preservatives and hormones are now part of our everyday life and have had a dramatic affect on our skin. Existing products no longer address our skincare needs, following the guise of oily, dry and combination for so many years we have all been pigeon holed into thinking we have only one choice. Skin types still exist but they now overlap meaning existing methods no longer work."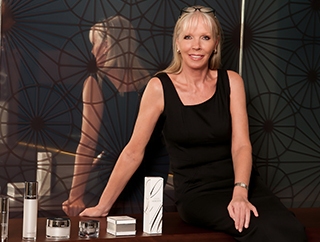 "The Linda Meredith skincare range was developed to deal with skin problems and not skin types, which is why we introduced layering. Our entire range was developed to overlap and each product work in harmony to address individual issues. All of our products work to increase hydration levels and help to slow down the ageing process but more than that we have removed unnecessary chemicals such as parabens and made all of our products safe to use during pregnancy. Our concept is to feed the skin with essential ingredients as we feed our body and we believe this is the way forward to the next generation of skincare products. The results speak for themselves."
"The Linda Meredith Salon is tucked away in the heart of London's Knightsbridge. Famous for it's signature facials, the salon has attracted big celebrity names from the world of music and film, including Madonna, Gwyneth Paltrow, Naomi Campbell, Jude Law, Stella McCartney, Sienna Miller, Penelope Cruz, Kelly Brook, Colin Firth and Victoria Beckham." 
The Knightsbridge salon is very discrete and even the outside of the building looks like a typical London townhouse.
Linda Meredith was one of the first companies to develop natural alternative to Botox, called V-TOX. Their website describes it as: "a unique botanical cream designed to relax the skin and de-stress the wrinkled areas. Stress is most commonly the main cause of frowning, V-Tox helps the skin stop conforming to frown lines when the muscles contract thus making fine lines and wrinkles appear much less obvious. The result a smoother looking relaxed skin without the frozen look of Botox."
Amazon is a groundbreaking vitamin repair balm by Linda Meredith. The website states that it: "helps repair the skins natural barrier, adding softness and smoothness to the surface layers of the skin. High levels of Vitamin C… penetrate deeper and the anti-ageing properties to work much more efficiently. Amazon also contains powerful anti-oxidants providing the highest defence against free radical damage. Omega 6 and 9 essential fatty acids are present and are anti-inflammatory, helping soothe skin irritations."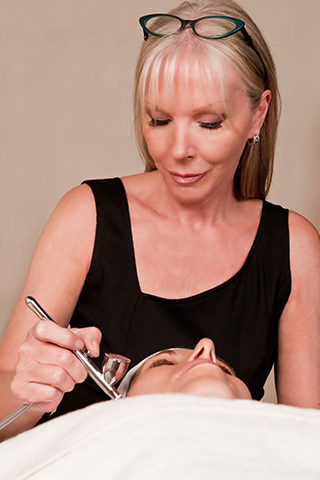 Q3 is an advanced wrinkle solution that the website says: "rejuvenates the natural moisturising system deep within the epidermis and helps to firm the surface layers. Aquaporin activators (water transporting proteins) rebuild the skins moisture content to correct levels, so that wrinkles appear to melt away. Q3 also contains a combination of Shea and Vegetable butters with Jojoba Oil that produces a softening effect, it also contains Purcellin; a component of Bio-Oil that is highly effective in treating numerous skin conditions."
The Signature Facial includes face mapping which can tell from areas of the face if you are stressed or dehydrated, have liver or gut problems and can point you in the right direction towards healing of the whole rather than just the face which invariably will make your face glow. It takes about two months of two to three facials to see a really good improvement but even after just one facial you do see a noticeable improvement.
The whole experience was very relaxing with therapists that were very knowledgeable about not only the Linda Meredith products but also other products commonly used by clients and how to introduce Linda Meredith into one's existing skincare routine without changing too many things at once.
Having experienced the products I can say that I will definitely be implementing some of them  in my daily routine especially Amazon which I adore. It's natural burnt toffee smell is the ideal aroma to experience before bed. I am delighted you can take home a version of the Oxygen facial mask as the in-salon treatment had immediate effects in plumping up my face and reducing dark circles under my eyes.
I can see why so many celebrity clients visit the Linda Meredith salon and on leaving the salon, they all have one thing in common… great flawless skin.
The SLOAN! Review
Celebrity clients include Gwyneth Paltrow, Jude Law, Neve Campbell and Kelly Brook to name but a few
VTOX named by Tatler as best natural alternative to Botox
Signature Facial is amazing