Lion Heart Omega-3 Fish Oil from Bare Biology has been hailed as "the ultimate skin plumper" and "an anti-ageing essential" by leading beauty editors as it has great benefits for the skin. It boosts internal hydration and elasticity, supports cell-membrane repair, retains moisture and helps problem conditions like acne and psoriasis. It also protects against sun damage and ageing.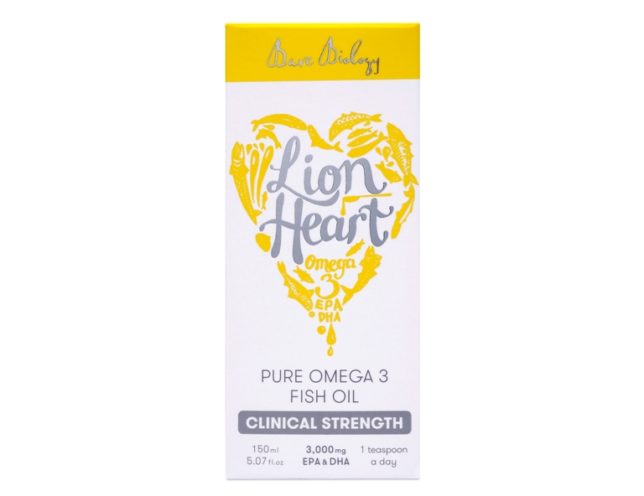 Containing hydrating fatty acids which helps keep hair brighter and shinier. Lion Heart Omega-3 Fish Oil is the number one choice of A-list personal trainers; it is key in supporting fitness efforts as it increases fat breakdown as well as muscle mass and oxygen supply; improves cardio endurance and reduces joint inflammation and risk of injury. It also has been shown to be beneficial to those suffering from rheumatoid arthritis.
Lion Heart Omega-3 Fish Oil is the only fish oil in the UK that has a 5-star rating from IFOS (International Fish Oil Standards) for its purity, freshness and strength. It is also the only fish oil in the UK with 3,000mg of EPA & DHA in a single 5ml spoon which is the recommended daily dose for lowering blood pressure. You would need 28 capsules of any other product to get the same quantity!
Lion Heart Omega-3 Fish Oil also tastes great with a bright citrus flavour that makes it extremely palatable and there is no fishy aftertaste. Although it sounds expensive at £47.50 per bottle, this is a concentrated high quality product that will last you quite a while so it is actually quite good value for money. See it as an investment in your good health and happier future.
Lion Heart starts from £47.50  and is available from www.barebiology.com, Liberty London, Space NK and Whole Foods.