Having great summer hair and healthy glowing skin is just part of the beauty equation. Whether you're back from a vacation or staycation, you've got to look after your skin and hair throughout the changing seasons as summer turns to autumn. Here's our pick of the best hair and skincare products to keep you looking Blighty Beautiful!
Goldfaden MD Radiant Skin Renewal Starter Kit
Goldfaden MD, the antioxidant packed plant based Dr's range introduces the Radiant Skin Renewal Kit. This is a 3-step solution for those whose skin needs an immediate pick-me-up and the kit contains 3 of his best sellers in a convenient travel size set.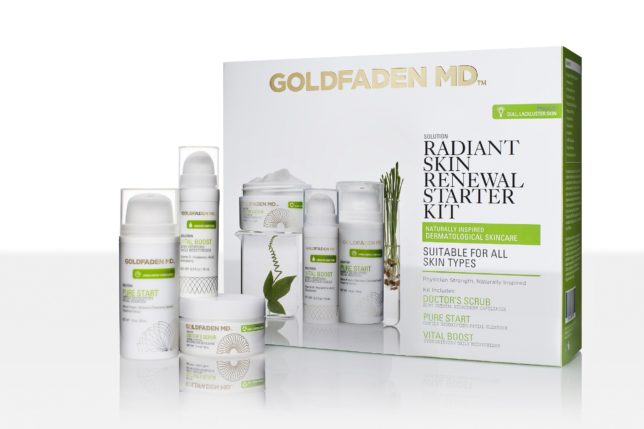 Containing Pure Start, Doctor's Scrub and Vital Boost – this starter kit is a sure-fire way to trigger a skin care obsession. Pure Start cleanser is a gentle way to leave skin feeling soft, refreshed and revitalised. Doctor's Scrub (the brand's 'hero' product), stars spherical ruby crystals to polish complexions to perfection. We're told that fresh faced beauty Kate Hudson has been a longstanding fan of the Doctors Scrub. Finally Vital Boost moisturising lotion creates a featherweight protective shield between complexion and the elements – sealing good stuff 'in' whilst keeping bad stuff 'out' – without exacerbating oil or contributing to congestion. Goldfaden MD Radiant Skin Renewal Kit is priced at £65 is available at Cultbeauty.co.uk
Duck & Dry Shampoo & Conditioner
London's finest blow dry bar, Duck & Dry has launched its " Up Up and Away" Feather Light Shampoo and Conditioner, enabling the Nation to create the Duck & Dry salon bounce and shine with a weightless feel and a volumized look. Packed with natural active ingredients and essential oils, take your tresses to new heights with the Duck & Dry Up, Up and Away Shampoo, which promises to leave hair squeaky clean and glossy while adding fullness to the hair. Whilst the Up, Up and Away conditioner completes the haircare routine by nourishing and deeply hydrating the hair. Its ultra lightweight formula is packed with honey, virgin coconut oil and shea butter combined with essential oils that leave your hair perfectly detangled with just the right amount of oomph and body, ready for the styling regime.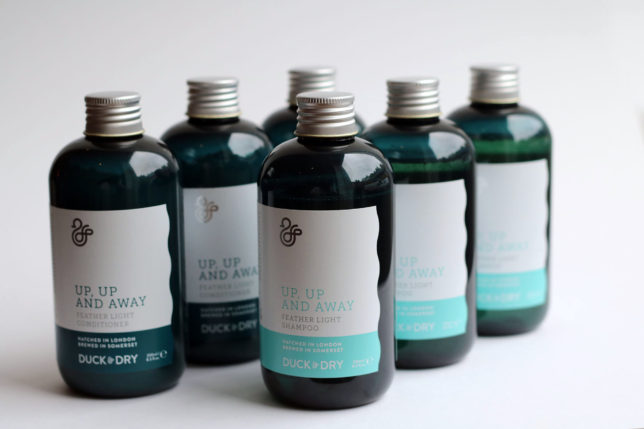 The "Up, Up and Away" shampoo and conditioner joins Duck & Dry's other hair products in their recently launched six part series; which introduce"Blow Dry in a Bottle" Mega Volume Spray to create blow dry finished locks from your home, "Instant TLC" Weightless Leave In Conditioner, to wave goodbye to straggly manes, "Oomph" Dry Volume & Texture Spray to extend the life of your blow dry and "Fix Your Quiff" All Round Hairspray. All of Duck & Dry's products exude the signature fragrance, so expect touches of Wild English Meadows to dance on the hair. The full range is available from in-store and online at www.duckanddry.com and starts from £14.
INNOluxe Elixir
This is a highly concentrated leave-in conditioner that reinforces the hair's strength with multiple levels of flexible proteins restoring strength and flexibility, providing resistance to physical and environmental stresses. Built with many of the same proteins used by Innoluxe's incredible repairing treatment, Elixir is perfect for use in salons or at home, with the results always the same – shinier, healthier hair.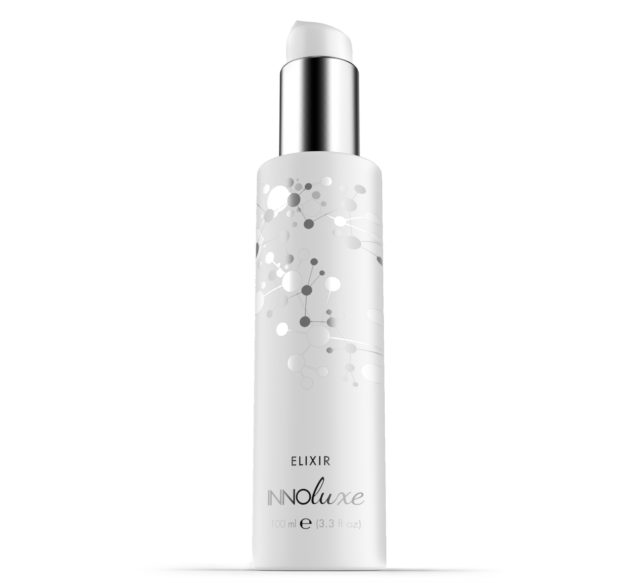 Innoluxe Elixir is perfect for keeping the health and condition between salon colour treatments which puts your mind at ease that you're taking the best care for your coloured hair. It's so concentrated that 1-2 pumps is enough for gorgeous hair. Available from www.innoluxe.com for £24
Timeless Truth Q10 Caviar Nourishing Mask
Recharge dull damaged dry skin in one easy step. Timeless Truth luxury Q10 Caviar Nourishing sheet mask is your cheat sheet to glowing radiant skin. Soaked in a concentrated dose of hyaluronic acid which is our body's natural hydrator and filler that depletes with age, the mask also contains coenzyme Q10 to recharge your skin cells, accelerating repair and renewal of damaged tissue. Skin is left deeply hydrated and nourished, while increasing the production of collagen, for healthier brighter looking skin in just 20 minutes.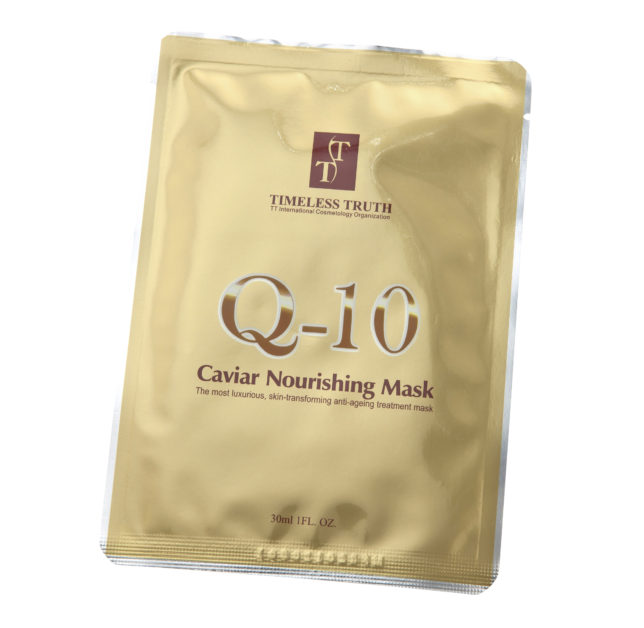 Coenzyme Q10, also known as Ubiquinone, is an essential component of our cells which promotes energy production. Coenzyme Q10 decreases as we age, however, with this comprehensive and high-performance anti-ageing mask, not only does it recharge the skin's vitality balance, it also can prevent many of the detrimental effects of photoageing.. Timeless Truth Q10 Caviar Nourishing mask is £6.50 each or £31.50 for a box of 5 and available from www.ttmasks.co.uk
jane iredale Quad Bronzer
jane iredale's hero quad bronzers have been re-designed for improved portability, making them great for one minute makeovers on the go.. Rose Dawn™ comes in luminous pink/copper shades, Sunbeam™ has cool pink/bronze shades and our personal favourite is Moonglow™ with its warm golden shades.  The quad Bronzers provide instant, sunny warmth to the skin with just the right amount of shimmer.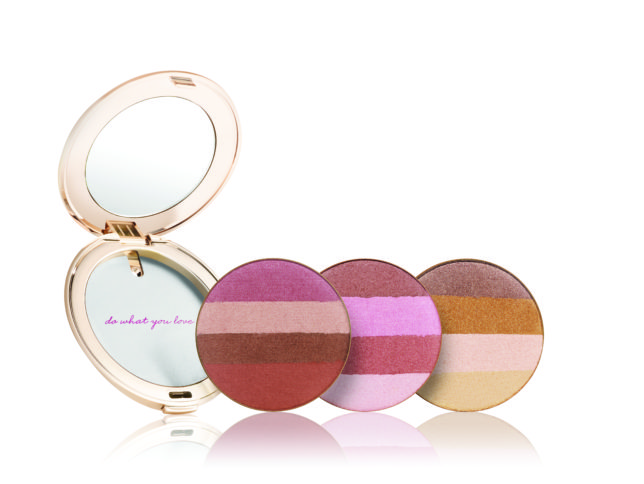 The four luxurious shades in each Quad Bronzer can be used all-over or simply on the cheeks, eyes and even lips. Formulated with antioxidant protection from pine bark and pomegranate extracts the refillable compacts are perfect for portable on-the-glow touch ups. Available now from nationwide from jane iredale® stockists priced at £34.00. Empty compact is £12.00
FOM Hydrating Anti-Pollution Cream Cleanser
This moisturising, fragrance free, anti-pollution, rinse off creamy cleanser infused with silk gently removes impurities, excess oil and make-up including mascara. The unique ANTIOXSILK technology in a base of Neroli Flower Essence and skin softening Rosehip oil deeply hydrates the skin whilst detoxifying Dandelion protects and re-energises the skin thus encouraging skin's own renewal process to promote radiant, healthy complexion.
The cleanser is part of the FOM London ANTIOXSILK Collection which gets its name from its unique blend of silk, antioxidants and adaptogens. Liquid silk extract combines with naturally active anti-ageing botanicals and powerful antioxidants, which combat oxygen free radicals (pollutant chemicals thought to be one of the main culprits behind aging skin), to create a range of products that take skincare to a new level. The cleanser costs £29 and is available from www.lovelula.com
The Lash Inc false lashes
Getting made up for a night on the town is one of life's special pleasures and with the right false lashes you can take your party look to the next level. New lash brand, The Lash Inc, share their must-wear lash essentials for the season ahead. All The Lash Inc lashes sit on a transparent band for the most comfortable, and lightweight lash yet, so you can party on through the night without a worry.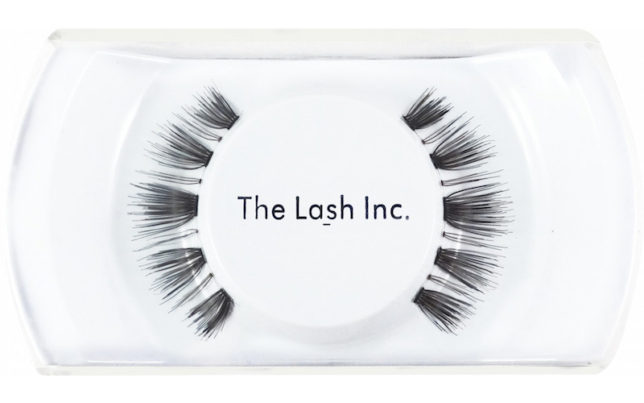 If you're a fan of natural-looking lashes that still have a lot of texture to them, then the No.11 lashes (above) will be ideal for you. Made with a combination of black and brown fibres, these lashes add fluttery, but natural texture and volume to your party look. No. 11 Lashes cost £6.99 and are available from www.thelashinc.com
Samol Herbal Hair and Scalp Oil
Samol Herbal Hair and Scalp Oil is a unique and powerful blend of nourishing herbs and oils, derived from a family recipe that is over 100 years old and draws on the ancient Unani tradition taking a holistic approach towards hair care by offering a natural and easy to use alternative to traditional hair care products, which often use harsh chemicals that ultimately damage the hair and scalp.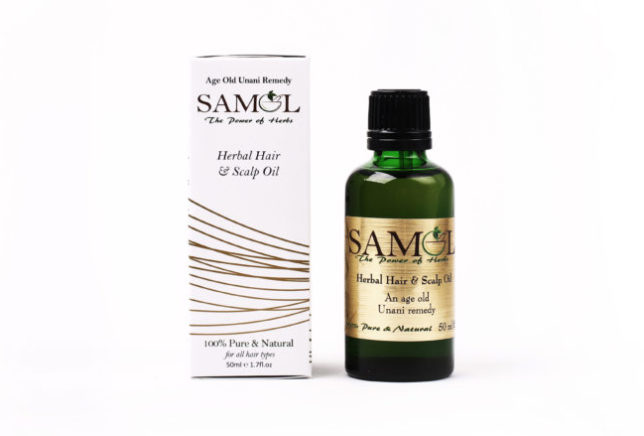 Samol Herbal Hair and Scalp Oil contains a blend of 17 nourishing herbs and oils with medicinal qualities and is the only product to contain Triphala – which has long been known to encourage thick, healthy hair. The blend of herbs encourages healthy hair growth, strengthening your hair and nourishing your scalp. It has been used for years by advocates including The Nawabs in Pakistan, and now it is available for the first time in the UK.