The 135-series are high performance merino wool t-shirts. They are highly wearable indoors and under shirts and suits. Available in 6 colors developed to match a broad variarite of clothes and activities.
The popular O-neck 135 merino T-shirt is your trusted everyday companion. The subtle yet stylish design makes it perfect for both work, play and adventure.
This T-shirt is highly recommend to be the first item on your shopping list for any active person, traveller or anyone who cannot carry a spare t-shirt with them for being fresh later in the day. It's perfect for anyone and is a go-to product which will keep working for you.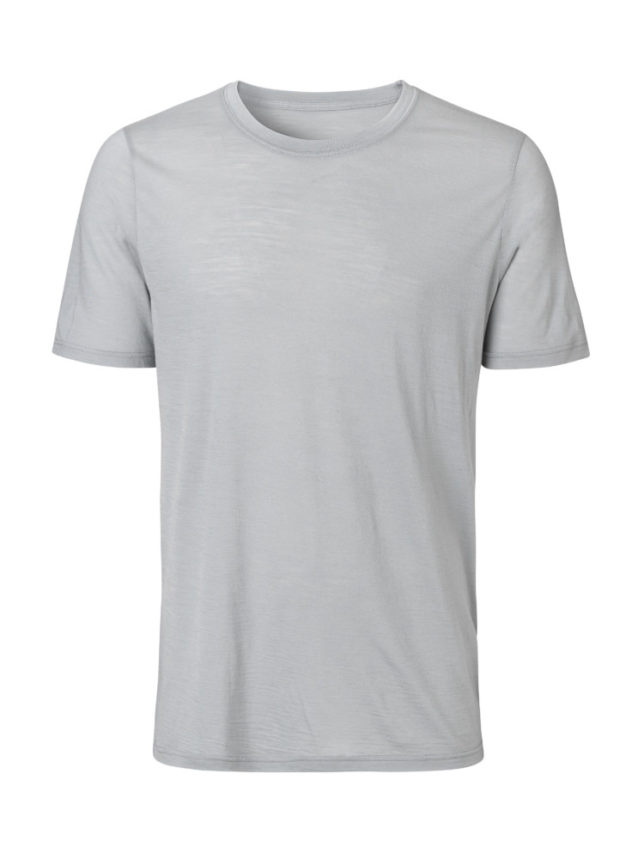 Knitted in Denmark, the 100% merino wool T-shirt ensures you only smell of the cologne you chose to put on that day. Whether that was your daytime aftershave, or your signature evening scent.
The classy, classic looking, minimalism T-shirt doesn't need to pay attention to the fast pace of the ever changing fashion industry and has been used by members of our team for absolutely every occasion, made easy by the styling of this brand with the T-shirts not looking like active outdoor clothing. They are stitched like a normal t-shirt with no inappropriate prints or any of the other fashion emblems we see so often.
Instead the T-shirts blend in with normal life. It can we be styled up, and dressed down, and you won't need to think about it. They look like a normal plain stylish T-shirt giving you the look of someone well dressed and when you look good, you feel great.
We wanted to test this product to its fullest, so we have so far taken the 135 Merino Wool T-shirt hiking up mountains, mountaineering, ice climbing, camping in the Amazonia, Euro city breaks, backpacking holidays, weekend exercise retreats, gym training, hiking in forests and camping by a lake. It held up to it all!
During gym training it keeps wicking perspiration off the skin helping side step that summer heat rash, and clammy feel of training. So get your sweat on with the confidence that if you do need to pop out for a light dinner and drinks, there is no need of a change. No problem!
Sitting in the sun in one of the many amazing London parks in shorts and this T-shirt, leaves you looking effortlessly smart casual. Just don't forget your sun hat and sunglasses!
For Euro mini breaks with only carry on, all you just need is this T-shirt and a spare in the bag and you are ready to explore. This includes weekends in the great outdoors as well as the city. We tested this in wood cabins in Norway, the Portuguese streets and beachfronts in addition to weekend breaks in Poland – all without fault.
For weekend exercise retreats, you only need one of these to see you through those long hard days and you will be ready for anything. Grab those stretch trousers, some comfortable trainers and you're all set! One of our team did just this in Lisbon last month.
Pop a jacket on over the T-shirt and you just created the look of some of the most stylish, enjoy sipping cocktails and feeling suave this summer! And when the sun beats down, the 100% merino wool can offer up substantial UPF meaning your shoulders are safe from sunburn!
When the altitudes increase, we found these T-shirts to work well as a layering system, keeping us warm and helping prevent unnecessary cooling, while remaining breathable.
The company itself, ships direct to you, with great customer service including a handy repair service, not to mention some of the best box presentation you will likely ever see for a humble T-shirt.
I would order one today, better still, order two!
Features & Benefits
Look good all the time with its subtle yet stylish design
Anti-odour
Easy Clean
Minimalist travel item
Wicked away perspiration from the skin
High UPF for increased sun protection, whether up a mountain or in the desert sun
Quick drying
Never seemed to be heavily salt stained even when in the amazon
Natural Fibre Stretch
Biodegradable
Recommend being the first item in your bag
The LOOW T-OSS 135 Merino Wool T-Shirt costs £59 and is available from www.loow.com