It's the time of year we all end up battling with keeping warm, despite the freezing temperature outside by piling on the layers. The temperature changes of going from the cold to the hot indoor environments when we're out and about does our skin no favours. This daily process plays havoc with our skin, although there isn't much we can do about the inevitable changes in conditions, there is a lot we can do to keep our skin feeling soft, supple and silky throughout the winter season.
This is why SLOAN! have asked me to put together my top tips for repairing your skin post winter element exposure…..
Drink Water
We get told all the time that the fountain of youth consists of water; this is partly true, especially as our skin is made up of approximately 64% water. Meaning to keep our skin looking its best throughout the year we must keep our bodies topped up with water.
It is even more crucial during the winter months to drink the recommended amount of two litres of water a day because the low levels of humidity in the air affect your skin greatly. During this time, the air is less humid, and meaning there are lower levels of moisture in the air. This chronic environmental dryness causes moisture to evaporate off of your skin, which in turn makes it crucial to maintain your water intake for your skin.
Exfoliate Regularly
We all know how important it is to exfoliate your skin regularly. Exfoliating at least once a week is vital to keep the dead/dry skin from naturally building up. This is what leaves us with dull and grey looking complexion, (especially if you're a smoker).
Once you've exfoliated, it is essential to moisturise, as this is one of the most effective times for your skin to be able to absorb the goodness from your chosen moisturiser.
Choosing the Best Moisturiser
For the same reasons you wouldn't wear a thin top and shorts in the cold, you shouldn't use the same moisturiser in the summer as you do in winter. When it comes to choosing a seasonal appropriate face and body cream, always remember to make an investment on quality products for your skin.
I would advise to purchase a thicker, heavier product, one that is designed to enrich your skin throughout the day. Using essential oils rather than lotions are also an effective way of keeping your skin subtle. They are great as most essential oils are designed to work with your skin, without clogging pores.
The key to choosing a moisturiser is to find one that will protect and repair your skin from the winter elements – wind, rain and, surprisingly, the sun's rays. One of the most damaging elements on your skin is UVA and UVB rays. Always remember that even if you can't feel the heat, if it's light outside, the sun is out and even if it is hidden behind clouds, the sun's rays can still damage your skin. It is also important to remember that snow acts as a reflector of UV rays. Furthermore, snow is known to intensify the rays and direct them to exposed areas of skin, such as your face and hands.
Always remember to use a separate facial and body moisturiser, as your skin changes consistency. Facial lotions are designed differently to ones for your body, to suit needs.
Sleep Increases Repair
For an adult, it is recommended to have between 6 to 8 hours of sleep a night. If you manage to fulfil this, your skin and health will thank you. Whilst you sleep, your skin and body have an outstanding way of repairing themselves from the damage of the day. When you're in the deepest part of your nights sleep, your body is working hard attempting to reverse any superficial damage to your skin. This is especially important during the winter months when your skin and body deals with extremes in temperature.
Your skin welcomes a helping hand with this repair process. In addition to your normal bedtime skin routine, this is the ideal time to apply a specially formulated night cream or skin repair oil. Whilst in the deepest part of sleep, your skin works with the cream or oil to recondition, making it fresh and ready for the next day.
Cold To Hot Management
With our day-to-day lives, it can be difficult to control the temperatures around us. But when at home, we have control over our heating. Central heating is a huge contributor to drying the air within our homes; you can battle this by using a humidifier which can help your skin, when you feel like you have no choice but to crank up the heat. Humidifiers are wonderful as they help increase the water content in the air, ultimately helping to restore the water balance in your skin.
When it comes to taking a hot bath or shower, the higher the temperature, the more you sabotage your skin. This is because hot water drains the natural oils from the skins surface, leaving it looking dry. You can avoid this by bathing in lukewarm water for a shorter amount of time, or if you really want a long relaxing bath, keep topping your bath up with warm water and bath oils.
The ideal time to use your body moisturiser is after a bath or shower as the warm water and steam opens pores, making them able to absorb the nutrients and water to maintain skin's hydration.
Target Areas
The key areas that are affected by the winter weather and the simplest ways to keep them looking their best are –
Face – Maintain a militant facial skincare routine, using the top tips above.
Lips – Brush the excess dry skin off your lips with a toothbrush then dab them with water, before applying a moisturising lip balm.
Hands – Keep a bottle of hand cream in your bag or at your desk and exfoliate 1-2 times a week. The method of exfoliation should be similar to how you wash your hands.
To find out more about Lorena and Lorena Oberg Skincare, please visit www.lorenaoberg.co.uk and follow her on Instagram at @lorenaobergskincare
About Lorena Oberg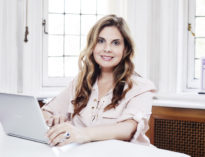 Lorena Oberg is a world-renowned Skin Repair Expert, CEO and Founder of Lorena Oberg Skincare.
Based in London's prestigious Harley Street and Surrey, Lorena offers patients specialist treatments for various skin conditions using pioneering techniques, including tattoo removal, semi permanent make up correction and migration.
Lorena is also a pioneer in scar and stretch mark reduction and recently launched DermaEraze®, a unique technique that has been hailed in international press for its high success rates. Under her brand DermaLipo® Lorena also offers a highly acclaimed advanced body contouring, non-invasive ultrasonic liposuction, ultrasound inch-loss and skin tightening treatment, with proven results.
Lorena runs an international training academy where she uses her skills and abilities to teach the next generation. She regularly attends conferences and lectures across the globe and speaks about various topics ranging from industry trends, motivation, regulations and new techniques.
Lorena founded her successful business five years ago with £100 and having two young children to support. Lorena first discovered her talent after a friend suggested she tried tattoo removal. With a change in career she has never looked back.