Love Begins At is an online dating community for people who are ready for new friendships, dating and love. There are advantages to having a little more life experience when starting a new relationship. They believe that the perspective gained from family, career and past relationships leads to a more fulfilling social life. Love Begins At is an online dating site that provides a more mature dating service, focused on making the most of life right now, and building new and lasting relationships.
For a lot of people over 45, dating online can seem like a social network designed with younger people in mind. Love Begins At keeps the bar raised high. Far from having to settle for a service mainly geared towards others with forced conversation that is frankly not mature, chat rooms and features on LoveBeginsAt.com reflect the interests of a more mature audience. Love Begins At is for people interested in friendship and serious relationships; a community that appreciates life, lived right now, and the kind of dating that works for people over 45.
Life takes on a different quality over 45, plus dating can be more complicated and sometimes even daunting to think about. Love Begins At caters for diverse community dating online, including first-timers and those looking to attend one of our upcoming social events. Their events cater for members' specific interests and bring live dating for over forty singles to localities throughout the UK. Love Begins At provides chat rooms for those who just want to socialise on the website as well as those searching for love.
Saturday Kitchen's wine connoisseur Jane Parkinson hosted a wine tasting dating event to launch the new online dating service, Love Begins At, last month and advised anyone on a first date to order a glass of the Doctor's Flat Pinot Noir 2012and here's why…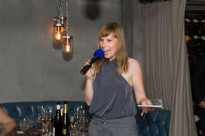 Pinot Noir ticks many boxes as a wine to choose on a date. Its plus points include; it's a well-known grape, it has pedigree so makes fantastic wines, and perhaps most importantly, it's a remarkably versatile grape variety with different types of food, which makes it a failsafe choice when going out for dinner because it can work with everything from pizza to Peking Duck! This means you can forgive its sometimes-elevated price (although it's often impressionable to order a more expensive wine when out on a date!).
This one comes from Central Otago – which is the most southerly wine producing region in the world as well as the engine room of New Zealand's top quality Pinot Noirs plus this wine is organic, which is a great conversation-starter topic for a date, and not necessarily for wine but food as well, and how important (or not!) that is to you.
Coming back to the wine, this Pinot is strongly scented, with raspberry and cherry fruit on the palate that's supple and slightly spicy. It's a delicate gem, which is exactly what Pinot Noir should be all about.
Check out LoveBeginsAt.com for free today.