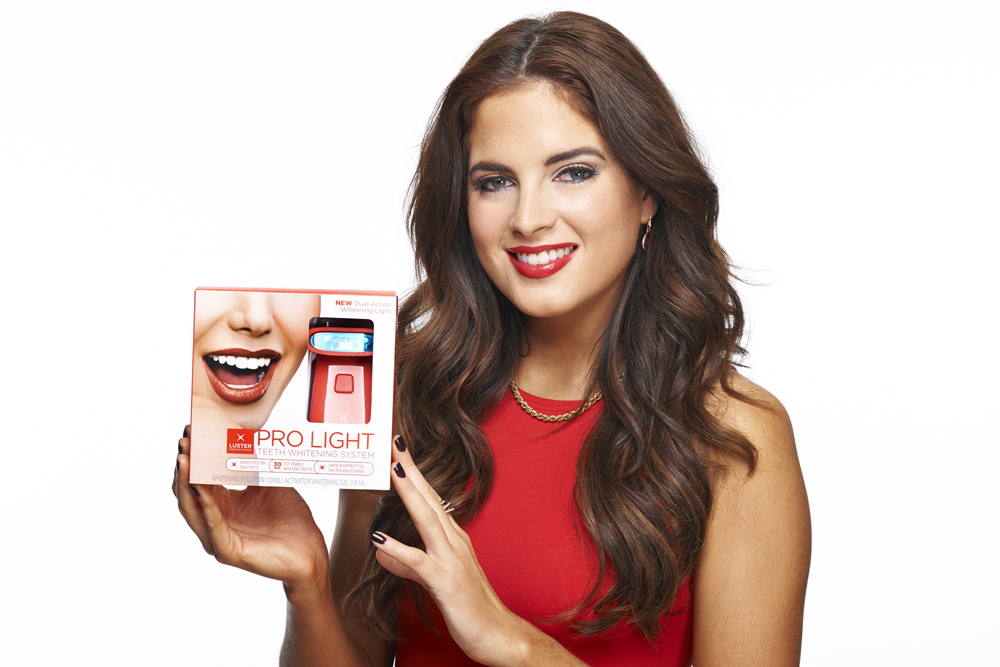 We all want a whiter, brighter smile but with professional whitening treatments at the dentist costing up to £700 a time, they aren't within everyone's reach. This month, however, sees the launch of a groundbreaking teeth whitening system set to change all that. Based on the same light activating technology used by dentists but in a portable kit for use at home, Luster Pro Light promises whiter, brighter teeth in as little as 30 minutes and with no tooth or gum sensitivity which
can be a common and unwanted side effect of other DIY whitening treatments.
Already a best-seller and close to becoming the No. 1 teeth whitening system in America where it first went on sale, Luster Pro Light is the UK's first complete DIY teeth whitening system to use the same paint-on gel and activating 'blue light' technology used by dentists. Professional laser treatments, where this laser light is used to activate bleach applied to the teeth, are considered the safest route to a brighter smile but are also the most costly.
Binky Felstead from E4's Made in Chelsea is the face of Luster Pro Light. Binky says, "I am a low-maintenance girl at heart, but now I regard my Luster Pro Light as part of my beauty routine. It gives me a lovely natural white, bright smile so I never have to worry. It takes just a few minutes to give me complete confidence in my smile, particularly when I want to feel good in front of the cameras".
Priced at £49.99 the Luster Pro Light system costs a fraction of the price of professional treatments and it already had a pre order waiting list when it went on sales at Boots (www.boots.com) earlier in 2014.
The three-step Luster Pro Light kit carries some of the strongest claims on the market and is based on an easy to use rinse, brush and light regime that visibly whitens teeth in half the time of other trays, strips, gels and rinses. Most importantly, it won't cause teeth or gum sensitivity and soreness, symptoms often experienced with other home whitening systems. In as little as 30 minutes, users reported teeth whitening of up to six shades lighter than their original shade.
How Luster Pro Light works
Step 1: Rinse with the mouth wash for 10 seconds.
Step 2: Brush the whitener gel on your top and bottom teeth.
Step 3: Hold the whitening light about six inches from your teeth for 2 minutes. There is a built-in timer, so no need for a stopwatch. Repeat the process 10 times and the treatment is complete.
Luster Pro Light is part of the Luster Premium White range, a daily oral care whitening regime which has become a runaway success since its launch. Close to becoming the most popular home whitening system in America, the range also includes whitening toothpastes and mouthwash that can be used daily to maintain the results of the Pro Light system, keep teeth white, gums healthy and to freshen breath.
Top 5 tips to keep teeth whiter than white
1. Use whitening toothpaste in conjunction with a teeth whitening system to keep the shine from fading and stains at bay.
2. Use a whitening floss to reach the plaque-heavy areas between teeth that soak up colours
3. Invest in an electric toothbrush to keep your smile cleaner and whiter. A high quality electric brush will remove most stains from the surface of the teeth which, over time, will help take teeth back to their original colour.
4. Crunchy, crispy fruits have an abrasiveness that can help to lift stains from the teeth and give the illusion that they are whiter. Try munching on apples, celery and carrots, which have enough abrasiveness to clean the tooth surface without harming the enamel.
5. Watch the tea, coffee, juice and wine – they're all oral-bling killers.
Luster Pro Light is available in Boots stores nationwide and also from www.boots.co.uk.