As someone lucky enough to have enjoyed dining on "the world's best steak", I never imagined that I'd find anything to equal let alone better it. That was until I visited a unique Italian restaurant on the Northcote Road in Battersea. Founded by the charismatic Roberto Costa who began his culinary journey working in his family's trattoria in the suburbs Genoa, Macellaio RC proudly bears his initials and proudly celebrates Italian culinary excellence. From the warm hospitality of its staff and the impressive bespoke selection of hand-picked Italian wines chosen by Roberto himself to the star of the show – the steak! Macellaio is Italian for butcher and Macellaio RC is all about the meat with a butchery counter taking pride of place by the entrance to the dining room.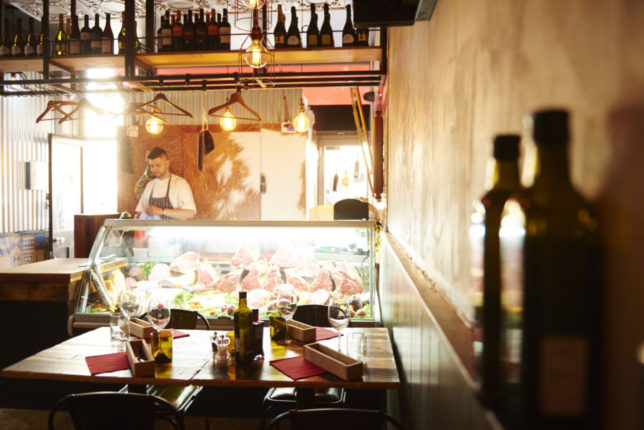 The steak comes from the Fassona breed of cattle reared in some very special mountain valleys of the Piedmont region of Italy by farmers who are said to know every animal they sell to Macellaio RC. This truly is "butchery with tables" as Roberto calls it. In each of the four restaurants dotted around London that make up the Macellaio RC family, the steak is butchered in front of diners by passionate and skilled butchers creating just one element of the culinary theatre that makes each restaurant its very own unique dining destination whether you visit South Kensington, Exmouth Market, Union Street or venture between the commons to Northcote Road where I settled down one chilly winter's evening in hot anticipation for a taste of the rare Fassona steak I had been looking forward to sampling since this fourth sister restaurant had opened earlier in the summer.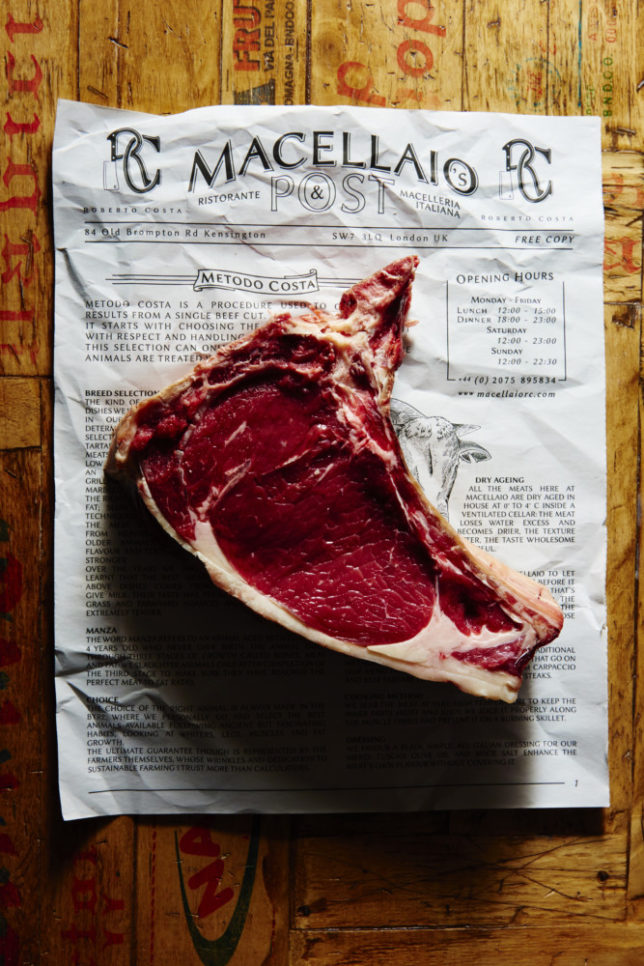 After a warm Italian welcome, my host explained to me that Fassona beef is an extremely valued breed that has on average one tenth of the fat of other breeds and is considered even better than chicken or salmon in terms of its low in cholesterol level. Fassona cattle have developed a condition over the centuries where their muscles grow to almost double their usual size. This hypertrophic condition is thought to be caused by a deletion in the bovine myostatin gene. The double-muscled cattle give larger juicier steaks because there is less room for fat to develop which means the meat which is very lean with less extensive marbling yet is extremely soft in texture with an exceptional flavour.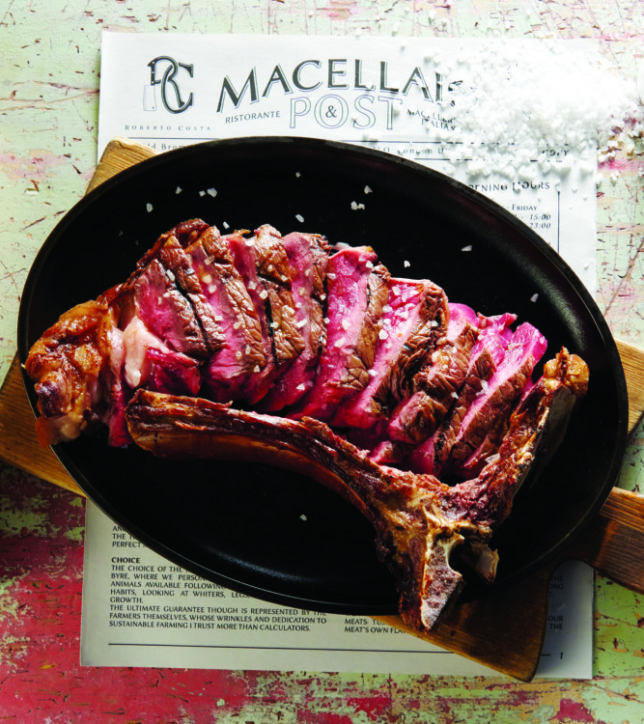 These muscle-bound X-Men of the cattle world produce steak which is extremely low in cholesterol due to the hypertrophic muscle growth and according to my host, the steak is lower in cholesterol than even chicken thigh or salmon. Although these pasture-grazing cows have been providing rich creamy milk for Piedmontese cheese for centuries it has only been recently that the meat of Fassona cattle has come to the attention of the gastronomic world and Macellaio RC is only one of two restaurants in London to serve this meat on the menu. I was in for a rare (excuse the pun) treat!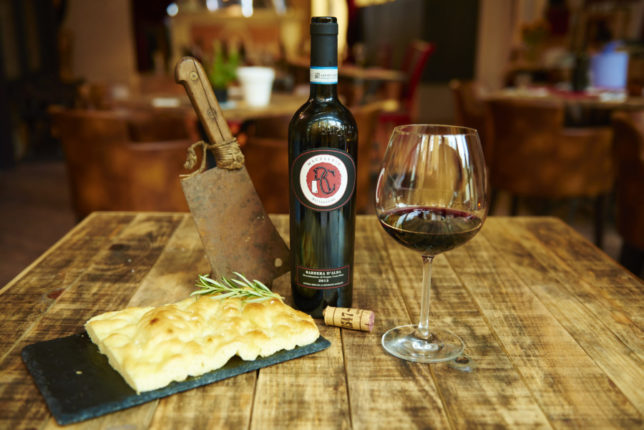 Sourced from farmers in the renowned region of Piedmont in Italy, Macellaio RC ship their Fassona meat to the UK from Italy by sea rather than air because, as Cristina tells me, the change in altitude and pressure would degrade the beautiful texture of the meat. The meat is then butchered and dry-aged on site for the optimum period of exactly seven weeks in carefully controlled conditions in the restaurants' ventilated cellars that keep the meat between 0ºC and 4ºC. This maturation and ageing is crucial in the development of the authentic Italian flavour and texture making Fassona beef one of the most elegant tasting steaks in the world.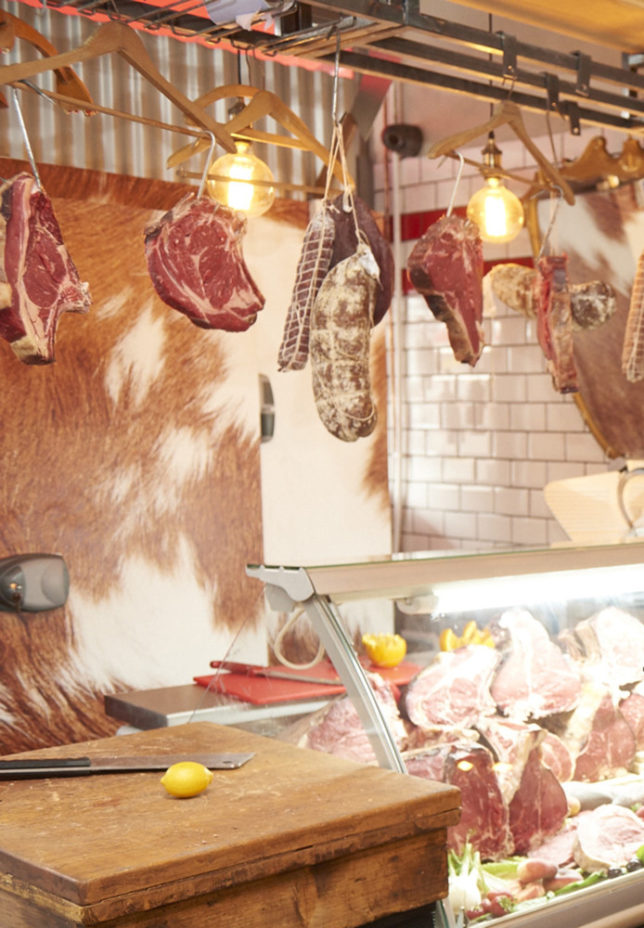 The restaurant's passion and dedication to delivering an authentic taste of Ligurian cuisine is mirrored in Cristina's passionate description of the menu and I was so enamoured by her descriptions of the authentic dishes and careful preparation of each dish that when she suggested I try a little of each of her favourite dishes, I just had to say yes. Starters arrived at the table in quick succession, beginning with a small plate of Fassona Salame accompanied by tender Foccacia made fresh that morning on site and flavoured simply with just sea salt. This allowed me to fully enjoy the meaty flavour of the salame.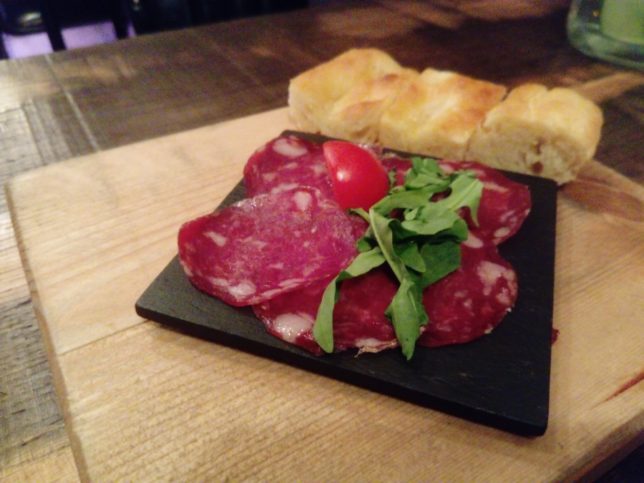 Next up was a platter of charcuterie showcasing the restaurant's selection of regional specialities including wafer-thin slices of Prosciutto Cotto, the robust flavours of Fassona Bresaola, deliciously fatty Lardo dressed with honey and walnuts joined on the platter by one of the best Burrata I've had in a long time.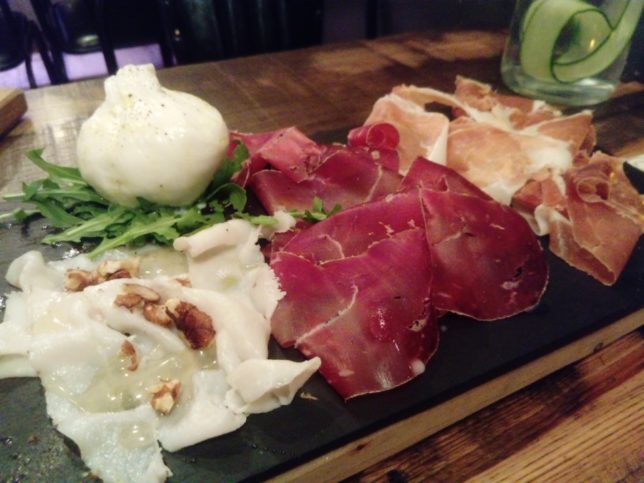 This was followed by a small plate of Tataki – seared rump steak, marinated and served cold with creamed horseradish. So moreish that if space wasn't at a premium I would happily have enjoyed more.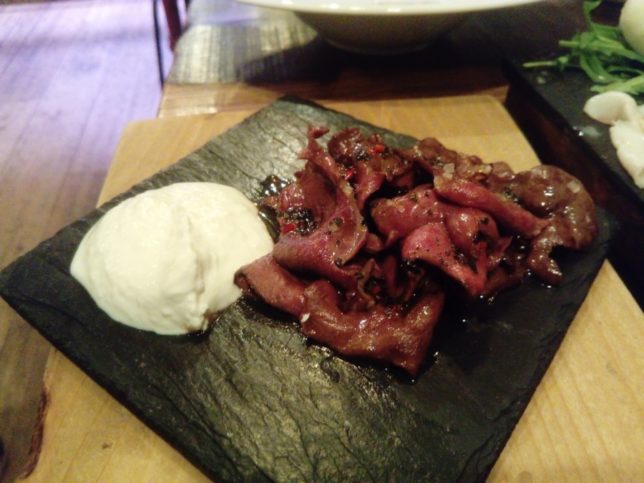 My host then approached with a blow torch… and produced a selection of small but perfectly formed beef tartare. The simply served Battuta all'Albese dressed with peppery Tuscan extra virgin olive oil and salt & pepper was joined by the more elaborate French version of Steak Tartare with a single serving of Battuta in the middle which was topped with spicy Gorgonzola and a drizzle of Modena balsamic vinegar to which my host took to with the blow torch.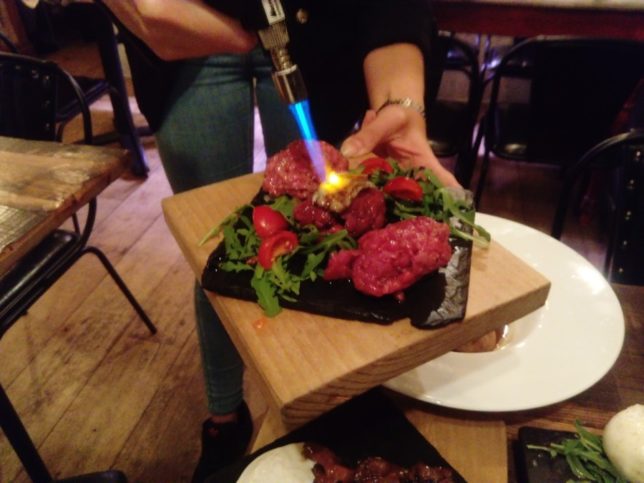 The tartare is a great way to enjoy the clean fresh flavours of the 49-day aged Fassona steak and appreciate its meltingly soft texture before it's even seen the inside of a skillet or oven. Each version had its own unique tastes but like Cristina I have to admit that the flambéed Gorgonzola over top of the Battuta was supremely delicious.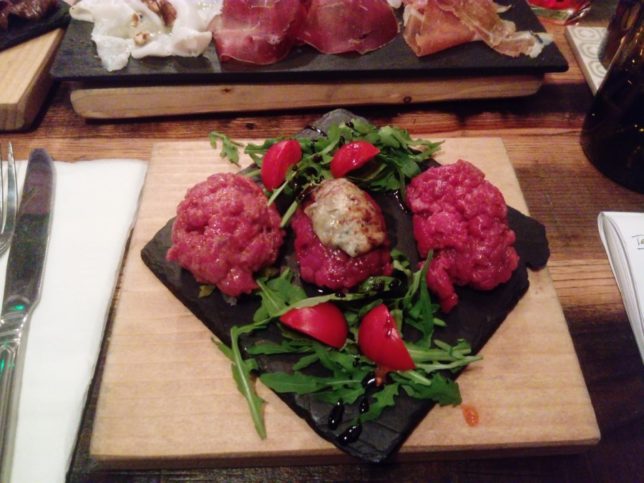 It was then time to venture in to what for me was the brave new world of offal. Although I have often commended the nose to tail cooking of some of London's best chefs, I am not really one who enjoys the prospect of eating organs. However, with Cristina's guidance and infectious enthusiasm, I gingerly ordered a plate of testicles – literally saying bollocks to my previous shunning of anything offal.
Sautéed in lard, garlic, sage and Worcestershire sauce, I have to say the testicles were surprisingly one of my favourite dishes of the  evening! Without any hint of an I'm A Celebrity Bushtucker Trial, this delicious dish with its wonderfully different flavour and texture complimented by the robustly flavours of the sage and Worcestershire sauce is certainly something I would order again on my next visit.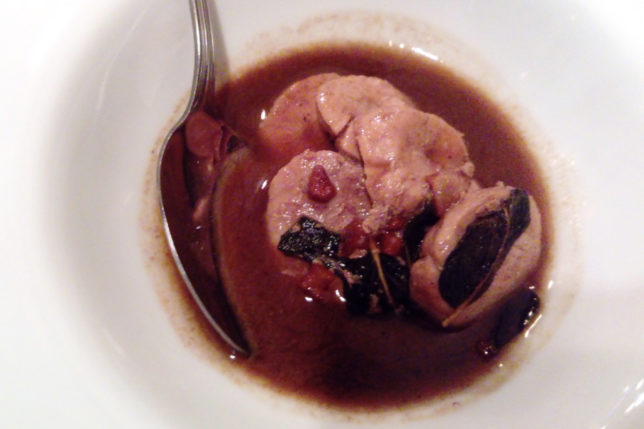 As I was eating like an Italian, next up was the pasta course. My host chose the Ravioli al Tocco for me to try. A classic Ligurian dish made from fresh pasta prepared on site stuffed with beef and spinach and served with a mouthwatering sauce of slow cooked Fassona shoulder ragù with pine nuts and a healthy glug of Italian red wine. The pasta was delightful al dente and the ragù was a meaty marvel that perfectly showcased the authentic Italian flavours.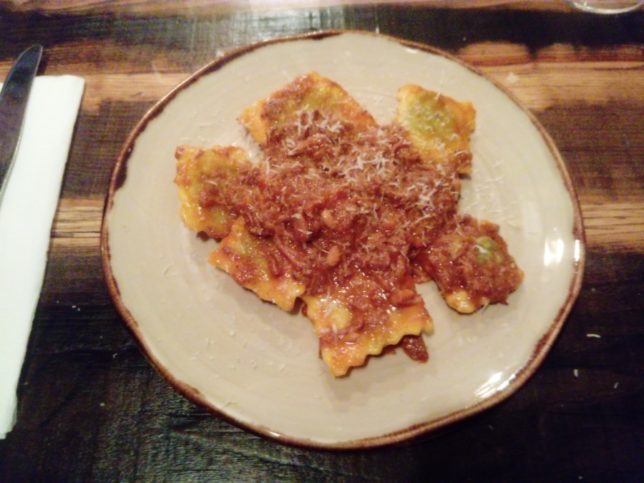 It was then time for the main event. Just like the sensational starters, every care is taken with the main dishes as my host informed me some of the dishes such as the skirt and hanger steaks are cooked using the sous vide technique for 4-6 hours to produced tender perfectly cooked results with the meat characteristically still pink even when cooked to medium. However I had heard that the ribeye was out of this world so I couldn't help but order it.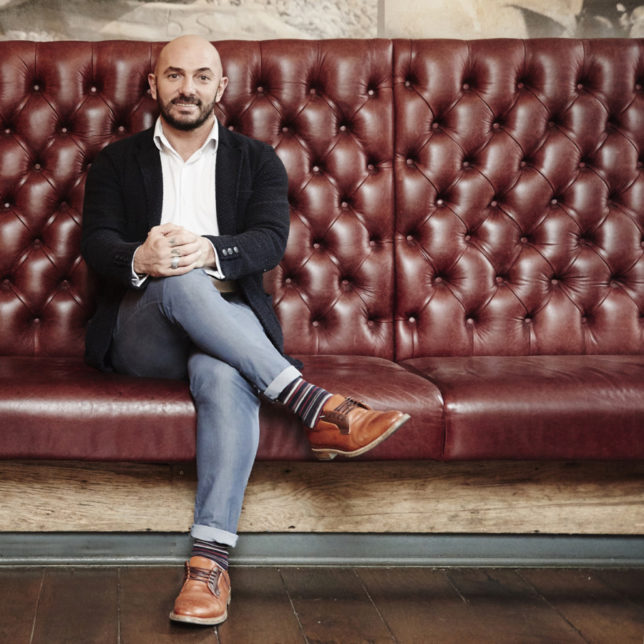 Heralded by my waiter dramatically stabbing my steak knife into the table, I knew I was about to taste something worthy of such theatrical flair! Despite such culinary theatre, including hunks of beef hanging above the butcher counter reminiscent of The Flintstones, Macellaio RC strongly believe that these exceptional Fassona steaks should be cooked and served simply to let the flavours and quality of the meat shine through. So don't expect to be offered any mustard let alone Bearnaise sauce to go with your lovingly cooked medium rare steak.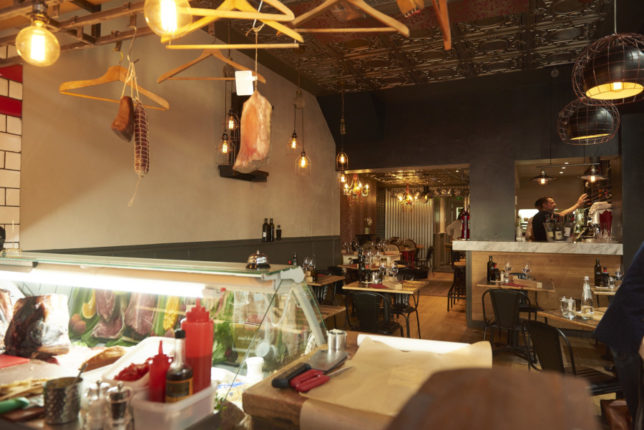 Served from beneath a shining steel cloche and cooked simply with rock salt and Tuscan extra virgin olive oil, the meat is on the rarer side of medium rare which my host told me was the Italian way – all the better to enjoy the clean meaty flavour of the ribeye which true to Fassona form was so lean that there were hardly any large chunks of fat… unlike the Galician steak I enjoyed last year from José Gordón which, though delicious, could hardly be called low in cholesterol. The steak is also served cut on a 45° angle  to keep the meat even more soft and tender when eaten. Having enjoyed this supreme Fassona ribeye steak, for me personally Macellaio RC serves the best (and healthiest) steak in London.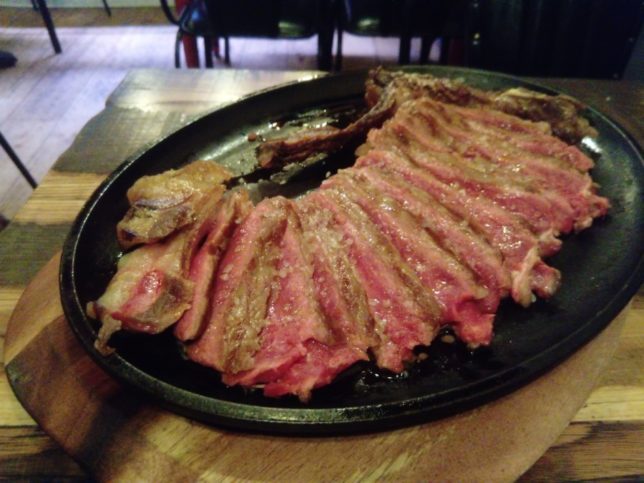 After the meat fest has ended, those with room for dessert are definitely in for a treat as saw my fellow diners tucking in to deliciously creamy Tiramisù and what looked like Panna Cotta but is in fact a dessert called Bianco al Basilico which my host told me is lighter than typical panna cotta and made with a basil infused milk. However if you want to finish your meal with something really special, I highly recommend the Latte Dolce Fritto – a dessert literally translated as sweet fried milk which is traditionally served during Genoa's annual Spring festivities of Carnevale. Here the sweet doughnut-like morsels are filled with a lemon cream and that Italian favourite Nutella making a very special end to a very special meal.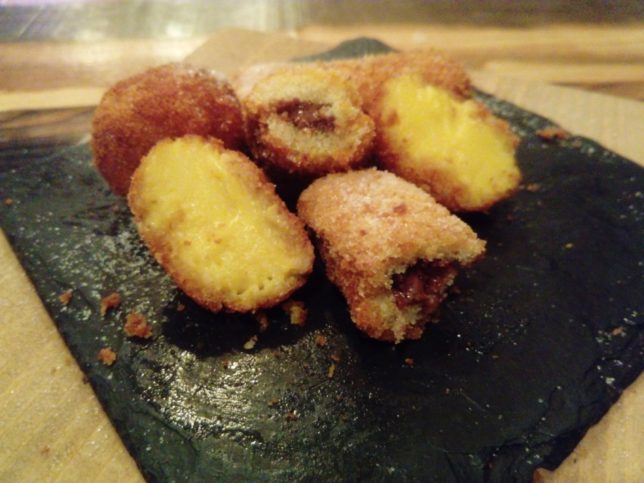 Macellaio RC on Northcote Road has a total of 60 coversand is open daily from 12pm to 11:30pm. It's unsurprisingly popular so reservations are recommended.
Macellaio RC
124 Northcote Road, London SW11 6QU
020 3848 4800
www.macellaiorc.com
@macellaiorc