Here at SLOAN! Magazine, we've fallen in love with The TIME MIRACLE Range from organic skincare brand MÁDARA. The unique 'no water' formulation harnesses the power of birch water – the new must-have Tree Water that has taken the UK by storm. This new innovation in skincare is one of the finest organic anti-ageing routines available at the moment.
To ensure the ultimate anti-ageing formulation, MÁDARA replaced the traditional base ingredient – water – from all formulations instead using birch water, a revolutionary ingredient proven to reduce all key signs of visible ageing. In the UK birch water is being hailed as the 'new coconut water' and is being embraced by health and fitness fanatics countrywide and MÁDARA are utilising its extraordinary skin benefits in their new range. Skin rejuvenating birch water gives your skin a boost like only nature can. Birch water is one of the richest sources of bio-available nutrients including vitamins, proteins, amino acids and enzymes and is known to help cleanse and remove toxins from the body and help nourish the body's cells with organic acids. Recognised as a pure, potent anti-ageing ingredient, Birch water is one of Nordic women's top beauty secrets.
AGE DEFENCE DAY CREAM (£38)
This luxurious age-defying moisturiser protects your skin from environmental damage, stimulates the production of collagen, repairs skin structure and brightens a tired complexion.
91% had smoother skin instantly
88% had more elastic and firmer skin after 4 weeks
93% had reduced fine wrinkles after 4 weeks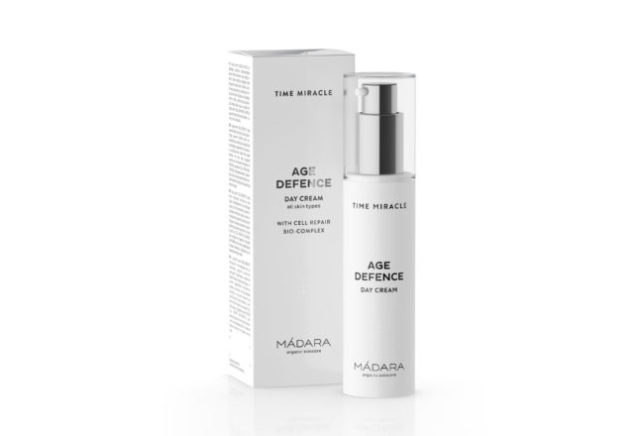 TOTAL RENEWAL NIGHT CREAM (£38)
A richly nutritious yet fast-absorbing moisturiser which instantly softens, hydrates and recharges your skin and works overnight to rebuild collagen and elastin fibres and activate the cell renewal process for smoother, rested and radiant skin.
97% had smoother looking skin the next morning
85% had increased dermis collagen synthesis by more than 20% after 4 weeks
93% had reduced fine line wrinkles after 4 weeks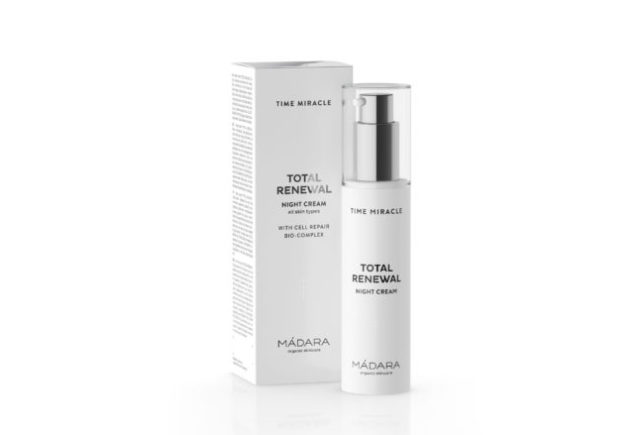 The Time Miracle range also harnesses the power of a breakthrough organic cellular repair bio-complex – GALIUM 7 that directly targets collagen formation, lifts and regenerates skin and protects against free radical damage. The patented technology is based on the Madara plant (Galium verum), a strong anti-oxidant plus 6 other plants that have been carefully selected to promote the rejuvenation of collagen. In vitro tests prove that these plants have high antiradical effects, which neutralise free radical and delay the ageing process. GALIUM 7 is made up of:
Madara (Galium verum) – Protects skin cell DNA from free radical damage.
Red clover (Trifolium pratense) – Contains phytoestrogens that facilitate the formation of collagen and polysacharides that improve skin moisture.
Lady's mantle (Alchemilla vulgaris) – Neutralises up to 90% of free radical damage.
Sea Buckthorn (Hippophae rhamnoides) – Extraordinary concentrations of vitamins E, provitamin A, fitosterols and carotenoids boost skin regeneration. Dramatically reduces time of dermal cell multiplication.
Blueberry (Vaccinium myrtillus) – Contains 15 variations of antocians (powerful antioxidants) known to stabilise collagen fibres and stimulate collagen production.
Horsetail extract (Equisetum arvense) – Extremely hign concentrations of silica, an essential mineral for skins health and elasticity.
Horse chestnut (Aesculus hippocastanum) – Tones and strengthens bloodvessels, capillaries and skin.
Lotte, founder of MÁDARA, told us, "Scientists have proven in both in vitro and in vivo tests that birch water provides energy for your skin, stimulating cell growth, repair and protection. We obtain this unique, organic, birch sap early in the spring in the North, right after the soil thaws and nature begins to re-awaken."
TIME MIRACLE AGE DEFENCE DAY CREAM and the TIME MIRACLE TOTAL RENEWEL NIGHT CREAM are available from www.contentbeautywellbeing.com at £38.