Sister of French restaurant La Poule Au Pot, Maggie Jones's has been a favourite haunt among Kensington locals including several British Royals for over 40 years. Cosy, rustic, informal and incurably romantic, the family-owned restaurant is tucked away in a little cul-de-sac between Kensington High Street and Kensington Church Street.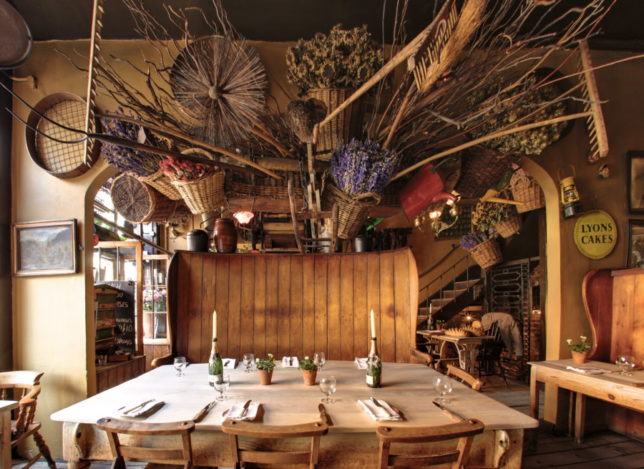 General Manager Christine Elizabeth Watts has been at Maggie's for over 20 years and Assistant Manager Patrice Bayle follows swiftly behind her with his 15 years of service at this favourite restaurant haunt of the British Royal Family.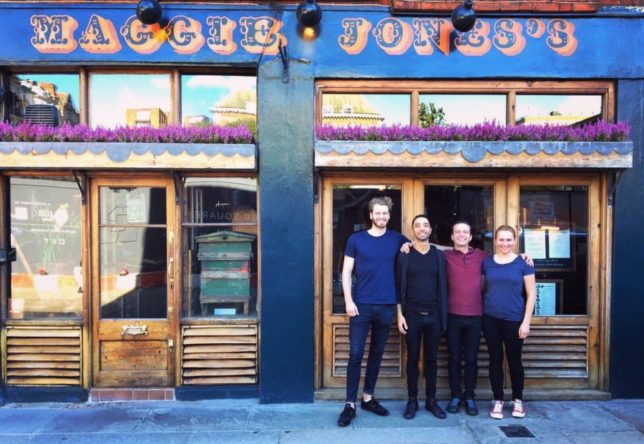 After a warm welcome from the restaurant manager, we were shown to our table upstairs and offered bread and butter with crudités to nibble on while we looked over the menu.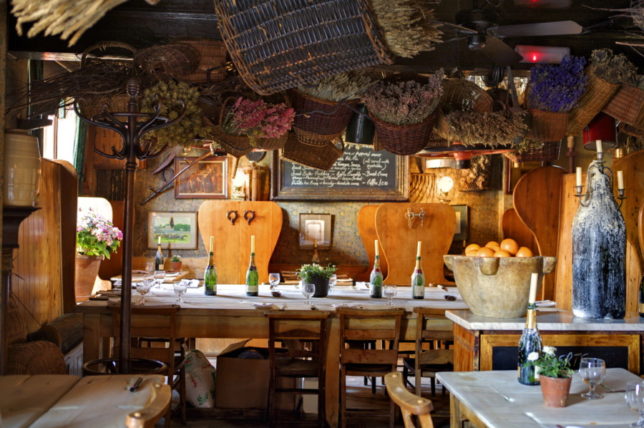 Executive Chef Rafal Kaczmarczyk ensures that the menu delivers consistently to Maggie's patrons old and new. The quirky interior with its rustic barn chic and wine bottle candles adds to the warm cosy feel that complements the classic British menu perfectly.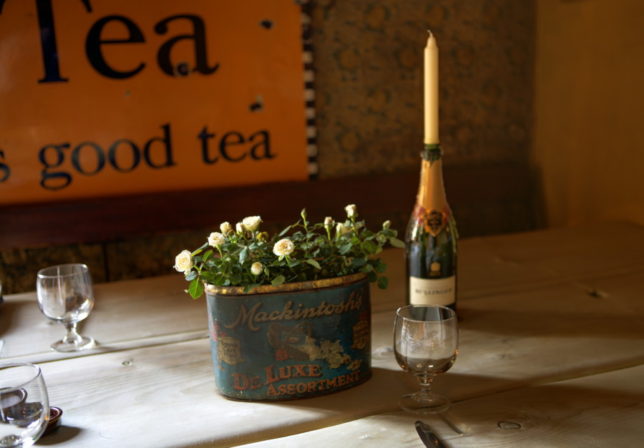 We also noted the mismatched plates and wooden furniture together with classic silverware which make Maggie's feel so traditional and homely – the same homely comforts as reflected by one of their pies fit for a king's daughter!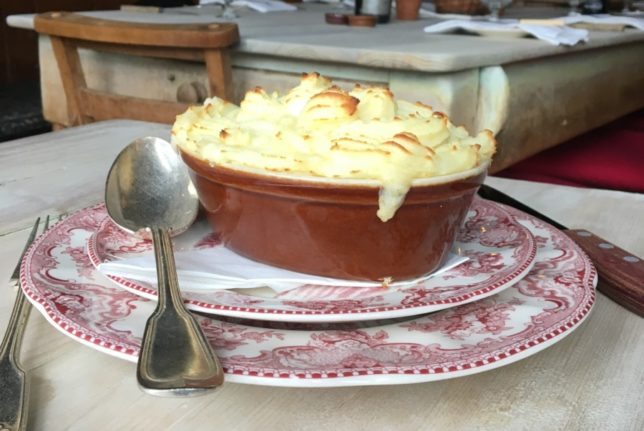 To start I had one of the specials from the blackboard – Smoked Salmon and Crab Parcel. The crab filling was fresh yet meaty in a creamy mayonnaise dressing spiked with tabasco and the interesting addition of asparagus.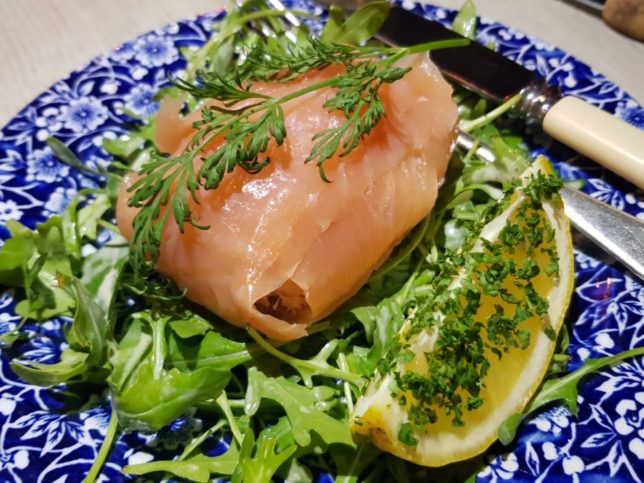 My dining companion had the Soup of the Day – this was mixed vegetable which was smooth and velvety in texture with a wholesome flavour that was the perfect dish to warm the cockles on a chilly evening.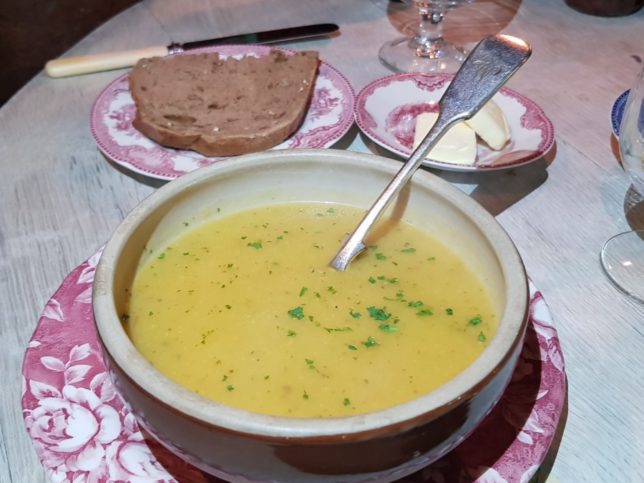 Maggie Jones's opened in 1964 as Nan's Kitchen, which was at the time Princess Margaret and Lord Snowden's favourite restaurant. They would slip in at around 9.30pm, usually sitting in a discreet booth at the back on the ground floor and eat the Chicken Pie, which was their favourite dish.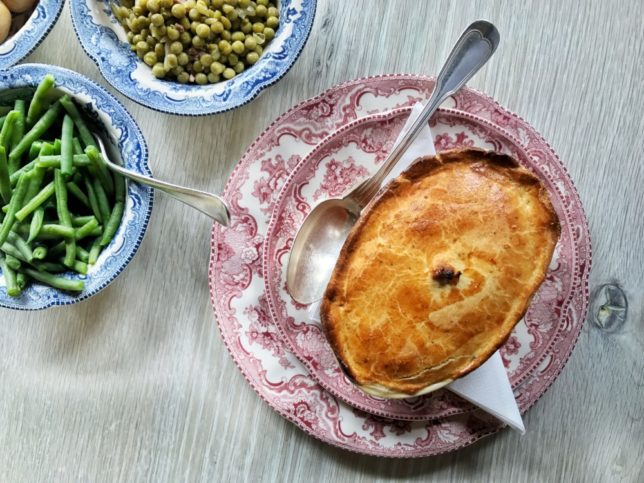 In the early Seventies the quintessentially British restaurant changed its name to Maggie Jones in honour of its most famous client, who used to book under the alias 'Maggie Jones'. Over the years, it has been said to have welcomed most of the Royal family at its cosy and discrete tables.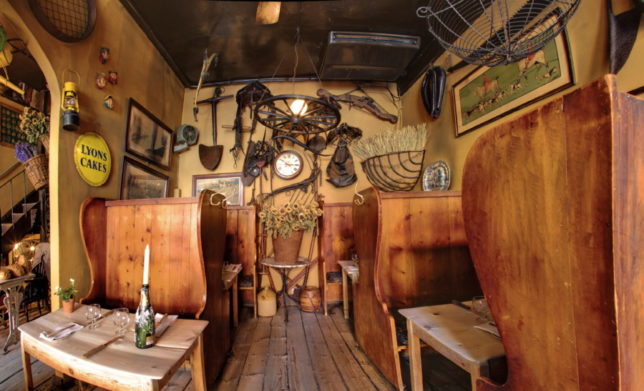 This British Pie Week (Monday, 5 to Sunday, 11 March 2018), head over to Maggie Jones's who knows a thing or two about pies – having 4 classic ones on the menu, including: Lord Snowdon's favourite – The Chicken & Artichoke Pie (£16); The Steak & Kidney Pie (£17.50); The Root Vegetable Pot Pie (£11.25); and last but not least, Maggie Jones's creamy Fish Pie (£18.50), which has been on the menu since 1977.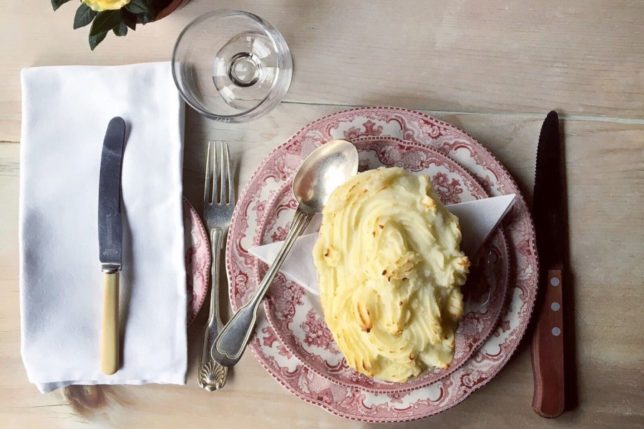 In addition to the pies, other dishes include daily soups, salads and roasts. Shooting season sees the daily specials include game of the day such as Venison medallions with a West Riding Sauce which sits alongside Maggie's regular dishes like Rump of Lamb with rosemary and garlic.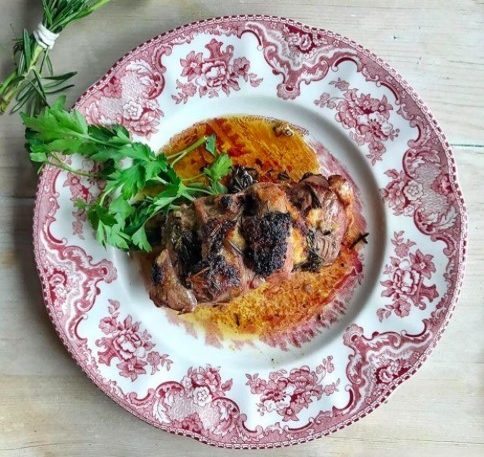 For the main course, I chose Grilled Rack of English Lamb with Rosemary & Garlic cooked to medium rare perfection. Accompanied by a hefty serving of Mint Sauce and a jewel-coloured dish of braised red cabbage.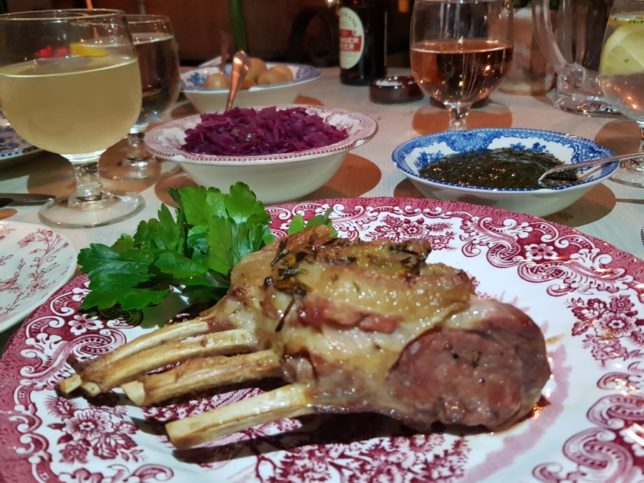 My dining companion had one of Maggie Jones's  renowned pies – a hearty Steak & Kidney with a beautiful golden pastry crust…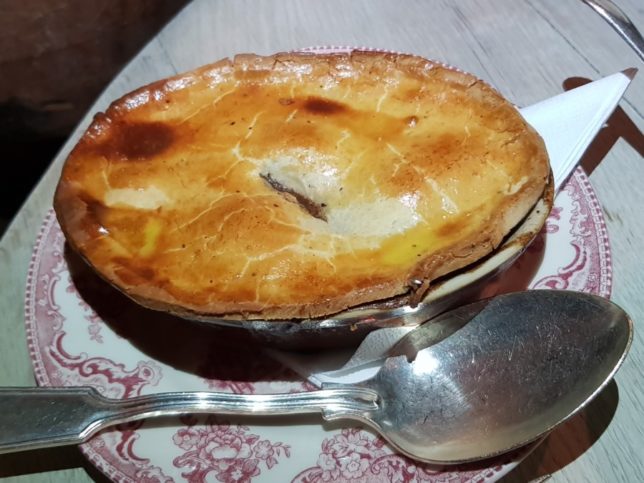 … which encased a meaty filling of tender steak and tasty kidney in a rich gravy. The generous serving is what I would call man-sized and could easily serve two smaller appetites. Both main dishes highlighted Maggie Jones's signature British style of cooking which has been pleasing traditional Kensington locals for decades.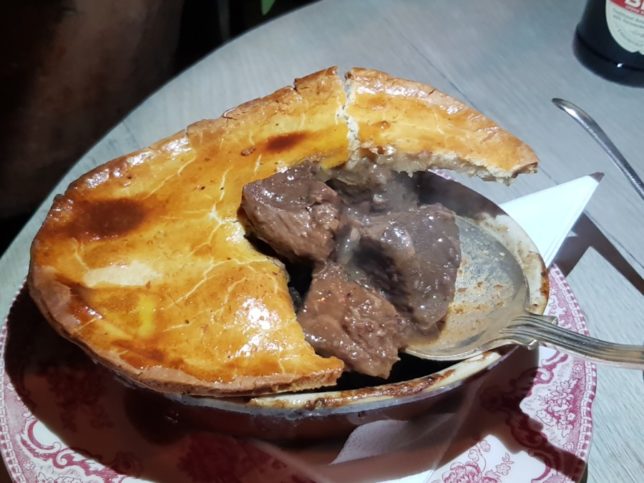 A selection of seasonal vegetables is on offer to accompany the main dishes. During British Pie Week, all pies will be served with 3 sides of roasted vegetables, such as green beans, peas and potatoes, as to make the dish wholesome and heartier than it already is. The cauliflower cheese is said to be a particualr favourite amongst Maggie's locals.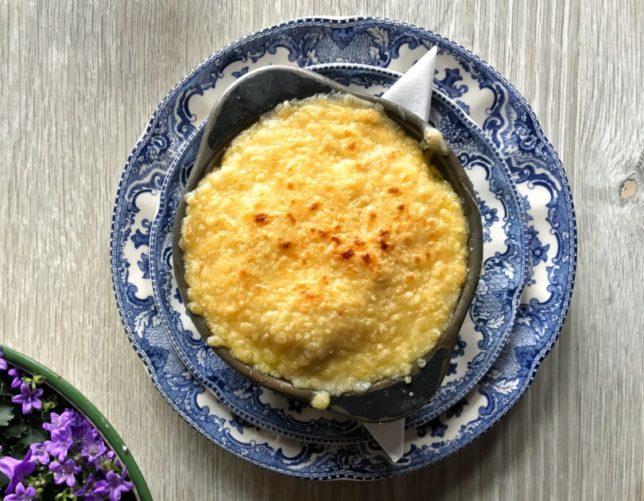 We saved just enough room to try a couple of Maggie's delicious puddings from the dessert blackboard. Digestives, brandies and liqueurs are also in offer to end the meal including a lovely Seigneurs de Monbazillac dessert wine.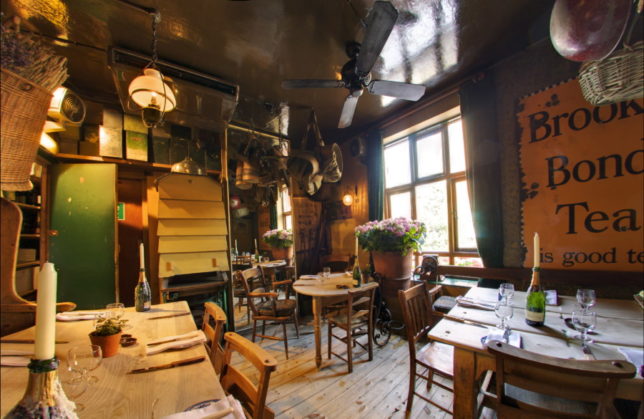 I chose the guilt-free Fresh Orange Juice, Mango & Passion Fruit Jelly which was a burst of colour on the plate and tasted as good as it looked.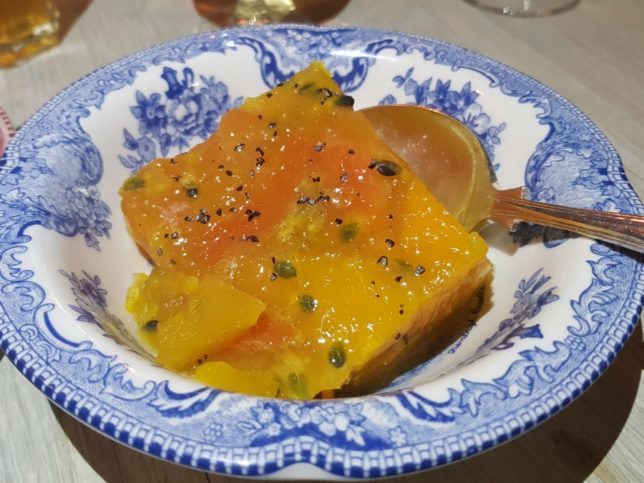 To finish, my dining companion had the more indulgent Maggie's Apple Crumble drenched with custard – such a traditional British pudding favourite.
We loved the warm, friendly and traditional atmosphere at Maggie Jones's and it's clear to see why the generous menu full of classic dishes, beautifully cooked, keeps generations of loyal customers coming back for more sometimes even after decades from their first visit. Maggie Jones's is open daily from 12pm to 2pm and from 6pm to 10pm with set menus available at lunch.
Maggie Jones's
6 Old Court Place, Kensington Church Street, London W8 4PL
020 7937 6462
www.maggie-jones.co.uk
@maggiejonesrestaurant