Maison de Fleurs are a global floral design studio with a deep-rooted knowledge in horticulture; flowers are selected for each and every occasion to the highest standard and quality. From the simplest vase of peonies to an entire house of flowers, Maison De Fleurs are the leading trendsetter in the floral industry having worked with some of the world's most iconic brands – from Christian Dior to Vera Wang – in some of the most renowned international venues – everywhere from exclusive department stores like Selfridges to the world's top hotels such as Eden Rock in St Barts. Maison de Fleurs have truly placed themselves among the top tiers of floristry.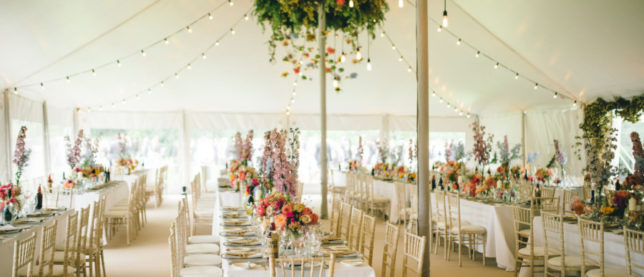 As one of the world's leading floral design studios, Maison de Fleurs care deeply about their roots. The seeds of Maison de Fleurs were sown many years ago and nurtured by the green fingers of successive florists, who provided a fertile environment in which the present creative team could grow. Now with over thirty years of experience behind them, the team works regularly with celebrated brands, exclusive venues and luxury clients. In 2015 one of these clients, was so impressed by the quality of the team's work that she took over the reins of the company, helping Maison de Fleurs to blossom into the successful floral design studio it is today.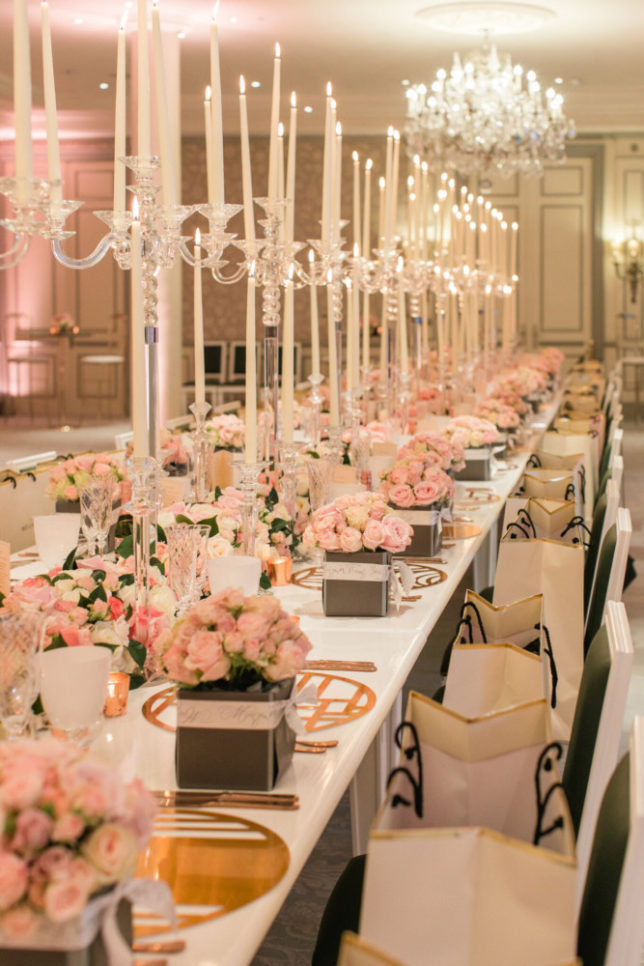 Each project brought to Maison de Fleurs is considered individually. The creative process is key, and Maison de Fleurs fit this around each client's specific needs and requirements. The design team is known for their meticulous attention to detail and passion for flowers, which shows in every project that the company works on.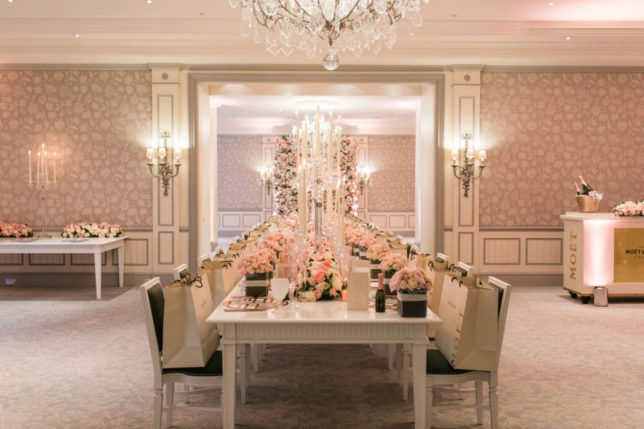 Led by their Creative Director, the design team consists of specialists known for their meticulous attention to detail and their unwavering passion for flowers. The friendly team of highly creative individuals have a broad combined skill set. In addition to a love of flowers they draw inspiration for their designs from their team member's varied experience in sculpture, set design, ceramics and photography.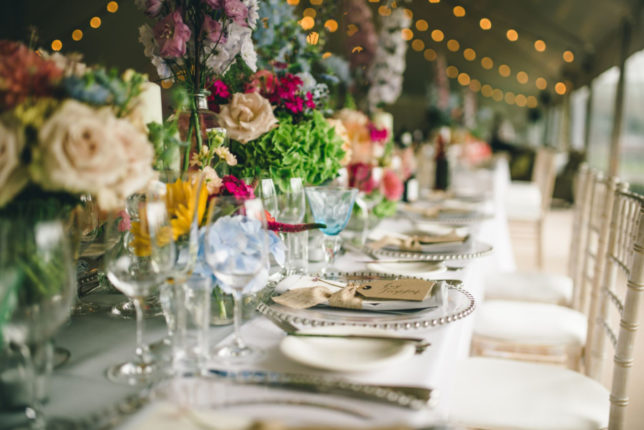 Maison de Fleurs specialise in providing bespoke designs to a high-end client base. The key elements of their business are weddings, private parties, corporate events, contract flowers and house flowers for private individuals. They also provide a bespoke gift bouquet service for delivery within the London area.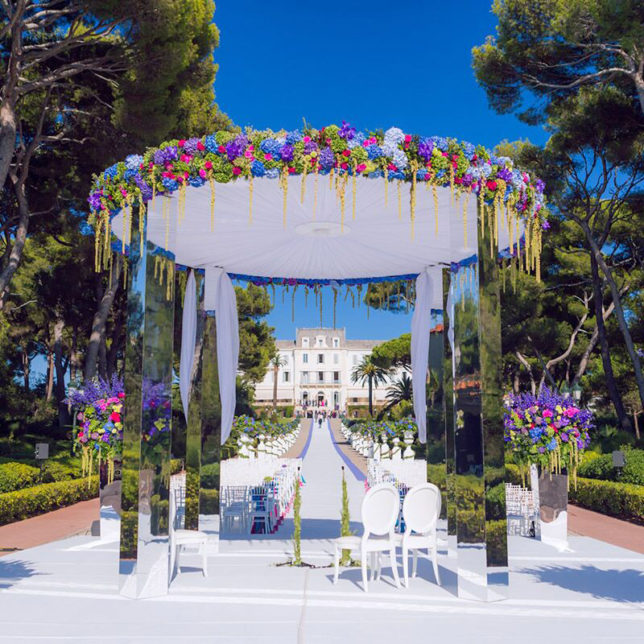 When decorating the world's most opulent homes, incorporating flowers into a London Fashion Week show, dressing glamorous international weddings or private parties, Maison de Fleurs treats every request with the same level of customer care, passion and creativity.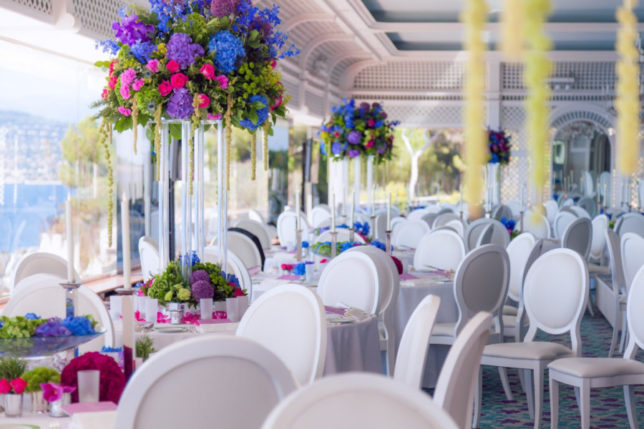 HRH Crown Princess Katherine of Serbia is quoted on the Maison de Fleurs website: "Your flowers were honestly breathtaking and so much more beautiful than we could have ever imagined. Thank you all from the bottom of my heart."
The SLOAN! Experience
Following in the footsteps of Serbia's Crown Princess, Maison de Fleurs were chosen by SLOAN! Magazine's Deputy Editor to provide the floral arrangements for his engagement party which took place this summer at a stunning country house location near Cambridge.
The team at the leading international design studio based in Battersea created five gorgeous centrepieces for the dining tables using deep red roses which matched the colour scheme of the table linens. The flowers were arranged in gold cylinderical low vases which matched the gold banqueting chairs on which the guests were seated.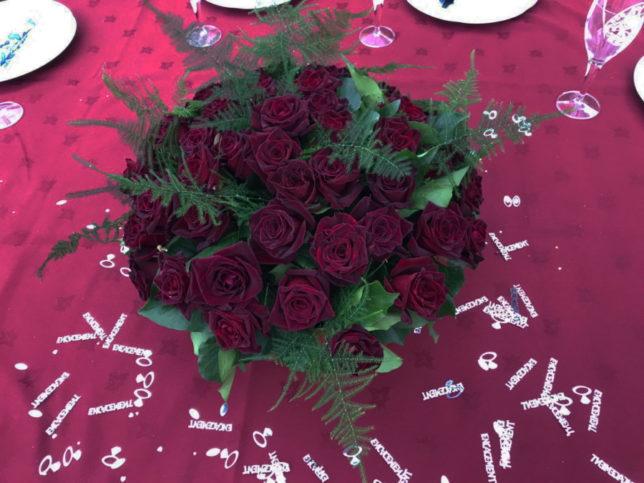 The creativity, sophistication and quality of the product and service shone through and the stunning floral centrepieces delighted both the happy couple and their guests who attended the exclusive gathering.
For more information, please pay a visit to Maison de Fleurs website to explore their extraordinary floral creations and displays.
Maison de Fleurs
Arches 80 – 81, Queens Circus, Queenstown Road, London SW8 4NE
020 7720 3777
www.maisondefleurs.co.uk
@maisondefleurs