Choosing to pick up your entire life and relocate to a different area, or even a different country, can be an incredibly daunting prospect. Whether you're relocating for a job, family, significant other, or just for a change of lifestyle, there are many things to think about ahead of taking the leap. Particularly if you need to sell a property before moving to a new location.
From researching the local area, to educating yourself on the key property trends, it's important you put everything in place to ensure the transition runs smoothly. Here, Elliot Castle, Founder of the UK's no.1 home-buying service We Buy Any Home, explains that relocating doesn't need to be an overwhelming experience, and gives some advice to ensure the whole process is as efficient and stress-free as possible!
Do your research
"Whether you are choosing to rent or buy, it is vital you research different parts of the city or town to understand the property prices and trends as this will ensure you know which areas can offer you the best value for money. It is also important to look at what the future holds for the area; for example, are there plans for high speed rail links, or for new housing developments in the area? These factors will impact house prices, demand in your area, and subsequently the local economy."
Become familiar with the area
"In addition to your research into property and trends, it is important to familiarise yourself with the local area before you commit to relocating. It's understandable if you're not able to make regular visits to areas that are on the other side of the country, or even abroad, but it's advisable to make weekend trips and even making the most of Google Street View to help you get a feel for the location. Once you have visited the area a few times, you will become more familiar with the surroundings and feel more comfortable about your decision. I think you will always have a gut instinct as to whether a certain location is the right place for you."
To rent or buy?
"Ahead of the big move, it is important to consider whether you want to buy a property straight away, or rent a home in the new area first. Renting first is sometimes a good way to get to know the area before you commit to purchasing a property and eliminates the possibility of getting stuck in a chain and having your move delayed."
Think about service providers
"Once you are set on your new location, and have decided on where you will live, you will need to think about selling your home. Selling a home can make relocating more daunting, time-consuming and unpredictable, but there are services such as We Buy Any Home that can make this process quick and easy. We Buy Any Home, is a home buying service, that enables completion on a house sale within seven days of providing a quote. If you need to move quickly, for example if your dream home comes up in your new area or you need to start a new job, you can act immediately and don't need to worry about the uncertainty of someone else pulling out of the process. The service is free and we cover solicitors' fees, meaning you have one less thing to worry about.
Get organised
"Once your house sale is underway, and you have confirmed the details of your new home, you will need to start considering all other aspects of the move; such closing your accounts and paying final bills with suppliers, changing your address, researching new utility suppliers and hiring removal companies to transport your possessions. Creating spreadsheets and lists with deadlines is a great way to ensure you're not missing anything so you feel confident and calm ahead of the move."
For more expert advice from a host of experienced specialists in their field, click here to read our latest Ask The Expert articles.
About Elliot Castle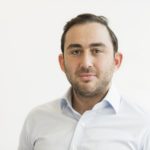 Elliot Castle is a Property Expert at Webuyanyhome.com, the leading home buying company which is tailored to make the process of selling a home, quick, easy and simple – aiming to provide the fastest sale possible for selling a property.