Mamalan serves authentic, handmade dumplings, noodle soups and street snacks made from family recipes from the heart of Beijing, China. There are 4 sites across London – Brixton, Clapham, Pergola Olympia and a pop-up Mamalan Lab in Brixton. We visited Mamalan Clapham which injects some exotic Chinese soul into the heart of South West London.
Ning Ma, owner of Mama Lan, explains how it all started… "Just after the cultural revolution in China, my granddad and my mum used to run a dumpling and snack stall in the bustling street markets of Beijing. As a child, I remember that running the market stall was a real family affair. Each morning my mum and my aunties would form a production line in the front room of the family home to make the fresh dumplings, pickles and various goodies to be sold that day. Much to the amusement of my granddad, I made myself the official food taster – a very important job indeed!"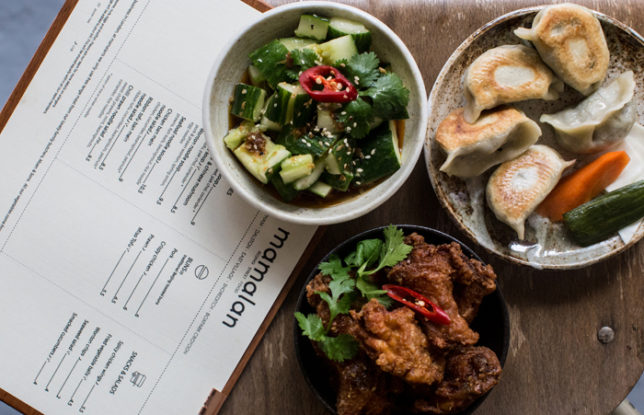 Ning Ma goes on to say, "I moved to London in my teens to study but I always longed for the food I grew up with. In 2010, I started the Mama Lan Supper Club in my own home to bring a taste of Beijing to London. As you may have guessed, the Supper Club is named in honour of my mum, the person who taught me how to cook my granddad's recipes. The supper club led to the opportunity to open our first restaurant in Brixton Village and now we are operating over 4 sites across London! Today, the food we serve at Mama Lan's is the very same food that was sold on my granddad's humble little market stall all those years ago."
The menu is divided into Bejing Dumplings, Noodle Dishes, Street Food and Salads. There are no starters or mains – food arrives at the table as soon as it is prepared in true Street Stall Style. We began with the traditional Beijing dumplings, choosing to go for the boiled version of King Prawn & Chinese Water Chestnuts… the perfect opening to the meal on a cold winter's evening.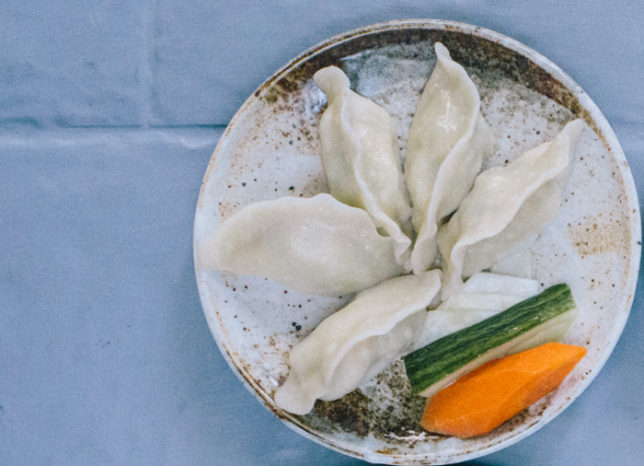 Joining them were the more popular Pork & Chinese Leaf Dumplings which are reminiscent of Japanese Gyoza with their grilled sides adding great texture to deliciously simple flavours.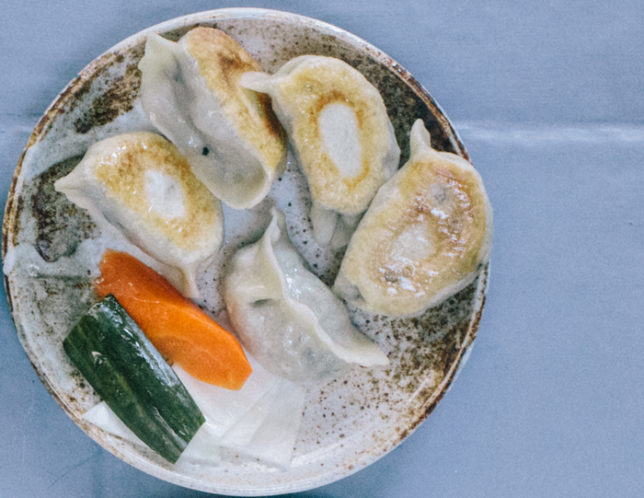 The next dish to arrive was the moreish Spicy Chicken Wings – succulent yet crispy with a definite kick of chilli… things were starting to warm up inside Mamalan Clapham even as the temperature dropped outside.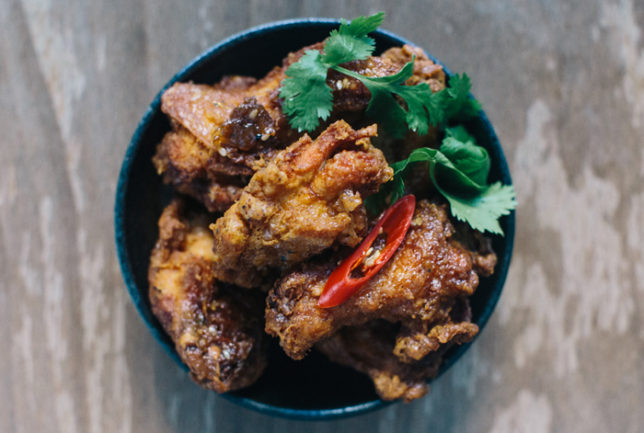 Next was something less spicy but equally satisfying… traditional Beijing toasted buns, which are again a popular dish at Mamalan judging from the number of our fellow diners who had also ordered variations of these buns available with fillings of juicy shredded pork, crispy chicken, succulent prawns or tasty tofu. They're so good you want to try them all… but in the end we enjoyed the yummy Crispy Chicken Buns.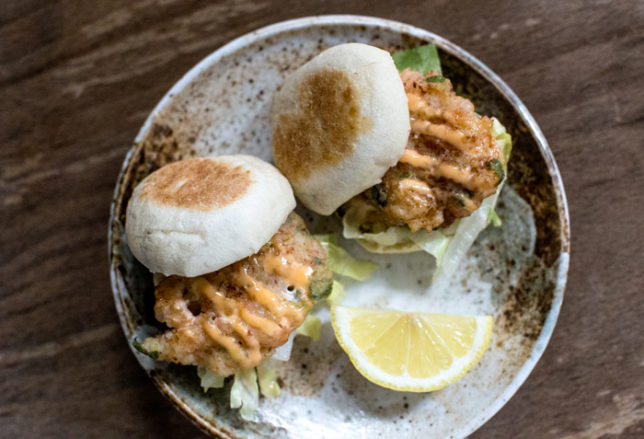 Vegetarian and vegan dishes are represented on the menu from Fried Tofu & Chinese Mushroom Noodle Soup to Ribbon Tofu Ban Mein Noodle Salad. Why not try the interestingly named Smacked Cucumbers – a popular appetizer from the picturesque Hunan province of China. This pickled dish gets its name from the way you "smack" the cucumber with the flat of a cleaver to break it apart.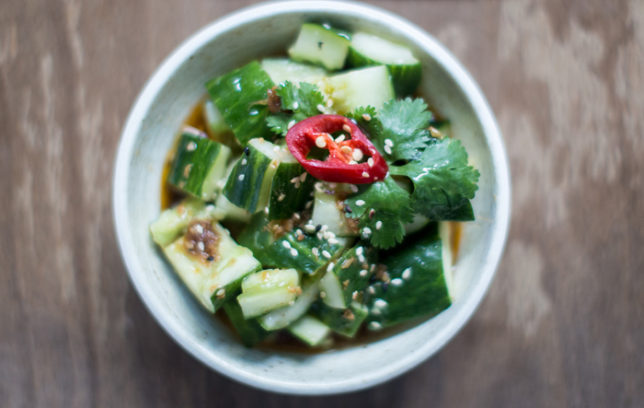 For something really hearty that's guaranteed to warm your cockles, we recommend the delicious noodle soups which are perfect comfort food during the changing seasons. Choose from slow stewed beef or silky prawn & pork wonton or why not savour the flavours of the sea with the Seafood Noodle Soup filled with fat juicy prawns and squidgy fish balls alongside the crunchy texture from beansprouts and silky rice noodles… a bowful of yumminess!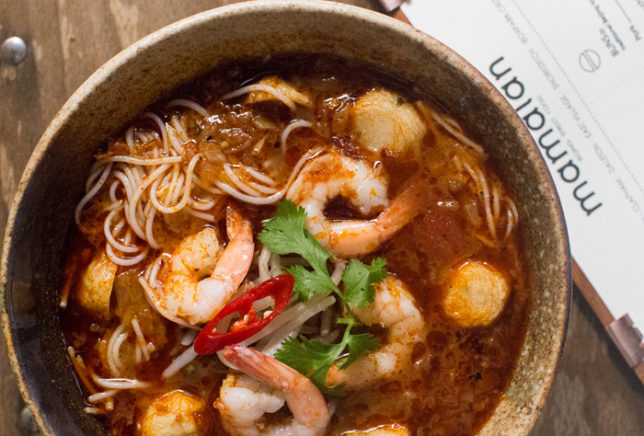 Mamalan do some interesting drinks from mocktails to cocktails with exotic flavours from ingredients like lychee juice and rose syrup. Located a stone's throw away from Clapham Common tube station, this Beijing eatery is the perfect stop off for tired commuters in need of heartwarming Northern Chinese cuisine. Mamalan is also the ideal place to grab a bite with friends or take someone special on a date as most of the dishes are great for convivial sharing. Drop by when you're next in the neighbourhood and savour the comforting flavours of Beijing's snack stalls in the heart of London. No reservations necessary.
Mamalan
4 The Pavement, London SW4 0HY
www.mamalan.co.uk
@MamaLans