Mango Tree is a fine dining Thai restaurant in the heart of Belgravia serving fresh authentic Thai cuisine. The spacious, welcoming interior is beautifully lit, reminiscent of restaurants in Thailand and feng-shui designed to enhance the dining experience.
The modern Thai restaurant, which opened over 10 years ago, has been enjoying tremendous success ever since. The Thai destination hot spot has since gone from strength to strength and has gained both critical acclaim and a host of celebrity fans.
Having appeared on BBC1's Masterchef and recently mentioned in Chapter 10 of J. K. Rowling's novel The Silkworm as a Thai institution in Belgravia, Mango Tree's expertise in the Thai fine-dining category has been widely acknowledged. Mango Tree is also located in the iconic Harrods' Food Halls and, due to its success, has been awarded Best Performing Restaurant Concession in 2012.
The menu has been devised by Executive Head Chef Ian Pengelley, who grew up in Hong Kong and spent many years travelling around Asia, including Thailand, China and Vietnam. His passion for Asian cuisine is evident in his carefully balanced flavours and beautiful presentation.
Ian has included dishes from the four main areas of Thailand – rich and mild dishes from the north, spicy flavours from the east, milder dishes influenced by the Chinese cooking style in the central region, and hot and spicy food from the south.
The team at Mango Tree is committed to offering all guests an exceptional dining experience, with a taste of warm Thai hospitality.
The SLOAN! Review
Upon arrival at Mango Tree we were warmly welcomed by the Restaurant Manager and then shown to our table. As we made our way to our table we passed the vibrant bar area which was surprisingly busy. The layout of the restaurant is a modern open plan style dining room with tables set out to give diners a sense of privacy. To start, we were given some Thai crackers and brought some interesting cocktails recommended from Mango Tree's interesting drinks menu. There is something for everyone and if a drink you want doesn't appear on the menu Mango Tree's attentive staff can make it for you. One of our favourite cocktails on the menu is Pinky Lips made from Bulleit bourbon whiskey, Frangelico hazelnut liqueur, lychee juice, cranberry juice, coconut cream and dash grenadine.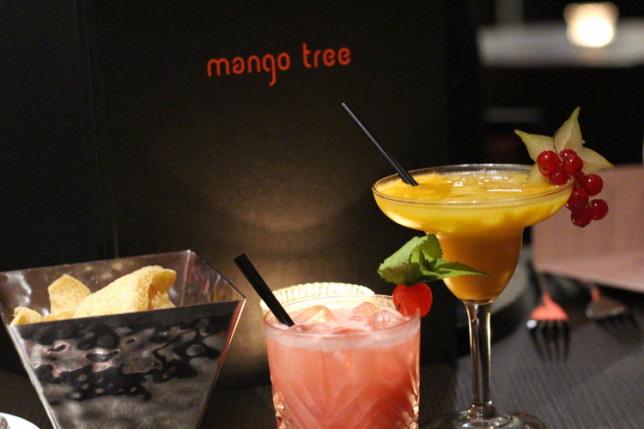 Mango Tree menu is extensive, and it can take time to decide which delectable delights to indulge in. We chose the Seafood Platter, which arrived on a slate tray and consisted of fresh king prawns in spicy tom yum sauce, grilled king scallop with garlic butter sauce, soft shell crab tempura and mixed seafood satay. The seafood satay was particularly good, with the grilled marinated seafood working perfectly and bringing out the freshness of the food, leaving you debating whether to have "one more, no more".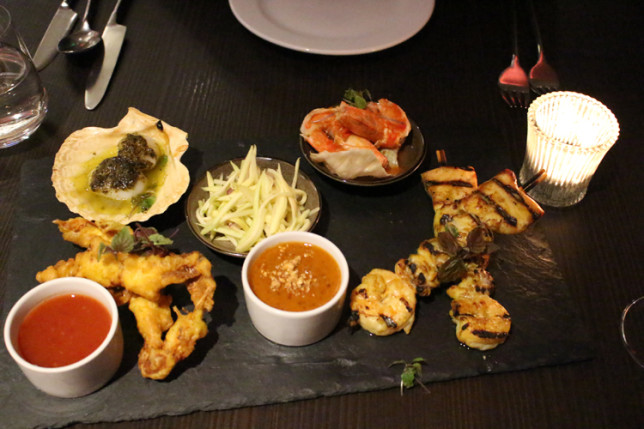 Let's just take a closer look at this mouthwatering starter…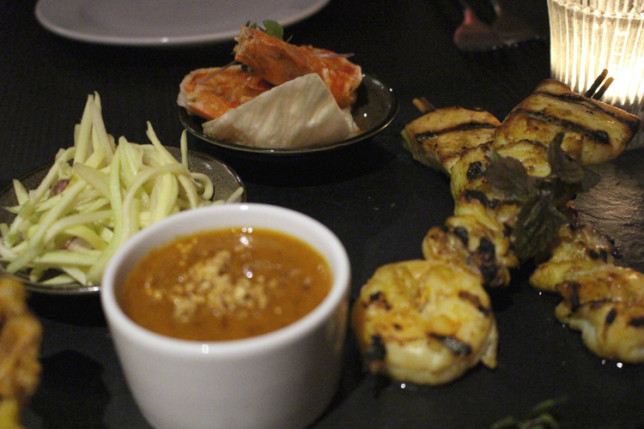 After such a beautiful opening to the meal, we had well and truly whet our appetites. You can see why Mango Tree's reputation is well deserved for bringing good quality Thai food to your doorstep. The a la carte menu is authentic using the traditional Thai names for the dishes with an English description underneath. Although it might take a little longer to decide what to eat this just adds to the anticipation.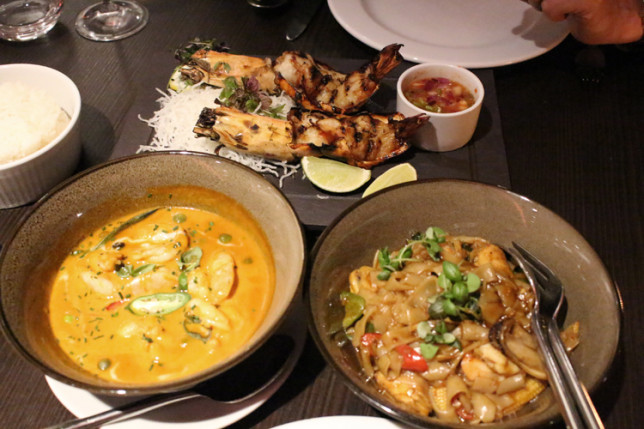 As you can see, we were presented with a beautiful selection of mouthwatering dishes. With something for everyone, there was the rich and creamy Prawn Panang curry and the Talay Pad Cha noodles were cooked to perfection with a generous helping of seafood including king prawns, scallops, mussels, fish and squid.
The succulent fresh Goong Ten king prawns were delicately steamed in spicy tom yum sauce and served with piquant chilli and garlic sauce.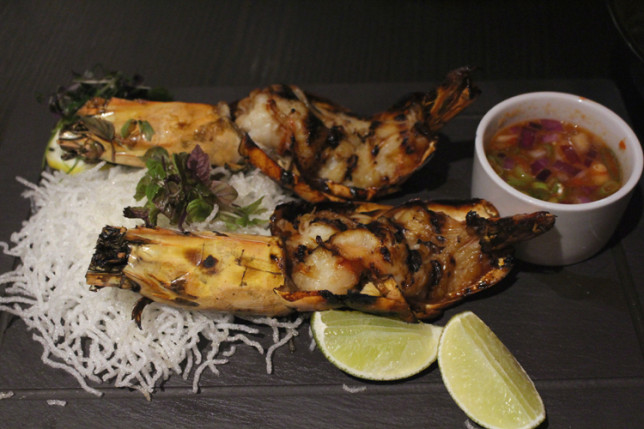 Mango Tree offer a good selection of desserts which have had a great deal of thought put into them. My companion chose the Lavender Rose and Chilli Lemongrass sorbets which were both refreshing to the palate.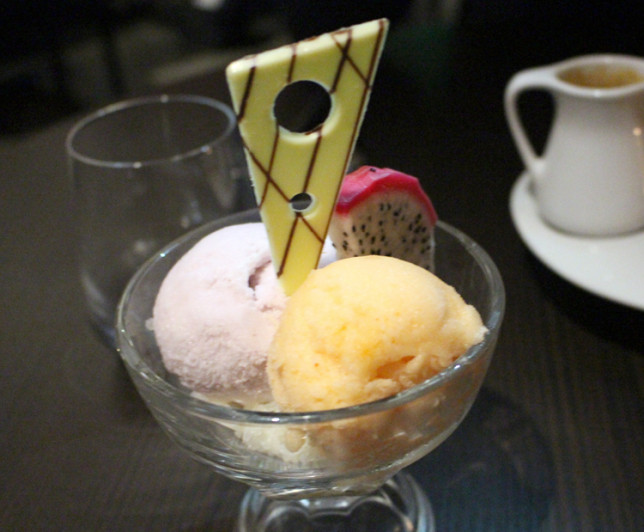 We also went for the artistically presented Chocolate Sphere which was so decadently rich we simply had to share!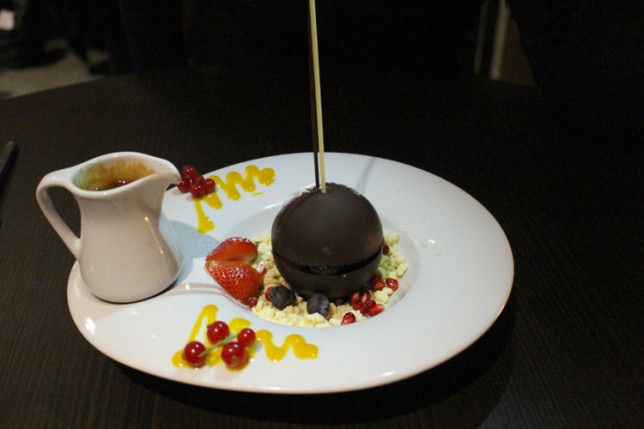 The toffee sauce melts in with the chocolate as it is poured over to make this sumptuous dish a must for anyone with a sweet tooth.
Overall, Mango Tree is a wonderful restaurant serving delicious sophisticated food in an exquisite atmosphere, with a generous helping of traditional Thai hospitality. Highly recommended.
Mango Tree
46 Grosvenor Place, Belgravia, London SW1X 7EQ
020 7823 1888
www.mangotree.org.uk