As my last meeting of the day was in Canary Wharf I decided to take a short walk towards the quayside and sample the menu at Manhattan Grill. Friday night was a beautiful Summer's evening and other workers had congregated outside all the bars on the way to Manhattan Grill. Although the hustle and bustle added a beautiful lively feel to the evening I was looking forward to leaving the Millenials behind and enjoying a refined dinner for two where I did not have to elevate my voice just to be heard.
As I approached Manhattan Grill you could already tell it is a cut above the majority of its neighbours. We were welcomed by Imran who showed us to our table with a beautiful view of the quayside. The Manhattan Grill has floor to ceiling windows covering a large stretch of its position on the quayside. Natural light fills the room. The décor is crisp, clean, comfortable and fresh with just the right amount of air conditioning to remind you it's Summer but be thankfully you are indoors. Quiet acoustic music piped gently through the speakers creating a background ambience without interfering with conversation.
Cocktails
The menu is short, clear and concise however we ordered a strawberry mojito and hazelnut martini to start while contemplating what to choose. The strawberry mojito was absolutely fresh and it showed. The puree base is made in-house and is so fruity that you could trick yourself into believing that this cocktail is as healthy as a fruit juice, which unfortunately it is not. They do other flavours including passionfruit however I was directed to the raspberry mojito which is supposedly as fresh and delectable as the strawberry. I have made a note to try it next time.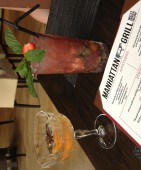 The hazelnut martini was a completely different style of cocktail garnished with star anise and a hint of cinnamon, which was served in an elegant and unusual martini glass which was a cut above the standard. Manhattan Grill was already exceeding expectations and raising the bar with their attention to detail.
Appetisers
Having gone for a mixed starter we were able to try five of their appetisers. I started with the Seared Black Pearl Scallops which again were beautifully fresh, perfectly soft, slightly less cooked than other restaurants which for me is perfection. The chorizo was crispy adding a tantalising contrast to the delectable softness of the scallop. The pea puree was a beautiful garnish but to me didn't detract from the flavour which was already perfectly balanced. The King Prawns confirmed that this restaurant knows how to do seafood. Fresh, succulent, garlic king prawns with other flavours bursting through garnished the plate and were gone in record time. Wipes were provided however the sauce did not make too much mess to warrant a finger bowl.
The Devonshire Pork Belly complemented by a delicious apple sauce is a dish which can be hard to get right, so often the belly flesh has to be compromised to get the right crisp on the cracking. Manhattan Grill, as with much of their cooking, served a juicy soft pork belly however in doing so the crackling was slightly undercooked and therefore the fat slightly more noticeable. Although I prefer this as I cut away the fat anyway, those who enjoy crackling crispy may wish to notify the chefs who are very accommodating or choose another dish.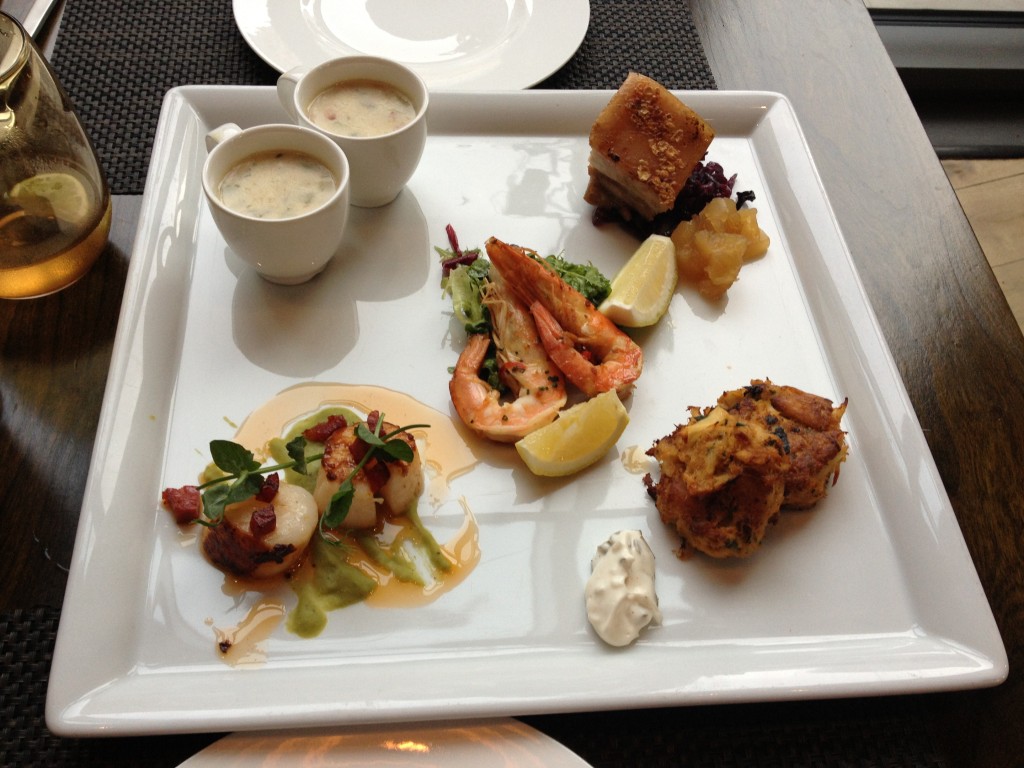 The penultimate starter was the Clam Chowder. Although authentic and tasty it couldn't compare to the exquisite competition on the rest of the plate. Saving the best until last, I was delighted when the Baked Blue Swimmer Crab Cake exceeded my expectations by a mile. Full of flavour, extremely authentic  with a very high crab content and noticeable long chunks of Blue Swimmer Crab combined with subtle flavours and a not so secret ingredient – Old Bay Spice from Maryland. This was by far my favourite and I highly recommend them.
Mains
Everywhere has a unique selling point and if the starters are anything to go by, Manhattan Grill doesn't need any gimmicks, however they do provide a wine tasting before the main course to help you decide  which wine will best complement your meal. Manhattan  Grill houses a beautiful selection of wine with a fair proportion from Baron Philippe De Rothschild's estate which with the help of an enomatic machine they can even serve by the glass. These top end wines are rarely associated with the hangover headaches of much cheaper wines which allows you to partake in more than one glass should you so choose without disruption to your weekend plans. The enomatic machine can be seen in Selfridges but has not yet graced the halls of Harrods and I believe is a state of the art extremely expensive wine pressure system which regulates such pressures so as to not lose the flavours and subtleties in the wine. There is no obligation to buy any of the wines you choose although they are reasonable priced especially given the quality. In the end we chose a Australian Reisling from the Barossa Valley to complement the Roasted Black Cod which again was cooked to perfection. The flavours were subtle and hit you at different times exciting the taste buds. The only criticism was that it was served with too much rice which had been placed rather than shaped on the plate. Such a quantity of rice really needed to be flavoured with the lovely miso-mirin sauce or reduced in quantity.
I chose the Rib Eye Steak although I normally prefer fillet but I wanted to taste the flavours of marbled fat through my steak cooked in a Montague Broiler at 650 degrees I ordered my steak medium rare and although served as ordered the quality of meat definitely allows you to take it down a notch and served more rare. Again attention to detail was carried out in the provision of Laguiole steak knives which added colour to the table and French elegance. The sides of Seared Mushrooms and Asparagus were served with a slight al dente bite. The Sweet Potato Fries were beautifully crispy on the outside with a softness in the middle. The Manhattan Onion Rings were clearly homemade and stood out as such. My favourite side was the Mac 'N' Cheese with Lobster which was extremely reasonable for the £8 price tag but I wish it had a little more lobster.
Desserts
I can honestly say I didn't have to season any dish not even once and I sent my genuine compliments to the chef at the other end in the show style kitchen. With such generous portions I was hard pushed to find room for dessert however Imran and I had been talking about the Double Chocolate Cake, a chocolate fondant filled with caramel topped with vanilla ice cream and chocolate sauce and served warm. I couldn't resist. This is one dessert I would highly recommend for any chocolate lover and is large enough to share.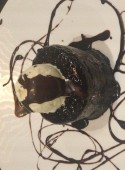 My dining companion had the Pecan Pie which although hit the spot did not stop him stealing a bite or two of my delicious chocolate dessert. I complemented my dessert with a Late Harvest Sauvignon Blanc Concha Y Toro dessert wine as recommended and my dining companion opted for a vintage port, Taylor's of course. For those who do not know their wines or dessert wines, the staff are easily on hand to help point you in the right direction. I found their recommendations to be right on the nose.
My only criticism of Manhattan Grill is that with such attention to detail and high standard of service I would have been pleasantly surprised with a similar attention in pouring the wine. I note the staff aren't trained to pull chairs out for guests or adorn their lap with napkins which given the standard of this restaurant I think such behaviour would put the finishing touch on the finesse already displayed throughout the evening.
Read the review score for more about our dining experience at Manhattan Grill.