The senior team at SLOAN! HQ have been loyal fans of Maui Jim for quite some time. As the world's fastest growing maker of premium polarized sunglasses, Maui Jim produces some awesome looking sunglasses from their aviator style Maverick to their classic Pilot and our summer favourite Nahiku so it's no surprise that for AW17 we've returned to the Pacific's finest sunglasses company to try on the new Canna sunglasses for size.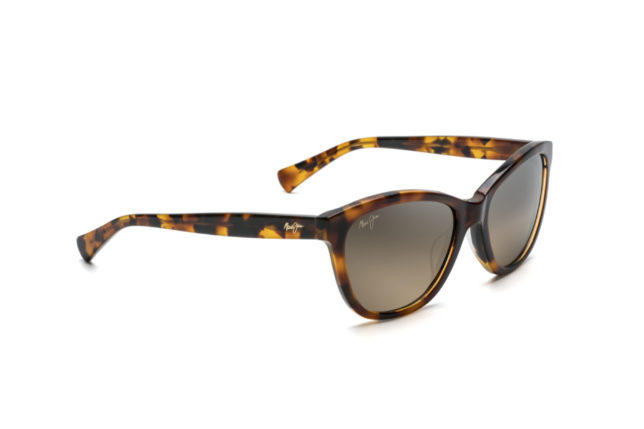 Named after the lily-like tropical plant with large colourful leaves and showy flowers, Maui Jim's Canna sunglasses have a pronounced feminine appeal with their retro cat eye frame that's at once pretty and chic in its classic mocha tortoiseshell colouring. If mocha doesn't float your boat, the frames are also available in a variety of unique color schemes including black with crystal accents, dark tortoise and funky tortoise shell with blue inner and white accents.
In terms of styling Canna balances the bold cats eye shape with a thin acetate frame to give glamorous coverage during any occasion from coastal shores to cocktail party socialising.
When it comes to lenses, we chose the HCL® Bronze for its versatility in changing conditions from full sun to overcast and it has a rich warm tint to it that we love. Other lens options include Maui Rose® in the Dark Tortoise frames which is the most comfortable on the eyes with its subtle rose tone or you might prefer the Neutral Grey in the Black with Crystal frames which gives the highest light reduction for rich colour and contrast that would be perfect if you're heading out to a destination with bright direct sunlight.
Lenses are made from MauiBrilliant which is Maui Jim's most advanced lens material that features optics nearly as clear as glass with just one-third of the weight.
You may not realise this but sunglasses design just like regular spectacles suit certain face shapes so its important to pair up the right frame shape with your face shape. It's recommended that the small Cats Eye frame of Maui Jim's Canna works best complements small face shapes that are oblong or square.
It"s not just SLOAN! readers who are raving fans of Maui Jim. The company has consistently been voted the favorite sunglasses company and best sunglasses by optical retailers and many of the top health, fitness and outdoor sports media around the world. For more information, follow Maui Jim on Facebook, Twitter or Instagram at @OfficialMauiJim
Maui Jim Canna cat eye sunglasses cost £239 and are available from uk.mauijim.com