There's only one workout we're after and that's one with a lot of bounce. A workout that is proven to burn 550 calories in 45 minutes, rebounding is the most effective all-over body workout ever, and you're promised immediate results.
SLOAN! Magazine has teamed up with MaXimus Life and Rebound UK to offer you the chance to win a Maximus Pro Rebounder worth £169. Enter this fantastic competition at the bottom of the page.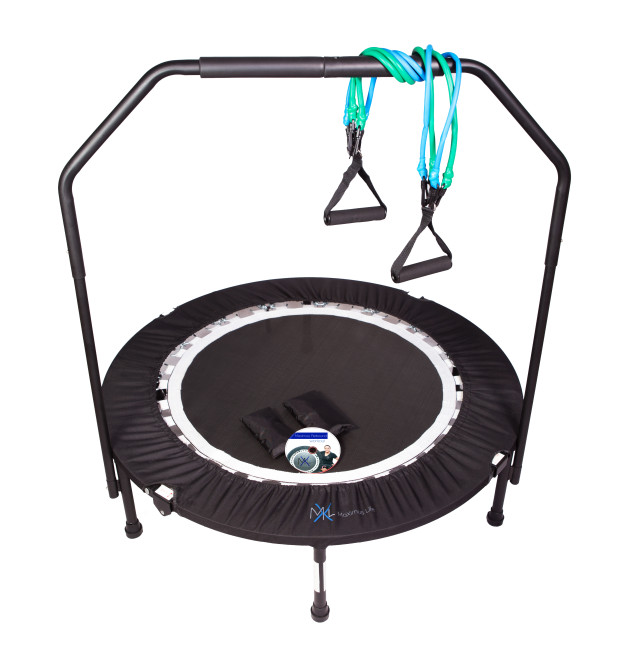 A fun, high energy workout that can be performed at home or at the gym, rebounding takes place on a small circular trampoline designed to give extra spring and absorb impact. Sessions typically last 20 – 45 minutes and can be tailored to focus on cardio, strength and core, and sports specific routines.
The workout focuses on the downward push, through the balls of your feet, jumping no higher than 6 inches. This creates gravitational pull which is at the heart of what makes rebounding so effective.
James Winfield, Fitness Director and Master Trainer at Rebound UK says: "Mixing dance choreography with explosive squats, twists, lunges, sprints and much more, rebounding will change your body shape as it tones and tightens muscles and skin. At the bottom of the bounce your exercise body weight can be up to 3.24 times heavier than normal whilst at the top you are weightless. This constant change in gravitational pressure works every single cell in the body, including internal organs, muscles and skin; making rebounding the most effective total body workout ever!"
Just 30 minutes per day could help you lose one stone in three to four weeks. Rebounding achieves this higher calorie burn due to the effect of gravitational pull. What's more, the repetitive pushing and jumping motion encourages efficient blood supply around the body, draining away toxins stored in our fat cells.
You'll be working those abs before you know it too, whether you decide to spring into action at home or at the gym. James adds: "Bouncing on an unstable surface provides a constant balance challenge leading to the involuntary contractions of the deep core muscles. These are responsible for giving you a flatter tummy. You'll improve your posture and reduce any back pain you might experience from daily chores and sedentary office jobs. Every single cell is worked including internal organs and muscles such as pelvic floor and deep abdominal muscles which are strengthened improving bladder control."
Whether you're a new mum looking to shed the post-baby pounds, a bride to be, or simply looking for an exciting addition to your training programme, rebounding is for you. Get bouncing today, rally your friends, pump up the music and let's jump!
Maximus Pro Rebounders are robust and uniquely designed, a must-have piece of home fitness equipment. Prices start at £169.00 including a carry bag, stability bar, resistance bands, sand weights and a rebounding compilation DVD for beginners, intermediate and advanced levels of training. Lightweight and portable, you can even take your rebounder to the park for some fresh air fitness! Find out more at www.maximuslife.co.uk or go to www.rebound-uk.com/product/MaXimus-Pro-Rebounder