Meantime Brewing Company, one of the UK's largest modern craft brewers, has launched The Pilot Series, a range of exciting small-batch beers brewed on their brand new state-of-the-art Pilot Brewery.
The Pilot Series will showcase new and unique beers, with a new style released every two weeks. Housed within Meantime's brewery in Greenwich, the new range will be brewed on a high-tech Bavarian style brew house, with capabilities to brew smaller volumes whilst ensuring there is no compromise on quality.
The Pilot Series provides Meantime's brewers with the opportunity to do what they love most – being let loose to experiment with different styles and flavours, new hop varieties and other ingredients, and processes to create new and interesting beer for fans to discover.
The first three beers within the series are Rye-PA, a 6% ABV rye IPA with a distinctly malty flavour; Sunset, a 9% ABV Imperial Red Ale packed full of flavour, and CTRL-ALT, an Altbier inspired by an ancient German style of brewing.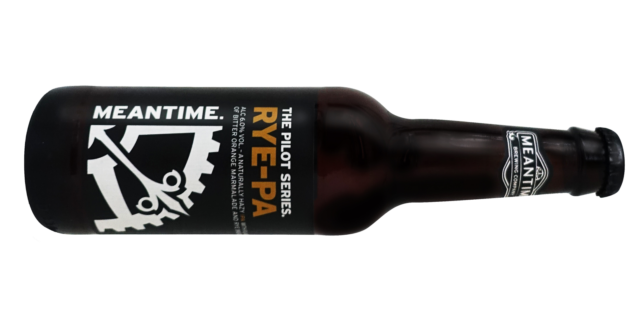 We sampled the Rye-PA which is an IPA brewed with a small amount of rye malt, which gives it a subtle spicy, peppery flavour. The malt is balanced by American hops, which provide citrus and intense tropical aromas with a tangy taste of bitter orange marmalade. This fruity hoppy IPA has a malt kick which will surprise and delight you.
The Pilot Series is the perfect platform for research and development in its purest form – Instead of using market research or focus groups, Meantime will gauge the success of their beers at the rate by which they sell out. If a particular style proves to be very popular, Meantime will bring it back as part of their seasonal range the following year.
Richard Myers, Marketing Director at Meantime, says: "Meantime has always strived to introduce the British public to a wide range of great beers and open their minds to trying something different. The Pilot Series gives us the perfect opportunity to continue to push the boundaries of modern craft and have a bit of fun experimenting with some unusual beer styles. We're proud to say that innovation and quality are the heart of everything we do, so expect to see some great beers coming out of The Pilot Brewery in 2016."
Meantime will be running a series of exclusive tasting nights throughout the year to showcase and celebrate the wide range of exciting beers on offer within The Pilot Series. The evenings will be a money-can't-buy experience for a very small handful of lucky Meantime fans, customers and press. Attendees will be hosted by Meantime's brewing team and enjoy the most recent Pilot Series releases matched specially to a full tasting menu, along with behind the scenes tours and other surprises.
The range will be available exclusively on draught in a small handful of specially selected partner outlets across London, including The Understudy at the National Theatre, The Old Blue Last in Shoreditch, The Orange in Pimlico, Vinothec Compass in North Greenwich and The Four Quarters in Peckham.
The beers will also be available to try and purchase in Meantime's own Tasting Rooms, Beer Box and Greenwich Union Pub. 330ml bottles will be available to purchase from the Meantime Brewery Shop and also online at www.meantimebrewing.com.