The NEW Microplane® Rotary Grater is one of the best things to happen to Parmesan cheese. But it's also ideal for grating any other hard cheese, as well as chocolate and nuts. Use in the kitchen while stirring risotto or at the table to add a chocolate garnish to a lemon tart.
Sturdily crafted, the durable and lightweight Microplane® Rotary Grater requires minimal effort to yield maximum results. The extra-large hopper effortlessly grates a generous amount of cheese and other ingredients at one time.
Rotated by a handle, the cheese (or other ingredient) is pressed up against the signature Microplane fine blade for efficient and effortless grating while the unique funnel shape, with expanded opening, ensures that grated ingredients dispense quickly and easily.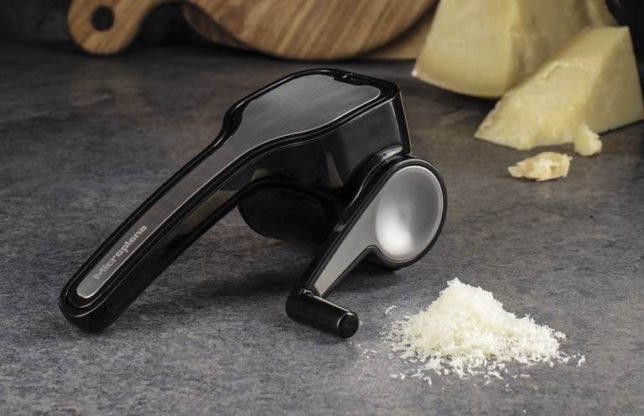 Made in the USA, the ultra sharp stainless steel photo-etched blades, or teeth, behave like sharp knives to cut ingredients with precision rather than tearing or shredding and causing blockages.
The drum and handle separate easily for cleaning in the dishwasher, however, hand washing is recommended.
Coveted by both professional chefs and home cooks, the Microplane® Rotary Grater costs £24.95 and is available in black with stainless steel accents from John Lewis and independent cookshops nationwide. White is exclusive to Lakeland at £21.95.