Min Jiang, London's most authentic Chinese restaurant, celebrates its 10th anniversary with a selection of exquisite dishes delicately prepared by our dedicated and loyal chefs this August.
Reflecting the significance of food in Chinese culture, Min Jiang has embraced the wide variety of cooking styles and techniques that have been passed down through generations. To showcase the chef's talents and dedication to the Chinese culture, Min Jiang has continuously crafted dishes that emphasise the fine-dining experience guests receive while eating at the tenth-floor restaurant.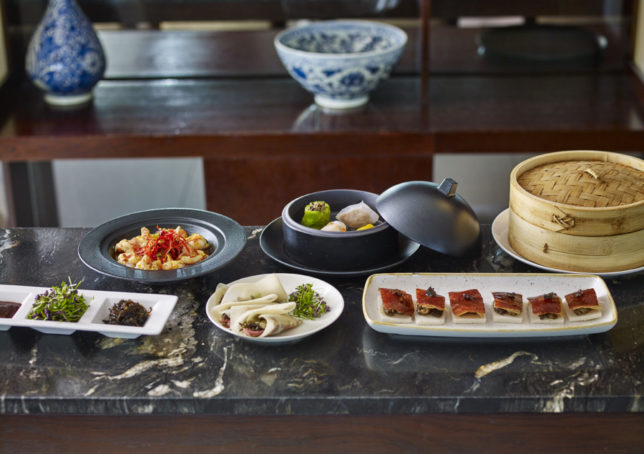 During its 10-year legacy, the restaurant has become synonymous with awards celebrating the talent of Min Jiang's devoted chefs. Alongside World Cuisine Chef award winner Head Chef Han, the Master Dim Sum Chef and Master Duck Chef have been permanent fixtures of the team creating exceptional culinary masterpieces since Min Jiang opened in 2008.
Available for a limited time and including vibrant colours and delicate creations, Min Jiang's brand-new anniversary dishes symbolise good fortune and prosperity. The menu includes a Dim Sum platter consisting of Alaskan king crab, Beijing Duck garnished with morrels, truffles served with bun dough and spiced sauce, langoustines delicately poached in Chinese wine and finally a Malibu parfait with compressed pineapple and chocolate hazelnut crumb.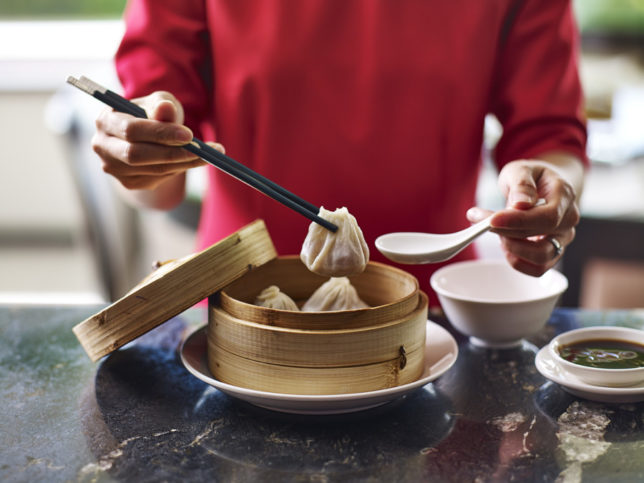 Effortlessly thriving after 10 years, Min Jiang remains at the pinnacle of London's Chinese culinary scene with bookings taken weeks in advance. Looking forward, Min Jiang is introducing four new limited items to their a la carte menu which highlight the master chefs expertise.Using the finest quality ingredients, the gourmet dishes served in honour of the 10th anniversary and the future of Min Jiang, will be present on the menu throughout August 2018.
Chef Han, Min Jiang's head chef said: "For 10 years, we have maintained our authenticity by offering traditional Chinese cuisine to our diners, making sure each dish is cooked using Chinese cooking styles and techniques that have been passed down through generations. We can't wait for our diners to experience our anniversary dishes that have allowed each master chef to deliver their own signature dish to celebrate our 10-year anniversary."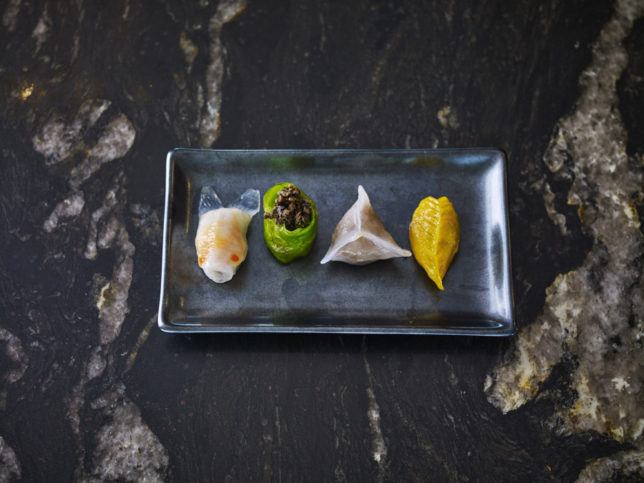 Amid the red, white and black minimalism of Min Jiang, the chef's outstanding food presentation, especially when carving the Beijing duck, has positioned the restaurant as a go to destination for culinary lovers. Truly embodying the authenticity of Min Jiang, the focal point of the guest dining experience has been shaped by the restaurant's world-renowned Beijing Duck. Prepared according to an ancient Chinese recipe over 48 hours by dedicated duck chefs, the dish is glazed with sugar and cooked in a wood-fired oven and made into three delectable dishes.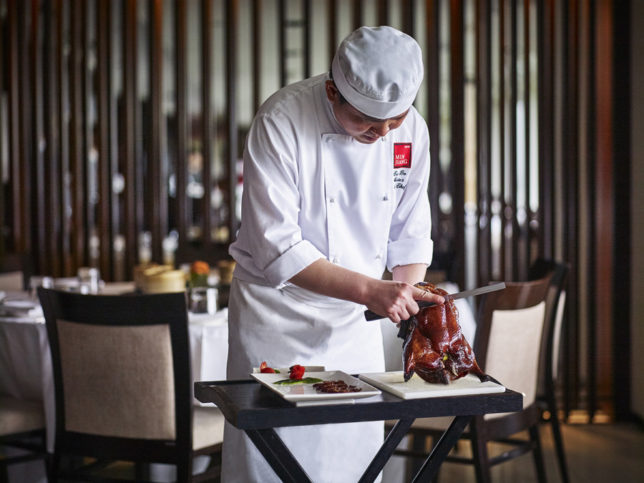 First the crispy skin is served dipped in fine granulated sugar followed by homemade pancakes with sweet sauce and shredded leek and cucumber or the same with garlic paste with radish and Tientsin cabbage. The next serving is split into four options allowing diners to fully experience the balance of the duck meat: minced duck with lettuce wrap, salted vegetable soup with duck and tofu, fried rice with diced duck or fried noodles with sliced duck.
With some of the best Chinese cuisine in the capital, Min Jiang celebrates its continued legacy over the past decade with a 'best of' menu featuring 10 of the restaurant's most-loved and legendary dishes.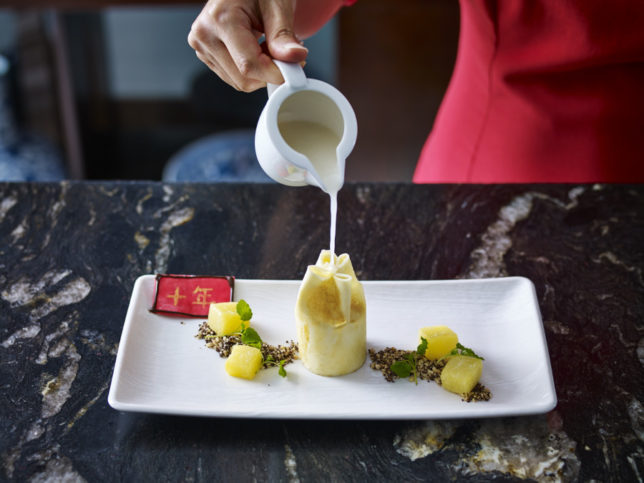 Available for £60, the menu includes Beijing Duck, crispy fried squid, steamed Dim Sum, Min Jiang steamed Xiao long boa with blue swimmer crab meat, tofu with morel mushrooms in black bean sauce, string beans with minced chicken, diced rib eye of beef with black pepper sauce, stir fried baby pak choi and a fresh fruit platter.
To mark the significant 10th anniversary occasion, exemplary Austrian winemaker Lenz Moser has hand-picked three of his signature Chinese wines to complement the selected dishes. At £130pp for groups of six, diners can experience wine pairings of Friendly Gruner Veltiner, Château Changyu Mose XV White Cabernet Ningxia 2016, Château Changyu Mose XV Sauvignon Ningxia 2015 and Château Changyu Moser XV Ninxia 2013.
As we arrived at Min Jiang we were shown to our table with a stunning view over looking Kensington Gardens. It was so nice to sit back and relax and take shade from the summer sun in a beautifully air conditioned room. As we took in our surroundings we were offered a refreshing cocktail and a non-alcoholic wine from the 10th Anniversary menu.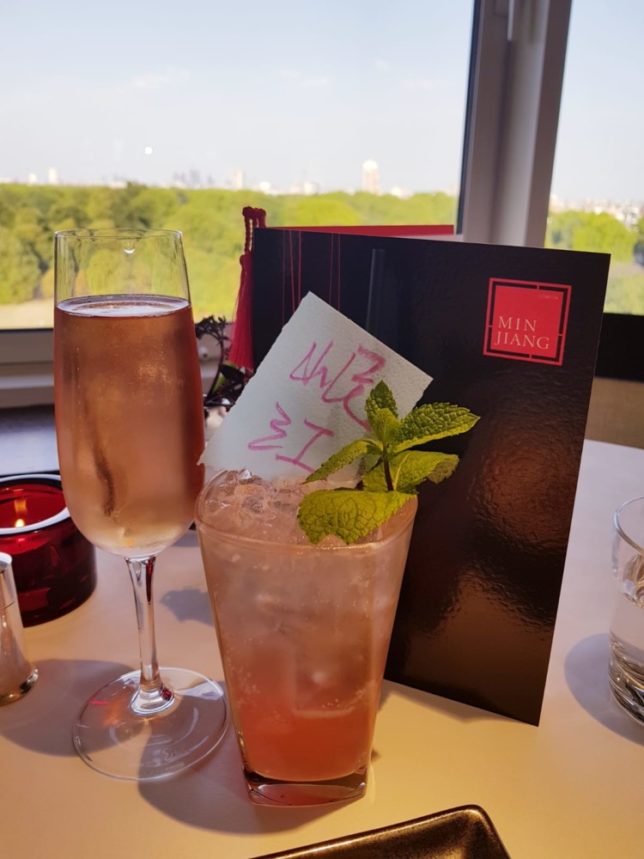 The 10th Anniversary menu starts with a dumpling platter. These wonderful creations are the perfect way to whet the appetite. The dumplings starting from the top going clockwise are the truffle dumpling, lobster dumpling, black pepper duck dumpling and the Alaskan king crab dumpling. The dumplings we soft with great texture. Time had clearly been taken in making them as the crab (shaped as a fish) exploded with fresh flavour with slight sweetness that made you want to go back for more. All dumpling were generously filled and a great way to start the meal ahead.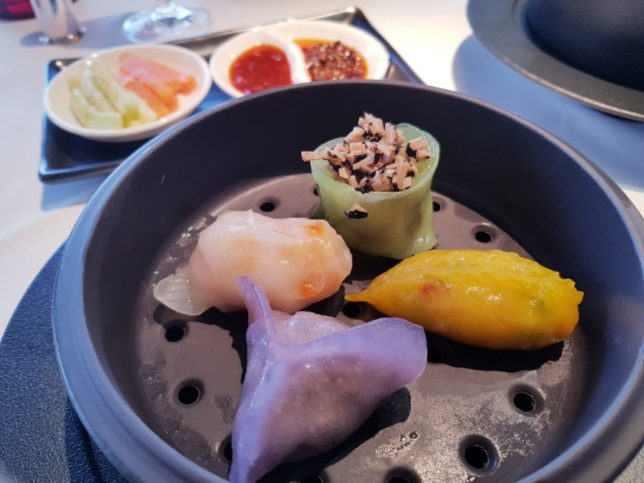 After our starter we were presented with the anniversary wood-fired Beijing duck. This comes in three stages the first is the skin of the duck assembled with Chinese mushroom fried wanton and truffle. This dish blew us away.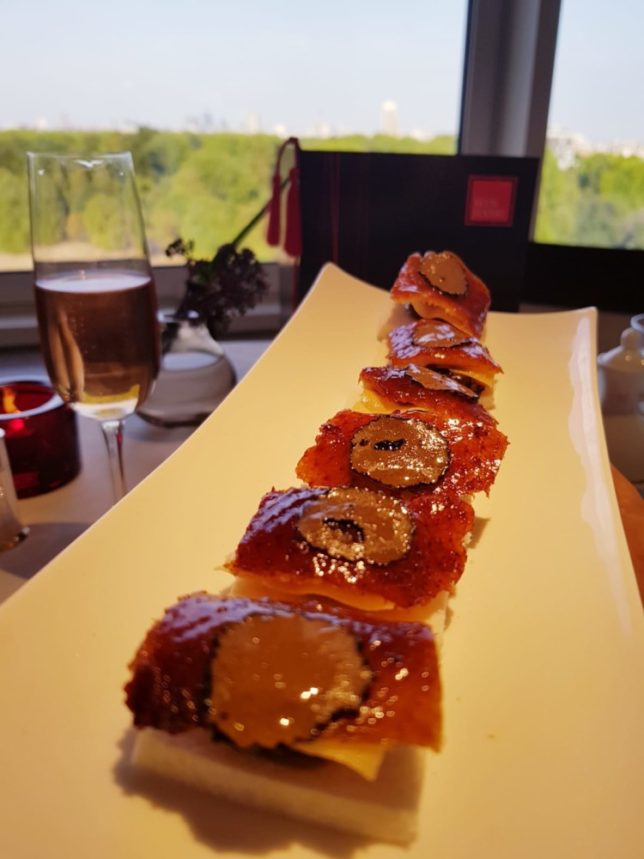 Come in for a closer look…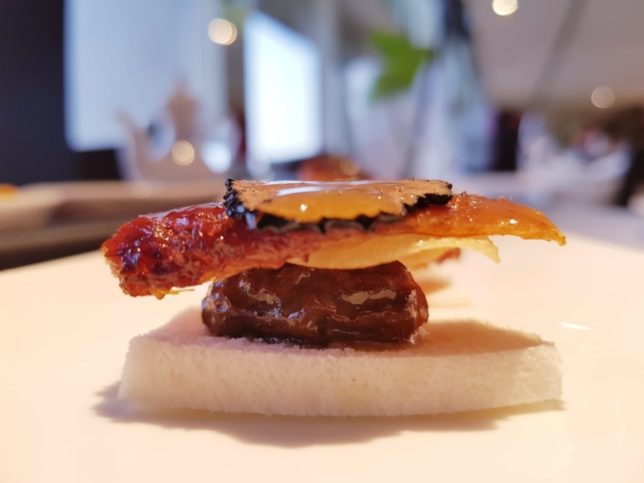 The second stage is a more traditional way of serving duck but with a twist. You have peking sauce with cress and mushroom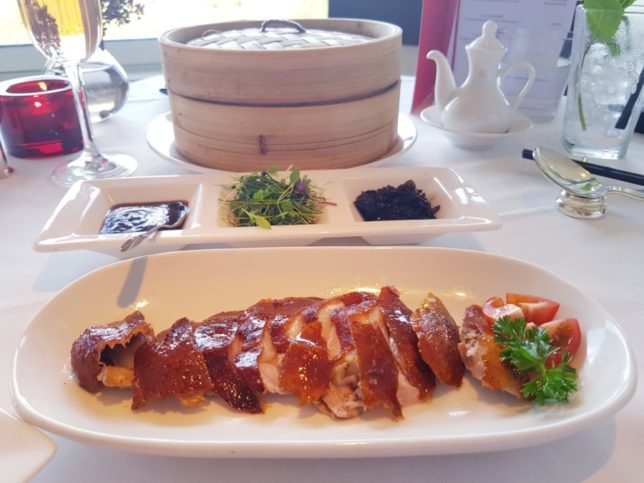 The third presentation of duck is a divisive dish l loved it my dining companion preferred it the other two ways.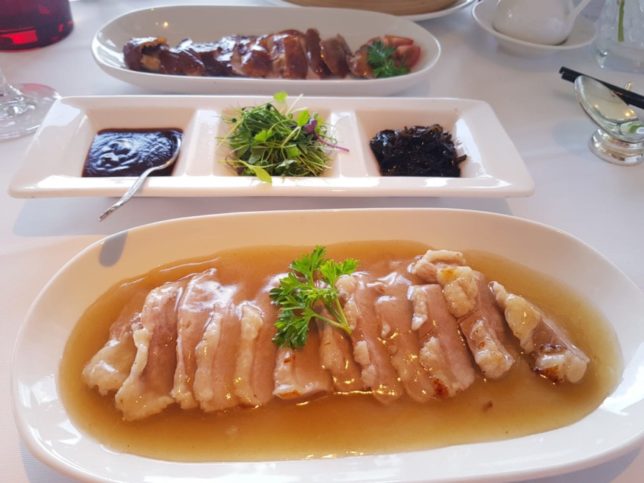 For us the next dish was a show stopper. Langoustines in Sichuan Chilli sauce provide the perfect amount of heat spice and succulence. Served with a broth of chilli delight.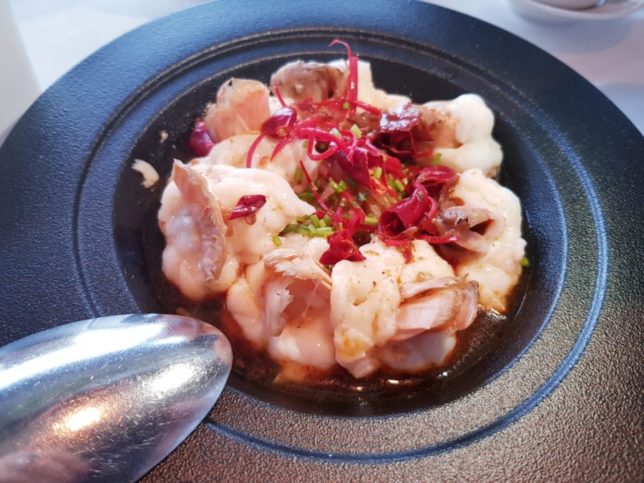 How much would you pour on yours? We went crazy and loved every mouthful.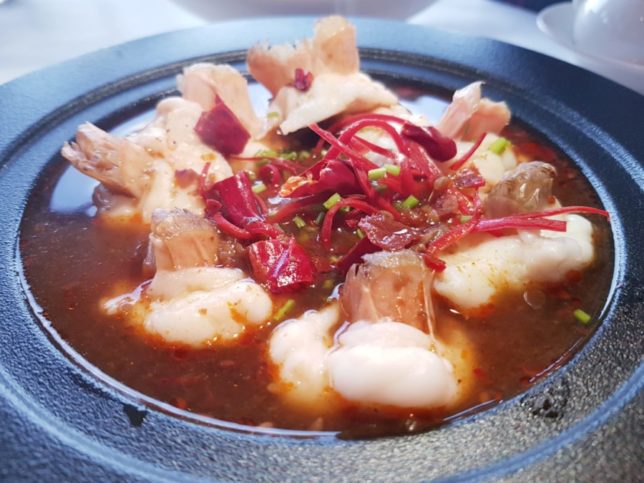 Make sure you save room for dessert with a very special 10 year anniversary inscribed fondant, the Malibu parfait with compressed pineapple, chocolate and hazelnut crumb did not disappoint.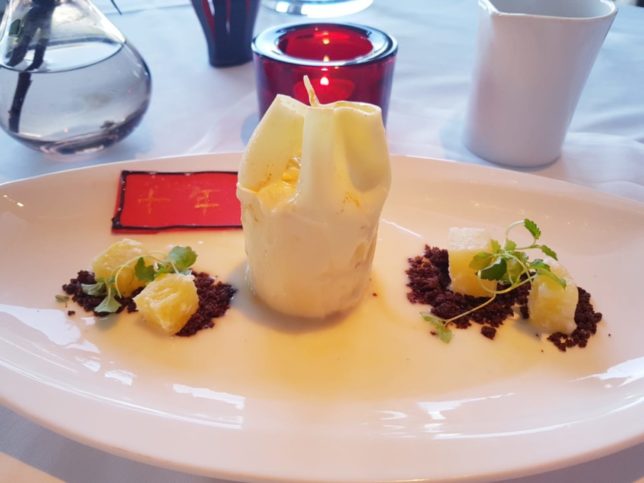 Min Jiang at Royal Garden Hotel
10th Floor, 2 – 24 Kensington High Street, London W8 4PT
020 7361 1988
www.minjiang.co.uk
@minjianglondon