A Home Gym Built Around You
As our lives become increasingly busy, the capacity to commit to a healthier way of life can seem progressively unattainable, whether you're a busy professional, a mum running around after the family or a combination of both!
At motive8, we can provide the ultimate lifestyle solution – a state-of-the-art home gym facility, ideal for those who crave convenience and are short of time.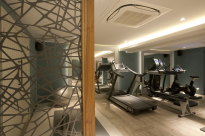 motive8 is a market leader in the design and installation of residential and corporate health and fitness facilities. Since 1998 we have fitted over 120 facilities nationwide. Projects include bespoke home gyms, private training studios, spas and large-scale corporate and residential projects. As a testimony of our quality relationships and aftercare service, we have ongoing maintenance contracts with 90% of the facilities we have fitted.
Despite the misconceptions that only the rich and famous are privileged enough to own a home gym, motive8 can offer a selection of different home gym packages to suit all budgets and requirements.
Based on size and budget available, motive8 will select equipment which offers its users the most comprehensive and effective workout possible. For many families, a return on investment can be seen in as little as three years (based on savings made from an average family gym membership costing approximately £150 per month).
A key benefit of the motive8 service is our ability to produce both 2D and 3D renders in-house. This enables us to turn projects around at a much faster rate as well as providing clients with a realistic impression of their finished gym prior to project commencement.
For those on a restricted budget, through contacts in the industry, our gym design team has access to a fantastic range of reconditioned, full or semi-commercial gym equipment that's recently come out of state-of-the-art residential fitness facilities. A fully functional home gym can be installed from as little as £3,000 with motive8 providing a 12-month warranty on all second hand equipment. Combine the savings in petrol driving to and from the gym with the time saving convenience of having a gym on your doorstep and it's easy to see why an increasing number of people are pursuing the home gym option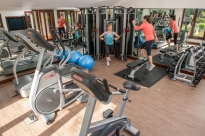 There are a number of advantages to having your own home gym:
Cost-effective: Save, on average, up to £50 per person/month on commercial gym membership fees.
Private: No need to be self-conscious in front of fellow gym members.
Convenient: It can be used by the whole family at a time that suits you.
Added Value: It can greatly enhance the desirability of our home and hence add value.
Eco-friendly: No petrol consumption driving to and from the gym and only a treadmill requires electricity, everything else is self-sufficient.
Furthermore, to help you get the most out of your new home gym facility, motive8 offers a comprehensive range of fitness training support services.
Once you've been inducted on your equipment, we have a team of trainers that can help you make the most of your home gym. We offer a diverse approach to helping achieve your health and fitness goals – with one-to-one personal training, buddy/family training, nutritional advice and a full range of massage and sports therapy treatments, we're confident we can provide you with a training service that fulfils all your lifestyle needs.
For more information, visit www.m8group.co.uk or email info@m8group.co.uk.