People lead hectic lives; a rushed commute to work, travelling to meetings, squeezing a quick workout at the gym or going for a run in the evening once the kids are asleep. The essential companion to make the stresses of modern life more bearable is sound. The radio, audio books and music all help to get through the day.
The Motorola VerveOnes+ Music Edition (ME) delivers the perfect listening experience offering a completely wireless, waterproof, HD quality sound with the convenience to keep everyone tuned in, whatever their choice of audio.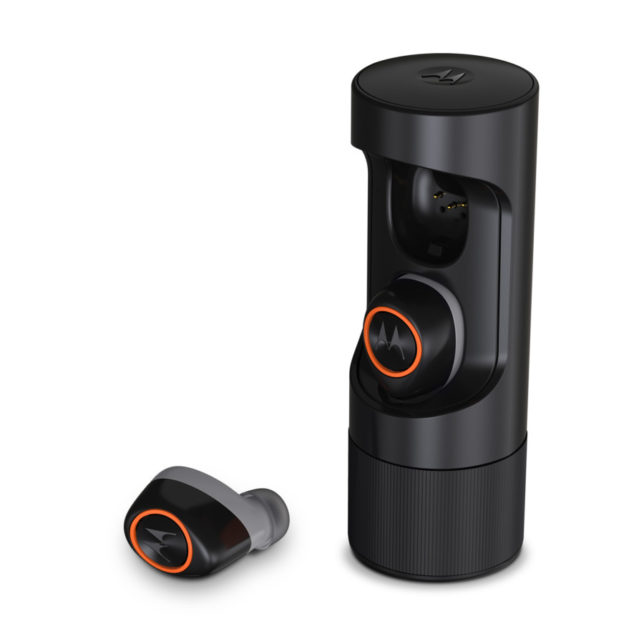 The VerveOnes+ ME true wireless earbuds are designed to work with any smart phone, tablet or computer and they fit securely with absolute freedom from wires. Music enthusiasts will be entertained with a deep rich HD sound and listeners who prefer audio books or the radio will appreciate the eight hours battery life thanks to the built-in battery in the travel case. The VerveOnes+ ME earbuds also include built-in mics for voice calls and are Siri and Google Now compatible, making them an essential companion in today's 'connected' world.
This latest edition of the true wireless Bluetooth earbuds from Motorola are sweat and waterproof (IP57) making them the product of first-choice for users going for a rainy run or a sweat-soaked gym session.
And finally, as we all every now and again put things down and wander off, an additional feature allows users to locate their earbuds by searching for the last connected location on a map using the Hubble for VerveLife app (iOS and Android compatible).
Hubble is an end to end cloud based solution that makes it easy to stay connected with your favorite people, places and pets with live video streaming and up-to-date smart notifications wherever you are. Hubble works with numerous leading OEMs and IoT providers offering complete SDK, API integration documentation and reference design, enabling them to rapidly integrate and connect new products to the cloud.
Specifications
2 wireless earbuds
3 ear gels
Portable charging case
USB charging cable
IP57 water and dust resistant
Bluetooth 4.1
Up to 8h playtime with charging case
Siri and Google Now compatible
The Motorola VerveOnes+ Music Edition is available for £149.99 from Argos, Amazon and other high street retailers.