Whether for business or pleasure, treat yourself to 4-star comfort at the Novotel Leeds Centre with its fantastic location right on the River Aire in the middle of the vibrant city of Leeds in West Yorkshire. A perfectly situated shopper's delight, the hotel is only a short five minute walk from the bustling shopping district of Leeds city centre. Staying at Novotel Leeds Centre puts you right in the middle of the central shopping district, while landmarks such as Millennium Square, Leeds Town Hall and St Anne's Cathedral are within a one-mile radius. Be sure to check out the Civic Quarter where you'll find most of the city's cultural attractions, such as the Art Gallery, Henry Moore Institute and the Central Lending Library.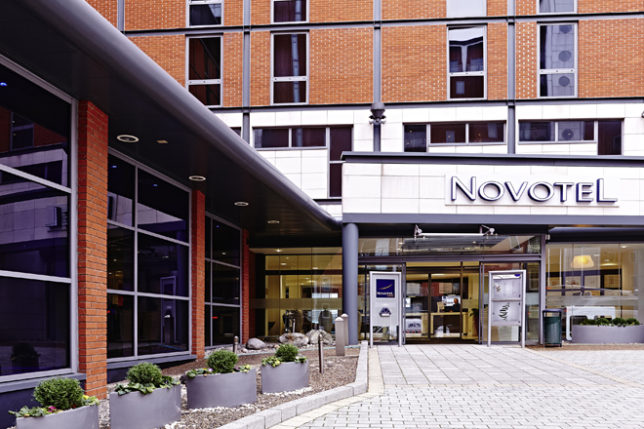 For those who enjoy the thrill of retail therapy, you can't visit Leeds without visiting Briggate, the main shopping street that runs north to south through the centre of Leeds where you'll find everything from high-street brands to international designer boutiques. However, we feel that some of the best shopping in Leeds can be found in the city's famous glass-roofed arcades, particularly around the Victoria Quarter.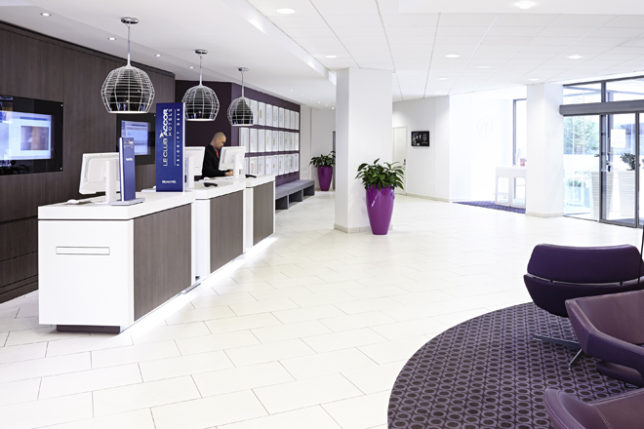 Novotel is part of AccorHotels, which has been committed to various causes for many years and has never stopped pushing boundaries especially in sustainable development within the hospitality industry. With the Planet 21 programme, the group has set ambitious goals for 2020, based on four strategic priorities involving employees, guests, business partners and the local community with key issues concerning sustainable food and buildings. Novotel Leeds Centre has been gold certified by the Planet 21 programme with eco-friendly innovations including energy-saving light bulbs in the reception area and hotel rooms; taps fitted with water flow regulators; recycling of paper, glass, food waste and batteries; eco-designed materials in the rooms as well as a host of local initiatives.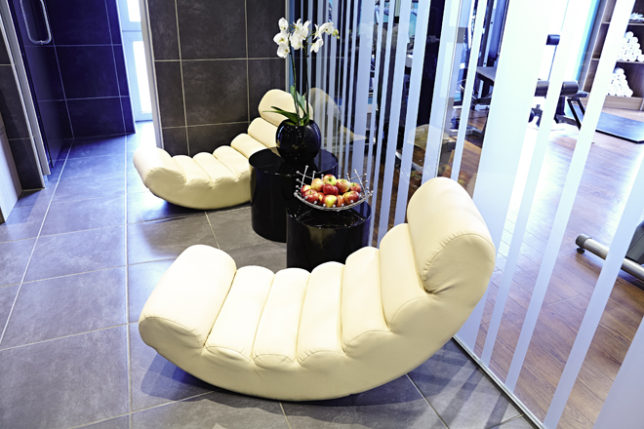 It may be of interest to our animal loving readers to note that Novotel Leeds Centre is also pet friendly charging a very reasonable £10 per night supplement for dog owners. Novotel Leeds Centre boasts luxurious bedrooms and suites, eight adaptable rooms for business meetings and corporate events in addition to a fitness and well-being centre with fully equipped gym, hammam and sauna.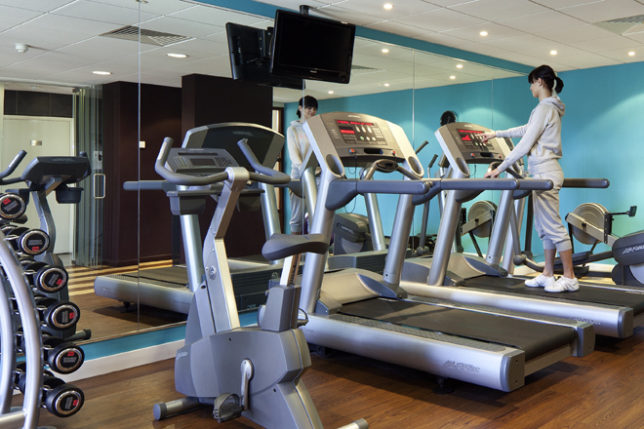 One of the interesting features of the hotel is the eco-designed LIVE N DREAM bed system which addresses the fact that well-being lies in the minute details of your bedlinen. Pillows and duvet are filled with eco-friendly recycled plastic bottle fibres. Two soft pillows gently support your neck and two exclusive Smart Pillows fold to provide support when sitting up in bed and unfold for sleeping. The special duvet is warm but lightweight offering comfort in all seasons and the memory foam mattress with pocket springs adapts to the shape of your back for a great night's sleep.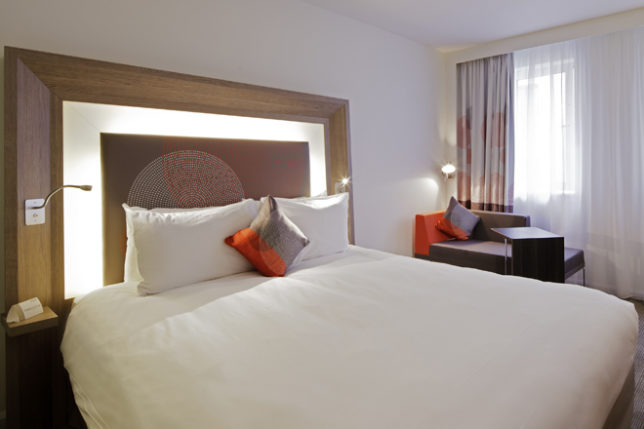 Our Executive Room offered a comfortable Queen bed, 55 inch flat screen LCD TV, hair dryer, mini fridge, wireless speaker, Nespresso coffee machine, tea & coffee making facilities, iron, alarm clock, safe deposit box, blackout blinds and free high-speed WiFi which makes working at the ergonomically designed work area simple and efficient.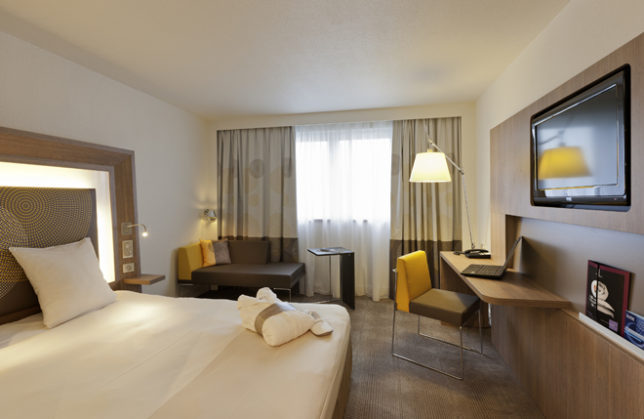 Executive Rooms also benefit from free bottled water, free local calls and a welcome complimentary drink voucher on arrival for use on practically any drink from the hotel bar. The hotel also provides 24 hour room service to satisfy both night owls and early birds as well as breakfast in bed for those you prefer to enjoy the comforts of their room just a little bit longer. The room also has a modern en suite bathroom with bathtub or walk-in shower plus extra bathroom amenities like vanity & shaving packs in addition to bathrobes and slippers to relax in.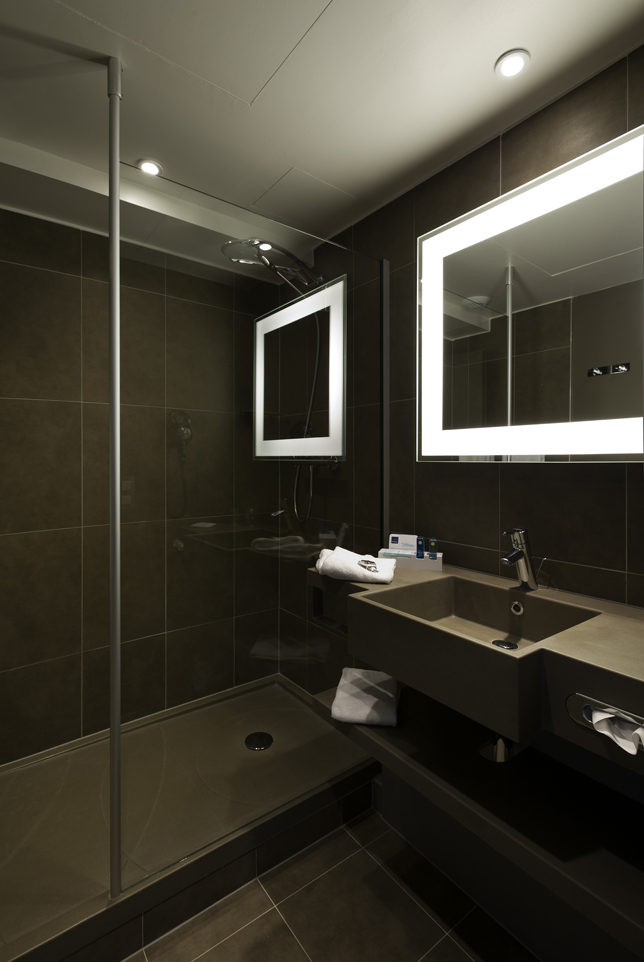 When it comes to dining out in Leeds, there are many good quality international restaurants to be found in the bohemian Exchange Quarter which is a quick bus ride from the Novotel Leeds Centre. However we recommend dining at the hotel's recently opened lounge bar and kitchen called The Soap Factory. The bar takes inspiration from legendary local entrepreneur Joseph Watson of Watson & Sons and his Whitehall Soap Works including the bar's signature 'soap themed' cocktails.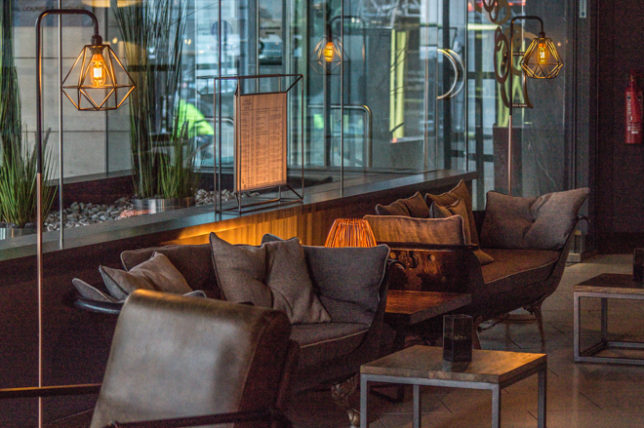 From its interior design to its mouthwatering menu, everything about this newcomer to the Leeds food & drink scene has taken inspiration from the original Soap Works' rich industrial heritage. On the walls are stylish "soap bubbles" and The Soap Factory interior features warm wooden floors, comfy leather chairs, moody urban chic lighting and the comforting glow of an open fire.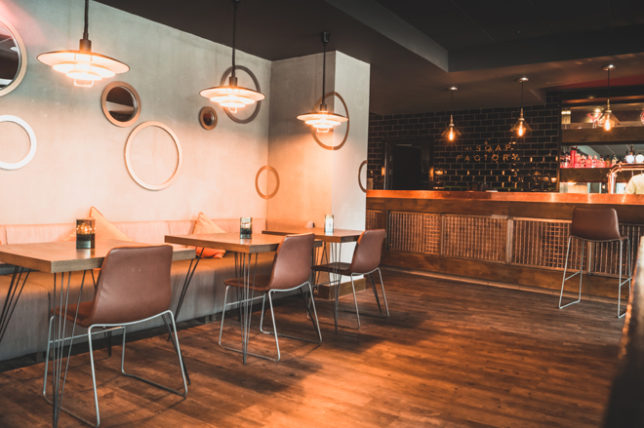 The Soap Factory offers guests a seasonal British menu showcasing local ingredients in classic dishes given a culinary twist by talented Head Chef Richard Banks. Highlights include a choice of Factory Burgers including the Soapy Joe – two beef patties, smoked bacon, Yorkshire cheddar and caramelised onions all topped with a fried egg. Other bites include Pickin' Lickin' Chicken Wings, Tempura Prawns and Pulled Ham Bonbons.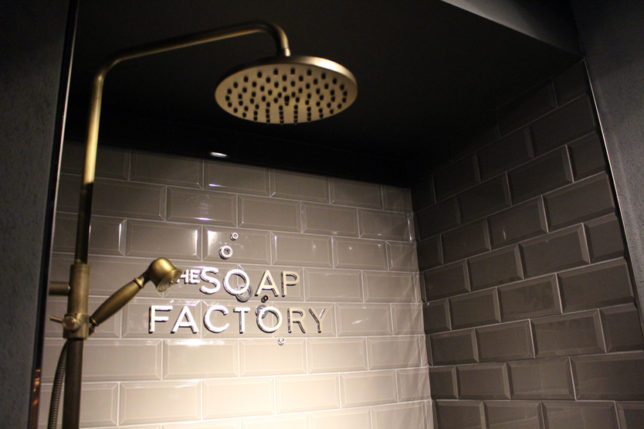 We entered the Soap Factory looking for some refreshments and refreshing is exactly what we got.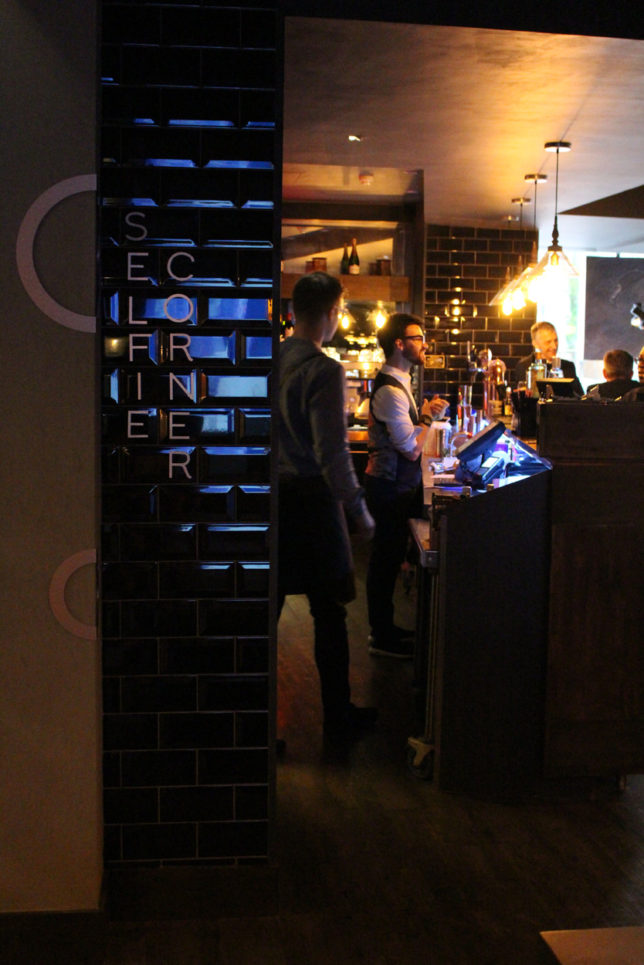 We kicked things off with an aperitif cocktails while we perused the menu.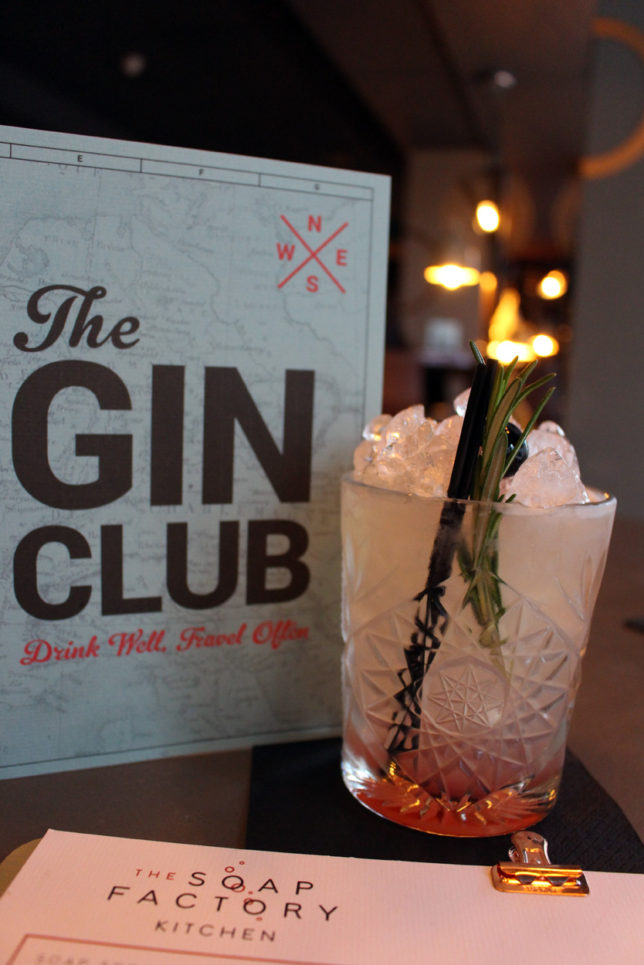 The expertly mixed drinks were a welcome refreshment after our busy day seeing the sights of Leeds.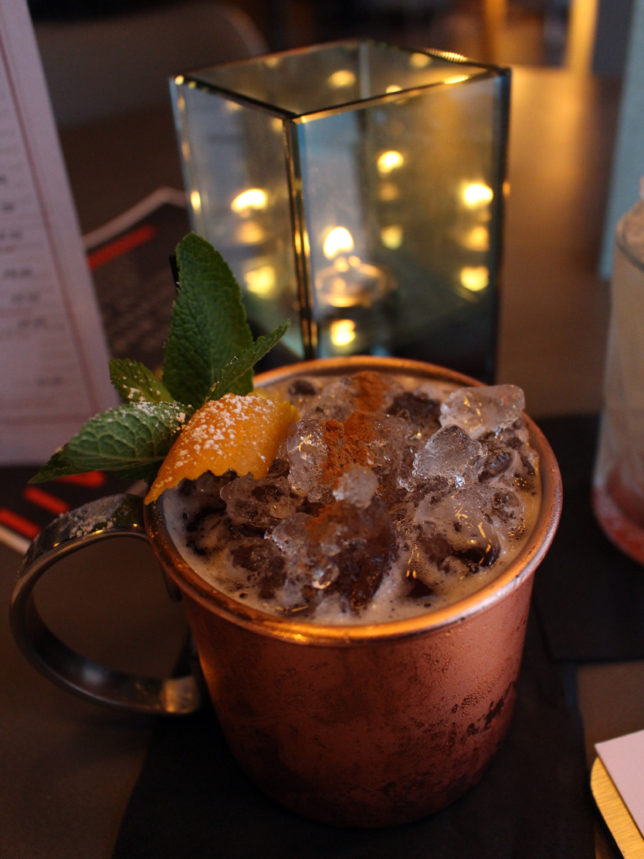 The Soap Works heritage is also reflected on the menus with the signature soap bubbles making another appearance.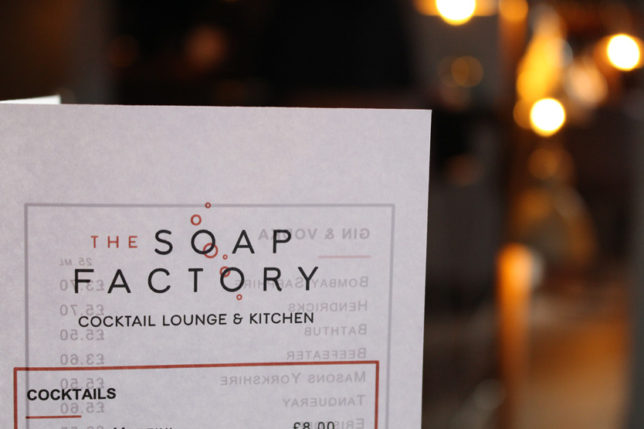 We decided to order a selection of Soap Spoilers which are ideal to share on a date or with your colleagues after work.
The Yorkie Egg is brilliantly thought out and comes with 'Doreen's' famous black pudding. This is a must try and left our mouths wanting more. The garlic aioli adds a third dimension to this moreish treat. Let's go in for a closer look.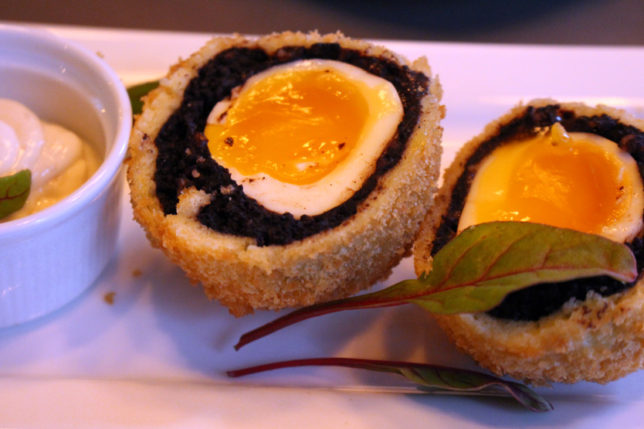 The Pickin' lickin' chicken wings come with their own hot sauce but if this isn't enough there's old faithful Frank's Hot Sauce on standby to add to the heat.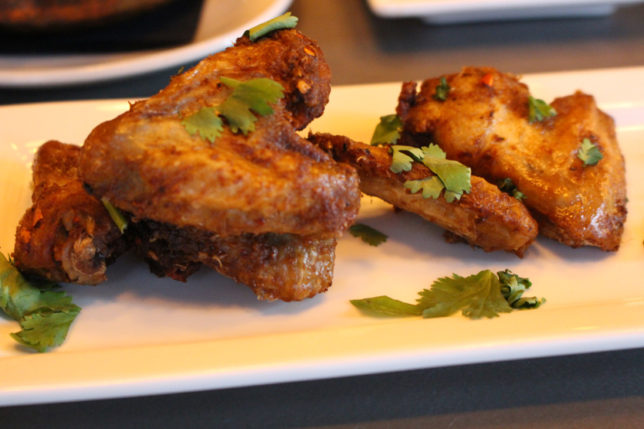 The Pulled Ham Bon Bons come highly recommended. The wholegrain mustard relish adds a zing in this moreish treat.
The sweet and sticky baby sausages are coated in honey and mustard making them perfect nibbles when socialising with friends.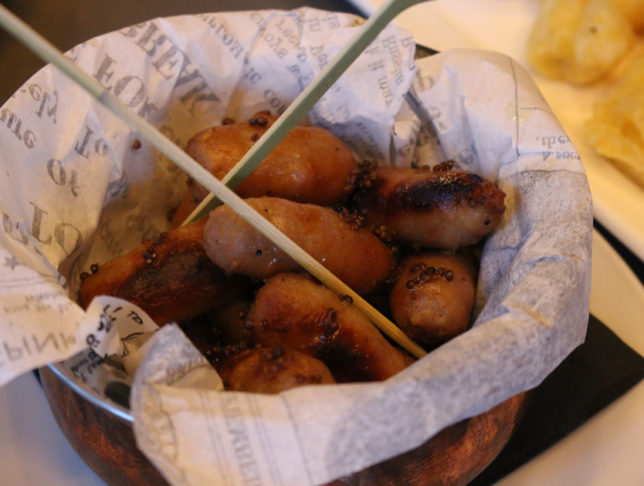 The Soap Factory's tempura prawns come perfectly cooked with a light airy batter and fresh feel which wouldn't be complete without the accompanying chipotle mayo.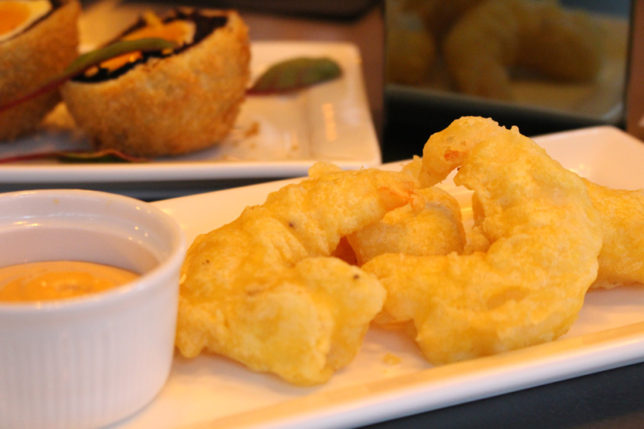 After such a tasty start to our evening, it was time to order some more delicious cocktails.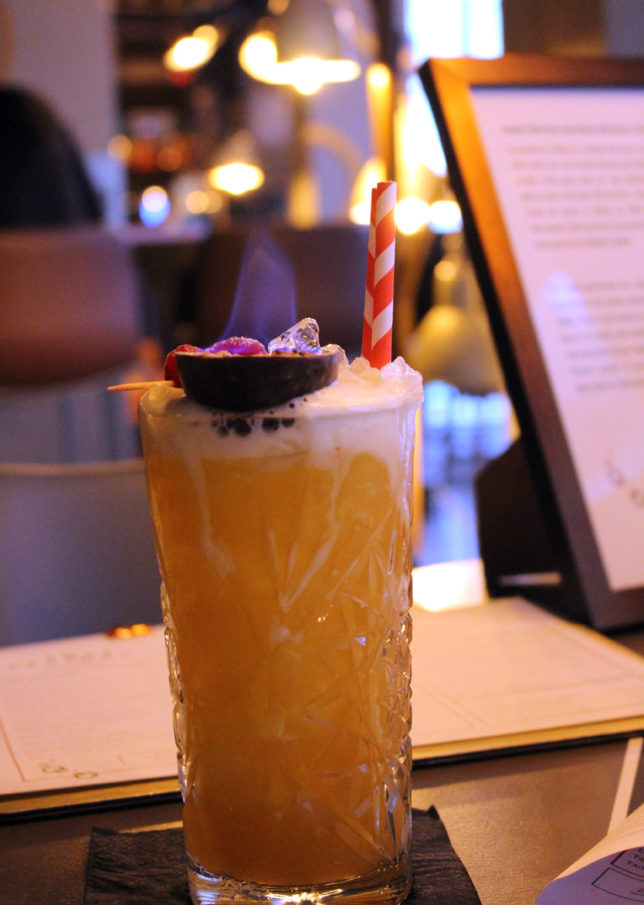 The bartender delighted our palate yet again with more cocktail concoctions.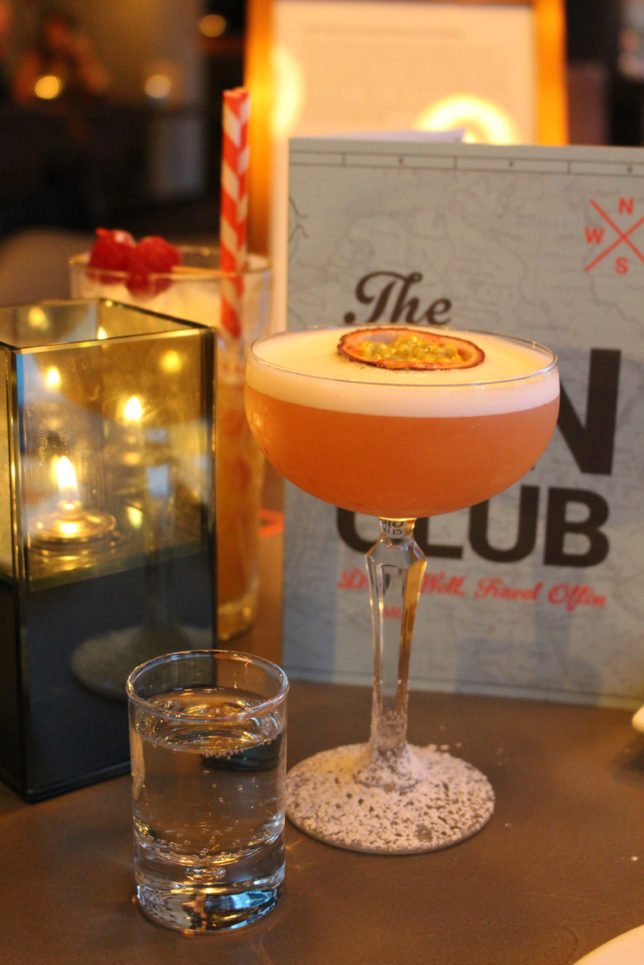 For the main event we sampled some Soap Factory burgers and more Soap Spoilers to continue the feast of flavours.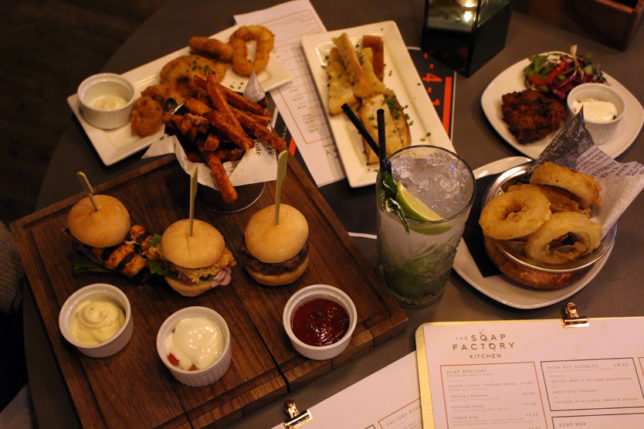 We choose the slider burgers option which included the East Coast – a delicate mix of white fish, prawns, herbs and chillies with lettuce tomato, onion and lemon dill relish. Not forgetting the Bombay Chicken – marinated chicken breast with tandoori spices, youghut, lettuce, tomato, onion bhaji cracklings and raita.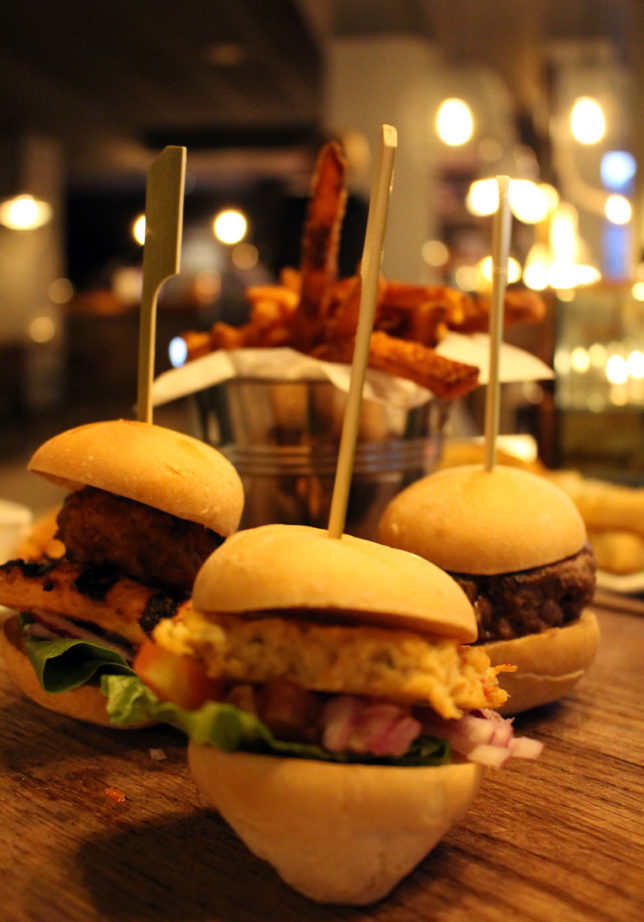 We also tried the Joe's Classic beef burger – we had this plain cooked medium rare. Next was the Tito Frito – fried calamari with lemon mayo.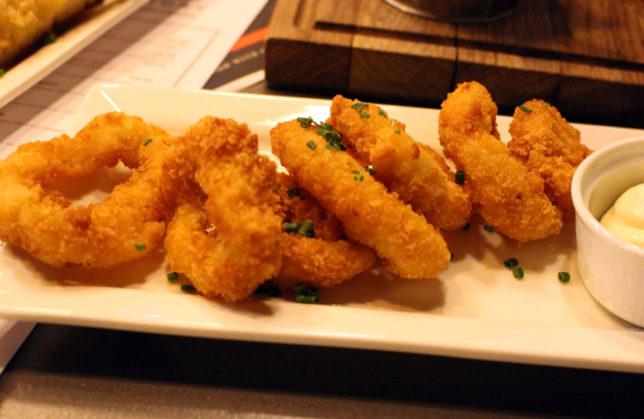 The Garam Garam Onion Bhaji served with yoghurt raita was a beautiful addition to our meal and had some authentic spices to liven it up.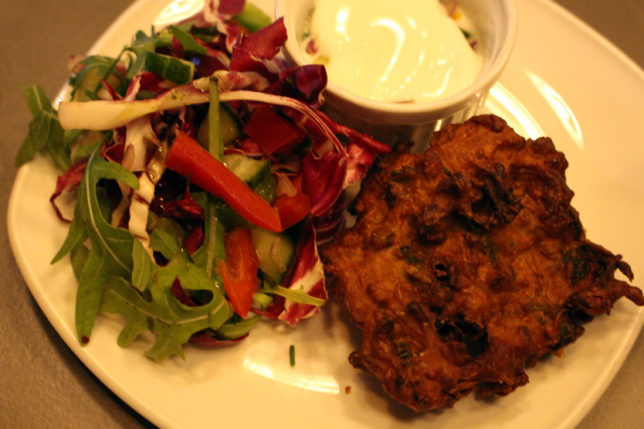 Novotel Leeds Centre is centrally located in the city's up-and-coming business district within easy walking distance of Leeds train station, just 300m away. For those travelling by car there are easily accessible motorway connections via the nearby M62. International travellers can also reach the hotel easily as Leeds Bradford Airport is only a short 24 km away.
Novotel Leeds Centre
4 Whitehall Quay, Leeds LS1 4HR
+44 (0)113 396 9001
www.novotel.com
@novotelhotelsuk