Oblix West, located on the 32nd floor of The Shard, is the perfect destination for those wanting a jaw-dropping and mouth-watering afternoon tea.
It is always a special moment to arrive on the 32nd floor of the Shard and make your way through Oblix's open kitchen before being shown to your table from which invites you to take in the stunning view of the London skyline below. In celebration of Afternoon Tea Week, we were at Oblix West to enjoy the quintessential British tradition of afternoon tea and whilst we perused the menu we raised a toast with a glass of champagne.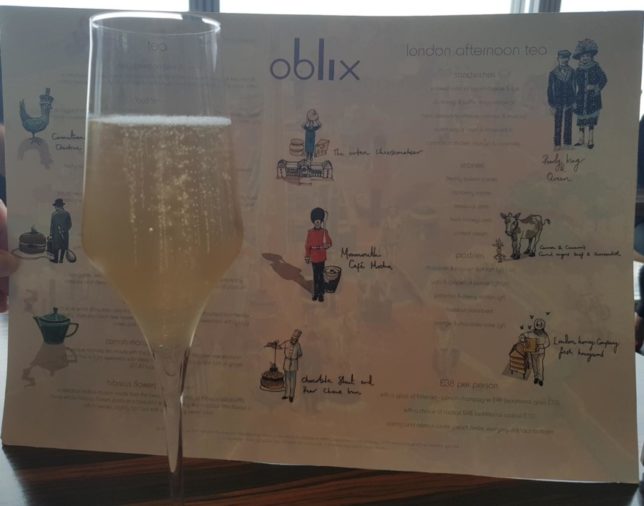 After choosing our sandwiches and tea the afternoon's delights began. With such breathtaking views and exceptional food and service, Oblix is firmly on our list of one of the most romantic places in London. To start, I chose the Cloud Tea – a fragrant black tea which is as light and floral as a darjeeling with the rich caramel and malty notes you get from the best assam tea.
For this most quintessentially British of traditions, Oblix West in The Shard has launched a gluten free Afternoon Tea: a delicious set of sandwiches, scones and sweet treats that are the ideal experience for those that have myriad dietary needs.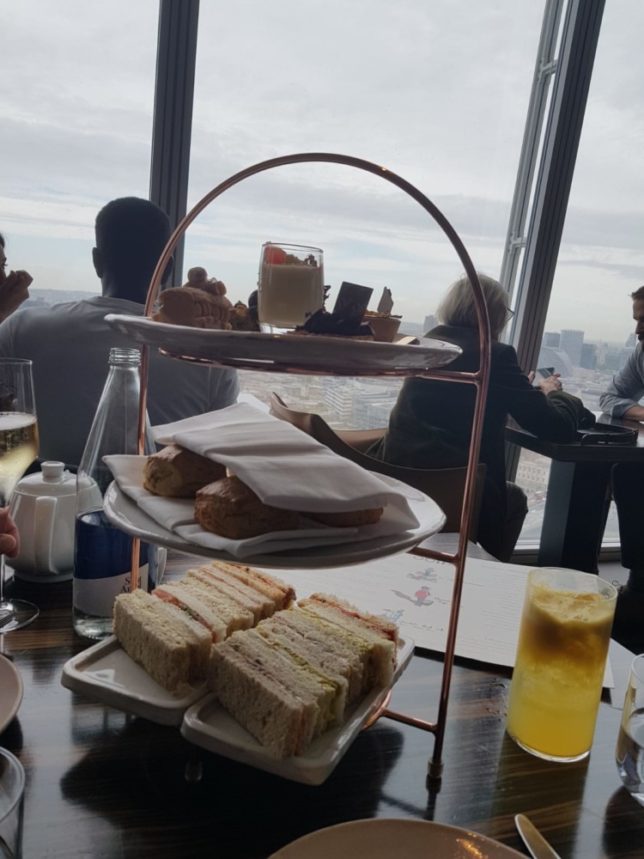 Oblix's team realised there was a lack of available afternoon teas that catered to specific requirements and set about creating the answer. Group Pastry Chef Julien Philippe and Executive Chef Marcus Eaves have worked together to create a stunning afternoon tea experience.
There is a lovely selection of sandwiches to choose from which caters for a myriad of dietary requirements. We enjoyed smoked salmon, cream cheese & rye, duck egg & truffle mayonnaise, cured Angus beef & horseradish and Coronation chicken, mango & coriander. The sandwich filling which truly stood out for us was the duck egg & truffle mayonnaise which took 'egg mayo' to an indulgenct new level!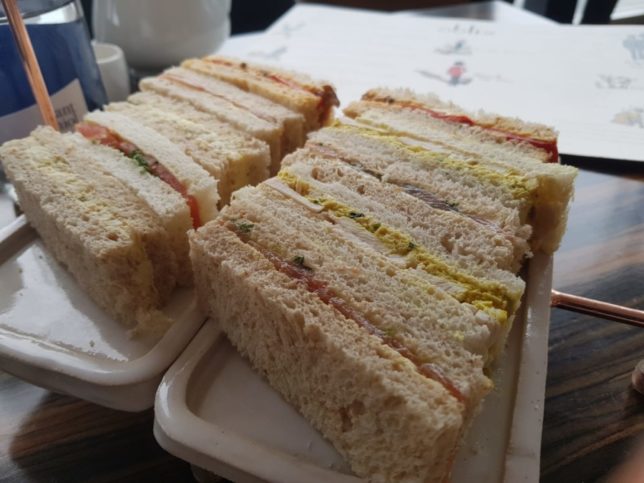 Who could resist taking a sneak peak at the freshly baked plain and cranberry scones. They were served with a seasonal jam, fresh honeycomb and clotted cream. The scones were airy on the inside, golden on the outside and light to eat. The quality of the fresh honeycomb stood out as did the jam made of British fruits – a perfect selection to keep everyone happy.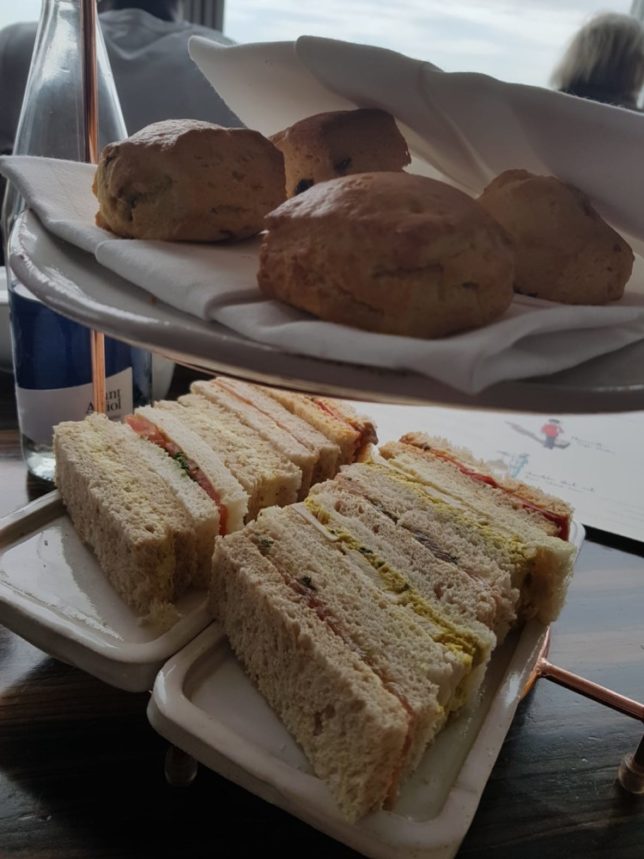 The patisserie consisted of chocolate and passion fruit tart, yuzu and grapefruit posset, pistachio and cherry mirliton, hazelnut Paris-Brest and orange and chocolate cake. A lot of skillful work went into creating each treat but our favourites were the hazelnut Paris-Brest and the yuzu and grapefruit posset.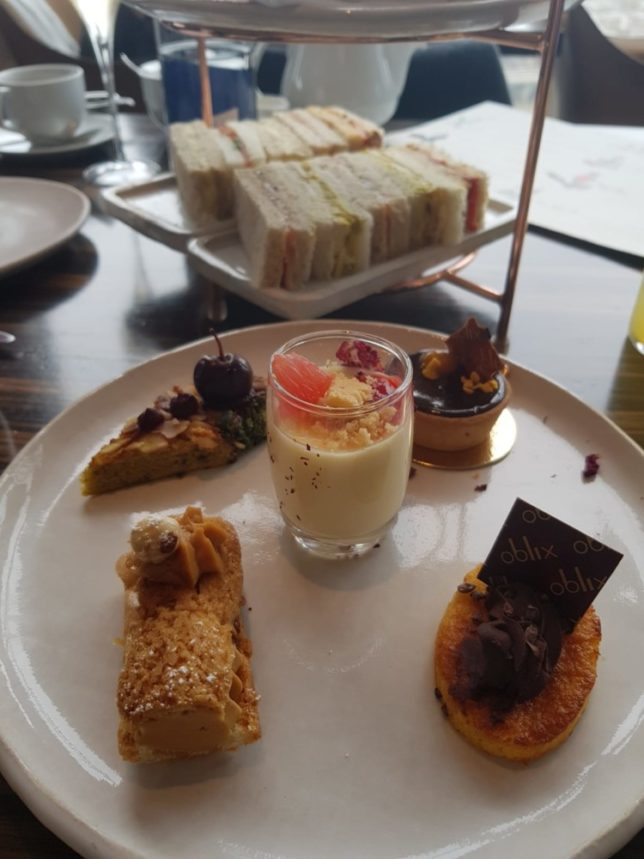 What a beautiful view. The London skyline always offers something undiscovered to delight in so if you have been to Oblix once when you return and sit at a different table your experience will still offer something new. Time to dig in to those beautiful pastries.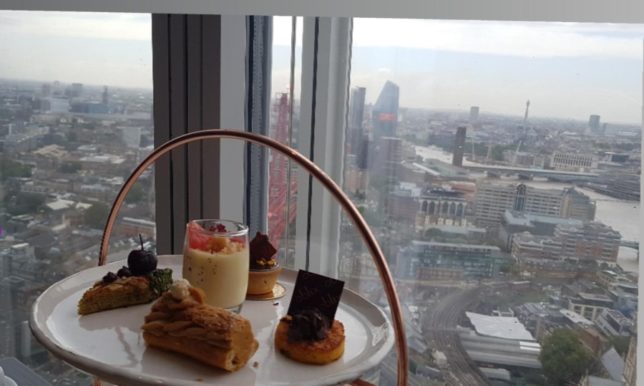 If your geography skills are lacking or you are simply unfamilar with London's major landmarks, the back of the menu provides a colourful handy map helping you spot the prominent features on London's skyline. This example of Oblix's attention to detail is a real treat and it is made all the more enjoyable by the attentive team that work hard to make the exceptional service and culinary experience one to be remembered.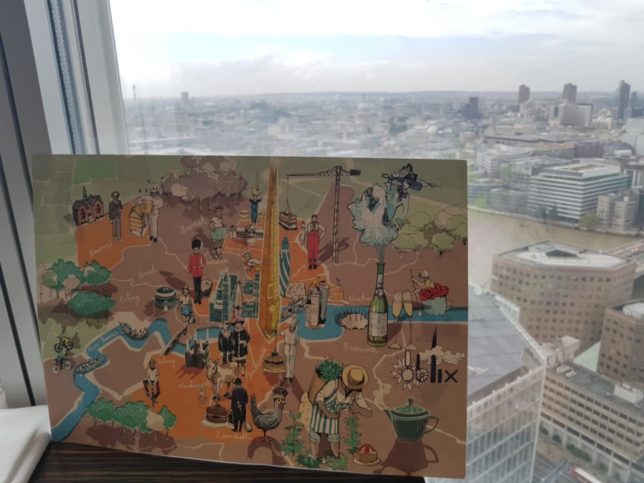 Oblix West's take on the London tradition of Afternoon Tea is perfect for those seeking an exceptional afternoon tea experience, offering guests the chance to explore the endless London skyline and beyond while enjoying a modern twist on a traditional English classic.
The Oblix West Afternoon Tea will be available Monday-Sunday, 2:45pm- 4:30pm, at £38 per person or add an inudlgent glass of Billecart-Salmon champagne for £48 per person.
Oblix at the Shard
Level 32, The Shard, 31 St. Thomas Street, London SE1 9RY
020 7268 6700
www.oblixrestaurant.com
@oblixrestaurant